The NBA may be taking a bit of a pause for the All-Star festivities, but that doesn't mean you can afford to take your eye off the ball in terms of fantasy. There are always opportunities to improve your fantasy basketball roster. Here are ten players probably sitting unclaimed on your fantasy basketball waiver wire that can do just that for you.
(only includes players rostered in 50% or less of Yahoo Fantasy leagues; stats listed are after Saturday's games)

Best Fantasy Basketball Waiver Wire Pickups: Week of Feb 20th
Kevon Looney – Golden State – C – 46% Rostered
(6.8 ppg, 8.8 rpg, 2.6 apg, 0.6 spg, 0.6 bpg, 65.6%)
Kevon Looney is back to his double-double ways, so he's back in the top spot on our fantasy basketball waiver wire pickup list. He had 11 points, 14 rebounds, an assist, and a block in his last game; 13 points, 13 rebounds, and four assists the game before that. He's never going to post eye-popping lines, but he's a very solid contributor night in, night out.
Kyle Anderson – Minnesota – SF/PF – 40% Rostered
(8.6 ppg, 4.7 rpg, 4.1 apg, 1.2 spg, 0.8 bpg, 0.6 3PTs)
'Slow Mo' Kyle Anderson has worked his way back onto our list after returning to the court from a back injury. In the three games leading up to the All-Star break, he averaged 14.0 ppg, 5.0 rpg, 5.0 apg, and 1.7 spg. Hopefully, the time off over the break will help him heal his wonky back and allow him a healthy conclusion to the season.
Luka tries to take Kyle Anderson 1-on-1, Kyle takes his cookies pic.twitter.com/FtQTuCmX6J

— Fastbreak Breakfast (@fastbreakbreak) February 14, 2023
(10.1 ppg, 4.4 rpg, 1.3 apg, 0.8 spg, 0.8 bpg, 1.4 3PTs)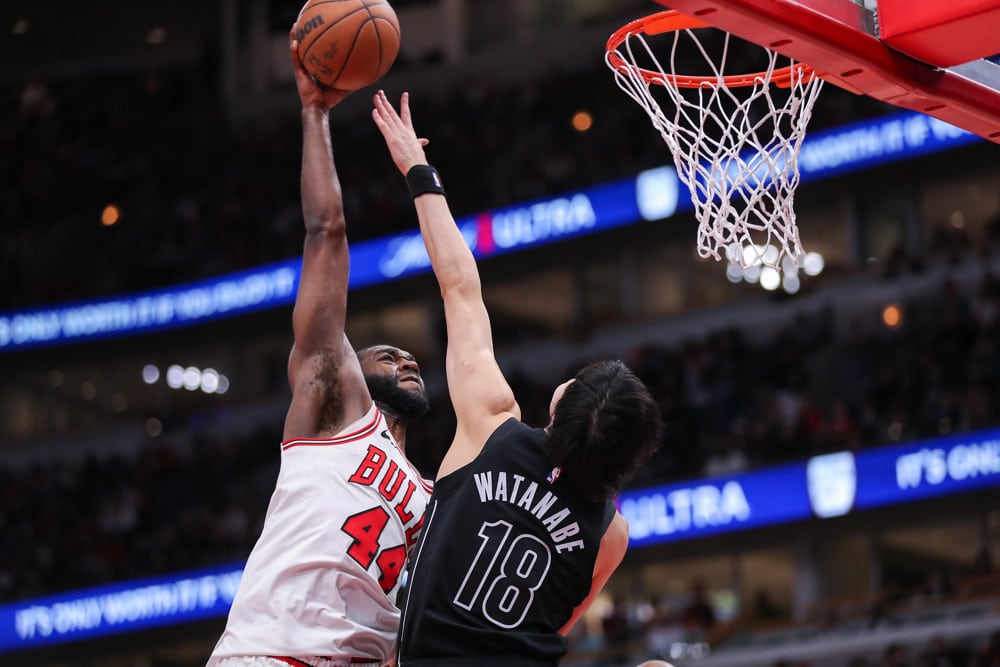 This week's pickup list is all about returns, as Patrick Williams is another player who has played his way back into recommended pickup territory. He finished off strong heading into the break, with games of 11-2-2-2 and 16-5-2-2. Hopefully, this is a sign of things to come, as his numbers have taken a bit of a dive since February kicked off. Actually, when you look at his stats he tends to alternate good months with bad ones, so maybe hold off on him until March?!
Drew Eubanks – Portland – PF/C – 13% Rostered
(5.9 ppg, 4.9 rpg, 1.1 apg, 0.5 spg, 1.2 bpg, 68.1%)
Portland big man Drew Eubanks makes his return as well, as he continues to fill in for the injured Jusuf Nurkic. He's mostly a two-category guy at this point, but he can really help you in those categories. They would be rebounds (eight, nine, and 11 in his last three games), and blocks (six over his last three games). And with only 13% rostered status, there's a good chance he's available in your league.
Donte DiVincenzo – Golden State – PG/SG – 43% Rostered
(9.0 ppg, 4.1 rpg, 3.3 apg, 1.3 spg, 0.1 bpg, 2.1 3PTs)
With Stephen Curry still on the sidelines, Donte DiVincenzo continues to see an increase in minutes for the Warriors. He has scored in double figures in six of his last seven games and has a steal in four straight games and nine of ten. Add in the assists and over two three-pointers hit a game, and DD is a very intriguing potential addition to your roster.
https://twitter.com/WarriorNationCP/status/1625709240261427201
Terance Mann – Clippers – SG/SF – 35% Rostered
(9.2 ppg, 3.8 rpg, 2.2 apg, 0.5 spg, 0.3 bpg, 1.0 3PTs)
Terance Mann has solidified his role with the re-configured Clippers by stepping up over the past two weeks. Over this period, he's averaged 14.2 ppg, 5.2 rpg, 2.8 apg, and 1.6 threes, while shooting 59.6% from the floor. This includes six straight games in double figures in scoring, with games of 21 and 26 thrown in there. He headed into the All-Star shutdown with a game of 26-4-3-1. Now is the time to get in on him.
Other fantasy basketball waiver wire players worth checking out: T.J. McConnell, Jevon Carter, Grant Williams, Torrey Craig
Related Fantasy Basketball Waiver Wire Content: