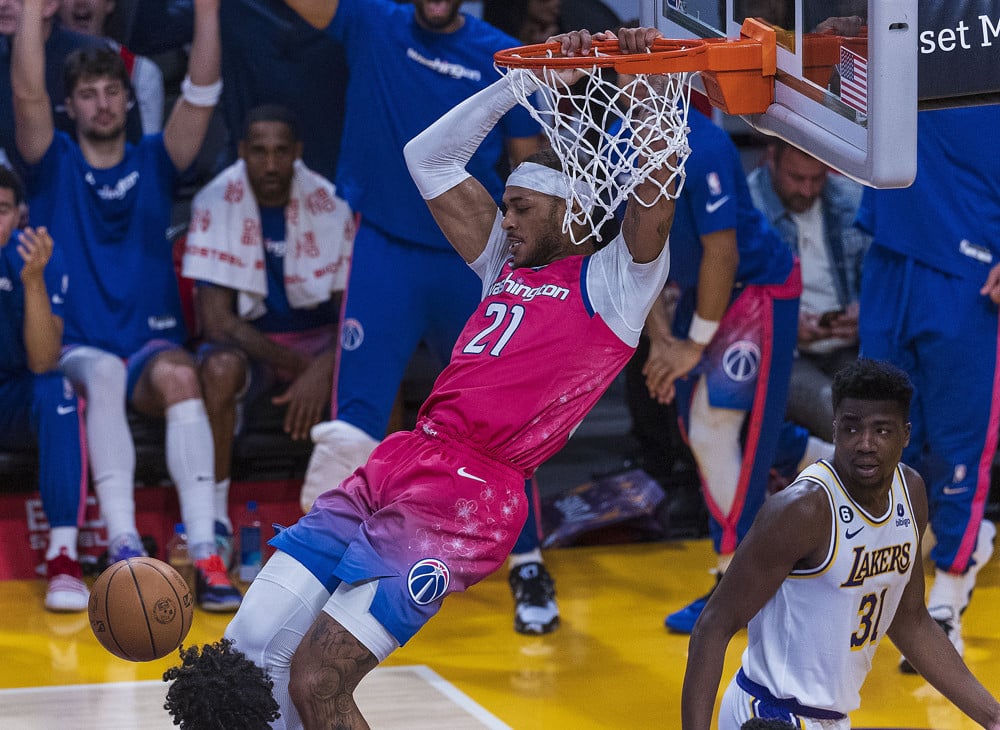 I've got some hidden gems for you in this week's fantasy basketball waiver wire column. Many of the regular names we see in this space are either rostered over 50% now, injured, or not playing up to snuff. Out with the old, in with the new. Here are ten players worth checking out to see if they could help your squad.
(only includes players rostered in 50% or less of Yahoo Fantasy leagues; stats listed are after Saturday's games)

Best Fantasy Basketball Waiver Wire Pickups: Week of Feb 13th
Daniel Gafford – Washington – C – 47% Rostered
(8.5 ppg, 5.3 rpg, 1.9 apg, 0.4 spg, 1.4 bpg, 74.4%)
The new top dog this week is Washington's big man Daniel Gafford. The fourth-year post player has been coming on strong as of late in the nation's capital, with double-digit scoring efforts in four straight games. Over those games, he's averaged 11.8 ppg, 7.0 rpg, 1.0 apg, 0.5 spg, and an impressive 2.8 bpg. In fact, he's blocked a shot in ten straight games, with outings of three, three, and four blocks over his last three games.
Daniel Gafford block partypic.twitter.com/XjmOcIYTXE

— Hoop District (@Hoop_District) February 12, 2023
Donte DiVincenzo – Golden State – PG/SG – 48% Rostered
(8.8 ppg, 4.3 rpg, 3.3 apg, 1.3 spg, 0.1 bpg, 2.0 3PTs)
Despite putting up a bit of a dud in his last game (five points, three assists), Donte DiVincenzo has played well since I wrote about him last week. In the three games since, he averaged 12.3 ppg, 2.0 rpg, 4.0 apg, 1.3 spg, and hit 10 three-pointers. He also averaged around 27 minutes of playing time off the bench. As long as Stephen Curry is on the shelf, he's worthy of a pickup.
Isaiah Joe – Oklahoma City – PG/SG – 3% Rostered
(8.2 ppg, 2.2 rpg, 1.1 apg, 0.6 spg, 0.1 bpg, 2.1 3PTs)
How's this for a deep cut?! It's not often (or ever) that I recommend picking up a player who is only rostered in 3% of lineups, but Isaiah Joe is worth a look. He's scored in double figures in back-to-back games and four of his last six. His averages for the last week are 11.0 ppg, 3.7 rpg, 1.7 apg, with 11 three-pointers made. That last number is the reason he's worth considering adding to your roster – he's a pretty reliable three-pointer marksman (over two made per game at a 46% success rate).
Santi Aldama – Oklahoma City – PF/C – 25% Rostered
(9.5 ppg, 4.7 rpg, 1.2 apg, 0.7 spg, 0.7 bpg, 1.4 3PTs)
While we're in OKC, let's take a look at Joe's Thunder teammate, Santi Aldama. Heading into Sunday's action, the big man scored in double digits in four of his last five games, including 18 points (three three-pointers) in only 20 minutes of run on Friday. Earlier this month he had a 21-point, 10-rebound performance against Cleveland. He's a guy to keep an eye on.
Another big night off the bench for Santi Aldama — 18 points, 6/8 shooting, 3/5 from 3.

For one, a near 7-footer as the PNR ball-handler is super rad. Love how he attacks Gobert here. His fearlessness is a fun aspect of his game pic.twitter.com/lazgqimC2g

— Parker Fleming (@PAKA_FLOCKA) February 11, 2023
Caleb Martin – Miami – SF/PF – 22% Rostered
(10.1 ppg, 5.2 rpg, 1.7 apg, 1.0 spg, 0.4 bpg, 1.4 3PTs)
Caleb Martin is a player I recommended quite often last season, but injuries have prevented me from doing so as much this season (injuries to him, not me – I'm fine, thanks). He's actually having a better year this season than last, with career-highs in threes, rebounds, assists, steals, and points. And he seems to be playing even better as of late, with two double-doubles in his last six games (and two other games where he missed by one rebound), and a four-steal game.
(12.6 ppg, 4.0 rpg, 3.2 apg, 0.9 spg, 0.1 bpg, 1.7 3PTs)
Immanuel Quickley has made steady progress over his first three seasons in the NBA and is on a particularly nice stretch currently for the Knicks. He's cracked the ten-point barrier in three straight games and four of five, and has also been adding in nice rebounding and assist numbers. And the addition of Josh Hart doesn't appear like it'll affect his playing time too much, as he still got 23 minutes of burn in Hart's NYC debut.
Other fantasy basketball waiver wire players worth checking out: Kevon Looney, Kyle Anderson, Larry Nance Jr, Drew Eubanks
Related Fantasy Basketball Waiver Wire Content: