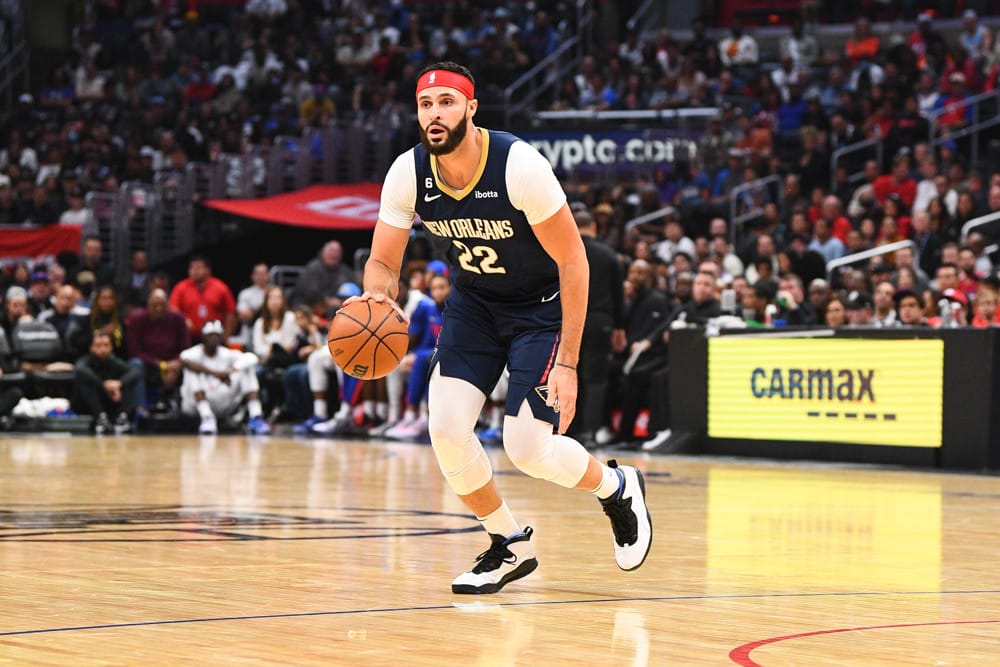 With our top four players from last week (Kevon Looney, Alex Caruso, Patrick Williams, and Drew Eubanks) absent from this week's column (at least the written portion), it's a new day in the fantasy basketball waiver wire column. Could the man pictured above be the top pickup this week? Read on and find out.
(only includes players rostered in 50% or less of Yahoo Fantasy leagues; stats listed are after Saturday's games)

Best Fantasy Basketball Waiver Wire Pickups: Week of Feb 6th
Larry Nance Jr – New Orleans – PF/C – 45% Rostered
(8.0 ppg, 6.0 rpg, 1.9 apg, 0.9 spg, 0.7 bpg, 61.7%)
A mainstay in last year's fantasy basketball waiver wire column, Larry Nance Jr has finally worked his way back into my good graces and is the top-rated player I'm writing about this week. With Zion Williamson and Jonas Valanciunas out and/or playing fewer minutes, Nance Jr has stepped up. He missed his fourth-straight double-double by one rebound on Saturday, and then again on Sunday.
Tari Eason – Houston – SF/PF – 46% Rostered
(8.7 ppg, 5.7 rpg, 0.9 apg, 1.1 spg, 0.6 bpg, 0.7 3PTs)
Rookie Tari Eason's hot play as of late has him making another appearance in this space. He's had some explosive games during the past couple of weeks, including three straight double-doubles, including 20 points, 13 rebounds, an assist, three steals, and two blocks against Oklahoma City in just 19 minutes! He followed that up with two points and four boards against Toronto, so you'll have to ride out the ups and downs typical of a rookie (he bounced back with 18 and eight in his last game).
"How does Tari Eason have 12 offensive rebounds?" pic.twitter.com/rJ4OJCTyRR

— ᵂᴵᴸᴸ (@BiasedHouston) February 2, 2023
Grayson Allen – Milwaukee – SG/SF – 18% Rostered
(10.6 ppg, 3.5 rpg, 2.6 apg, 0.9 spg, 0.2 bpg, 1.9 3PTs)
Rumored to be on his way out of Milwaukee before the trade deadline, Grayson Allen has had some big games over the past week that may entice prospective trade partners. This includes 12 points (on four three-pointers), three boards, two steals versus the Hornets, and 19 points (another four three-pointers), three rebounds, three assists, and two steals last game against Miami.
Royce O'Neale – Brooklyn – SG/SF – 42% Rostered
(9.4 ppg, 5.0 rpg, 4.0 apg, 0.9 spg, 0.8 bpg, 2.2 3PTs)
Through all the turmoil in Brooklyn, Royce O'Neale has been a steady presence. He may not put up eye-popping numbers, but he helps you in pretty much every stat category there is. Over the past week (three games), O'Neale averaged 10.3 ppg, 6.0 rpg, 3.7 apg, 1.0 spg, 1.7 bpg (including four in his last game), and hit six three-pointers.
Donte DiVincenzo – Golden State – PG/SG – 31% Rostered
(8.5 ppg, 4.4 rpg, 3.3 apg, 1.3 spg, 0.1 bpg, 1.9 3PTs)
Not much has gone to plan in The Bay this year, especially now that Stephen Curry is going to be sidelined for an extended period once again. However, one positive is the recent play by Donte DiVincenzo. He's had some big games over the past couple of weeks, including 12 points, three boards, 11 assists, two steals versus Toronto, and double-figure scoring totals in his last two games. Plus, he has a steal in five straight games, swiping nine balls in that span. With Curry on the shelf, look for his playing opportunities to expand greatly.
Donte DiVincenzo punishing the nail help on Steph's drive with a three. He's been the ultimate role player and utility man. pic.twitter.com/VwoUkPWWXr

— Joe Viray (@JoeVirayNBA) January 31, 2023
(5.2 ppg, 6.4 rpg, 0.9 apg, 0.6 spg, 0.8 bpg, 50.0% FG)
The points aren't there, but Isaiah Hartenstein will immediately help your rebounding numbers if you pick him up off of the fantasy basketball waiver wire. Including Sunday, he now has double-digit boards in four straight games, averaging 12 rebounds over those games. He also has three blocks in his last two games and has seen his minutes significantly increase over the past week.
Other fantasy basketball waiver wire players worth checking out: Kevon Looney, Patrick Williams, Drew Eubanks, T.J. McConnell
Related Fantasy Basketball Waiver Wire Content: