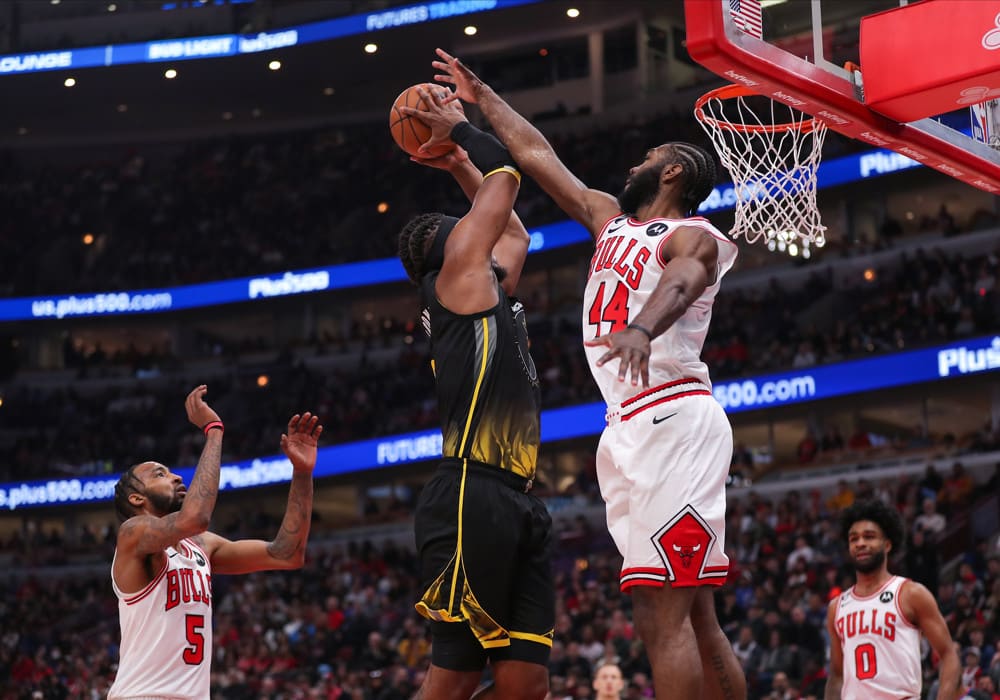 If you're in the market for steals or blocks in fantasy basketball, our fantasy basketball waiver wire list this week has just what you need. There are a few players in this week's column who have been putting up eye-popping defensive numbers as of late. And, obviously, Kevon Looney makes the cut again this week.
(only includes players rostered in 50% or less of Yahoo Fantasy leagues; stats listed are after Saturday's games)

Best Fantasy Basketball Waiver Wire Pickups: Week of Jan 30th
Kevon Looney – Golden State – C – 44% Rostered
(6.7 ppg, 8.7 rpg, 2.8 apg, 0.5 spg, 0.5 bpg, 64.2%)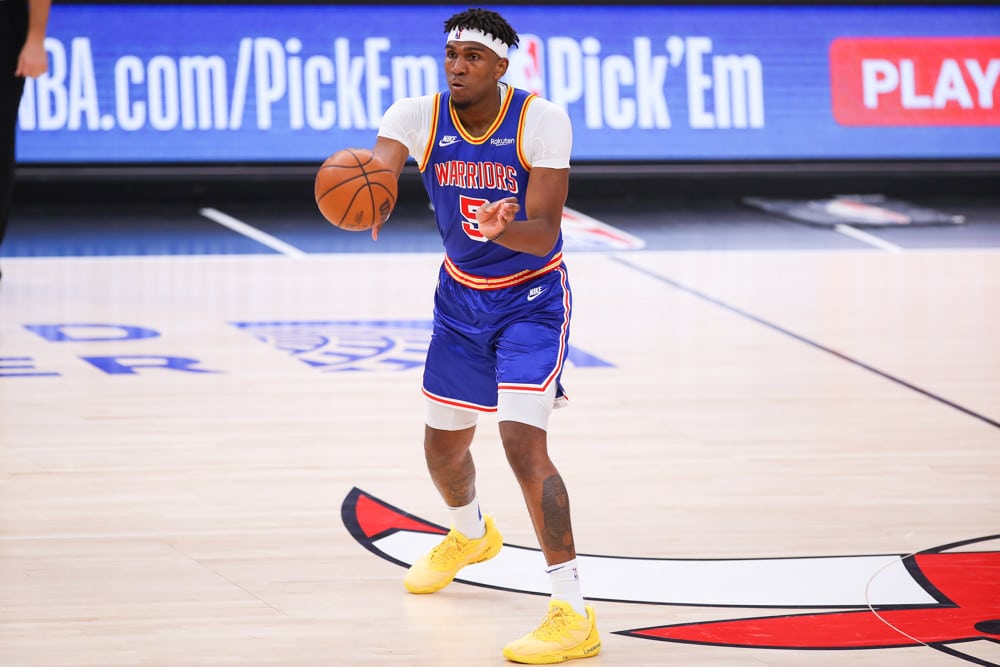 PLEASE pick up Kevon Looney so I don't have to write about him any longer. As it is, he's the 43rd-ranked fantasy basketball player and rostered in less than 50% of leagues, so he keeps showing up in this article week after week. Over the three games the Warriors played last week, he did what he always does – averaged 10.0 ppg, 8.7 rpg, 2.0 apg, 1.0 spg, and shot 13-18 from the field. Actually, he did better than he normally does.
Alex Caruso – Chicago – PG/SG – 45% Rostered
(5.6 ppg, 3.0 rpg, 3.3 apg, 1.7 spg, 0.7 bpg, 0.8 3PTs)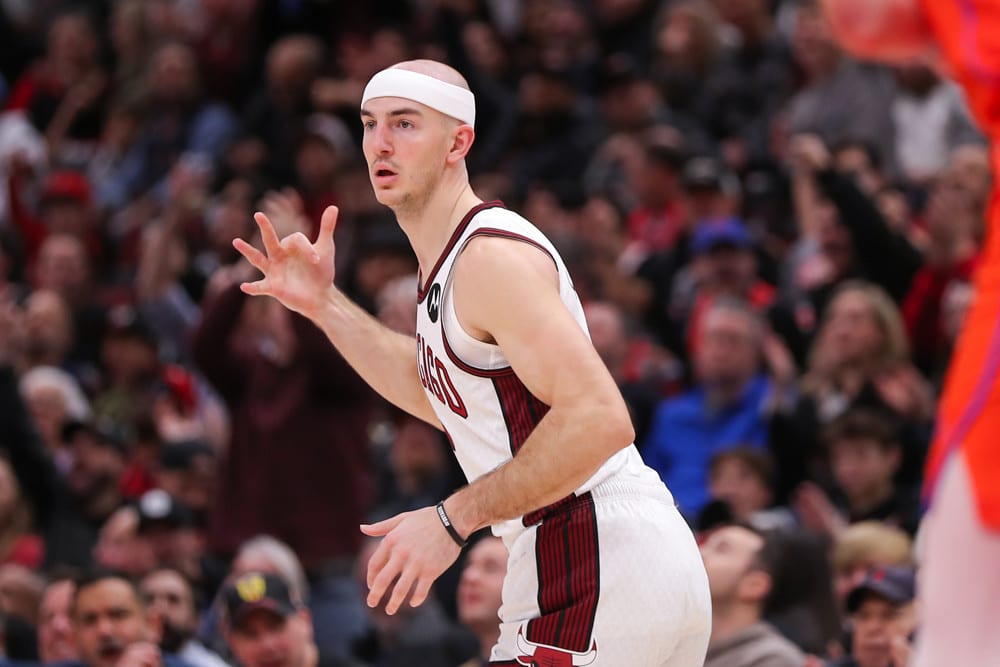 Are you looking for steals? Then I've got just the guy for you. Alex Caruso is on an epic run of pickpocketing, registering a steal in eight straight games. Over that span, he has an incredible 21 steals! Unfortunately, his scoring is almost non-existent, but other than steals he brings in nice rebounding and assist numbers, and hits about a three a game.
(10.3 ppg, 4.3 rpg, 1.3 apg, 0.7 spg, 0.9 bpg, 1.5 3PTs)
We'll stick in the Windy City and suggest taking a look at Caruso's teammate, Patrick Williams. His stellar play has made him a mainstay on this list, as fantasy basketball owners still aren't jumping on his train for some reason. Over the past week (four games), Williams put up 14.0 ppg, 6.5 rpg, 1.3 apg, 1.0 spg, 0.8 bpg, and hit six three-pointers. He now has steals in five-straight games, and blocks in three straight. What are you waiting for?!
Drew Eubanks – Portland – PF/C – 12% Rostered
(5.7 ppg, 4.6 rpg, 1.0 apg, 0.5 spg, 1.2 bpg, 72% FG)
Did somebody say blocks?! If so, Drew Eubanks is your dude. The Blazer big man has blocked a shot in 10 straight games now. One block in all of those games would be good, but instead he has gotten 19 blocks over that stretch of games. This includes a six-block game against the Lakers last Monday. He doesn't bring much scoring, but he does bring the goods in the rebounding department, with two double-digit rebound games in the past week.
Grayson Allen – Milwaukee – SG/SF – 25% Rostered
(10.6 ppg, 3.6 rpg, 2.6 apg, 0.8 spg, 0.2 bpg, 1.9 3PTs)
Grayson Allen makes a return appearance to the fantasy basketball waiver wire list thanks to back-to-back three-steal games last week. Thought of more as a three-point specialist, Allen is bringing it in the defensive stats as well. Along with six steals last week, he also registered six threes, and even blocked a couple of shots.
Daniel Gafford – Washington – C – 41% Rostered
(8.3 ppg, 5.1 rpg, 0.8 apg, 0.4 spg, 1.3 bpg, 74.2% FG)
With Kristaps Porzingis on the sidelines injured, now is the time to get in on Daniel Gafford. If his above statline doesn't entice you enough, check out his box score last game: 21 points, 12 rebounds, two assists, one steal, five blocks, and 8-11 from the field. In the game before that, he got eight boards and four blocks, so that's nine blocks over his last two games. With no return set for Porzingis, Gafford will continue to be given a chance to shine.
Other fantasy basketball waiver wire players worth checking out: Larry Nance Jr, Grant Williams, Tyus Jones, Torrey Craig
Related Fantasy Basketball Waiver Wire Content: