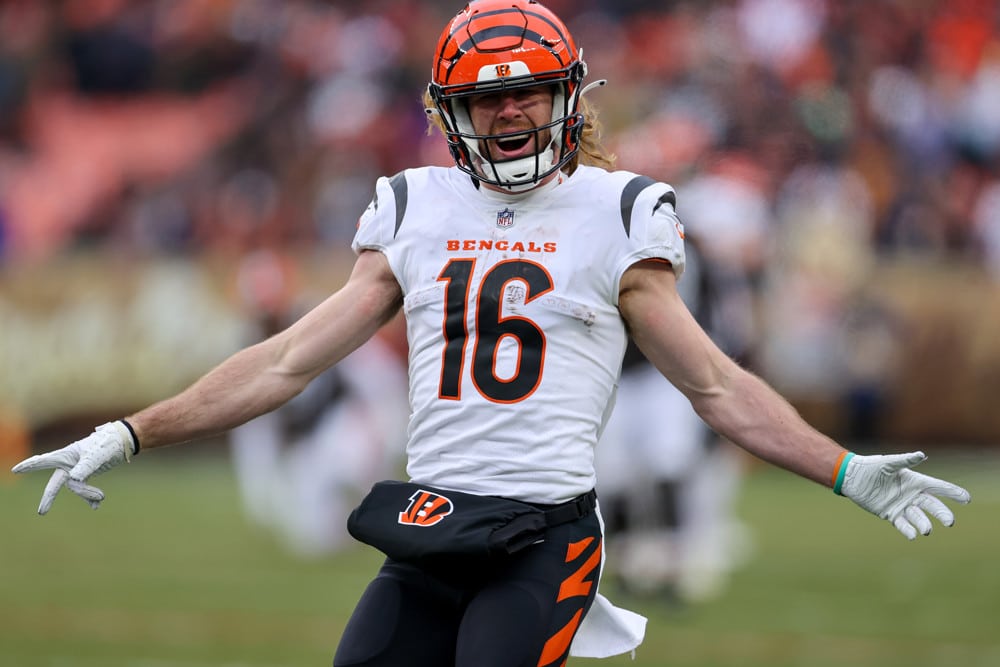 NFL Conference Championship Prop Bets
The guys (@GamblingPodcast) are joined by Katie Mox (@KatieMox) of the Moxie Bets podcast to give out their favorite NFL Conference Championship prop bets. As a true 49ers fan, she thinks Brock Purdy can change history for rookie quarterbacks in the conference championship game, who are 0-4 in this stage. He has answered the test every step of the way so far, so why can't he do it again?
Brandon Aiyuk has a very tough matchup going against James Bradberry and Darius Slay on the outside. The Eagles let up the least amount of receiving yards per game all year and with two lockdown corners, Aiyuk has a lot of work to do. As a whole, the Eagles secondary has been strong as the under on opposing quarterbacks passing yards is 16-3 this year. Brock Purdy has gone 59 straight passes without an interception in the playoffs thus far.
The next closest rookie to start this way had 14 passes before their first interception. This is a statistic that cannot last much longer. Purdy slander is strong in this prop show, but Katie argues Brock can easily go over 222.5 pass yards. She claims how yes the Eagles do get a lot of sacks, they don't really generate much pressure. If Purdy can remain calm in the pocket and just focus on getting the ball out, he should be fine. Jalen Hurts is essentially the goal line back for the Eagles. For some reason they do not like Miles Sanders at the goal line.
In addition, the 49ers will probably try to keep the Eagles one dimensional and make Hurts pass while rolling left. When this occurs though, Hurts will be looking downfield for his big target AJ Brown. He has gone over 26.5 yards for his longest reception in 70% of games this season. George Kittle has been dominating in the rise of Brock Purdy. To say he is hot is an understatement and one of the brighter spots has been his yards after catch. He puts pressure on all levels of the secondary and will get good opportunities to collect yards.
The AFC bets start off with Bengals legend Trenton Irwin. He gets solid opportunities amongst the stars of the Bengals offense and only needs 9 yards to cover his receiving line. He can easily do this in one catch. Another sleeper in the offense is Mitchell Wilcox, a backup tight end who gets solid work even with a healthy Hayden Hurst, who is battling a calf injury he has already dealt with. Joe Burrow has looked very good this year but he is still playing a playoff game in Arrowhead against a defense that gets solid pressure, he can easily make a mistake.
However, to counter the Bengals preserving their passing exposure and relying on the hot hand, they might run very often. For this reason, Burrow may not throw the ball much especially if Mixon and Perine are hot. With a number of injuries for the Bengals offensive line and a sneaky good adjusted sack rate for the Chiefs, they will get home, and it will probably be Frank Clark getting home. In the kicking game, Evan McPherson has been hot in the playoffs and should continue to as the Bengals should be able to score well. This same bet hit last week.
When the Bengals offense really looks like he can't be stopped, its when Samaje Perine is catching out of the back field. Travis Kelce is the star tight end, but Noah Gray puts in work himself as he has gone over his receiving yard line 80% of time and they love to get creative with him.
I present to you, every Brock Purdy interceptable pass pic.twitter.com/l3kJXi6lUg

— Parker (@ParkerLewes) January 26, 2023
NFL Conference Championship Prop Bets:
Kramer:
Brock Purdy under 222.5 passing yards
Jalen Hurts Anytime TD +110
Joe Burrow over .5 interceptions +105
Frank Clark to record a sack +160
Samaje Perine over 17.5 receiving yards
Sean:
Brock Purdy over .5 interceptions -130
AJ Brown longest reception over 26.5 receiving yards
Trenton Irwin over 8.5 receiving yards
Mitchell Wilcox Anytime TD at 14-1
Noah Gray over 12.5 receiving yards
Katie:
Brandon Aiyuk under 46.5 receiving yards
Brock Purdy over 222.5 passing yards
George Kittle longest reception over 20.5 yards
Joe Burrow under 37.5 passing attempts at -104
Evan McPherson over 2.5 extra points at +102
DeGen Plays:
Kramer: Noah Gray First TD, Jalen Hurts First TD at 287-1
Sean: Jalen Hurts 3 TDs at 46-1
Brock Purdy: First Touchdown +2300
Final Score Prediction:
Sean:
30-16 Eagles
Katie:
27-20 49ers
Podcast Transcription