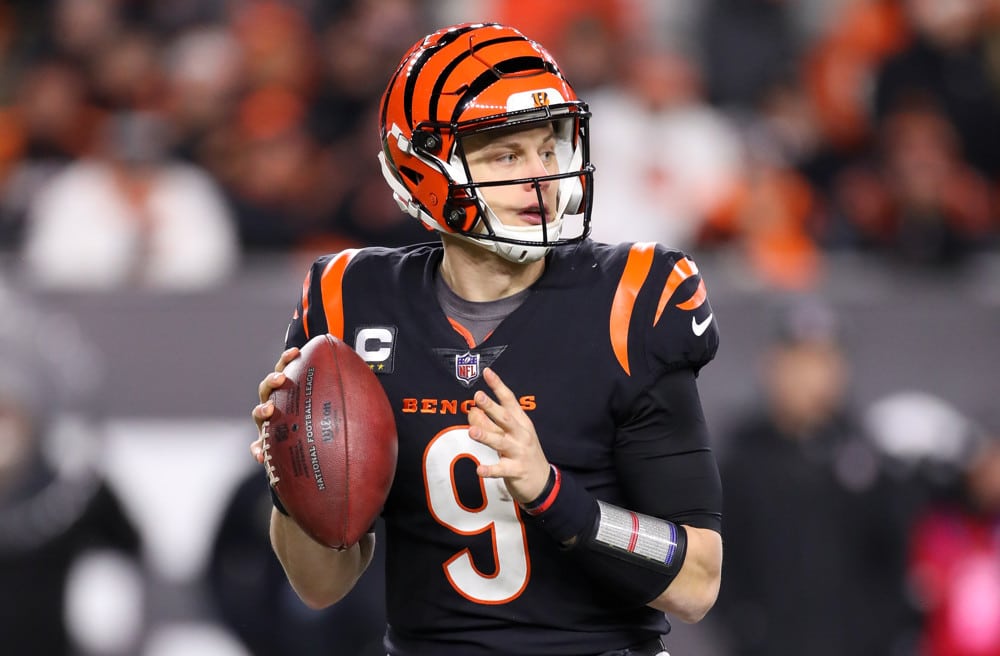 AFC Conference Championship Picks
The guys (@GamblingPodcast) give out all their AFC Conference Championship picks in this NFL predictions podcast. They're joined by Bengals insider Justin Wood to go over all their favorite betting angles for the Cincinnati Bengals at the Kansas City Chiefs.
Justin Wood joins the show to discuss the upcoming AFC Conference Championship. The AFC has boiled down to two final teams after a long season with an upcoming battle between the Chiefs and the Bengals. There have never been a closer set of Conference Championships in Vegas' eyes so this weekend will be exciting!
Chiefs/Bengals Odds:  Pick 'em! Bengals -108, Chiefs -108 Game Total O/U: 47
While Joe Brrrrr, had a great performance, the Bengals' running attack was impressive against the Bills. Even with an injured offensive line, Joe Mixon and Samaje Perine were able to impose will on the Bills front. Defensively, the Bengals looked impressive as well, shutting down the Bills and sending Stefon Diggs and Bills Mafia home with their hands on their hips. Cornerback Eli Apple played well in this game and had plenty to say about it as he found a way to reference Damar Hamlin in his trash talk.
Patrick Mahomes is battling an ankle injury from last week although it may not be too significant after a week of rest. Regardless, this would not be his first time playing injured in the playoffs, and the last time he did he dominated. Revenge is in sight for Mahomes and he should be balling this weekend. His defense has been up and down this year. They better hope they are up this week as they are facing an offensive juggernaut.
Every Step Mahomes takes here equals .1 of a point at the Sportsbook…Chiefs will be favored by sunrise tomorrow book it #NFLPlayoffs pic.twitter.com/6F14l5gqP0

— Alex Monaco (@Alex__Monaco) January 25, 2023
Even though Justin is a big time Bengals fan and has watched them have the Chiefs' number, he is more nervous for this game than he has ever been against the Chiefs. Their defense has been solid and counting out Patrick Mahomes even with an ankle jersey is never a good idea. However, the Bengals offensive line is improved from last year and they have the psychological advantage since they beat the Chiefs in the AFC Championship last year.
If you look at Jamar Chase's box score against the Chiefs, it would be clear to see he loves playing the Chiefs. Every week he can have a big game and this week is for certain. On the other side, Juju could have a big game as well due to Andy Reid's offensive scheme. Reid notably has trouble winning these Conference Championship games dating back to his Eagles days. Hopefully he is able to cook something up the Bengals can't stop.
Joe Burrow rushing attempts went up from 40 last year to 75 so far this year, with 11 in the playoffs thus far. Taking his rush yards will be interesting as he has the increased volume, and the Chiefs rush may not get home but will certainly force him out of the pocket. In addition, it is important to note that Joe Burrow has never lost a game that was under 40 degrees. They don't call him Joe Brrrrr for nothing.
Wynn Build Your Own Bets –
Kramer: Chiefs win 1st half, Juju over 100 receiving yards, Joe Burrow over 17.5 rush yards, Chiefs Defense to score a touchdown, $100 bet wins $29,848.
Sean: Joe Burrow Anytime TD, Mitchell Wilcox Anytime TD, Bengals ML, $100 bet wins $10,424.75.
Justin: Bengals ML, Hayden Hurst Anytime TD, Jamar Chase Anytime TD, Jamar Chase over 90 receiving yards, Joe Burrow over 280 passing yards, Joe Burrow over 20 rush yards, $100 bet wins $3,000.
Bengals at Chiefs Score Predictions:
Kramer: 27-17 Chiefs
Sean: 31-17 Bengals
Justin: 34-24 Bengals
Podcast Transcription