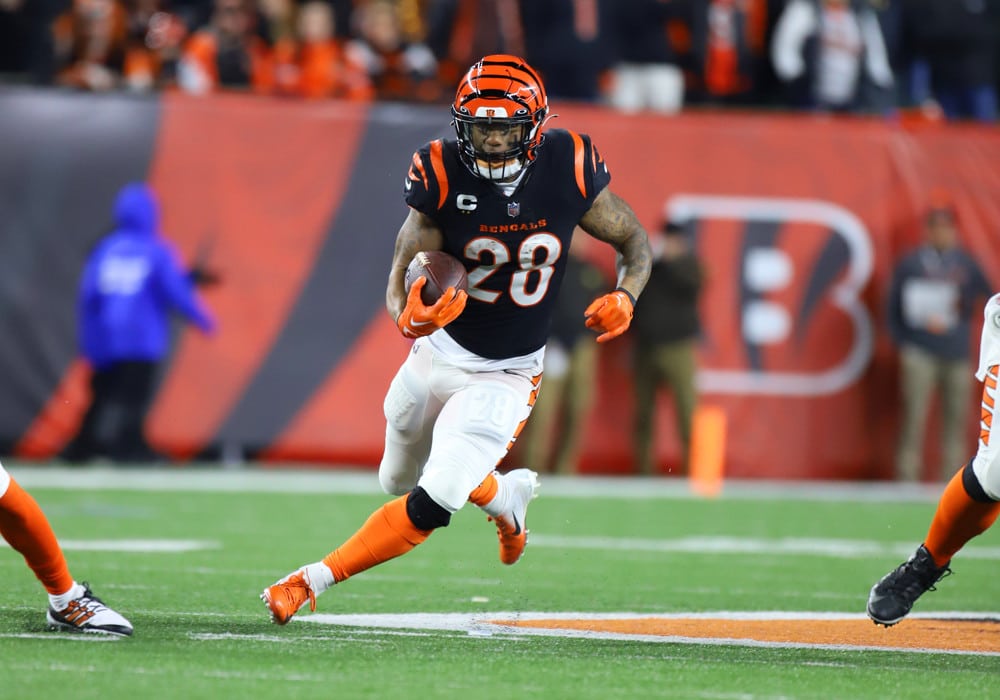 NFL Conference Championship DFS Picks
The guys (@GamblingPodcast) talk about their best DFS GPP lineups in this NFL Conference Championship DFS picks podcast.

The guys are in to discuss conference championship weekend for the NFL. Kramer is having a hard time, recovering from getting crushed, donning the Giants jacket to revitalize his mood. It's looking like we can expect exciting games this weekend that can go either way!
Sean starts off with the leader of the Eagles, Jalen Hurts for perhaps the 8th week in a row? Right you are. Sean is raring to go, unfazed, looking forward to continuing his streak. Draft a team with Eagles and Bengals; that's Sean's path to the Super Bowl. Not without his own evidence, as his best team has consisted of Joe Burrow, with a "ton of Eagles players." Of course, there is still the issue of concern about his shoulder, but word is that Hurts is good to go.
He has focus and fire, passion, and hunger. Sean is determined with this selection. Kramer, however, is leaning in another direction, unaffected by peer pressure. Who is Kramer gunning for? Initially, Chad Henne. Who cares about the odds, right?
But, if Henne doesn't sit well with you, fret not; Kramer's got a backup plan for those who need it. Joe Burrow, and Sean agrees. Burrow is a runner that Sean is looking forward to playing with another lineup as well. "The most zoned," as he says, Burrow seems to be a good pick right there with Hurts.
Can't say the same for Brock Purdy, however. With his 3rd road game in the NFL coming up, it's been a rough experience so far and the guys find it hard to push him. Want a Kansas City running back though? Sean and Kramer are claiming Jerick McKinnon. May have been an outliner, but with 11 rushing attempts and 25 yds last game, it's worth sticking around. Mahomes may have the luxury of getting the ball hiked quickly, but there's that ankle sprain to worry about. The guys are determined that you kind of HAVE to play McKinnon.
Having a look at a choice for running back, Sean is aiming for Perine as a good call with his good target share and efficient routes, mixing things up and saving some dough at the same time. Week in and week out Travis Kelce doesn't just perform, he dominates. Even though he is costly, it seems as though he is always catching the ball, often in the endzone.
Having been tired of missing out, Sean is considering Kelce for tight end, unlike Kramer, once again staying away from peer pressure. However, if McCaffery is shaky in the pregame, Kramer might just go with Kelce after all.
AJ Brown and Devonta Smith have both been dogs. Deciding between them is simply a matter of price. With Smith being cheaper, he is probably the better option. Defensively, the Eagles got an extra day of rest and were able to somewhat rest during their blowout win.
Conference Championship DFS Picks
Kramer:
QB: Patrick Mahomes
RB: Joe Mixon
RB: Jerick McKinnon
WR: Deebo Samuel
WR: Juju
TE: Noah Gray
Sean:
QB: Joe Burrow
RB: Miles Sanders
WR: Jamar Chase
WR: Tee Higgins
TE: Hayden Hurst
Flex: Kadarius Toney
That's all she wrote. Looking forward to another fire weekend or a complete bust? Choose wisely. With Sean's streak, he may be sitting on gold. But at the same time, Kramer might just be back with a vengeance.
I have an unhealthy amount of confidence that Jalen Hurts and this team can take this thing all the way.

This shit is special…#Eaglespic.twitter.com/PAlrE1ihan

— Thomas R. Petersen (@thomasrp93) January 23, 2023
Podcast Transcription