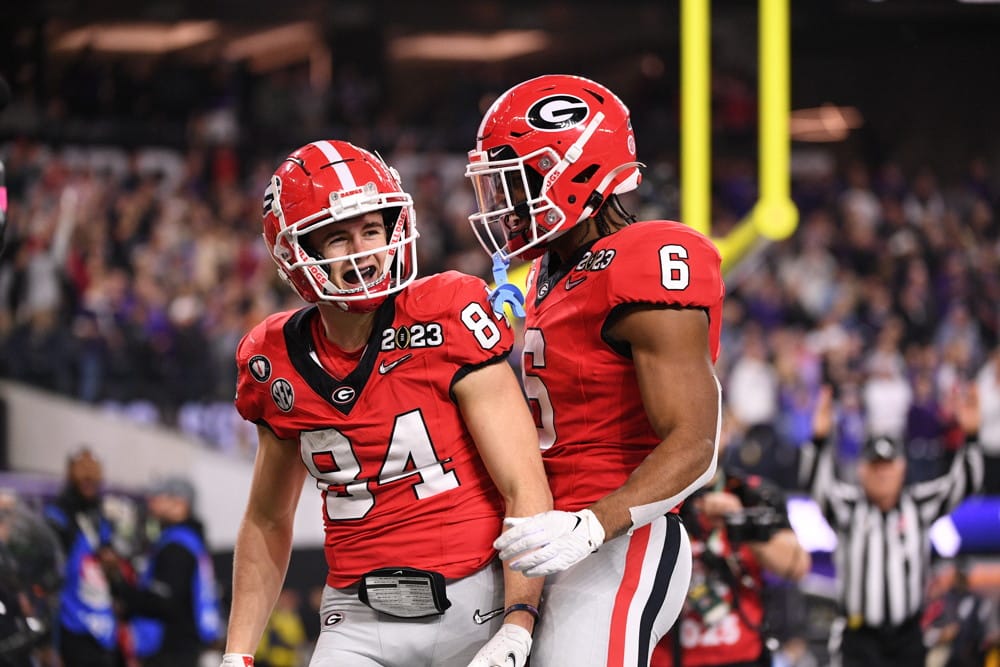 In the category of "what have you done for me lately?", it is time to start looking ahead at Georgia's chances for a national title three-peat in 2023. 
The oddsmakers have already weighed in optimistically for Dawgs fans and bettors. Here are Caesars Sportsbook odds on the favorites for the 2024 College Football Championship winner.
Georgia +325

Alabama +550

Ohio State +650

USC +1000

Michigan +1200

LSU +1400

Texas +1800

Clemson +1800

Florida State +1800

Notre Dame +2000

Tennessee +2200

Penn State +2200

Oregon +2500
There's a nice first bet free bet insurance welcome bonus for anyone using a Caesars promo code. Sign up, deposit funds and place a bet. If the bet hits, just cash the winnings. If the bet loses, Caesars refills your account with bonus bets equal in amount to the loss on the first bet, up to a maximum of $1250.
There has only been an "official" college football national champion since the Bowl Championship series began in 1998 and was succeeded by the College Football Playoff in 2014. Prior to that there were coaches' polls, writers' polls and all sorts of other bodies weighing in, sometimes not agreeing on the winner. Michigan and Nebraska both could claim national titles in 1997. 1964 saw three title winners; Alabama, Arkansas and Notre Dame. Even with the confusion and multiple titles, the only team that has ever won three in a row in any form was Minnesota all the way back in 1934-36.
Alabama had a shot to pull it off a three-peat in 2013 but lost to Auburn in the famous "Kick 6" game. If Georgia takes the 2024 national championship, it will generally count as a historic first.
The Dawgs actually opened as +380 favorites at Caesars and have dropped to +320. Lots will happen between now and the start of the season, much less through 12 regular season games, conference championship weekend and the final four team College Football Playoff before it expands to 12 teams in 2024-25.
Right here right now, it makes perfect sense to favor Georgia. The Dawgs had the second most talented team in the country in the just concluded season as per the "College Football Team Talent Composite" number calculated by industry leader 247Sports. They trailed only Alabama. Georgia loses some key players such as QB Stetson Bennett, DT Jalen Carter and CB Kelee Ringo, but their talent base is so large now that they can replace everyone much the way Alabama does each year. The Dawgs finished unbeaten in 2022 despite losing 15 players to the NFL. They project to return six starters on both offense and defense in 2023-24. Further they have another stellar recruiting class coming in. 247Sports ranks it as the second best recruiting class thus far, trailing only Alabama (of course). 
Georgia will welcome in two 5-star recruits, Edge rusher Damon Wilson and CB AJ Harris, and is given an 80% chance to sign a third, TE Duce Robinson. They also have 20 more 4-star recruits headed to Athens. Sophomore Carson Beck is expected to replace Bennett at QB, and he will still have star TE Blake Bowers to throw to, as well as a receiver corps that Georgia replenished with a couple receivers from the transfer portal. Rara Thomas led Mississippi State in receiving yards this past season, as did Dominic Lovett at Mizzou, and now both will play Between the Hedges.
SEC teams never have truly easy schedules, but Georgia should have little trouble with this slate of games in 2023.
UT Martin Sept 2

Ball State Sept 9

South Carolina Sept 16

UAB Sept 23

at Auburn Sept 30

Kentucky Oct 7

At Vanderbilt Oct 14

Bye

Florida (in Jacksonville) Oct 28

Missouri Nov 4

Ole Miss Nov 11

At Tennessee Nov 18

At Georgia Tech Nov 25
Georgia virtually always schedules a tough out-of-conference Power 5 opponent early in the season, and in fact that originally had Oklahoma on the 2023 schedule. The Sooners are joining the SEC possibly as early as 2024 however, so the schools canceled the matchup.
The good news for the Dawgs is that they look like huge favorites in every game except at Tennessee. The bad news is that one slip could theoretically prove costly. Georgia had to come back in the fourth quarter to knock off Missouri in 2022 and slogged around in games vs Kentucky and Kent State as well. Some of these one-sided looking games will surely be close in 2023. They would likely get into the playoff with one loss, but not definitely. 
Ohio State only lost to Michigan in 2022 and had wins over Penn State and Notre Dame yet almost missed the CFB. If USC wins the Pac-12 title game, Ohio State misses out. If Georgia loses once in 2023 and it costs them playing the SEC title game, they could miss the playoffs thanks to the creampuff out-of-conference slate. A loss vs Tennessee might set up that scenario, so that is something to watch out for.
That being said, we can still expect to see hypothetical one-loss Georgia in next seasons' CFP. Too much would have to line up wrong to deny the Dawgs a spot. The biggest challengers look like the same teams that always hover in the national title discussion, namely Alabama and Ohio State. 
The Tide ranked first in team talent composite in 2022 and first so far in 2023 recruit rankings. QB Bryce Young will be tough to replace, but Bama in the Saban Era has won titles with a wide range of quarterback play. Ohio State also loses a star QB in CJ Stroud but they should bring back seven starters each on both offense and defense from a team that came within one missed field goal of taking out Georgia. That list included superstar wide receiver Marvin Harrison Jr, who got injured in the Peach Bowl and RB TreVeyon Henderson who did not play in the game at all. The Buckeyes recruiting has slumped a bit in the Name Image Likeness (NIL) era, but the talent pool still ranked third in 2022. OSU will face a relatively tough schedule in 2023 as they travel to Notre Dame, Wisconsin and Michigan.
Other surprise challengers will emerge of course. Who saw TCU, 5-7 in 2021, getting to the CFB finals? Then again, the Frogs did not put up much of a challenge when they got there. One of USC or Oregon could get to the playoffs and cause problems with their explosive offenses. Of course, the Dawgs obliterated Oregon 49-3 in the 2022 season opener, so that threat might not matter either.
All in all, Georgia has an excellent shot to keep this epic run going and return to the playoffs next season. The betting odds already reflect that.