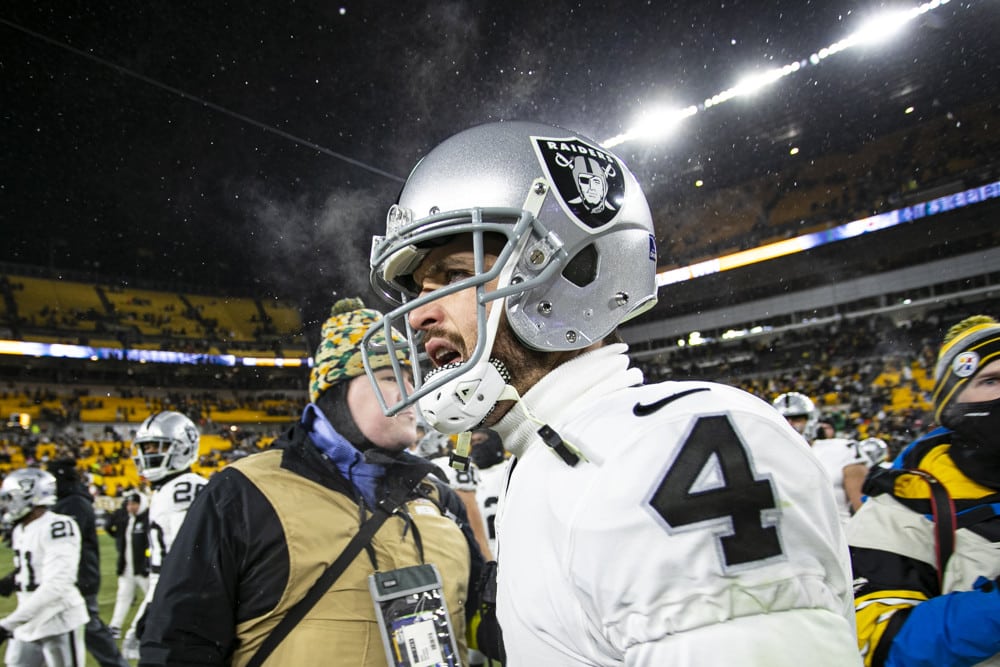 Derek Carr was on a lot of sleeper lists this summer and he did not deliver. There were a lot of changes to this offense and they did not result in fantasy production for Derek Carr. Carr was missing Hunter Renfrow and Darren Waller for most of the season, but he did have Davante Adams all year.
Carr's completion percentage went from 68%, 67%, and 70% in the last 3 seasons to just 60.8%. Although his touchdown percentage went up, his interceptions also went up. Carr threw 14 interceptions in just 15 games while averaging only 7.0 yards per attempt. This was his second-lowest Quarterback rating only behind his rookie year.

Did Derek Carr regress or did he just not fit the Josh McDaniel system? That will be the debate all offseason and where you stand will help answer the next question. Is Carr a buy-low this offseason or can you not wait to sell him? If you have Carr, you obviously have to wait until you know where he is playing in order to get the most value.
If you are buying low however, you are hoping for a good landing spot. Here are some of the future landing spots for Derek Carr in order of their impact on his dynasty stock.
MORE SGPN FANTASY FOOTBALL CONTENT
Follow SGPN Fantasy Football on Youtube
SGPN Fantasy Football Rankings
---
Derek Carr's Trade Value
Derek Carr could be traded soon and that is likely why the Raiders chose to bench him. The reason they will be in a rush to get a deal done is his contract. According to Spotrac, Derek Carr's 2023 salary + $7.5 Million of his 2024 salary are guaranteed on the 3rd day after the super bowl.
This is February 15th so you don't have to look it up. Carr may not require the same type of trade capital as Matthew Stafford or Russell Wilson. Nonetheless, he won't be as cheap as Matt Ryan. I think looking back at the Carson Wentz trade to the Colts could be a good baseline for this deal.
The deal was a 3rd round pick and a future 2nd that could be a 1st-round pick based on conditions. This is probably more realistic than multiple 1sts, we should find out soon though. One important note is that Derek Carr has a no-trade clause, meaning he will have to sign off on any trade location.
---
Future Landing Spots for Derek Carr
New York Jets + 400
The New York Jets looked good this year with every Quarterback not named Zach Wilson. They did mutually part with offensive coordinator Mike LaFleur, regardless they have one of the up-and-coming rosters. The positives for the Jets are that they have a core of young talent already on the roster on both sides of the ball. They almost made the playoffs and a lot of people think they are a Quarterback away from being there.
If not Carr, Jimmy Garoppolo has been named as another potential candidate. Carr would have Breece Hall, Garrett Wilson, and Elijah Moore amongst other playmakers on the offense. They have a much improved offensive line and a strong defense. This is one of the most improved teams and they are pointing in the right direction.
The negatives here are the division and the conference. Carr would join a tough division with Josh Allen, Tua Tagovailoa, and Bill Belichick. Carr would also be playing in the northeast and outdoors for the majority of the season. I think for football this is a great landing spot, but I don't know if this is the best dynasty landing spot for him. It is good, just not great.
---
Indianapolis Colts + 400
The Indianapolis Colts' GM Chris Ballard has already spoken about doing whatever it takes to get a Quarterback in the draft. If they don't think this is a real possibility they could turn to Carr. The Colts have been a mess since the sudden retirement of Andrew Luck.
The Colts have tried to band-aid things together with older veterans like Philip Rivers and Matt Ryan. They attempted to rehabilitate Carson Wentz as well who was younger but had obviously regressed since his knee injury. The Colts do not have a 2nd round pick in 2022 and may have trouble trading up for one of the top two Quarterbacks.
They are sitting at the 4th spot and I think are more likely to draft a Quarterback in my opinion. If they did go with Derek Carr though, I think this is a good landing spot for him. He gets to play in the AFC South and the Colts have some solid offensive pieces. The offensive line is not as good as it once was, but they still have Jonathan Taylor and Michael Pittman Jr.
---
Tennesee Titans +600
The Tennesee Titans have cleaned house already this offseason. They have let go of 4 coaches and they fired their GM earlier this offseason. A new general manager could come in here and want to move on from Ryan Tannehill. Tannehill makes this situation a little more difficult though.
Not only does it not make sense to have both Tannehill and Carr on the roster, but they would also have trouble affording it. They almost would have to trade Tannehill in the deal or before the deal with another team. If Derek Carr went to the Titans I don't think it would be a good landing spot for fantasy football either.
This team is built around Derek Henry and the passing volume itself would hurt him in fantasy football. They also do not have one of the better pass-catching rooms in the league. The offensive line is deteriorating and not a situation Carr will want to go to.
---
Washington Commanders +900
The Washington Commanders just relieved Scott Turner of his duties. It will be interesting to see who they bring in to call plays, but it does sound like Ron Rivera is there to stay. They have not committed to Carson Wentz or Taylor Heinicke, but it is suspected they move on.
This is another team that likely goes for Jimmy Garopollo if they can't get Carr. This isn't a terrible landing spot for Carr as they have one of the better Wide Receiver rooms in the league. They also have a good running game and a good defense. They are also in the NFC and this is the first NFC option.
Carr moving to the NFC would be interesting with how stacked the Quarterbacks in the AFC are. My biggest concern for Carr is the change in ownership. As much as getting Daniel Snyder out of there is a positive for everyone. If ownership is not there to sign off on Carr's deal, this could put him in limbo in 2024.
---
New England Patriots +900
The New England Patriots' offense was not good this year. The experiment of Matt Patricia calling plays was a disaster and the rotating Quarterbacks did not help. Mac Jones regressed this season and Bill Belichick is not happy about missing the playoffs. He lorded over this division for decades and has now fallen toward the bottom.
The only way up is to figure out the offense and that starts with the Quarterback. If they don't feel like Mac Jones can do that, they could try to get a veteran option. There are rumors that Kliff Kingsbury or Bill O'Brien could come in to call plays and that does give promise to whoever is under center. I still do not see this as a great dynasty landing spot for Carr with question marks all over the place on this offense.
---
Tampa Bay Buccaneers – 10/1
Every single team in the NFC South is a great option in my opinion. Good weather, bad defenses, and a lot of great weapons. The Buccaneers are at the top of the list with Chris Godwin, Mike Evans, and Rachaad White. They also have an offense that throws the ball at an extremely high rate.
This is one of the top fantasy football landing spots for Carr. I think it could be a realistic option if Brady moves on. Brady could move on to the Raiders and they end up trading places. However, Carr going to the Tampa Bay Buccaneers would be a huge win for his dynasty managers.
---
New Orleans Saints – 11/1
The Saints are another great option. Carr would get to play in the dome and all of those reasons above apply here. The Saints have a good offensive line and they have some really good skill players. Even if Michael Thomas leaves, they have Chris Olave, Rashid Shaheed, Alvin Kamara, and Juwan Johnson already. Playing against Atlanta and Carolina four times a year will definitely help as well.
---
Carolina Panthers – 12/1
The Carolina Panthers are looking for a Quarterback, again. This has been a rinse-and-repeat headline for the last few seasons. They are desperate to stop this trend and they could end up making a big splash in the draft. The Panthers are another team that will want to trade up to the top pick.
Unfortunately for them, they may have played too well and put themselves too far back to do it. The Bears would have to be willing to trade back to the 9th spot and the Panthers will have to pay a hefty price for that big of a move. The Panthers could also go with another rookie such as Will Levis, Anthony Richardson, or Hendon Hooker.
Another option would be to surprise us and stick it out with Sam Darnold. Darnold played really well under Steve Wilks who may have earned the head coaching job. The Panthers have a lot of unknown with their coaching situation, but appear to be a good/not great landing spot for Derek Carr for fantasy.
---
New York Giants – 18/1
The New York Giants I do not think this is a likely spot. Daniel Jones has played really well and this coaching staff really seems to have bought into him. His progress this year has been fantastic and they likely work out something with him, even if it is a short-term deal.
If Carr goes there, I do not think it would be a great fantasy landing spot right away. He doesn't have the legs that Jones has and with this group of pass-catchers, I don't think he would thrive for fantasy purposes.
---
Houston Texans – 18/1
I would say there is a zero percent chance that he goes here. First, they are likely drafting Bryce Young or C.J. Stroud. Second, this franchise has a history with the Carr family. This is not great history and no way that Carr wants to be a part of this organization.
Reminder, he has a no-trade clause and will have a say in where he lands. This would be a bad landing spot for him in fantasy as it stands right now. This is one of the worst rosters in football and the skill position groups are terrible. Their best pass-catcher wants out of town and they would use draft capital on bringing in Carr versus getting him weapons.
---
Atlanta Falcons – 20/1
At 20/1, I mean I may have to sprinkle some money on this one. I actually really like this landing spot. I would love this landing spot if Arthur Smith were out of town. Nonetheless, this is a team that has some special players and a lot of fire power to make moves this offseason.
They have the 3rd most projected cap and they have 5 picks inside the top 113 in this year's draft (8,45,76,110,113). Derek Carr would walk into an offense with Kyle Pitts, Drake London, and Tyler Allgeier as well. The team needs to address the offensive line though and find some complimentary pieces on offense. In all, this is one of my favorite landing spots.
---
Seattle Seahawks – 20/1
This is another great spot and another team with a ton of draft capital. Geno Smith was the QB5 in fantasy football this season and Derek Carr would thrive for fantasy in this offense. If the team doesn't resign Geno, this is an option for them.
I don't think this is the route they go though as they could easily make a move for a Quarterback in the draft if they decided to not go with Geno. They could also sign Geno to a franchise tag or transition tag as well, then draft a Quarterback. I don't see this one happening, but if it did I would like it for Carr's fantasy stock.
---
Pittsburgh Steelers – 25/1
Derek Carr wants to go to a stable franchise and a winning organization. The Steelers have been that for a long time and Mike Tomlin has a record 16 seasons in a row above .500. I do think the organization is invested in Kenny Pickett and not the type of organization that moves on from him this quickly. I would honestly have the odds lower on this one.
If Carr did go to the Steelers, I think it would be good for fantasy. This team has a lot of great young weapons and a good defense.
---
Green Bay Packers – 30/1
The odds on this one could move a lot if we get some news about Aaron Rodgers. Unfortunately for Packers fans, it will probably be another drawn-out off-season for them. If Carr went to Green Bay, I think it would be good for him for fantasy.
I would not say great, but this would be a solid option for him. Christian Watson looks like the real deal and the division is one of the most fantasy friendly in the league. If Rodgers moves or we hear about Rodgers wanting to play for another team, this could move the line. Carr would be a realistic replacement as he said he wants to go to a winning team and a stable organization.
---
Miami Dolphins – 30/1
Miami Dolphins are an interesting one because of Tua's health. We all hope that Tua comes back strong and doesn't continue to have lingering effects from his concussions. However, we can't ignore 3 concussions in a year and how long he has spent in the concussion protocol this season.
If for some reason Tua could not play next season or was forced to retire, this would jump up to the top of the list. This offense with these weapons would be an ideal landing spot. This offense was not as impressive in the second half of the season either. Some people think McDaniel got figured out, we also know that Tua was in and out for most of the second half of the season as well.
---
My Top 5 Landing Spots for Derek Carr in Dynasty
1. Tampa Bay Buccaneers
2. Atlanta Falcons
3. New York Jets
4. Washington Commanders
5. New Orleans Saints
My Prediction: The Atlanta Falcons
---
We hope you enjoyed reading about these potential landing spots for Derek Carr. Be sure to check back with SGPN daily for more fantasy football content.
RELATED CONTENT