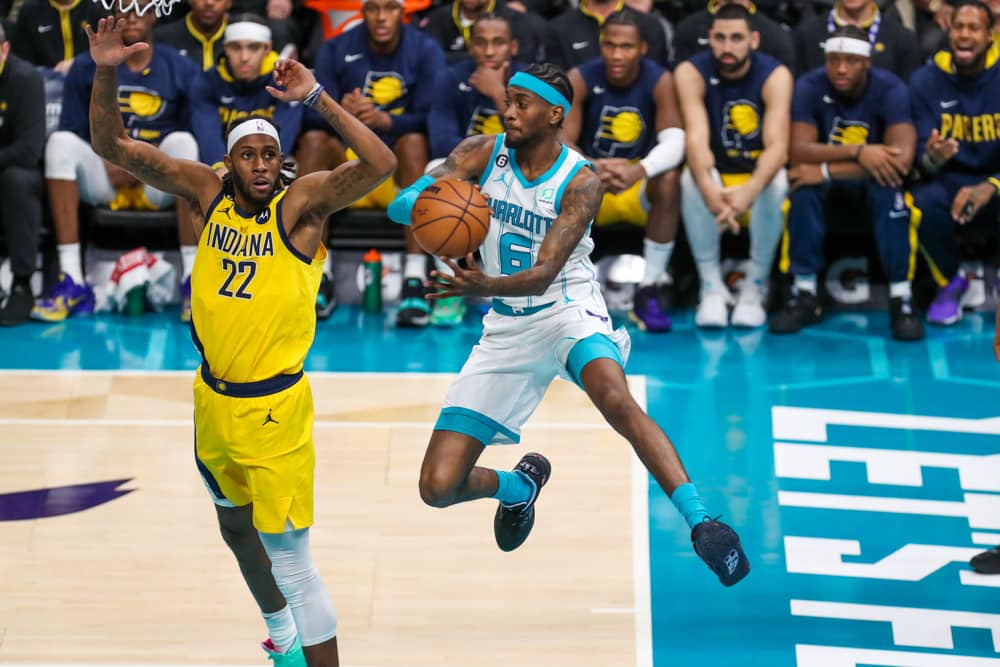 I don't know about you, but the injury bug has bitten my fantasy basketball team big time. My IL slots are all filled up, with plenty of other players' game-time decisions due to ailments. So you better believe I've been hitting up my fantasy basketball waiver wire to fill in these holes. Here are ten players who can help you out as well.
(only includes players rostered in 50% or less of Yahoo Fantasy leagues; stats listed are after Saturday's games)

Best Fantasy Basketball Waiver Wire Pickups: Week of Jan 9th
(11.4 ppg, 3.1 rpg, 2.3 apg, 1.1 spg, 0.3 bpg, 2.1 3PTS)
Kentavious Caldwell-Pope returns to our list, and with a bullet, as he's the top-rated player available in at least 50% of leagues right now. He's having a solid season for Denver, and an excellent season in terms of fantasy basketball, as he's the 26th-best player at this point. Over the past week (three games), he averaged 11.0 ppg, 3.0 rpg, 3.0 apg, and hit six three-pointers. On the season, his shooting split is 47-48-84. Solid.
Kevon Looney – Golden State – C – 45% Rostered
(6.7 ppg, 8.5 rpg, 2.9 apg, 0.4 spg, 0.6 bpg, 62.7%)
Ol' reliable Kevon Looney of course graces this article, but he's jumped up to a 45% rostered rate, so he may be playing himself out of this space. I took my advice and added him to my roster, and I'm not disappointed. He's grabbed double-digit rebounds in five straight games, and that's the main reason to add him – boards. Since last week's column, he averaged 9.7 ppg, 15.7 rpg, 2.7 apg, 1.0 spg, and 1.0 bpg. And he shot 10-16 from the floor.
Bruce Brown – Denver – SG/SF/PF – 49% Rostered
(11.1 ppg, 4.2 rpg, 3.9 apg, 0.9 spg, 0.6 bpg, 1.3 3PTs)
Bruce Brown made his debut on our fantasy basketball waiver wire pickup list last week, and he continues to get the job done, whether he's filling in for Jamal Murray as a starter or playing off the bench. Since last week he averaged 10.0 ppg, 5.0 rpg, 4.0 apg, 1.3 spg, 0.7 bpg, hit four three-pointers, and shot 50% from the field. And when he does fill in as a starter, his numbers take a healthy jump.
If you're not a fan of Bruce Brown, then I might not be able to be your friend.#Nuggets #MileHighBasketball @BruceBrown11 pic.twitter.com/Zg5jwe2vt7

— Joel Rush (@JoelRushNBA) January 7, 2023
Jalen McDaniels – Charlotte – SF/PF – 46% Rostered
(10.8 ppg, 4.8 rpg, 2.1 apg, 1.1 spg, 0.6 bpg, 1.2 3PTs)
Jalen McDaniels is another player whose stellar play is about to push him past the 50% rostered rate. Grab him while you can. He's scored in double-digits in six straight games and shot 50% over that span. But it's not just scoring he brings to your team. He's grabbed six, seven, seven, and nine rebounds over his last four games, and swiped seven balls over his last three, while also swatting four shots over those three games.
(9.9 ppg, 4.1 rpg, 1.3 apg, 0.7 spg, 0.9 bpg, 1.4 3PTs)
Patrick Williams showed up on our radar earlier this season, only to drop off again. Now the former #4 overall draft pick is on another hot run. Since the calendar changed to 2023, he's averaged 14.3 ppg, 5.3 rpg, 1.5 apg, 1.0 spg, 0.3 bpg, and 2.3 threes per contest (four games). And for the full season, he's shooting a sparkling 46/41/91. He can be a bit boom or bust, so if you pick him up I suggest making it a long-term acquisition.
Kyle Anderson – Minnesota – SF/PF – 30% Rostered
(7.9 ppg, 4.2 rpg, 3.7 apg, 1.1 spg, 0.7 bpg, 0.6 3PTS)
'Slo Mo' Kyle Anderson continues to do yeoman's work for the Wolves while seemingly their whole roster is sitting on the sidelines in street clothes. The crafty veteran has been filling out the stat sheet, which is what all fantasy basketball players look for. In January he's averaging 12.3 ppg, 4.3 rpg, 6.3 apg, 1.3 spg, 0.7 bpg, and 1.7 threes per night, while shooting 56-63-100. No, that shooting line isn't a typo.
sorry dawg I just still can't take Kyle Anderson seriously after this pic.twitter.com/rrZFLjIDKB

— Bobby (@BobbyMlRE) January 3, 2023
Related Fantasy Basketball Waiver Wire Content: