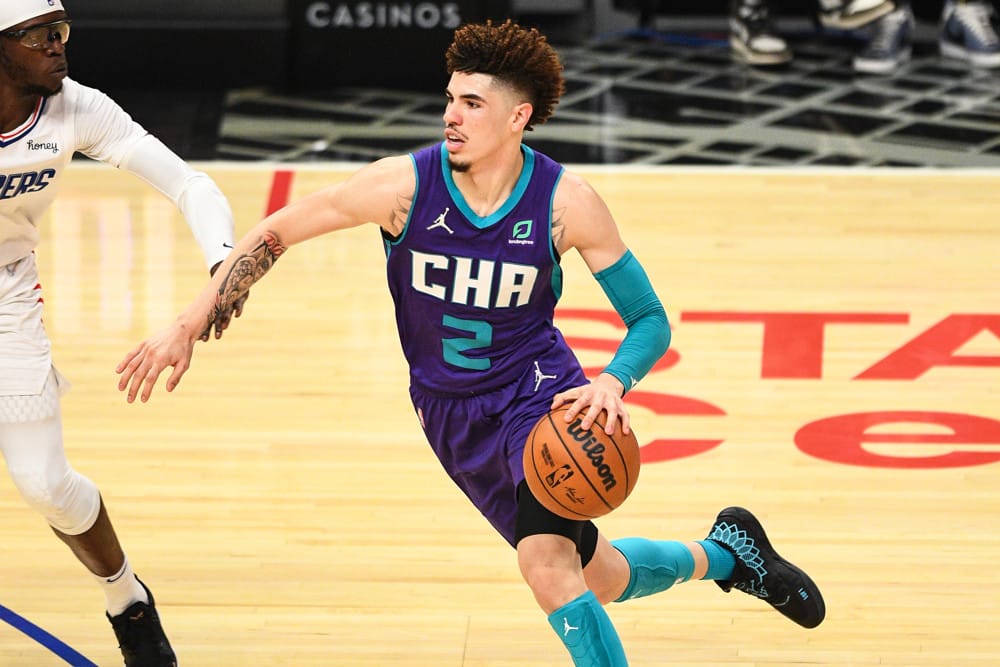 Twenty-two teams tip off as part of a loaded Friday slate of games. Nine out of the top ten teams in the East will be among those in action. That's a whole lot to dig through in putting together a winning NBA daily fantasy lineup. Luckily for you guys, we've weighed through all the noise and have just what you need to make that green.
NBA Daily Fantasy Lineup for Friday – 1/6
If you're going to buy a big ticket item on the NBA daily fantasy list for Friday, make it LaMelo Ball. He's only fallen below 50.0 fantasy points once in his last nine games. That makes this salary basically a guaranteed solid floor. In addition, some of Ball's best games lately have come with big rebounding output. While Milwaukee is middle in the pack in opponent's rebounding, they've allowed 59.0 a game over the last three (good for 26th in the league).
Giddey is a rebound play I like for Friday. After putting up a season-low in rebounds on Wednesday, with just 16 points, I think he's a candidate to bounce back in a big way. Especially since when you look over his last four, he has been generally hot – averaging 22.0 points and 8.0 rebounds in that span.
Hield is one of those hot hands who has a salary that just hasn't caught up to his production yet. While he's only averaging 31.9 fantasy points per game (which would be decent at this price), over his last five, he's been far better. He's gone for 41.24 per game over that span. By putting him in your NBA daily fantasy lineup, you're banking on the regression not happening yet – but I say the juice is worth the squeeze.
If you're looking for someone to fill out the lineup for cheap, you aren't going to find a volume play quite as good as Williams. In his last dozen games, he's only failed to play at least 30 minutes once. Three times in that same span, he's cracked 40 minutes. The stat lines waver up and down pretty volatilely, but at least you don't have to worry about your cheap pick not getting on the floor.

Yeah, I'm taking two Bulls off the board here in Philly, but I actually like both of these guys based on rebounding production. Vucevic has out-totaled his season average in 4 of his last 5 (Williams in 5 of his last 8). On top of that, the Sixers are among the league's worth in rebounding percentage (nabbing them at a .483 clip). Vucevic should be cleaning glass all night.
Hyland is another hot hand who I think has a value that is exceeding his salary. Over the last four games, he's really started to let the deep ball fly, and his hitting at a much higher percentage. In each of those games, he's drilled at least three from deep. Philadelphia is allowing 12.0 three-pointers per game over that span (putting them close to the bottom third in the league). You have to imagine Hyland gets a couple of them here to justify that price.
Osman hasn't been starting over the last three games, but he's been putting in starter minutes. He has averaged over 30 minutes in that span with 25.3 fantasy points. He's averaged three from beyond the arc in that span and hasn't failed to score a dozen points. Seems like a no-brainer as far as a cheap option goes.
The Blazers are one of the worst teams in the league in stopping centers from scoring points (currently ranked 24th). They're running into a center that is putting up 42.2 fantasy points a game. Count on another big game from him in this one.
If you'd like even more information that could help your NBA DFS lineups, be sure to check out the NBA Gambling Podcast. The guys are dropping episodes every week to make you the smartest guy at the bar. 
Related Content