With the fantasy season winding down, it's time to review Dynasty Wide Receiver Sell Candidates. Wide receivers hold their value much better than running backs in dynasty fantasy football. We see less volatility with this position from season to season. The top 12 hold a lot more consistency year to year, and this is why you should target WRs in your startups. This does not mean they are invincible, and they also have an age cliff. Wide Receivers are usually in their prime between the ages of 23 and 30.

The good news is that there have been a lot of recent players that have produced early. You are not waiting 2-3 years for them to develop like you were in the past. The average age for the prime is around 27, and players that are in the 28-30 window will start losing value.
Age 28 hit Kenny Golladay and Allen Robinson pretty hard. Here are some top wide receivers at 28 or older: Adam Thielen (32), Davante Adams (30), Keenan Allen (30), Tyler Lockett (30), DeAndre Hopkins (30), Cooper Kupp (29), Michael Thomas (29), Brandin Cooks (29), Mike Evans (29), Stefon Diggs (29), Tyreek Hill (28), Amari Cooper (28), Mike Williams (28), Calvin Ridley (28), and Tyler Boyd (28).
In .5 PPR scoring, there are only 6 WRs (25%) that are 28 years or older in the top 24 WRs in fantasy football prior to Week 17. Only 2 of those players are 30 (Davante Adams and Tyler Lockett). in 2021, 0 WRs were 30 years or older in the top 24.
In 2021 there was 1 (Marvin Jones), and in 2020 there were 3 (John Brown, Julio Jones, and Julian Edelman). Most of these players are producing at a high level on a points-per-game basis which makes it hard to trade as a contender. Also, makes them easier to trade if you are selling off pieces. But they are all one injury away or a few bad games away from their value going down.
Cooper Kupp's value went down immediately following his injury. You can point to some recent players who you wish you moved on from earlier. Robert Woods is a good example, and so is Julio Jones. Jon Robinson didn't get the memo, and now he is fired. When you do your startups this offseason, you will see where the ADPs of all of the players mentioned before will decrease from last year.
MORE SGPN FANTASY FOOTBALL CONTENT
Follow SGPN Fantasy Football on Youtube
SGPN Fantasy Football Rankings
---
Dynasty Wide Receiver Sell Candidates for 2023
Aging Wide Receivers
Davante Adams (Age 30) – Las Vegas Raiders
Davante Adams is a player that epitomizes the consistency of the WR argument. Since 2018 Adams has been a top-2 option on a fantasy points-per-game basis. In 2018 he was the WR2 overall; in 2019, in 12 games, he finished as the WR23; in 2020, he was the #1 WR overall; and in 2021, he was the #2 WR overall. In 2022, Adams is the #4 overall and is still one of the best in the game. But, at 30 years old, he is already defying historical data.
In your startups, he will start dropping outside of the top 12 dynasties WRs. This gives you a good idea of where his trade value is going. You can still get good value for him, but you will want to get out before it is too late. I have heard the argument that he is under contract for five years with the Raiders after signing a 5-year deal with them this offseason.
That is true, but the Raiders have an out in 2025 where they could walk away from Adams for $15.7 million of the remaining $68 Million left on his deal. At this point, Adams will be 33. I do think Adams will be one of the best WRs in 2023, but I would rather get out now than wait to see the fall off as you did with A.J. Green or Julio Jones.
Recent Trades: Davante Adams for Derek Carr (SF) + 2023 3rd (mid); Davante Adams + Nyheim Hines for Michael Pittman Jr. + Calvin Ridley Jr. + 2023 3rd (mid); Davante Adams for Adam Thielen + Christian Kirk + 2023 2nd (mid) x 2; Davante Adams for D.K. Metcalf; Davante Adams  + 2023 3rd (mid) for Late 2023 1st.
DeAndre Hopkins (Age 30) – Arizona Cardinals
The Arizona Cardinals are a hot mess, and DeAndre Hopkins is now having knee issues. He is another player you will be forced to hold because of the current situation. His name value should help carry some trade value going into the 2023 season, but his startup ADP should give you an idea of the current value. His value has decreased and will continue to decrease as he gets older. Kyler's injury does not help the situation. But when people go to set those lineups in late August and Early September is when you can move Hopkins.
Recent Trades
Aaron Rodgers (1QB) + DeAndre Hopkins for Joe Burrow (1QB) + Rashod Bateman + Kenneth Gainwell; Davante Adams for James Conner + Allen Robinson + 2024 4th ; DeAndre Hopkins for 2023 2nd (mid) + 2024 2nd (mid) ; DeAndre Hopkins  + 2023 3rd (mid) for 2023 1st (Late)
Keenan Allen (Age 30) – Los Angles Chargers
Keenan Allen was a buy-low earlier this year, and since returning, he has been back to playing great football. Not only great for his team but great for your fantasy team. Since returning from injury, Allen has been a top-30 WR in every game. Allen has been no worse than WR29 and has been a top-12 option in 50% of the games played.
If he continues this, he will be a borderline top-12 WR in redrafts next year. This only helps his dynasty value for teams looking for short-term options. But if he gets hurt again, it will tank his value. Take advantage of this sell window while it is still open.
Recent Trades
Keenan Allen + Travis Etienne + 2023 4th (mid) for Cooper Kupp + Khalil Herbert + 2023 3rd (mid) + 2023 4th (mid); 2024 2nd for Kennan Allen; 2023 2nd (mid) + 2023 3rd (mid) for Keenan Allen
Tyler Lockett (Age 30) – Seattle Seahawks
Tyler Lockett has had a great NFL career, but his inconsistencies as of late have been frustrating for fantasy football. That was not the case in 2022 with Geno Smith. Lockett has been one of the most consistent options in football until he hurt his finger. Lockett almost always finishes as a top-12 option.
This year he has done it differently. In 2020,  Lockett scored ten or fewer PPR points in 8 games. Back in 2021, Lockett scored ten or fewer PPR points in 7 games. In 2022, Lockett only scored ten or fewer PPR points in 2 games. Lockett has Been a top-30 option in 12 of 14 games, with 7 top-24 performances and 4 top-15 performances. Lockett will likely have a similar situation next year, and you can sell him based on that.
Recent Trades
Tyler Lockett + Van Jefferson for Courtland Sutton ; Tyler Lockett for 2023 2nd (mid) ; Tyler Lockett for 2024 2nd (mid) + 2023 4th (mid) ; Tyler Lockett + 2023 2nd (late) for Treylon Burks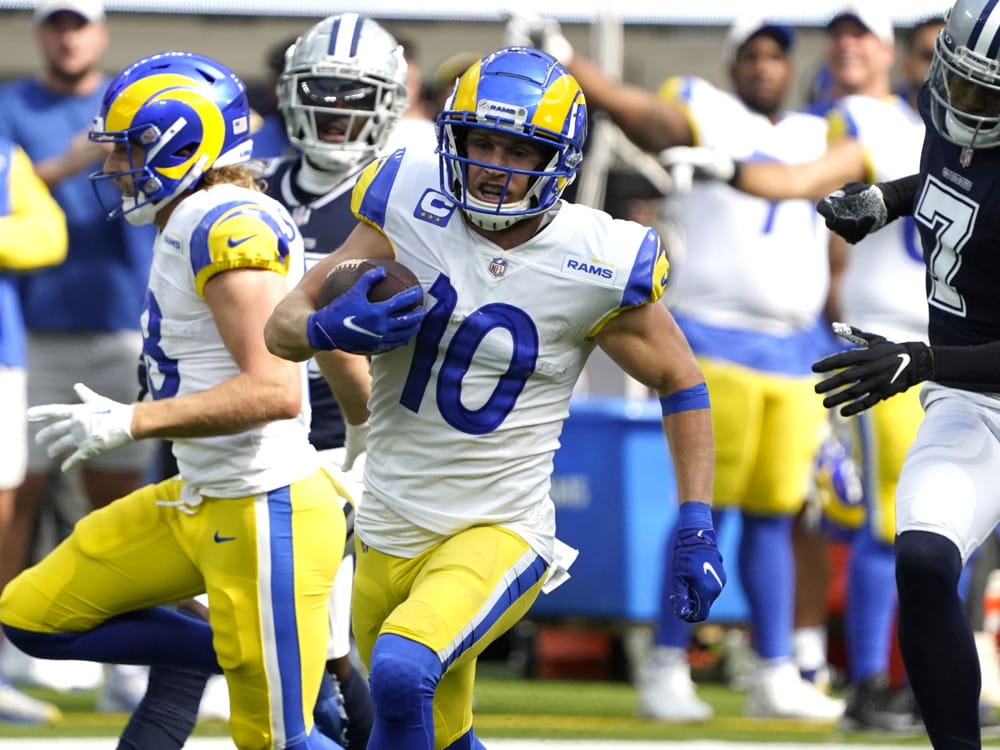 Cooper Kupp (Age 29) – Los Angeles Rams
Cooper Kupp is another hold this offseason. This Rams offense has been awful, and Matthew Stafford has been awful. The first piece of good news for Kupp is that Stafford plans to return. The team could likely sign Baker Mayfield to back up Stafford as a potential long-term developmental option.
Kupp is a good example of how value can change quickly for these older receivers. If he went down and a contender wanted to move him for a win-now piece, the market was pretty sad. Kupp was almost impossible to move because of the crap offers, and rebuilders do not want an aging asset. Hold out until the beginning of the season and move Kupp right before week 1.
Recent Trades
Cooper Kupp + 2023 3rd (mid) + 2023 4th (mid) for Marquise Brown + David Montgomery + Khalil Herbert; Cooper Kupp for 2023 2nd (mid) + 2024 1st (mid) ; 2024 1st (mid) for Cooper Kupp
Stefon Diggs (Age 29) – Buffalo Bills
Stefon Diggs is still one of the best WRs in the league, and he is on one of the best offenses. But, he has slowed down at the end of the season this year. Since week 10, Diggs has not had a 100-yard performance.
In his last six games, he is averaging 4.8 receptions, 56.6 yards, and .5 touchdowns per game. Diggs is reaching that age 30 season and is someone you should try to move this offseason while he still has top-10 dynasty WR value.
Recent Trades
Stefon Diggs for Jimmy Garoppolo (SF) + Rashod Bateman + Chase Claypool ; Stefon Diggs + Mack Hollins + Hayden Hurst for Derek Carr (SF) + Calvin Austin III + Marquise Brown + Logan Thomas + 2023 4th (mid) ; Stefon Diggs + Darren Waller for Deebo Samuel + Jameson Williams ; Stefon Diggs + Josh Palmer for Dameon Pierce + Darnell Mooney ; Stefon Diggs for 2023 1st (mid) ; Stefon Diggs for 2023 1st (late) + 2023 2nd (late)
Mike Evans (Age 28) – Tampa Bay Buccaneers
Mike Evans is currently the WR26 is .5 PPR scoring despite playing 14 games (missed one due to suspension). Evans is usually a touchdown machine, and this year he has hit regression hard. Mike Evans has not scored a touchdown since week four and has only scored a touchdown in 2 games this season.
Evans has had lower receiving yards this year as well. Since week 9, he only has one game above 60 yards receiving. During that same period, he has had four games below 50 yards receiving. Evans is a player you probably started and should not have started for most of the season.
You obviously need to hold right now, but if you can move on from him at some point this offseason, I would do so. He is a good player that you can try to move around the start of the season when his redraft ranking and projections are high. We do not know who the QB will be next year for the Buccaneers.
They could turn to Gabbert or Trask in a rebuild situation or they could be a team that brings in a quarterback. There are a lot of interesting free-agency scenarios, including Jimmy Garoppolo, Geno Smith, Daniel Jones, and Derek Carr could be on the move.
Recent Trades
Mike Evans + Raheem Mostert + 2023 3rd (mid) for Amon-Ra St. Brown ; Rashod Bateman for Mike Evans ; Mike Evans for 2023 1st (late); Mike Evans for 2023 2nd(mid) + 2024 2nd (mid) ; Mike Evans for 2023 2nd (early); Mike Evans for 2023 2nd (mid)