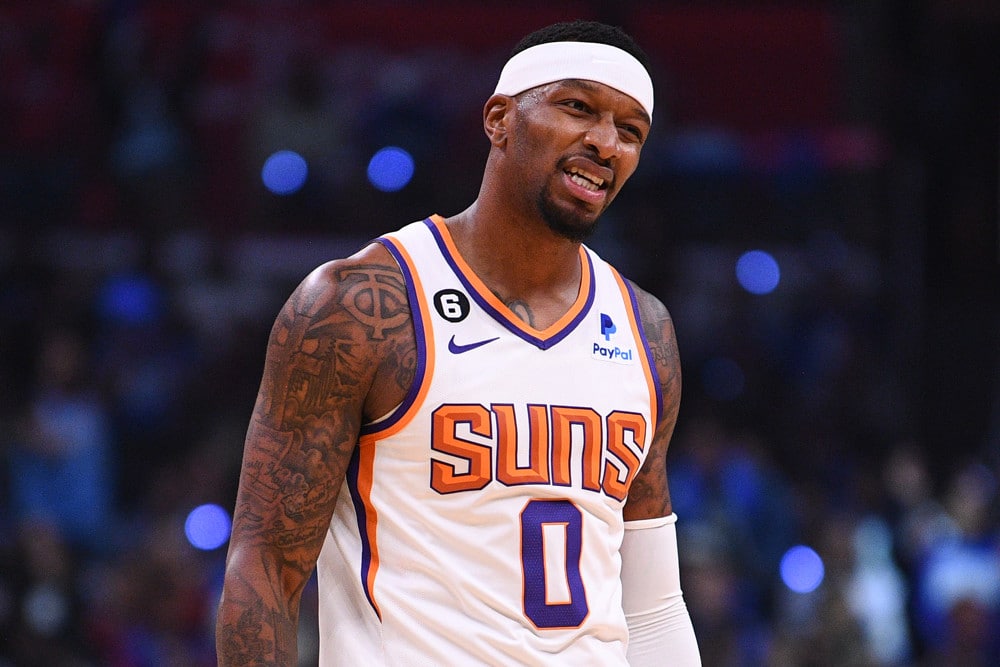 A new year means a new you. And a new fantasy basketball roster. Well, I doubt you'll need to (or can) do wholesale changes on your lineup, but everyone could use a little help on the fringes of their roster. In that vein, here are ten players sitting unclaimed on the majority of fantasy basketball waiver wires that can help you make 2023 a successful one.
(only includes players rostered in 50% or less of Yahoo Fantasy leagues; stats listed are after Saturday's games)

Best Fantasy Basketball Waiver Wire Pickups: Week of Jan 2nd
Kevon Looney – Golden State – C – 29% Rostered
(6.5 ppg, 7.9 rpg, 2.9 apg, 0.4 spg, 0.5 bpg, 62.7%)
He's baaaaaack. After a Kevon Looney-free article last week, the Golden State big man has earned his way back onto our list. Over the last week (three games), he averaged 7.0 ppg, 10.7 rpg, and 2.7 apg. On the season, he's the top-rated fantasy player rostered in 50% or less of Yahoo leagues, currently coming in ranked #43. Grab him if you need consistent rebounding help.
Bruce Brown – Denver – SG/SF/PF – 47% Rostered
(10.9 ppg, 4.1 rpg, 4.0 apg, 0.9 spg, 0.6 bpg, 1.3 3PTs)
Denver's Bruce Brown makes his first appearance on our list, coming off a strong 13-point, four-rebound, one-assist performance in his last game. Brown gets you good numbers across the board, and they get boosted even more when he fills in for Jamal Murray as he continues to sit games out as "injury management". Brown has started 18 games in total, and averages 12.9 ppg, 4.5 rpg, 4.3 apg, 1.1 steals, and 1.6 threes in those contests
Seems like lately Bruce Brown is scoring like 95% of his points in transition.

Here, Michael Porter Jr. feeds him with a nice outlet pass off a Portland turnover for the dunk on the fast break.#Nuggets #MileHighBasketball https://t.co/JA2afMXqOS pic.twitter.com/jEcM0RCSGp

— Joel Rush (@JoelRushNBA) December 24, 2022
Torrey Craig – Phoenix – SF/PF – 17% Rostered
(8.4 ppg, 5.4 rpg, 1.5 apg, 0.7 spg, 0.7 bpg, 1.4 3PTs)
With teammates Devon Booker and Cam Johnson still on the sidelines with long-term injuries, it's surprising to see Torrey Craig only rostered in 17% of leagues. While he can be a little boom or bust, he gets you solid rebounding numbers, some threes, and almost a block and a steal per game. And he's normally playing right around 30 minutes a night for the undermanned Suns. Grab him while the Suns lean on him for production.
Jalen McDaniels – Charlotte – SF/PF – 29% Rostered
(10.6 ppg, 4.6 rpg, 2.2 apg, 1.0 spg, 0.5 bpg, 1.3 3PTs)
It's been a nightmare of a season for the Charlotte Hornets thus far, but fourth-year wing player Jalen McDaniels has been a bright spot. He's posting career-highs in all of his counting stats and is on a nice three-game stretch where he averaged 11.3 ppg, 5.3 rpg, 2.0 apg, and hit six three-pointers. He's proven to be a consistent player throughout the season, so he should be a safe pickup.
Royce O'Neale – Brooklyn – SG/SF – 41% Rostered
(9.5 ppg, 4.9 rpg, 4.2 apg, 0.9 spg, 0.7 bpg, 2.4 3PTS)
Hey – I've got this guy on my roster! Royce O'Neale has been an undercover solid fantasy basketball player for a few seasons now, and his first year in Brooklyn is no different. As the stats above show, he helps you in every category that matters in fantasy basketball. And he had an amazing December, averaging 14.1 ppg, 3.2. rpg, 3.8 apg, and 1.1 spg, while shooting lights out.
Tari Eason – Houston – SF/PF – 17% Rostered
(8.4 ppg, 5.4 rpg, 0.8 apg, 1.2 spg, 0.5 bpg, 0.8 3PTS)
Rookie Tari Eason continues to put up interesting stat lines in limited minutes for the young Houston Rockets. Only playing 19 minutes a night, he makes those minutes count, getting over a steal a game, while also getting you nice rebounding numbers. And, being a young player, he's capable of random explosions, like last game where he had nine points, 13 boards, an assist, three steals, and a block.
Tari Eason came into tonight shooting 36.7% from three on the season. Here he knocks down another one from the corner. Steal of the draft. pic.twitter.com/hI4iuRPvFC

— V̷a̷t̷o̷r̷ (@Vator_H_Town) December 22, 2022
Related Fantasy Basketball Waiver Wire Content: