Dynasty leagues come in all shapes and sizes, with varying levels of experience. The average dynasty roster is about 25 players with a 12-team league. This includes taxi squads and can make the waiver wire a wasteland. Things can be even more difficult if you are in a league full of sharps. Getting the extra edge can be tough.

There are still some more shallow leagues out there and some leagues with less experienced players. I went through Sleepers under 50% rostered list to find you some stashes, as well as some, buy low candidates depending on your league.
So I tried to put together a large list that included players that were close to 45% rostered all of the way down to less than 1%. I broke this up into 2 parts due to the size of the list. Let's look at the wide receiver and tight end positions to see what we can find.
MORE SGPN FANTASY FOOTBALL CONTENT
Follow SGPN Fantasy Football on Youtube
SGPN Fantasy Football Rankings
---
Dynasty Stashes and Buy Low Targets: Wide Receivers and Tight Ends
Dynasty Stashes at Wide Receiver
*Written Before Week 15*
*Used Sleeper Roster Percentages*
David Bell – Cleveland Browns (Age 22) – 50% Rostered
David Bell was an extremely productive wide receiver in college. Unfortunately, his production did not turn into a good combine. Concerns about Bell's speed and size dropped him in the drafts. Bell still was drafted in the 3rd round and is still solidly 3rd on the depth chart. He had a stretch of 5, 5, and 6 targets before Deshaun Watson returned and has 50% or higher snaps in six out of the last eight games.
Bell has not been as involved with the team having a change at quarterback. As Deshaun Watson gets more comfortable with the offense, we could see Bell more involved. Bell has 16 receptions in the last five games and could be a sneaky add or buy low target.
John Metchie III – Houston Texans (Age 22) – 48% Rostered
John Metchie was a great WR coming out of college and won back-to-back Jon Cornish Trophies as the top Canadian player in the NCAA. Metchie is a polished route runner with great hands. In his last year at Alabama, he finished strong with 916 and 1142 yards in his final two seasons.
Metchie also had 14 touchdowns in his final 26 games. Unfortunately, Metchie was diagnosed with Leukemia. Metchie has since completed treatment in November and can begin preparing for the 2023 season.
We don't know if Metchie will be the same player when he returns, but if he returns to form, you could get a steal. He could also be back with Bryce Young, as the team has the first overall pick as we speak today.
Tyquan Thornton – New England Patriots (Age 22) – 45% Rostered
Tyquan Thornton was one of the biggest draft surprises. The speedster out of Baylor was taken in the 2nd round of the NFL draft (Pick 50). The NFL loves speed, and Thornton's 4.28 had a lot to do with his 2nd round draft capital. All offseason, we heard the buzz about him and his play in preseason really brought promise. Unfortunately, he broke his collarbone and missed a lot of time to start the season.
Thornton made his debut in week five and didn't do much with his three targets. The next week Thornton got into the endzone and finished as a top-eight fantasy football WR. He has only played over 70% of snaps in 3 weeks this year and is still finding his role in the offense.
This offense has gotten a lot of criticism, and we can assume or hope they will make some changes next off-season. Thornton could be one of the biggest beneficiaries.
Terrace Marshall – Carolina Panthers (Age 22) – 45% Rostered
Terrace Marshall came out in the stacked 2021 draft class, and he still was drafted in the 2nd round. He was the 10th pick. Marshall, at 6'4″ and 200 lbs, offered a body type that this class of small wide receivers didn't offer. Marshall, also being an LSU WR with proven production both outside the formation as well as in the slot, was exciting. The landing spot wasn't great, and we expected him to take over for Curtis Samuel.
But the coaching changes and the QB changes just turned this team into a dumpster fire. This has been one of the worst offenses in football during Marshall's time. Marshall has improved in year two, and he has 3 WR3 performances this season in 8 games. The team has moved on from Robbie Anderson, and Marshall is now the number 2 target.
It will be interesting what this team does at quarterback and receiver this offseason on top of the head coach. Marshall could benefit from some changes and could see more opportunities in 2023.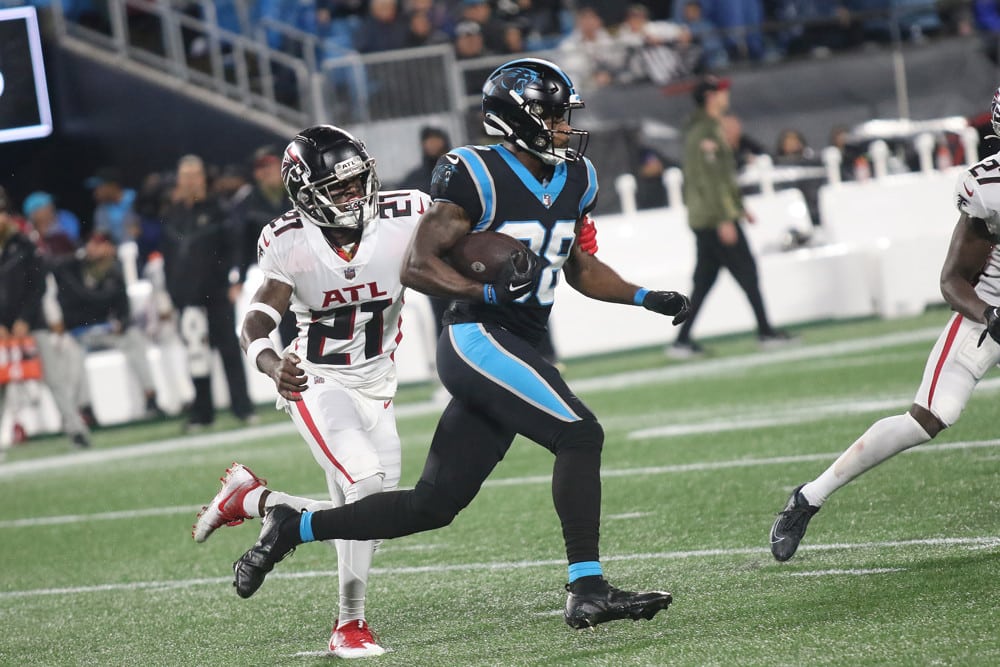 Khalil Shakir – Buffalo Bills (Age 22) – 42% Rostered
Khalil Shakir is in a great situation, and we would love to see some production this year for him. The team has historically had a solid slot WR, and Shakir has been 3rd on the depth chart for that role. The team's focus has been on Stefon Diggs and Gabriel Davis while multiple players split the slot duties.
The team has now brought back Cole Beasley, and this year's outlook is not great. Davis and McKenzie are both free agents in 2024. If McKenzie continues to have issues with drops, we could see Shakir working more into the offense.
Jalen Tolbert – Dallas Cowboys (Age 23) – 42% Rostered
Jalen Tolbert was someone you wish you drafted and traded this off-season. His hype grew, and he was going early in the 2nd round in some drafts. Some people were excited about the talent, but most people were excited about the situation.
Amari Cooper was traded, Michael Gallup was coming off of an ACL injury in January, and Tolbert had a clear path to the be #2 outside of CeeDee Lamb. Things have not worked out for this 3rd round pick, who only has two catches this season. Tolbert is still a small school guy and still a developing rookie. It might be too early to give up on him.
Tim Patrick – Denver Broncos (Age 29) – 31% Rostered
Tim Patrick was extended this offseason following the best season of his career. Patrick was becoming a flex option in fantasy football despite poor quarterback play. There was a lot of excitement about this offense with the addition of Russell Wilson, and Patrick was definitely someone people were excited about.
Patrick will have a role on this offense, and he should have plenty of time to recover. He is under contract with an $8 million base salary. Patrick has fallen off of rosters because he can't help anyone this year; I suggest you scoop him off before someone notices.
Rashid Shaheed – New Orleans Saints (Age 24) – 20% Rostered
Michael Thomas returned for a short time this year, but his time with the Saints seems to be coming to a close. Right now, Chris Olave, Jarvis Landry, and Rashid Shaheed have been the top WRs on the team.
Shaheed has not grown into an every-week starter, but he has three games this season with double-digit fantasy production. He offers some speed to this team and is earning a role on this roster.
Denzel Mims – New York Jets (Age 25) – 18% Rostered
Denzel Mims was a twitter darling during the draft and a player that we had high expectations for following his 2nd round-draft selection. The landing spot wasn't great, and the team never really showed any interest in giving Mims a chance. They drafted and signed WRs each offseason, leaving him very little playing time.
They never released or traded him. Mims will finally get a chance to test free agency, and it would be a surprise for him to return to the Jets. A fun landing spot could offer some surprise value for Mims in the dynasty in 2023.
Shi Smith – Carolina Panthers (Age 24) – 10% Rostered
Another Panther and another player that has a lot of question marks. Shi Smith has seen an increase in snaps and targets this year. Smith plays special teams and is primarily a slot WR for this offense. Just like Marshall, he could benefit from some changes. If he survives the offseason and has a role on this offense, you can essentially get him for free.
---
Dynasty Stashes at Tight End
Trey McBride – Arizona Cardinals (Age 23) – 56% Rostered (Honorable Mention)
McBride should be 100% rostered, and if he is available, go scoop him up. He was the top-ranked tight end coming out, and he has sat behind Zach Ertz for most of the year. McBride is a great pass catcher and has the size you are looking for in a top tight end. Stashing tight ends can pay off, and the patient is needed as they take a little while to develop.
Irv Smith Jr. – Minnesota Vikings (Age 24) – 48% Rostered
Irv Smith's fatigue has set in for the dynasty community. Every year he is a breakout candidate, and every year we have been disappointed. He is a free agent in 2023, and he will likely be out of town with the Vikings trading for T.J. Hockenson.
Smith has struggled to stay healthy and has not played long enough to see him produce consistently. If Smith is sought after in free agency, that will tell you a lot about how the NFL views him. A good landing spot could get him an uptick in value, and you can take advantage or hold out hope that he finally does something like Gerald Everett.
Cade Otton, Tampa Bay Buccaneers (Age 23) – 48% Rostered
Cade Otton has been interesting this year, and unfortunately, his production has not been consistent enough to count on. Otton overall has had a good rookie year in comparison to most rookie seasons. He has emerged as the starter over Cameron Brate, and with Brate's injuries, Otton could take a bigger role in this offense as he develops as a player.
Chigoziem Okonkwo, Tennesee Titans (Age 23) – 47% Rostered
Chig ran a 4.52 40 and had a 35.5-inch vertical at the combine and putting the NFL on notice. Chig has the burst and the speed to make plays when he gets the ball in his hands. He is a raw talent, but his athletic traits are undeniable, making him a solid dynasty stash.
The landing spot was great as he compares to a Jonnu Smith type of player. He has come on late, and his rostership has grown. If he is available or you can trade for him on the cheap, I would do it.
Daniel Bellinger – New York Giants (Age 22) – 43% Rostered
Daniel Bellinger has been a solid rookie for the New York Giants. He was gaining more popularity and was playing really well prior to his eye injury. Bellinger has missed time but regained his starting role when he returned from injury. Bellinger's role in the offense is promising, and on a team with few options at receiver, his value could increase.
Foster Moreau – Las Vegas Raiders (Age 25) – 41% Rostered
Foster Moreau has spent his career in the shadows of Darren Waller. Moreau has recently played more as Waller has missed time with injuries. He is an unrestricted free agent, and it will be interesting to see what the NFL sees in him.
Moreau good finds himself as the starting tight end on a team next year, and with Waller coming back, his roster percentage could go down. If he gets dropped, you can pick him up to hold through free agency to see if he lands somewhere nice.
Juwan Johnson – New Orleans Saints (Age 26) – 36% Rostered
Juwan Johnson has been a pleasant surprise in the last two seasons. Johnson is a converted WR, and with all of the Taysom Hill or Adam Trautman talk, he has been the most productive tight end in receiving.
Johnson played WR at Penn State and Oregon in college, but due to injuries had little playing time in college. He has emerged as a streaming option and has shown improvements each year since entering the league. Johnson's good play comes at a good time; he is a free agent in 2023.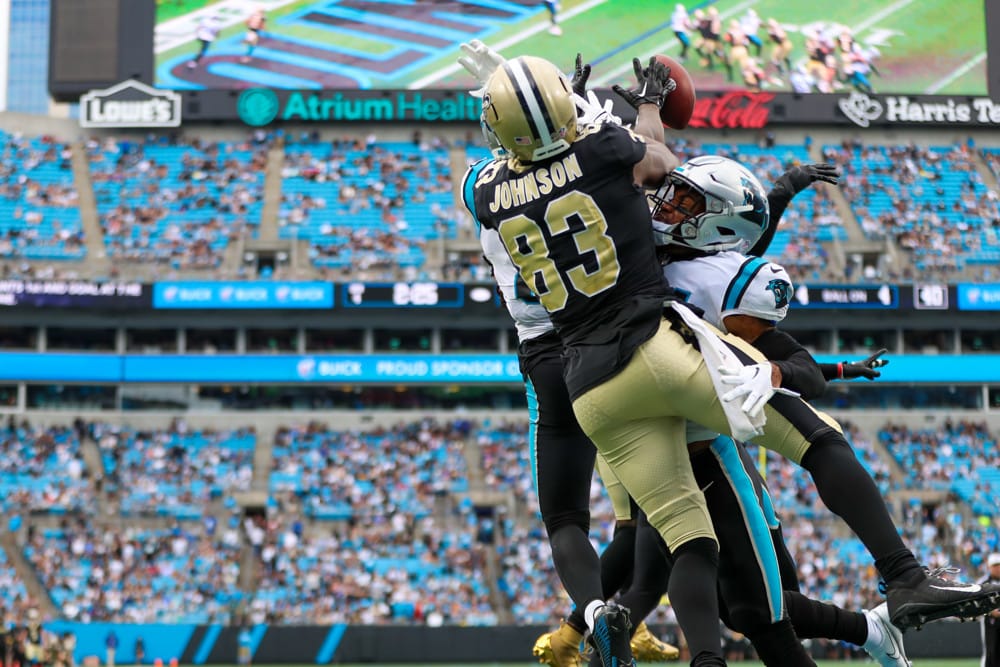 Tommy Tremble, Carolina Panthers (Age 22) – 19% Rostered
Tommy Tremble is still just 22 years old, and it is really hard to blame anyone for struggling on the Panthers. The last two seasons have been a nightmare for this offense, and Tremble's development has been stunted.
Tremble is still young with great physical traits. Tremble is 6'4″ and 248 lbs, with Day 2 draft capital coming out of Notre Dame. He played behind Cole Kmet and lost some time to Michael Maher, two impressive tight ends. A new coaching staff could bring some excitement for Tremble as a deep dynasty stash.
Brock Wright, Detroit Lions (Age 24) – 15% Rostered
Brock Wright has emerged as the starter since the T.J. Hockenson trade. Wright has played in 50% or more of snaps since week seven and has played 57%-81% in that time. H is another tight end out of Notre Dame, and he didn't get playing time behind Kmet, Tremble, and Maher. Wright is a pick-up in your deep dynasty leagues and could earn a starting job with his plan rest of the season.