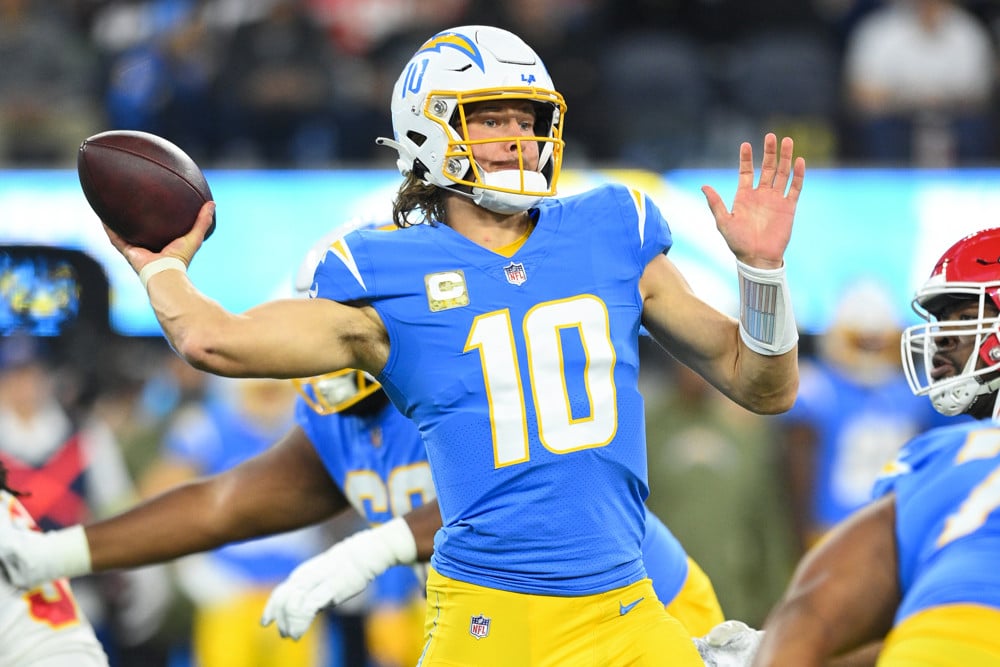 Welcome to the Sports Gambling Podcast Network's Top 10 NFL Week 15 DFS Stacks article! Each week of the NFL season, I break down the DraftKings main slate to bring you the top 10 DFS stacks.
"Stacks" in DFS can be defined as playing two or more players from the same team or game in a single lineup. Stacking in DFS contests has become the predominant roster construction strategy, particularly for GPP tournaments.

There are various unique and creative ways to build stacks and maximize your scoring upside each week. The most popular stacking options include skinny stacks, double stacks, game stacks, and RB/DST stacks.
A "skinny stack" is traditionally a QB paired with one of the skill position players from the same team. A "double stack" includes the QB and two skill position players.
A game stack can include up to five players from a single contest and a 3/2 or 4/1 team ratio, typically involving a QB. The RB/DST stack uses the correlation of a strong running game and that team's defense to stack points from a positive game script.
Each week the stacks in the top 10 will include a variety of these stacks based on the scoring upside and likelihood of appearing in an optimal DFS lineup and above the pay line. Let's dive into the Top 10 NFL Week 15 DFS Stacks.
MORE SGPN FANTASY FOOTBALL CONTENT
Follow SGPN Fantasy Football on Youtube
SGPN Fantasy Football Rankings
---
Top 10 NFL Week 15 DFS Stacks
Justin Herbert ($7,200)
Austin Ekeler ($8,500)
Keenan Allen ($6,800)
Mike Williams ($6,300)
Derrick Henry ($8,000)
Like the Sega Genesis I got for Christmas when I was a kid; this mega-game stack will set you back financially. You will have an average of $3,300 to spend on your remaining four roster spots, but don't fret. This baby is going nuclear.
The Derrick Henry chalk will be pretty unruly at a projected 20%. Still, only a truly disturbed DFS degenerate would include him in a 4-by-1 onslaught game stack that obliterates most of the salary cap. I will have many variations of stacking this game, but Henry going against a putrid run defense is popular for a reason.
Justin Herbert draws the defense that just allowed a heap of yards and points to Trevor Lawrence and the Jaguars. It gets me excited that the Oregon star can attack this secondary with his full compliment of receiving weapons.
---
Dak Prescott ($6,200)
CeeDee Lamb ($7,300)
Christian Kirk ($6,600)
Similar to the Chargers and Titans, stacking the Cowboys and Jaguars will be popular. Dak Prescott is coming off a ho-hum effort against the Houston Texans, but the Jags don't have nearly the coverage chops as the Texans. Dak is also way underpriced for his upside in this game.
This particular stack is probably going to be at least moderately chalky. It really doesn't bother me because of the plethora of leverage and value plays on this 10-game slate.
---
Trevor Lawrence ($6,000)
Christian Kirk ($6,600)
Dalton Schultz ($4,400)
The previous stack is fine for single-entry or small-field tournaments, but this stack might be the ticket if you need to get weird in a 150-max GPP.
Trevor Lawrence is like Hansel (so hot right now). His relationship with his receiving weapons is strengthening each game. Even Evan Engram looked good last week.
Dallas is a bit tougher versus TEs, and they are dealing with injuries in their cornerback room, so slot ace Christian Kirk is the preferred weapon. Schultz is chalky like the rest of the Dallas skill players, but his salary is a great value.
---
Jalen Hurts ($8,200)
AJ Brown ($8,000)
Can we go three weeks in a row with the top stack somehow coming in with low ownership? Possibly. Jalen Hurts is trending at about 12% right now, which is a bit high (but not egregious).
AJ Brown is lighting the world on fire on a weekly basis and still only draws a 7% ownership projection. I smell another blowout win for the Eagles this week over the Bears.
Chicago has gutted their defense in the rebuild, leaving their strong positional rankings versus QBs and WRs as misleading tidbits that will help us. This is the best team in the NFL, and we shall ride them to our own victory!
---
Miles Sanders ($6,500)
Philadelphia Eagles DST ($3,900)
The Bears cannot stop anyone since they cleared out all their best defensive players. I expect a full onslaught of production from this Eagles offense, especially from RB Miles Sanders.
I have Sanders as the top RB value on the main slate. Pairing him with the nasty Philly defense, which faces a turnover-prone Bears offense that takes a lot of sacks, is a glorious correlation.
The upside for both is near the top of their respective positions, while I hold the opinion that it's okay to spend up on DST if stacked with the correlating RB.
---
Cordarrelle Patterson ($5,900)
Chris Olave ($6,500)
This game is a big 'WOOF!' on paper, with Desmond Ridder making his first NFL start against the least-deserving starting QB in the NFL: Andy Dalton.
The Saints appear to be trying to lose, except they don't own their first-round pick (the Eagles do). Rookie first-round pick Chris Olave has been a shining star from the jump, even if his QB is unfathomably inconsistent at delivering accurate passes to him.
He is constantly open and will not have trouble doing so against the Falcons. Cordarrelle Patterson is a high-upside value play whose intrinsic value cannot be understated, even if the Saints aren't that bad at defending RBs.
---
Sam Darnold ($5,100)
DJ Moore ($5,300)
Ah yes, the hold-your-nose, left-for-dead stack. For $10.4k, you can stack a QB-WR duo who is facing an abysmal secondary who are projecting to combine for about 10% ownership. Value, leverage, and upside? Check times three.
The Panthers are only one game out of first place in the dumpster fire NFC South and Sam Darnold has been surprisingly adequate since assuming the starting role.
Call it a really gross hunch, but this little stack could unlock a lineup so optimal that you'll need to report it on your taxes.
---
Joe Burrow ($7,000)
Ja'Marr Chase ($8,300)
Chris Godwin ($6,700)
Just when I think the Bengals stack is finally out of my price range and I shouldn't pony up for that amazing upside, they draw the Tampa Bay Buccaneers. Granted, the Bucs aren't terrible on defense.
The effect that their defense has on QB ownership is quite peculiar. Ja'Marr Chase is commanding a good amount of chalk at 16% projected right now, but his QB (who averages nearly 25 points per game on DK) is somehow only projecting 7% ownership.
Add in a nice runback with Chris Godwin, who should greatly benefit from the absence of Cincinnati's ace slot corner Mike Hilton, and this has all the makings of a late-window GPP hammer.
---
Chris Moore ($4,200)
Houston Texans DST ($2,000)
The Texans are the worst team in the NFL. They have the weakest roster, from top to bottom. They still aren't that bad. Houston caught a flat Dallas team looking ahead and nearly beat them.
Do I want to take some shots on the Kansas City Chiefs? Sure, but the values in this game come from the side you'd least expect it.
Chris Moore was a slate-breaking value WR last week, with ten receptions for over 100 yards. He is $800 more expensive this week but in a more favorable matchup versus the Chief's porous secondary.
A value play if you're predicting a blowout Chiefs win is Dare Ogunbowale at $4,700. He is the receiving back for Houston and will get more run with Dameon Pierce on the shelf. Houston's DST is the cheapest on the board and have hit value in three straight games. The Chiefs are also plenty prone to turning the ball over.
---
Tony Pollard ($7,100)
Michael Gallup ($4,500)
Evan Engram ($3,800)
Looking for a bit of high-upside leverage in a game full of unholy chalk? Here is your stack. Pollard is priced way up this week, but there's no shame in building a lineup around such a gifted player who is only projected at 7% ownership.
Michael Gallup is a touchdown machine against weaker defenses…like the Jags. He is thousands cheaper than the amazing-but-chalky CeeDee Lamb and has virtually the same ceiling.
Chasing points on a player I hate goes against everything I stand for, but Engram is getting volume and has killed the Cowboys throughout his career. Even better, he is projecting at only 5% ownership. Giddyup!
RELATED CONTENT