SGPN is back with our Dynasty Running Back Risers and Fallers. Dynasty stocks for running backs have to be the most volatile in the entire market. This is because there is already such a short time you have them. Everyone in the league knows this, and one injury or one lost season can lower than trade value in the blink of an eye. It's also the opposite; a player can increase their value quickly because there is so little supply.

Cordarelle Patterson was essentially a waiver pick-up two years ago, and teams could flip him for a late 2nd by the end of the season. James Robinson is an excellent example, as he went from an undrafted free agent in your rookie draft to being worth a 1st round pick in just a few weeks. Today he is worth little to nothing after an Achilles injury and being traded.
Cam Akers was going for multiple 1sts, and now he is worth whatever you can get. This article will look at the current ECR via FantasyPros and compare it to September ADP. Let's see which players have greatly increased their value and who lost the most.
MORE SGPN FANTASY FOOTBALL CONTENT
Follow SGPN Fantasy Football on Youtube
SGPN Fantasy Football Rankings
---
Dynasty Stock Reports: Running Back Risers and Fallers
Biggest Dynasty Running Back Risers
Rhamondre Stevenson – New England Patriots
September ADP: RB34
Current ECR: RB11
Difference: Up 23 Spots
Rhamondre Stevenson looked amazing last offseason, and then he got put in the New England Doghouse. He fought his way out, and you could see a breakout at the end of the season. He's been a massive Dynasty Running Back riser this season.
That is why we tell you to look at snap counts, routes run, targets per route run, and predictive measures over production. Those who drafted Stevenson were following opportunity. Those who drafted Damien Harris were chasing points.
The rumors that Stevenson will get James White's role were true. Stevenson is the RB8 in PPR this year and has 67 targets on the season. Stevenson has been a good rusher with 734 yards and four touchdowns on 161 carries.
But, the fantasy production is coming through the air. Stevenson has 383 yards and a receiving touchdown on 56 receptions. Harris is a free agent next year, and Stevenson is the obvious starter. At just 24 years old, he is now a top-12 dynasty running back.
Rachaad White – Tampa Bay Buccaneers
September ADP: RB38
Current ECR: RB22
Difference: Up 16 Spots
Rachaad White's rookie draft position was held at bay due to the situation. You could get him at the beginning of the 2nd round because Fournette was standing in his way of immediate production. Fournette also signed a 2-year extension. People are now realizing that the team can get out from under that contract next year, and White is clearly the better back.
This is the first example of fresh legs vs. a veteran back. That is something you need to think about in your drafts next year. Looking at these backfields with veteran backs that have high mileage. These young backs with fresh legs are taking over in the second half of the season.
Rachaad White has three games in a row with 10+ fantasy points. He only started one of these games and only played 41% of snaps last week with Leonard Fournette back. Expectations need to be tempered this year, but White is a young, dynamic back that will see his stock rise this offseason.
Ken Walker III – Seattle Seahawks
September ADP: RB18
Current ECR: RB3
Difference: Up 15 Spots
Ken Walker is another player that had a veteran standing in his way. People were less concerned as they were not expecting Penny to stay healthy. Unfortunately for Penny, this was true, and after a great start to the season, he broke his leg.
In his first game, Ken Walker kicked that door open with a 60-yard touchdown run. Walker has had some monster games this season and has even shown some receiving ability. He has leaped up the rankings, and ECR currently has him as the top 3 back. Walker will be a 1st round startup pick this offseason.
Isiah Pacheco – Kansas City Chiefs
September ADP: RB50
Current ECR: RB35
Difference: Up 15 Spots
Pacheco was a 7th-round pick in the NFL Draft and undrafted in most of your rookie drafts. The Chiefs backfield was a popular argument on Twitter and Reddit this off-season. Some thought this would finally be Clyde Edwards-Helaire's year.
Some thought Ronald Jones was going to be that guy, and Derrick Gore even had his small fan club. Pacheco rumors started to swell over the off-season, and dynast managers had nightmares about Darwin Thompson.
Clyde Edwards-Helaire was on fire to start the season, and Ronald Jones was an afterthought. Pacheco scored in week one but was more of a special teams contributor. It wasn't until week ten until Pacheco saw over 50% of the snaps. Since then, he has improved his fantasy performances each week. His fantasy football finishes over the last four weeks (RB33, RB21, RB16, RB11).
Right now, you could turn a profit by flipping Pacheco for a 2nd round pick. Or you could hold out that he is the starter next year. Either way, you have turned a free asset into something.
Saquon Barkley – New York Giants
September ADP: RB14
Current ECR: RB2
Difference: Up 12 Spots
Seeing a healthy Saquon Barkley this season has been fun. We have seen him a little less productive in the last few weeks as he has been dealing with some minor injuries. This reminder could easily have him dropping down rankings.
The dynasty community is very reactive, and if you tried to sell him two weeks ago, it would be much easier when he wasn't questionable. Barkley is 5th at the position so far this year and has given you some boom performances.
Even on one of the lowest-scoring offenses in the league, Barkley has been a consistent option in the running back position. Those who held tight this offseason have definitely been rewarded. Barkley is a free agent next year, and the Giants are already talking about resigning him.
Tony Pollard – Dallas Cowboys
September ADP: RB30
Current ECR: RB19
Difference: Up 11 Spots
In each of the last three seasons, we have seen Ezekiel Elliott show signs of slowing down. Pollard managers have been frustrated to see the Cowboys continue to trot Zeke out. This season they have finally had some redemption.
Tony Pollard is the RB9 on the season in PPR scoring. This is despite only receiving over 50% snap shares in 6 of 12 games this year. Pollard has only exceeded 60% of snaps twice, and it took an injury to Zeke.
Pollard's upside is limited due to the usage, but he is still a weekly start scoring ten or more points in 6 of the last seven weeks as well as 20 or more points in 4 of his last five games.
Pollard has lost a lot of his prime behind Zeke, but he will be a free agent next year. Pollard turns 26 in April, and his free agency will be fascinating for his dynasty stock.
Travis Etienne – Jacksonville Jaguars
September ADP: RB17
Current ECR: RB7
Difference: 10 Spots Up
Travis Etienne has been extremely interesting, and his stock has moved a lot. Etienne was drafted in the 1st round, but he was coming into a backfield that already had a good fantasy option. Etienne's draft capital still had him going high in drafts until he broke his foot in the preseason.
Robinson tore his Achilles, and Etienne was on every RB breakout list you could find. He was being drafted as the RB17 in startup drafts this offseason and closer to RB12 as the season goes closer. Then we saw Robinson take the lead, and Etienne was the change of pace back, only getting a high of 53% snap share in the first six weeks.
Etienne's had 0 top-12 performances and only two top-24 finishes in the first six weeks. That changed in week seven as the team turned to him as "the guy." Etienne had between 78-81% in the next four weeks, resulting in fantasy finishes of RB8, RB9, RB3, and RB28. Etienne had a bye week, hurt his foot, and finished RB38 last week.
Hopefully, he can finish strong. He will be borderline 1st round pick next season. He's also a key Dynasty Running Back asset to target via off-season trades.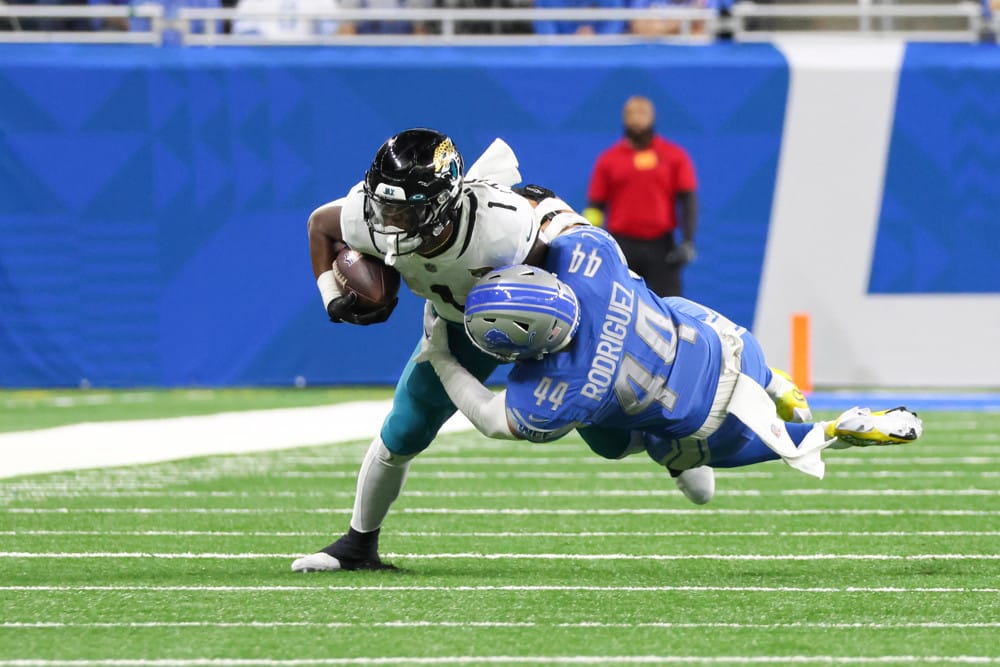 Josh Jacobs – Las Vegas Raiders
September ADP: RB21
Current ECR: RB12
Difference: Up 9 Spots
Josh Jacobs has been the best Running Back in football over the last month. Jacobs has been solid for most of the season, and we finally see it as a true workhorse. Until last week, he had over 90% of the RB carries on the year. Jacobs has been used in the passing game as well.
He did hurt his pinky this week, but the mini-bye week hopefully gives him time to heal. Jacobs was the RB2 overall going into week 14, and despite being hurt, he had a good game.
Jacobs is a free agent next year, and we will see what the Raiders do with him. If they keep him under a tag or resign him, he will be in conversations for a top 3 redraft pick. If he hits free agency, he will have a hot market. But we have seen free agency not pan out for running backs. He will be another interesting player this offseason.
Miles Sanders – Philadelphia Eagles
September ADP: RB27
Current ECR: RB21
Difference: Up 6 Spots
Miles Sanders himself said not to draft him in fantasy football. He was frustrated with hearing about his injuries and inconsistent play from the fantasy community. Well, you are pretty happy if you did draft him. He has been healthy and pretty consistent this year. Sanders also plays on one of the best offenses in football.
Currently, he is the 13th-best fantasy football RB of the year. Sanders is another free agent, and his play has come at a good time for his wallet. We will see if Philadelphia resigns him or lets him walk in free agency. Either way, he is earning his way back into the dynasty trust circle this season.
---
Biggers Dynasty Running Back Fallers
Cam Akers – Los Angeles Rams
September ADP: RB16
Current ECR: RB39
Difference: Down 23 Spots
Cam Akers has really been one of the biggest dynasty busts over the last two seasons. He finished his rookie year strong in 2020, showing a lot of potential. We expected a monster season in 2021, only for that not to happen due to a torn Achilles. Akers surprised everyone by coming back for the playoffs and got a hefty workload on the Rams' run for a championship.
Akers didn't look particularly good, but some were giving him a pass because he was coming off the injury. Not to mention, no-backs looked good due to the poor offensive line play and the tough matchups. There aren't any excuses left for Akers.
Akers is a huge Dynasty Running Back faller. He will likely be on a new team next year, and it will take a lot for him to gain the trust of the dynasty community.
Chase Edmonds – Denver Broncos
September ADP: RB35
Current ECR: RB57
Difference: Down 22 Spots
Edmonds should probably be lower than he is. This was a classic trap, as Edmonds appeared to be the starter. We really didn't know what this offense would look like.
The running back room was full of guys that have let us down in the past, and people wanted Edmonds to be a thing. Unfortunately, he wasn't, and following the money doesn't always lead you too much with RBs. I wanted to put him on this list because I always draft talent over the situation.
Najee Harris – Pittsburgh Steelers
September ADP: RB2
Current ECR: RB16
Difference: Down 14 Spots
Najee Harris was a rare 1st round running back, and he turned in massive fantasy football production in year 1. The offensive line was awful, and he was inefficient, but he still ended up top 3. Most of this was pure volume and a massive 94 targets. In 2022, he came in battling a foot injury and looked even less efficient. Undrafted rookie Jaylen Warren looked better at times.
Harris ran for 3.9 yards per carry last year, and he is at 3.8 yards per carry this year. Not a huge difference in the running game. The passing game is where the difference is; he only has 30 receptions on 37 targets for 148 yards.
This is far off of last year's pace and why he is currently the RB20 on the season. Harris has looked better since getting the plate removed from his shoe and the change at quarterback. I would expect Harris' value to increase over the offseason. He isn't as young as some of these other rookies, but he is still 25 vs. some 27-year-olds in your startups.
Elijah Mitchell – San Francisco 49ers
September ADP: RB24
Current ECR: RB37
Difference: Down 13 Spots
Elijah Mitchell was another trap that we should have seen coming. A smaller running back with a history of injuries, coming off of injuries, and in a system that runs backs to the ground. Mitchell is a very talented back but has a slight frame and an aggressive running style. You can see his speed even when sharing a field with Christian McCaffrey.
Mitchell had some value this offseason and was a good trade candidate. Now he doesn't have much trade value at all. Next year he will be McCaffrey's handcuff. That has some value, but not as much as he had just three months ago.
Antonio Gibson – Washington Commanders
September ADP: RB13
Current ECR: RB26
Difference: Down 13 Spots
Antonio Gibson was an RB1 in each of the last two seasons. When the Commanders drafted Brian Robinson, there wasn't a lot of fear from Gibson managers. But, when camp started, it was clear that he had competition.
This turned quickly into he was going to be the backup. The Gibson managers were in denial, even when he was playing on special teams. Not as a returner, as a blocker. An unfortunate event leads to Gibson being the starter for the season.
Gibson started the season off with 2 top 15 performances. Since then, Gibson has been a pretty inconsistent option, and it is clear that Robinson is the starter. Gibson has only had 50% or more snaps four times this season, and 2 of them were those first two weeks. Next season, Gibson is a free agent, and a good landing spot could rejuvenate his value.
Damien Harris – New England Patriots
September ADP: RB29
Current ECR: RB40
Difference: Down 11 Spots
Damien Harris was another player we were screaming for people to trade. The high touchdown production really lifted his fantasy production, and he was a huge regression candidate.
We saw the regression; worse, we saw Stevenson take his job. Harris is a free agent next year, but his lack of receiving ability makes him a less attractive fantasy option. Harris is a good football player, but that doesn't always translate to fantasy football production.
Clyde Edwards-Helaire – Kansas City Chiefs
September ADP: RB28
Current ECR: RB36
Difference: Down 12 Spots
In the first four weeks of the season, Clyde Edwards-Helaire's managers were pulling muscles doing victory laps as he was the RB4 overall. We were screaming for everyone to sell based on the hyper-efficient production based on his high touchdown production.
His snap percentages were 39,44,40, and 56 during his little run. Since then, we have seen his snaps go down, and the production continued to fall. He has 20.8 PPR fantasy points since week 4. He has missed some time due to injury, but his value has tanked. we will talk about him later.
Leonard Fournette – Tampa Bay Buccaneers
September ADP: RB22
Current ECR: RB29
Difference: Down 7 Spots
Leonard Fournette, like Najee Harris, was great in 2021, mostly due to volume. He was terribly inefficient as a runner, but he had 69 receptions. He turned these 69 receptions into 454 yards and two touchdowns. Fournette has seen his rushing numbers go down. Last year he ran for 4.5 yards per carry, and this year is just 3.5 yards per carry.
His longest rush has only been 17 yards, and he looks pretty cooked. Fournette has been very productive in the air again, with 49 receptions and 347 yards in just 11 games.
The problem is that Rachaad White and his fresh legs are cutting into his work. White also is a better receiver than he is. Fournette's future in Tampa is murky. Fournette turns 28 in January, and his years as a starter are coming to a close.
J.K. Dobbins – Baltimore Ravens
September ADP: RB15
Current ECR: RB22
Difference: Down 7 Spots
J.K. Dobbins suffered a serious knee injury last year that damaged multiple ligaments. He publicly disputed reports that he would not be ready for the season this off-season.
Only for him not to be ready when the season started. Dobbins then suffered another injury and is returning in Week 14. This season is almost lost, but if Dobbins were to finish this season strong, it would do his dynasty stock a lot of favors. If he continues to struggle, we could see his value lower than RB22. This could also send some fear to Javonte's managers, as Javonte also suffered a similar knee injury.
Dynasty Running Back Honorable Mentions
Breece Hall, New York Jets – Up three spots
Nick Chubb, Cleveland Browns – Up two spots
Devin Singletary, Buffalo Bills – Up two spots
James Conner, Arizona Cardinals – Down six spots
Joe Mixon, Cincinnati Bengals – Down six spots
Michael Carter, New York Jets – Down five spots
Ezekiel Elliott, Dallas Cowboys, Down five spots
David Montgomery, Chicago Bears, Down five spots
Javonte Williams, Denver Broncos, Down five spots
D'Andre Swift, Detroit Lions, Down five spots
RELATED CONTENT