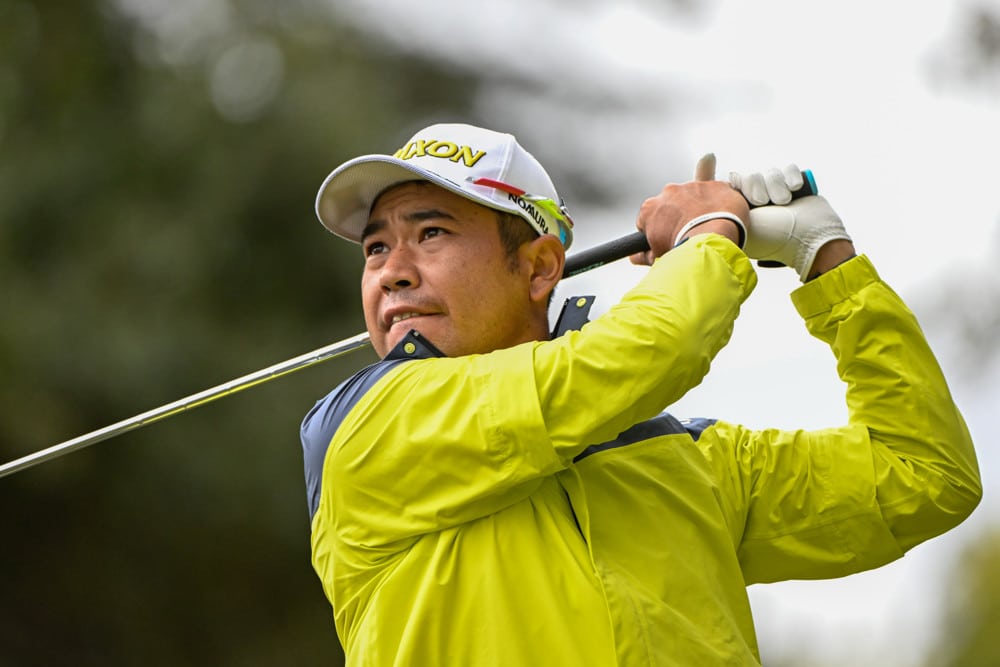 After a quick trip to Sin City, the PGA Tour travels to the other side of the globe. It's the 2022 ZOZO Championship from the Accordia Golf Narashino CC in Tokyo, Japan. As always, here is your early deep-dive on the 2022 ZOZO Championship and a preview of how to bet. In addition, listen below to the Golf Gambling Podcast for more information about golf betting.

2022 ZOZO Championship Preview – The Field
This is the meaty part of the fall swing. The PGA Tour is in the midst of a three-week run of good purses to attract top names. And highlighting the 2022 ZOZO Championship is defending champion Hideki Matsuyama. After spurning LIV's lucrative offer (for now), Hideki returns to his native land to try and win another ZOZO Championship in front of a friendly gallery. He hasn't been in all that good of form the last few months. But with possibly all the rumors around his departure to LIV in the rearview mirror, maybe he can focus on returning to solid golf.
Other notables in the field include Tommy Fleetwood, Tyrrell Hatton, Viktor Hovland, Sungjae Im, Tom Kim, Collin Morikawa, Xander Schauffele, and Cameron Young.
For the full field, click here.
2022 ZOZO Championship Preview – The Golf Course
The Narashino Country Club opened in 1965 during the height of the Japanese golf boom. After World War II, Japan sought ways to recover economically. Japan turned to golf to rebuild its coffers. The game of golf became very popular for businessmen to either enjoy a leisurely round away from their job or to take their clients out on the golf course. Between 1958 and 1979, almost 1,300 golf courses were built in Japan.
The Narashino CC is a very traditional Japanese design:
Almost all urban and suburban golf courses in Japan (especially around Tokyo) are very tight and tree-lined tracks. Narashino CC is no exception. The architects wanted to hide as much of the urban sprawl as possible by surrounding each hole with walls of trees to make the player forget about their long work hours. This helps the golfers forget their strenuous day jobs for just a few hours to enjoy both nature and their round. As such, all holes at Narashino play very tight tee-to-green. The fairways are very narrow and are surrounded by a wall of tall trees. Holes are designed to prevent players from hitting over the top of them. Everything is played directly out in front of the player. Any shots offline present poor or obstructed angles into the green.
Another prominent feature of Japanese golf is the double green system. Instead of building one large green complex of one grass type, the architects often build two smaller ones. One green is of a summer species of grass (i.e., Bermuda) and the other with a winter species (i.e., bentgrass). This ensures that golf can be played all year round and in all varieties of climates. It also gives the golf course a bit of flexibility with pin setups and prevents greens from being too trampled down by foot traffic. This tournament will use the bentgrass greens. They'll also roll at 11 on the stimpmeter.
Overall, the golf course is a positional one. While it's short on the scorecard, it's not one that can be easily overpowered. Between the narrow fairways and positioning of doglegs and hazards, the golf course has enough character not to get overrun too badly. And if the weather is as dicey as it was last year, birdies will be come at a premium.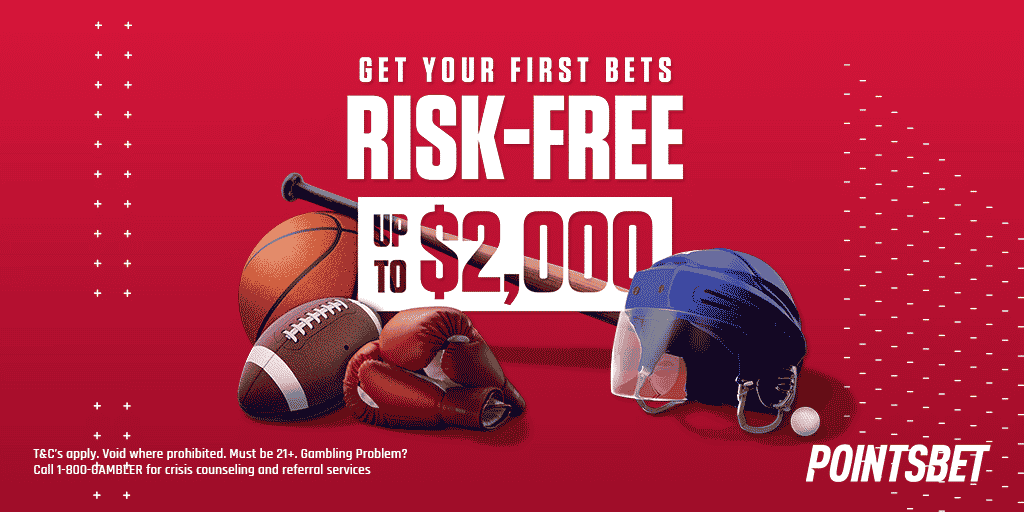 2022 ZOZO Championship Preview – Betting Strategies
Gamblers will be without their precious strokes gained. Not only is this a challenge to handicap the tournament live, but there's nothing really concrete to go on before it begins. But there's some basic levels of understanding about how the last two ZOZO Championships in Japan played. Here's a few relative statistics and facts about the 2022 ZOZO Championship to try and help you preview the tournament:
1. Last year's final round played about 7,040 yards long from the Championship Tees. In 2019, it played a little over 7,100 yards. Bad weather in 2021 likely forced the tournament directors to shorten the course a bit.
2. It's not a traditional Par 70 though. The golf course has three Par 5's and five Par 3's. Two of the Par 5's played over 600 yards long in the final round of the 2019 ZOZO Championship. Only one did in 2021. None of the Par 3's played above 190 yards, and one played as short as 140. Half of the Par 4's play over 480 yards and none of those under 400 yards are drivable. This is a longer golf course than it seems.
3. The fairways are zoysia, while the greens are bentgrass. Here are a few other examples of zoysia/bentgrass combination golf courses seen on the PGA Tour:
TPC Craig Ranch (AT&T Byron Nelson)
Kasumigaseki CC (2021 Olympics)
Bellerive Country Club (2018 PGA Championship)
4. The only stats kept at the two ZOZO Championships in Japan are more traditional ones like driving accuracy and green in regulation %. Here's some basic statistics about each tournament. This will help preview what to expect at the 2022 ZOZO Championship.
Field Driving Accuracy %:

2021: 53.3%
2019: 54.7%
PGA Tour Average: ~60%

Field Green In Regulation %

2021: 61.1%
2019: 67.6%
PGA Tour Average: ~66%

Field Scrambling %

2021: 60.0%
2019: 58.7%
PGA Tour Average: ~58%

Field Three Putt Avoidance %

2021: 2.9%
2019: 2.4%
PGA Tour Average: ~3.0%

Field Birdie+ %

2021: 17.2% (Par 3 – 14.8%, Par 4 – 12.0%, Par 5 – 38.5%)
2019: 19.4% (Par 3 – 16.7%, Par 4 – 15.1%, Par 5 -38.0%)
PGA Tour Average: ~21% (Par 3 – ~13%, Par 4 – ~17%, Par 5 – 43.5%)

Field Bogey Avoidance

2021: 17.8%
2019: 15.4%
PGA Tour Average: ~16.7%
Weather played a part in how these tournaments shaped up through these rudimentary statistics. 2021 was a much tougher scoring tournament than 2019 due to the remnants of a typhoon disrupting the tournament, as well as cold and blustery conditions. It's no surprise that the field struggled to hit greens, make birdies and avoid bogeys.
But the 2019 tournament wasn't a cake walk even with better weather conditions. The field did not find much success hitting fairways due to the narrow nature of the golf course. While they hit greens at about PGA Tour average and didn't make as many bogeys on average, the field struggled to pile up birdies too. Narashino is a grinding, plodding golf course. It's your basic positional golf course. Don't put yourself in too much trouble off the tee. Hit greens. Score when you can (especially on the Par 5's, which yield lower than average birdie+ rates). Avoid reckless abandon.
If there's an area where the field was able to attack the golf course, however, it was the Par 3's. The field carded a much higher birdie+ % on the Par 3's than the PGA Tour average. That's likely due to the shorter yardage of the holes. Even in 2021 in bad weather conditions they scored at a higher pace than PGA Tour average.
What's missing from the data above is what types of clubs did players hit off the tee (i.e., is this a driver heavy or less-than-driver golf course), and where did they hit their approach shots from? We can start with off-the-tee preference based off of Tiger's final round in 2019. Tiger is typically a very conservative player, yet he hit 8 drivers on the 13 Par 4 and 5 holes. That's a higher clip than I would have thought given the narrow and claustrophobic nature of Narashino. However, it was vital to drive the ball both long and straight to avoid trouble.
As far as proximity, here's approximately where players will hit approach shots from based off of Tiger's final round. While there isn't a ton of elevation change tee-to-green, there could be wind to affect some of these estimates:
<125 Yards: 1 shot
125-150 Yards: 4 shots
150-175 Yards: 5 shots
175-200 Yards: 4 shots
200+ Yards: 6 shots
While the weather was much better in 2019 than it was in 2021, it was still relatively chilly. The ball didn't fly very far that week. That made the golf course play pretty long, especially with players hitting the ball more often into the rough to reduce how far it rolls out. This year, the weather won't be all that warm and the golf course will be soft due to recent typhoons and rain expected over the weekend. As such, this will be a big test of how well one hits their mid to longer approach shots this week. Target proximity and scoring metrics on approach shots longer than 150+ yards.
Lastly, here is the relative skillset chart based off of the two ZOZO Championships at Narashino CC. This is a good preview of what types of golfers to target this week: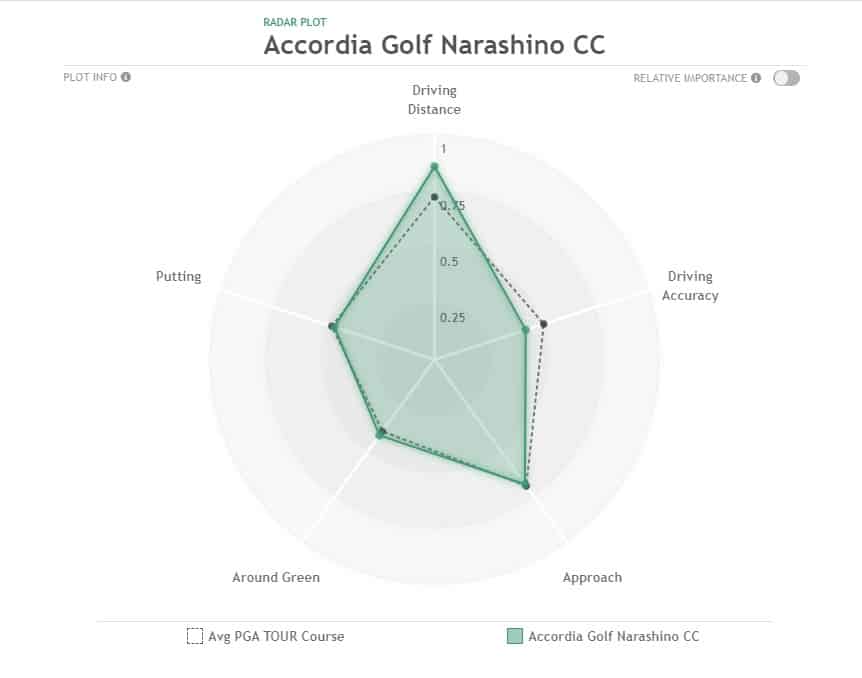 The skillset chart fits based on the discussion above. Narashino plays longer due to its layout and the weather conditions. There are more drivers off the tee than one would think, and more longer approach shots too. Having length is a big edge at Narashino.
Good scramblers also have a slight edge than the normal PGA Tour setup. This is probably driven by very difficult ball striking conditions seen in 2021 that yielded low green in regulation rates. But even the 2019 ZOZO had its share of good scramblers near the top. High finishers that year who were some of the leaders in SG Around-the-Green that season were Hideki Matsuyama (5th), Charles Howell III (11th), Byeong Hun An (14th), Justin Thomas (18th), Patrick Reed (21st), Daniel Berger (28th), Xander Schauffele (37th), Shane Lowry (54th) Keegan Bradley (59th), Rory McIlroy (63rd), and Billy Horschel (67th). However, those who were terrible around-the-green that season like Corey Conners, Gary Woodland, and Paul Casey were elite iron players to reduce how many times they were asked to get up and down.
Speaking of which, while the chart suggests that there isn't much of a discernable difference between the importance of iron play at the ZOZO Championship and at the average PGA Tour stop, the names at the top of each leaderboard say otherwise. Tiger Woods is regarded as the best iron player of all time. And the rest of the Top 20 was littered with elite ball strikers in 2019. Hideki. Rory. Sungjae. Woodland. Conners. Byeong Hun An. Xander. Keegan. Shane Lowry. Justin Thomas. Paul Casey. All of them are tremendous with their irons.
And 2021 continued this trend. Hideki. Tringale. Steele. Munoz. Fleetwood. Keegan. Luke List. Morikawa. Lots of very good iron players in that Top 10 too. Good iron players, especially those from mid to long range, are ones to target this week.
Lastly, this isn't going to be a putting contest. There is a low correlation between a good finish at Narashino CC and how good of a putter you are. It's a mixed bag. The 2021 leaderboard definitely had its share of terrible putters near the top of the leaderboard. And for every Patrick Reed, Ian Poulter, Gary Woodland, Billy Horschel and Sungjae Im there was a Hideki Matsuyama, Corey Conners, Byeong Hun An, Ryan Palmer, and Keegan Bradley there to offset it.
The 2022 ZOZO Championship won't be a contest of how well one rolls the rock. It'll be how well one saves strokes with consistent ball striking and the ability to get up and down.
RELATED CONTENT