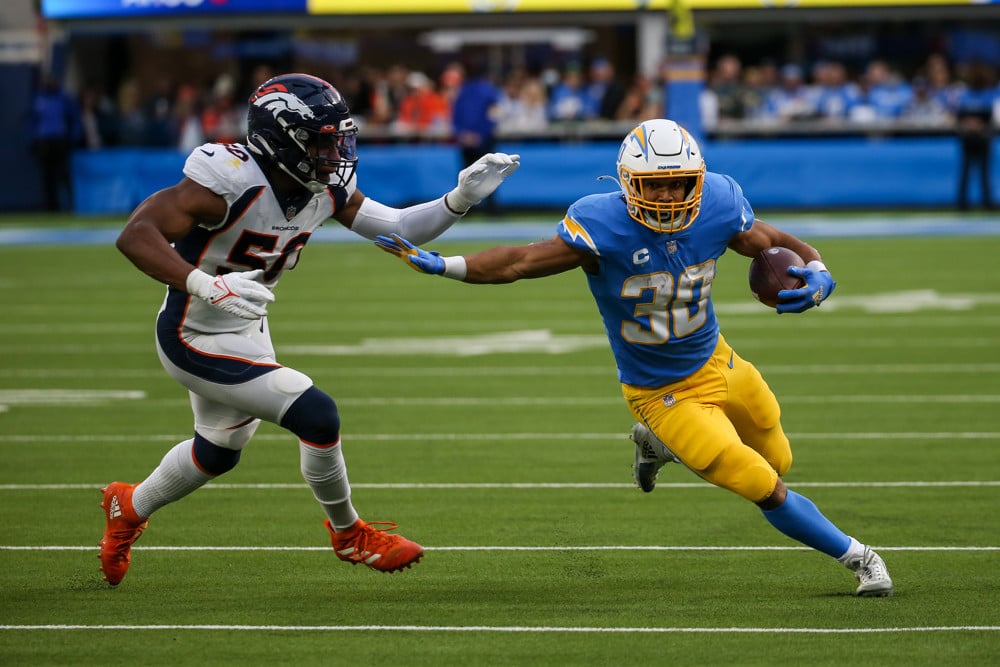 Every season recently there are more and more in-season IDP Waiver Wire breakouts. In this article, we'll get to our 2022 ILB waiver wire rankings after we remind a lot of owners they didn't draft these guys. In some cases, neither did this guy either.
When De'Vondre Campbell joined the Packers and was extremely successful is a great example. The Seahawk's Jordyn Brooks went ahead and blew up big time playing next to All-Pro Bobby Wagner as well. Both players likely landed in most format's top 5 ILB producers. Then there were other players such as Logan Wilson, Cole Holcomb, Kyzir White, and Bobby Okereke. All were severely undervalued before the season and all of them ended up in the top-tier all year long as IDP waiver wire darlings. So this sums up why we're ranking the following players in late August.

MORE SGPN FANTASY FOOTBALL CONTENT
SGPN Fantasy Football Draft Cheat Sheets
2022 SGPN Fantasy Football Draft Kit
SGPN Fantasy Football Rankings
SGPN Fantasy Football Projections
---
Early ILB Waiver Wire Rankings
We've done the homework. And looking back over the last five seasons there's a mold we can use to start with. According to 3 major fantasy football sites, any of these inside linebackers could be in 80% of the leagues out there in the fantasy football world. Currently, they all have really solid odds of making a serious IDP impact in 2022 as well. Perhaps we should add them before the NFL season because this type of Linebacker consistently makes an impact in standard-sized leagues. We're here to give you an edge weeks ahead of the first in-season ILB waiver wire order we can expect.
---
#1- Jeremiah Owusu-Koramoah
Cleveland Brown's fans are excited, veteran IDP managers in deeper leagues are excited, and you should be excited about inside linebacker Jeremiah Owusu-Koramoah too. This second-year player had a quiet rookie breakout season, hitting every note exactly right in real life. Out of the 10 games he started, 9 came with at least 50% snap share. J.O.K. averaged making a play on the ball every seventh snap he saw on the field. That's not elite but certainly was acceptable considering he also grades out very well in the rookie film review.
Overall heading into the season Owusu-Koramoah is locked on as Cleveland's best off-the-ball Linebacker. Although we can't guarantee he'll play 90% of the snaps every contest, we believe he'll lead the team in combined tackles this season. Furthermore, if he's in for the entire 18-week season, he'll easily wind up with triple-digit combined tackles. He's currently the securest ILB waiver wire pickup to trust at this point.
Jeremiah Owusu-Koramoah is going to be very good for a very long time. The guy just always finds a way to make a play.

— Wyatt 🥃 (@WyattB_FF) August 27, 2022
---
#2- Jordan Hicks
The Vikings newly signed Jordan Hicks is being faded by a lot of veteran managers right now. Mainly basing it on recent history which is the fact that only one inside Linebacker has been producing in Minnesota each year. But we have a shift this year, the team is switching to a new defensive scheme. One that Hicks really knows well and has performed before with outstanding results. Next to Eric Kendricks, there will be plenty of combined tackle production for both of these 3-4 schemed players. As a result, Hicks slides in here number two, not only based on his top 32 ILB floor but his upside too.
We'll wait until next off-season and see what 2021 rookie Brian Asamoah might offer. The third-rounder is making noise early on in camp. and likely has a real shot at their featured ILB role down the road. The Vikings do have an "out" in Hicks's contract next off-season. They could also decide to let a potentially aging Kendricks walk. He could be let go and the Vikings could save around 10m in cap space. This is something any redraft or dynasty IDP manager might want to keep in mind for 2023.
---
#3- Jonas Griffith
Denver's third-year Linebacker and current Bronco fan's favorite Jonas Griffith is our next man up. Many are assuming around Denver the former 49er undrafted free agent will pick right up where he left off last year. Notably, he was also an in-season IDP waiver wire darling that had a couple of 2021 tier-one performances albeit via a small sample. We're buying in even if we need to see it play out the first couple of weeks of the season. Because after reviewing his film, the Broncos may have hit a Hail Mary when they signed him last offseason.
Greg Dulcich, Jonas Griffith and Netane Muti working through drills. Positive sign for all of them. pic.twitter.com/4Od2TmOBU0

— Zac Stevens (@ZacStevensDNVR) August 24, 2022
---
#4- Kwon Alexander
Kwon Alexander has always managed to make an impact over the years when healthy. Now joining a defensive scheme he's familiar with it's looking like IDP gold simply based on what poorly-graded 2021 ILB waiver wire darling, Quincy Williams, pulled off. If Alexander can stay healthy considering the current state of the Jet's defense he could come close to William's 2021 average. Alexander projects to hit around 130 combined tackles and that's being conservative at this point. Realistically, what are we expecting the Jet's offense to look like this year? Because if they struggle, the entire Jet defensive unit could lead the league in IDP snaps played this season. We do question whether the defense itself will be good enough to get off the field.
---
#5- Divine Deablo/Malcolm Rodriguez
We're pulling a double at number five. Giving the Raider's second-year standout Linebacker Divine Deablo and late-rounder Malcolm Rodriguez from the Lions the nod here. It was clear after getting to review J.O.K and Deablo on film back to back that Deablo stands out.
As for the current deeper league favorite fantasy draft selection Malcolm Rodriguez. How weird is it to project Rodriguez will become a carbon copy of both J.O.K. and Deablo heading into 2023?
If we were to mention anyone else we considered for these ILB waiver wire rankings, it would have to be the long-time veterans, Kyle Van Noy and Anthony Barr. Both have joined teams where their roles are changing and will be used more on what the team's needs are. Those roles reportedly will be secured early and won't fly under the radar very long.
---