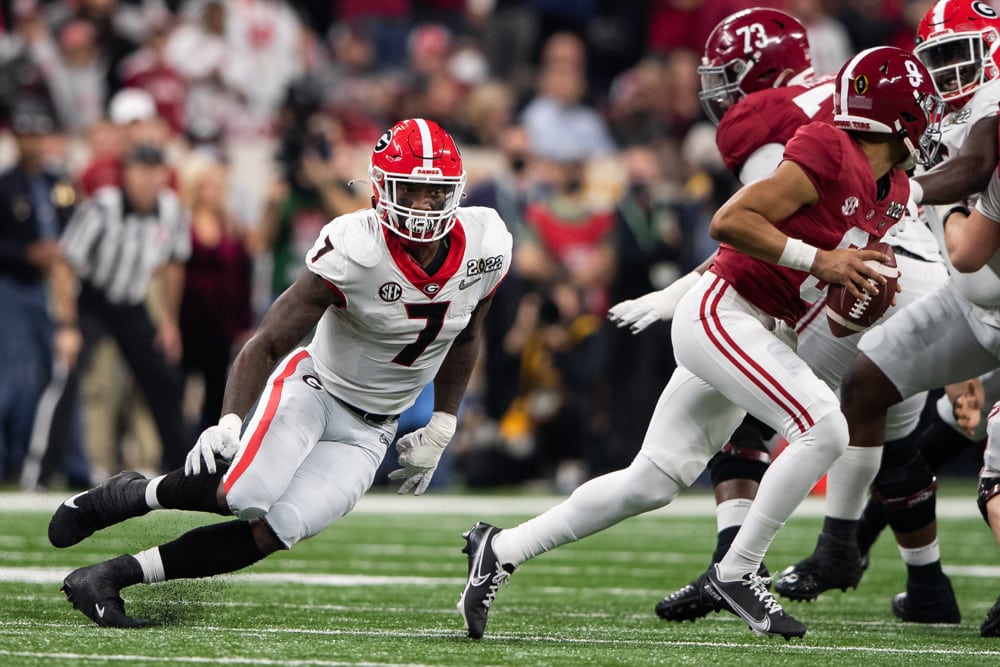 We've done the research, and it's tough after crunching the numbers. Any 2022 Top Rookie IDP Redraft rankings have a huge NFL learning curve to overcome in year one. A curve that isn't mentioned in most rookie articles.
Or is it even thought hard about when looking at fantasy football redraft boards. Not to mention all the distracting rookie hype that's always included with the NFL's first-year guys.
So we're clearing the air and letting every novice IDP manager know. There's a reason there are only so many solid Rookie IDP Redraft options worth targeting. And we've got your best hail mary options ranked that just might reach our top overall 64 plays by the end of the season, which in turn is our top range that includes our relevant core IDP players. And the top few tiers of IDP that matter each year in most standard formatted leagues.

Exclusive SGPN Content
Fantasy Football: Tight End Targets Guide
Dynasty Football: Breakout RB Candidates
Fantasy Football Auction Values 2022
---
Fantasy Football: Top Rookie IDP Players
The Rookie IDP Redraft Facts
As my deeper formated IDP research has shown. Hitting in year one with a rookie IDP redraft option that'll help anchor your squad is pretty difficult. There's not only the question of overcoming the NFL's pro learning curve. There's also the question of opportunity.
And add that with what we know about them individually via their scouting reports and film. You can see how it's tough to suggest; or lead novice managers towards targeting rookies in their first season.
---
The Real Redraft Facts
But everyone likes to take a swing at some point on the wildcards. And for good reason, too, hitting a Hail Marry later in drafts can stack an IDP roster quickly. There are many formats offering deep redraft benches, and there's no reason a rookie can't be one of those options. Just keep one thing in mind. On average, for nearly the last ten seasons.
There's only around an average of 4.5 rookie IDP redraft players that make a real impact. So only take your shot on one of those few rookies after you've filled in your starting lineup. This feeds your Hail Marry throw. And it doesn't hedge your redraft season on players with tougher odds of succeeding.
This way of thinking works appropriately in Dynasty leagues too. And when we add up-and-coming second, third, and fourth-year players into our player pool. You know, guys that have been in development and earned their rights to play.
Those odds start getting even thinner as time goes by. So if any regular IDP is on your roster and not coming close to performing the way you'd like, don't be afraid to move on fairly early.
The IDP waiver wire in most formats has recently offered more breakouts than ever before. And it's simple math. The more the NFL uses defensive players in rotation as they do nowadays. The more players in the pool that can hit the right opportunity to overachieve.
---
Taking Your 2022 Rookie IDP Redraft Shot
Before we list our few rookies, let's recap a few other things to consider from our research. Things that might not stand out but have to be taken into consideration. Over that time span, we've kept track. Not one defensive lineman has made the cut in balanced or tackle-based scoring formats.
Not even studs like DE Myles Garrett, DT Aaron Donald, or DE Nick Bosa made it into the top 64 their first year. Other than one of last year's two overachievers, Micah Parsons, we've seen no outside linebacker edge rushers hit the mark at all.
We're also taking corners off the board here with one appearance by CB Daryl Worley in 2016. The same will go for any traditional free safeties as well with just one appearance. Granted, today, there aren't many left anyhow, as most NFL teams have opted to use their two main safeties as interchangeable pieces. This hasn't exactly had a negative impact, but it narrows our field down.
So by the numbers, we have our in-the-box strong safeties or interchangeable safeties that fit the bill because their defensive schemes are right. And those dominating inside linebackers, the designated position leading the first-year rookie IDP redraft dream.
---
Our 2023 IDP Redraft Rookies Rankings
Nakobe Dean – LB (Philadelphia Eagles)
Phillidiphia's ILB Nakobe Dean sits atop the list as the odds-on favorite. His draft stock, however it may have landed, was boosted by being drafted by the Eagles. Their linebacker room isn't exactly loaded for bear with talent, and the aging defensive front should work in his favor too.
Setting up a few more tackling opportunities in the process and hopefully allowing Dean to make a decent amount of specialty plays. Padding the box scores with a few interceptions and passes defended. Possibly even some backfield-related points with splash play sacks and such.
Devin Lloyd – LB (Jacksonville Jaguars)
The Jaguars ILB Devin Lloyd profiles are very similar to our number 1 guy in Philly. But Lloyd, on paper, is competing with a little tougher competition amongst his own ranks. Jacksonville added recent IDP stud ILB Foyesade Oluokun. Oluokun will demand his fair share of that inside linebacker production.
If there is one advantage that Dean might have. It's the fact that the Jaguars, as a team, look like the defense will be on the field a lot in 2022. And yes, targeting IDP on bad offensive teams is a winning option in itself.
Welcome to #DUUUVAL County @DevinLloyd_ has been working everyday since he got here and is ready for the grind. pic.twitter.com/GwFnpcz1rV

— Rise & Grind Training (@RiseandGrindOP) May 6, 2022
Lewis Cine – S (Minnesota Vikings)
Minnesota's FS/SS Lewis Cine is walking on with a great opportunity. The revamped Vikings defense is going under a face left. Word is, they have plans to deploy Cine everywhere they can when the settings are right. As a base safety play, that'll see a lot of the deeper field. Cine will find himself in the slot and supporting the running game closer in the tackle box.
Leo Chenal – LB (Kansas City Chiefs)
The Chief's third-round ILB Leo Chenal, has a clearer path to overachieving than most managers might think. One of last year's overachievers came out of K.C. with Nick Bolton in the top 50. And now, with Anthoney Hitchens gone and third-year second-round, Willie Gay has been underperforming. There's no reason not to think the potential ceiling next to Nick Bolton isn't there.
Let's face it, Nick Bolton flashed and accomplished more than most will their first season in the NFL. But in Kansas City, weirder things have been happening recently with the ILB core. So to lock Bolton 100% down as this year's team leader in combined tackles holds its own risk. It shouldn't deter taking a Hail Mary here.
---
Jalen Pitre – S (Houston Texans)
Houston drafted SS Jalen Pitre to replace the safety position that Justin Reid vacated. Which granted Reid had not taken full IDP advantage of. But there's no doubt there's potential on the horizon for that to change with Pitre. Heading into this season, the team's defensive talent is questionable. So is its offense, which is key many times for a rookie IDP. So opportunity weighs heavy that Pitre can make that final 64.
Jaquan Brisker – S (Chicago Bears)
Da' Bears SS Jaquan Brisker profiles like Pitre. Our major concern is the linebacker core that Chicago brings to the table. After all, playing next to a stud inside linebacker Roquan Smith presents its own challenges when getting your fair share.
Newly signed Nickolas Morrow is as average as some IDP managers might assume. However, we are seeing a defensive scheme change underway in Chicago. So perhaps a few tweaks, and we'll see that Brisker should've been higher on this list when the dust clears.
Jaquan Brisker HYPE Video 🎥

Meet the Bears' newest, hard-hitting safety 🔥 @JaquanBrisker pic.twitter.com/PzHD2Cdp4w

— DaWindyCity Productions (@dwcprodz) May 8, 2022
Daxton Hill – DB (Cincinnati Bengals)
The Bengals FS/DB/CB, depending on what fantasy football site you play on; Daxton Hill is really trending up right now if Jessie Bates holds out the entire season. That's a huge "if" to project, hence his rookie IDP redraft ranking. It's not a matter of talent. It'll be a question of volume if Bates ends up playing.
Quay Walker – LB (Green Bay Packers)
Despite his first-round pedigree, Green Bay's ILB Quay Walker is slated to start next to De'Vondre Campbell. A lot of things would have to change for Walker to see enough snaps to garner the opportunity to make a real impact. Or he'd have to come in and replace Campbell. Who, they just signed for a few a couple more years.
Campbell has been highly praised by the organization for solidifying their defense. Either way, if walker can't start out with around 75% of the starter snaps at the beginning of the season. Hitting the top 64 will be nearly impossible.
RELATED CONTENT