We're one week from the second major of the year. But this week, gamblers will get one last chance to fill their coffers for the PGA Championship. It's the 2022 AT&T Byron Nelson from TPC Craig Ranch in Dallas, TX. As always, here is your early deep-dive on the 2022 AT&T Byron Nelson and a preview for how to bet. In addition, listen below to the Golf Gambling Podcast for more information about golf betting.

2022 AT&T Byron Nelson Preview – The Field
Typically, the AT&T Byron Nelson has struggled to attract big names. Despite it being a tune up to the PGA Championship, many opted for another week off before playing the second major of the year. Maybe because the PGA Championship is in Oklahoma is what's attracted big names to the field in 2022. Because the 2022 AT&T Byron Nelson field is stacked.
The headliner of the 2022 AT&T Byron Nelson is Scottie Scheffler. Unquestionably, Scottie Scheffler has been the best golfer this year. A four time winner, including The Masters, he looks almost completely unstoppable. And given he already has won on a Tom Weiskopf course this season, he'll be a heavy favorite.
Another notable in the field is Justin Thomas. It seems like forever ago that Justin Thomas won a golf tournament. His last win came at the 2021 PLAYERS Championship. That was 14 months ago. This is a significantly long winless streak for JT. Considering how well he's played lately, a win is coming soon.
Other notables in the field include Jordan Spieth, Dustin Johnson, Sam Burns, Xander Schauffele, Hideki Matsuyama and Brooks Koepka.
For the full field, click here.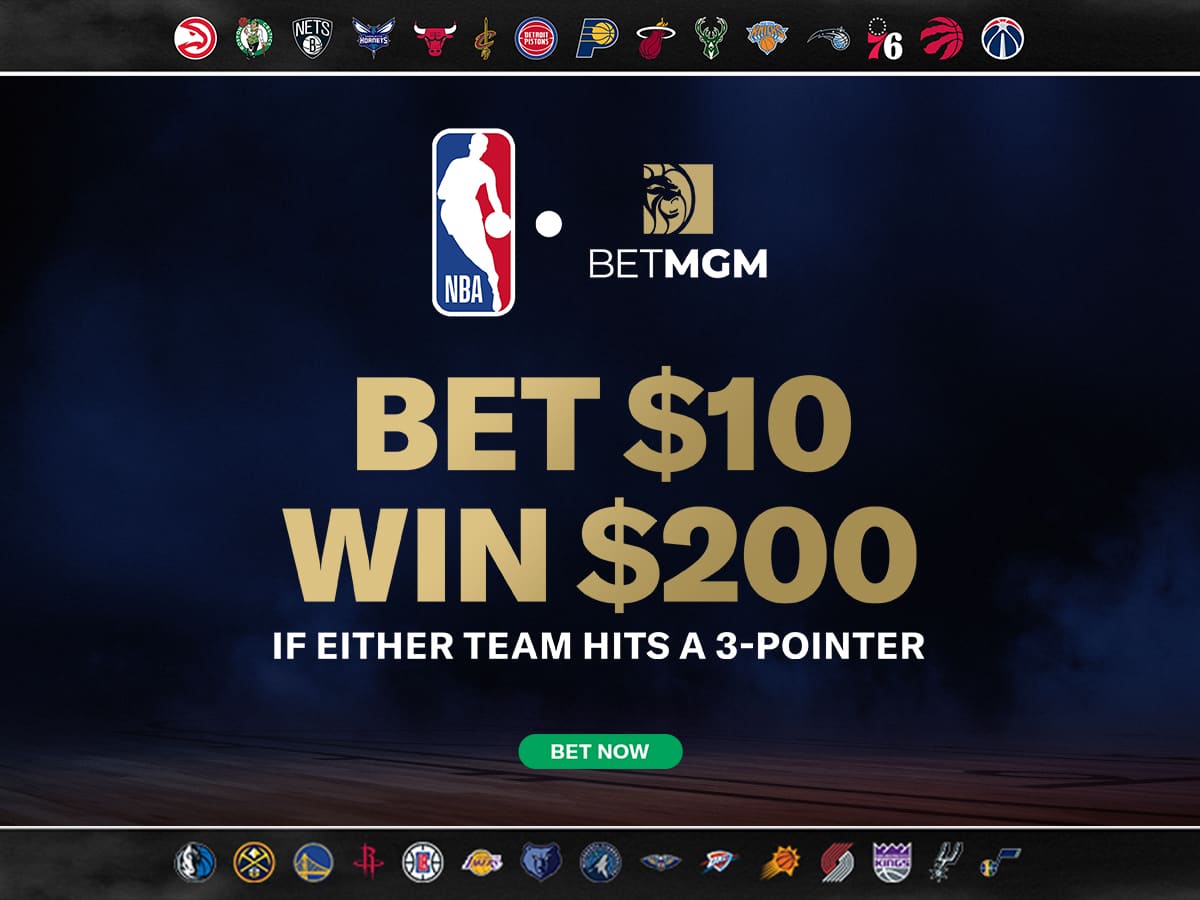 2022 AT&T Byron Nelson Preview – The Golf Course
The AT&T Byron Nelson is one of the oldest tournaments on the PGA Tour. Yet it has had a very difficult time finding itself a permanent home. The tournament debuted in 1944 at Lakewood Country Club. It was played at over a dozen other golf courses in the Dallas Metroplex before finding a stable home at TPC Four Seasons.
In 2018, the tournament moved once again. This time it went to the Bill Corre and Ben Crenshaw designed Trinity Forest. The golf course was built atop an old landfill and was a nerdy golf architect's dream. It looked absolutely nothing like anything that had been seen on the PGA Tour. There was no rough on the golf course. There was significant mounding, especially on the greens. The course was designed to play firm and fast like that of an Australian Sand Belt course. There was a lot of intrigue of how the PGA Tour would fare on this type of setup.
Unfortunately, the reception from the players was overwhelmingly negative (save for the Australians who liked that style of golf). Matt Kuchar was publicly vocal about his displeasure with the new golf course. And the PGA Tour, in-kind, did its best to soften up the place to try and make its players happy. But after COVID canceled the tournament in 2020, tournament organizers (and the PGA Tour) took the opportunity to move it to its new home, TPC Craig Ranch:
TPC Craig Ranch first opened in 2004 and was designed by Tom Weiskopf. Weiskopf had a very successful stint as a professional golfer. He won 16 times on the PGA Tour, including the 1973 Open Championship at Royal Troon. After his playing days, Weiskopf became a successful golf architect. His first course was named, appropriately, Troon Country Club in Arizona. His most notable work includes TPC Scottsdale (home of the Waste Management Phoenix Open) and a restoration of the North Course at Torrey Pines (holder of one round of the Farmers Insurance Open).
The golf course has some interesting topography. It works its way around Rawlett Creek and the surrounding ravines. There are some very interesting views of the creek and creek beds from tee boxes and fairways. Unfortunately, the creek doesn't come into play all that often. It takes a big miss off the tee on 1 to find the creek. While technically a player could take the creek on at the third hole, most players will opt to take a safer route around the hole to take it out of play. It takes a very poor approach shot on 9 to find its way into the creek. And it doesn't come into play at all on the Back Nine. But it does look pretty and provides some good eye candy on the golf course.
Tee-to-green, however, the golf course doesn't offer many thrills. There's a little bit of land movement tee-to-green to create a few uneven lies. But overall, the routing tee-to-green, as well as the bunkering, is kind of bland. That's by design. Tom Weiskopf is known to build no-nonsense golf courses. His designs are very subtle, straight forward and predictable. He's even on record of saying "We don't build blind shots for one simple reason. Liability".
For agronomy nerds, the fairways are Zoysia grass, the rough is 2.5 inch Bermuda Grass, and the greens are Bentgrass. Zoysia is a spongey turf that is a member of the poa family. It's not seen on many golf courses on the PGA Tour. It was, however, the grass of choice at the former home of the AT&T Byron Nelson. Trinity Forest also featured Zoysia fairways Another notable Zoysia fairway/Bentgrass greens combo seen on the professional circuit is Bellerive Country Club, home to the 2018 PGA Championship.
Other than the 2021 AT&T Byron Nelson, the golf course hosted the Korn Ferry Tour (then known as the Nationwide Tour) Championship. Notable top finishes in 2008 were Marc Leishman (T7) and Webb Simpson (T11). Notable top finishes in 2012 were James Hahn (2nd), Adam Hadwin (T3), Russell Henley (T6), and Luke List (T13).

2022 AT&T Byron Nelson Preview – Betting Strategies
I'm going to be completely honest with my readers. I don't really have a good handle on how to preview the 2022 AT&T Byron Nelson Classic. And it's for a few reasons that I'll describe below.
First, let's start with some nuts and bolts about the golf course. As mentioned earlier, TPC Craig Ranch features Zoysia fairways, 2.5 inch Bermuda rough and Bentgrass greens. The golf course can be set up to as long as 7,458 yards. The greens average about 6,800 square feet in area. That's fairly large for PGA Tour standards. That's one of the reasons why TPC Craig Ranch had one of the highest green in regulation rates on the PGA Tour in 2021.
Let's go back to the course yardage for a second. While the golf course can play as long as 7,458 yards, the PGA Tour didn't set up TPC Craig Ranch nearly that long in 2021. On average, the golf course played about 7,252 yards, including two rounds in which it was set up under 7,200 yards. The golf course also got a significant amount of rain before the tournament. The soft conditions and the short scorecard yardage is part of the reason why the golf course played so easy last year.
Will they set up the course just as easy in 2022? Or will they allow TPC Craig Ranch to play to its maximum yardage to toughen it up. Who knows. But the weather conditions might make it play a little more difficult. It hasn't rained a lot in Dallas the last few weeks. And there will be a little more wind in the forecast than last year. The PGA Tour might allow mother nature to toughen it up organically.
However, I will note that based on the review of the flyover above, I don't see how this course can be all that challenging to the professionals no matter how long they set it up or what the weather is. The fairways are really wide. The greens are really big. And the greens don't seem like they have a ton of contouring to them. Give a professional golfer an iron from a fairway to a large and relatively flat green many times a round, they're going to rip the golf course apart. While the winning score might not be -25, high teens or -20 on the dot is feasible.
Second, let's look at the relative skill set chart from last year's leaderboard, courtesy of DataGolf: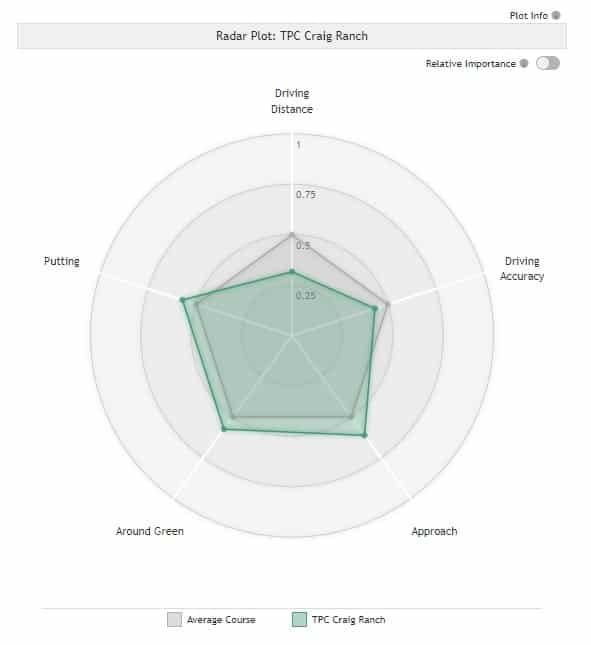 According to the chart, it doesn't seem like driving performance mattered all that much. There wasn't much of a correlation between distance or accuracy off the tee at the 2021 AT&T Byron Nelson. It also doesn't seem like the top players separated themselves all that much on the leaderboard off the tee either. And while, collectively, most of the best players were good scramblers, the top of the leaderboard didn't separate themselves from everyone else all that much in that category either. Each of these situations probably has to do with the fact that the driving accuracy percentage and the green in regulation percentage in 2021 was well over 70% each. It was a very easy golf course off the tee, and players weren't scrambling all that much either.
With that said, if the 2022 AT&T Byron Nelson continues to play really easy, the stats to focus on this week is iron play and putting. Based on the 2021 leaderboard, these two areas are what enabled the top of the leaderboard to separate themselves the most from the field. The top of the leaderboard dominated these two categories in 2021. If the golf course plays easy again, expect more of the same. I'll likely be targeting players who either excel in both categories, or are trending up in them.
But one thing to consider, however, is that the 2022 AT&T Byron Nelson field is significantly stronger than the 2021 leaderboard. All this chart tells us is the profile of players who played well at TPC Craig Ranch in 2021. Considering how strong the 2022 field is, the relative skill set chart could look a lot different than the one we saw in 2021. Performance off the tee could matter a lot more in 2022 because, generally speaking, the better players on the PGA Tour are much better off the tee than the average professional.
Next, let's look at the approach shot distribution chart from 2021, per DataGolf. Typically, this chart would give gamblers a good preview of what to expect from approach shots at the 2022 AT&T Byron Nelson:

However, this chart actually does the opposite.
The first thing you'll notice on the chart is that there is a higher than average number of approach shots 200+ at TPC Craig Ranch. However, this isn't helpful when looking at the entire chart as a whole. While players hit a larger percentage of shots 200+ than they normally will, it only comprises about 37% of their total approach shots per round. That's not nearly enough to try and isolate in a model. On the whole, there appears to be a pretty equal distribution between short and long approach shots at TPC Craig Ranch. In addition, the firmer conditions expected at TPC Craig Ranch may shift this distribution chart more towards shorter approach shots.
As such, I don't recommend trying to incorporate a proximity stat in your handicap. In order to capture enough of a percentage of a player's approach shot, the range is far too wide. If you feel like you must, just take a look at proximity stats from 150+ yards. That will cover roughly 70% of a player's approach shots in the tournament. But overall, targeting good iron players or ones trending up probably will suffice.
In terms of comp courses, TPC Craig Ranch doesn't have a great one. For starters, the ones identified by DataGolf as the most correlated primarily consist of ones that aren't regular PGA Tour stops. Second, last year's tournament was a complete birdie fest and featured a very weak field. If a stronger field changes the profile of a successful player, or if the golf course plays a little harder, different course comps might be more applicable. As such, I won't be looking at comp courses this week.
To wrap all this up, I don't think I'm going to get too in the weeds trying to look at specialized stats like proximity stats, bunker play, comp course performance, etc. I think TPC Craig Ranch kind of is what it is. It's a no-nonsense golf course that might play a little harder than last year. But overall, it's not a difficult golf course by any stretch of the imagination. And I don't think what we saw last year is a good preview of what to expect at the 2022 AT&T Byron Nelson. As such, I won't be relying on it too much. Instead, I'll likely fill out my betting card with players trending upwards who are undervalued on the betting board.
Related Content