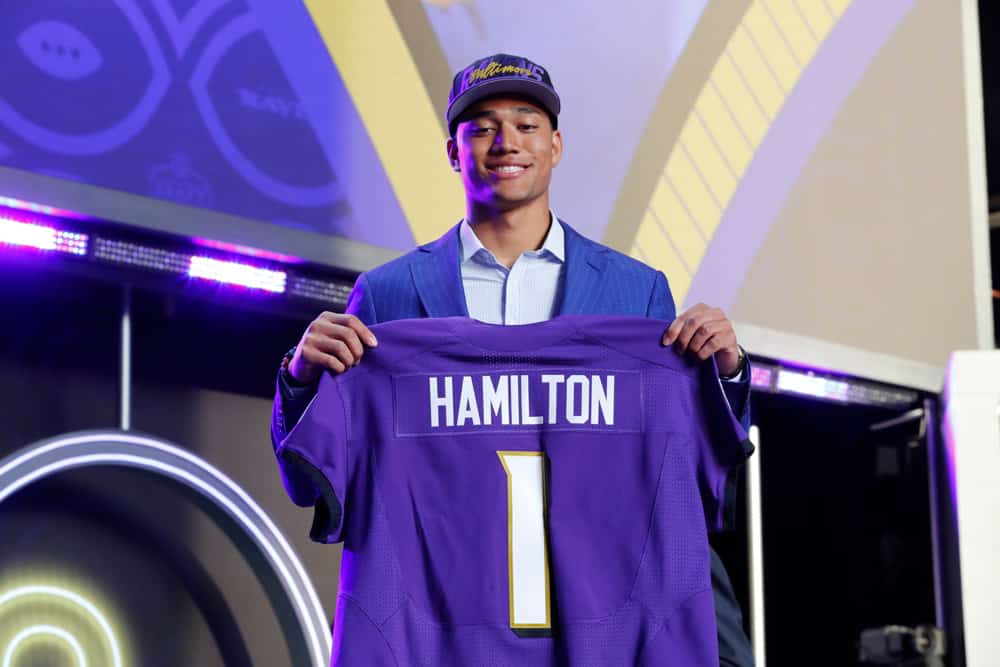 We are done with the NFL Draft and it's time to break down the first three rounds and evaluate each team's performance and write up our first report card. After three days of drafting, many stacks of pancakes, and countless hours of research the NFL Draft is in the books. The SGPN staff has been in the weeds with Draft content for months and are excited to bring you the #DegensOnly Draft Grades. You can read lots of Draft Grades out there, but SGPN has the best 2022 NFL Draft Grades to know how your team did.
EXCLUSIVE NFL CONTENT FROM SGPN
2022 Fantasy Rookies – NFL First Round Picks and Fantasy Football Impacts
All Fantasy Football Content from SGPN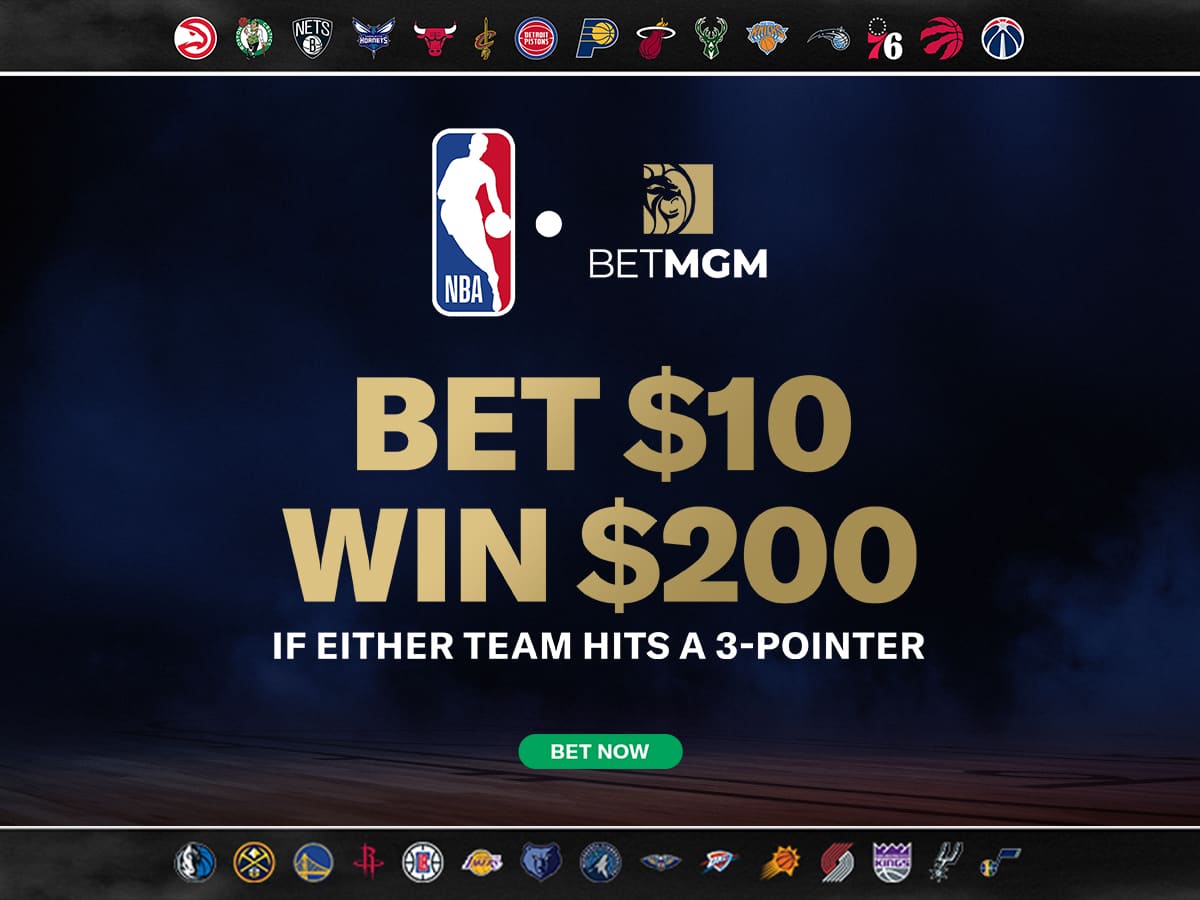 2022 NFL Draft Grades for All 32 Teams
Colby Dant wrote the evaluations for Rounds 1-3 while Matt Morse wrote the analysis for Rounds 4-7.
Arizona Cardinals
Round 1
The Arizona Cardinals traded away their first-round pick (23rd) for Veteran Wideout Hollywood Brown from the Baltimore Ravens. Hollywood Brown should fit well in Kliff Kingsbury's offense being that Lincoln Riley's Oklahoma Sooners offense had a ton of similarities to Kliff Kingsbury's so the move makes sense despite perhaps giving up a bit more than I would have.
Round 2
Trey McBride, TE, Colorado State
If you listened to our Mock Draft series on The College Football Experience podcast then you would know I was super high on Colorado State tight end Trey McBride. McBride went a bit later than I expected but regardless the Cardinals got what I think may be the best tight end in the draft.
Round 3
Cameron Thomas, EDGE, San Diego State
Myjiai Sanders, EDGE, Cincinnati
The Cardinals landed two Edge rushers in the 3rd round with Cameron Thomas from San Diego State and Myjai Sanders from Cincinnati. Both these rushers cracked my top 10 rushers in the NFL Draft so one if not both of these should pan out to be a key edge rusher for the Cardinals.
Report Card Grade: (B) I was a skeptic of the Hollywood Brown trade at first but after some thought it kind of made sense to me and then I really liked what the Arizona Cardinals did in the 2nd and 3rd rounds.
Round 4
No Picks.
Round 5 
No Picks.
Round 6 
Keaontay Ingram, RB, USC, 6'0″ 221 lbs
Lecitus Smith, G, Virginia Tech, 6'3″ 314 lbs
Round 7 
Christian Matthew, DB, Valdosta State, 6'4″ 200 lbs
Jesse Luketa, LB, Penn State, 6'3″ 253 lbs
Marquis Hayes, G, Oklahoma, 6'5″ 318 lbs
Grade:  B
The Cardinals only had picks in the 6th and 7th rounds of day 3 but still managed to address a few needs. They will look to find a spark in the backfield with their selection of RB Keaontay Ingram out of USC after losing Chase Edmonds in free agency. The Cardinals also need CB help in the worst way and took a dart throw in the 7th on Christian Matthew from Valdosta State who has good size for a corner. Smith and Hayes will be good line depth pieces and Jesse Luketa will look to latch on as a backup linebacker and special teamer.
Atlanta Falcons
Round 1
Drake London, WR, USC
The Atlanta Falcons passed on drafting a quarterback in the first round and selected star USC wideout Drake London with their first-round pick. London sure has the size and athletic features to be successful in the NFL however, I just don't like selecting a wideout that early unless he lit college football on fire aka Randy Moss, Calvin Johnson, etc. London was effective and has all the athletic ability and will most likely be a good wideout but I just think the Falcons could have done better.
Round 2
Arnold Ebiketie, EDGE, Penn State
Troy Anderson, LB, Montana State
The Falcons ended up going defense in the 2nd round which I thought was absolutely necessary after going offense again in the first round. The Falcons selected Edge rusher Arnold Ebiketie with their first 2nd round pick and I guess I can't complain too much. He was in my top 10 edge rushers however I did have a few guys who were available ranked ahead of him. With their 2nd first-round pick the Falcons went for LB Troy Anderson from Montana State who was an absolute beast on the FCS level. We'll see how he does in the NFL but I must admit I like the Anderson pick.
Round 3
Desmond Ridder, QB, Cincinnati
DeAngelo Malone, EDGE, Western Kentucky
The Falcons had two third-round picks and went with QB Desmond Ridder from Cincinnati who many had going in the first round so in that capacity this is an absolute great pick. However, I was one of Ridder's biggest skeptics and see him as a career backup QB. With the Dirty Birds' 2nd pick in the 3rd round, the Falcons went with DeAngelo Malone another Edge rusher. Malone is from Western Kentucky and was one of their best defensive players if not their best. Depth on defense is a no-brainer when you are an Atlanta Falcons fan.
Report Card Grade: (C) Some of these selections may really work out well for the Falcons but I just think they could have drafted better for almost every pick they made.
Round 4
No Picks.
Round 5 
Tyler Allgeier, RB, BYU, 5'11" 224 lbs
Round 6 
Justin Shaffer, G, Georgia, 6'4″ 314 lbs
John FitzPatrick, TE, Georgia, 6'7″ 262 lbs
Round 7 
No Picks.
Grade:  A
I am giving the Falcons an A simply for selecting Tyler Allgeier out of BYU in the 5th round. He will see playing time right away as a bruising running back and the perfect complement to Corderelle Patterson. The Falcons need all the playmakers they can get and finding someone to make an impact in the 5th round is not easy. In the 6th they nabbed Schaffer and Fitzpatrick out of Georgia, who was just loaded with talent in this draft. I am a fan of adding a depth tight end to a roster that desperately needs playmakers on offense. 
Baltimore Ravens
Round 1
Kyle Hamilton, Safety, Notre Dame
Tyler Linderbaum, Center, Iowas
The Ravens sent WR Hollywood Brown to the Arizona Cardinals for an extra first-round pick which meant perfect sense to me. Baltimore then selected Notre Dame Safety Kyle Hamilton and Center Tyler Linderbaum from Iowa. Those two picks I think are two of the best draft picks in the first round. I was bullish on Kyle Hamilton the entire college football season a year ago and you can almost never go wrong on an offensive lineman from Iowa.
Round 2
David Ojabo, EDGE, Michigan
The Baltimore Ravens continue to be one of the best organizations at putting together a solid draft. Mike McDonald who recently left his DC position at the University of Michigan to become the Ravens DC drafts his guy in Edge rusher David Ojabo. If anyone will know how to use Ojabo to his strengths it's going to be McDonald. Great pick!
Round 3
Travis Jones, DT, UConn
The Ravens went with a player from UConn? Uh oh. However, Defensive Tackle Travis Jones had NFL scouts really sold on his ability to be a player in the NFL. I saw some publications or mocks have him going late first-round or early 2nd and if that's the case then what a steal the Baltimore Ravens have got on their hands.
Report Card Grade: (A) I think you can make an argument that the Baltimore Ravens had the best draft of any team in the NFL through 3 rounds.
Round 4
Daniel Faalele, OT, Minnesota, 6'8″ 384 lbs
Jayln Armour-Davis, CB, Alabama, 6'1″ 197 lbs
Charlie Kolar, TE, Iowa State, 6'7″ 252 lbs
Jordan Stout, P, Penn State, 6'3″ 209 lbs
Isaiah Likely, TE, Coastal Carolina, 6'5″ 245 lbs
Damarion Williams, CB, Houston, 5'10" 182 lbs
Round 5 
No Picks. 
Round 6
Tyler Badie, RB, Missouri, 5'8″ 197 lbs
Round 7 
No Picks. 
Grade:  A
The Ravens might have had the best draft in 2022. Quality and quantity. They had a whopping 6 picks in the 4th round and made them count. Faalele was a steal in the 4th and many had him going as high as the second or third round. He will immediately slot in as a backup swing tackle and could compete for playing time. Davis has good size for a corner from Alabama. Kolar and Likely give the Ravens two shots at hitting on a tight end to pair with Mark Andrews. Drafting a punter in the 4th feels high, but they had so many picks and if he is the long-term answer, I do not hate the pick.
Damarion Williams will round out some CB depth and Tyler Badie makes for an interesting competition as the third-down back for the Ravens that had their HB depth tested all season.
Buffalo Bills
Round 1
Kaiir Elam, CB, Florida
The Bills went for a cornerback in the first round which makes a ton of sense if you watched last year's NFL Playoffs. Buffalo selected cornerback Kaiir Elam from Florida. Elam was listed as a top 10 cornerback for me but I was a bit surprised he went before Washington corner Kyler Gordon. I could see the argument though and I think the Bills got better today with this pick.
Round 2
James Cook, RB, Georgia
*EDITORIAL NOTE – Mr. Dant initially omitted James Cook because he cannot stand how much better the Bills got with this pick. #CircleTheWagons and welcome to Buffalo Mr. Cook*
James Cook is an elite route runner and elite in space. His speed and elusiveness will unlock a missing element for Josh Allen and company. Cooks gained 1012 scrimmage yards in 2021 and found the endzone 11 times. Watch him run routes and you will think you are watching a wide receiver.
Round 3
Terrel Bernard, LB, Baylor
Buffalo continued to rehab the defense in the third round with the Bills selecting Baylor linebacker Terrel Bernard. Bernard much Elam was a bit of a surprise for me because I had a few players charting higher than them but at least Buffalo was attending to needs they needed to fill.
Report Card Grade: (C+) The Bills didn't draft the top players in my position rankings but they did address the needs of the team.
AMENDED REPORT CARD GRADE: (B+) James Cook is a difference-maker and Elam is a Day One starter. Another great draft for Brandon Beane and Company.
Round 4 
No Picks.
Round 5 
Khalil Shakir, WR, Boise State, 6'0″ 196 lbs
Round 6 
Matt Araiza, P, San Diego State, 6'1″ 200 lbs
Christian Benford, CB, Villanoava, 6'1″ 208 lbs
Luke Tenuta, OT, Virginia Tech, 6'8″ 319 lbs
Round 7 
Baylon Spector, LB, Clemson, 6'1″ 233 lbs
Grade:  A-
I like a lot of what the Bills did in this draft. They added more playmakers for Josh Allen including WR Khalil Shakir out of Boise State. They landed the best punter in the draft in 6th (Matt Araiza) to help solve some of their kicking issues in a huge way. Benford is a big corner from Villanova in a secondary looking for depth. Tenuta and Spector will compete for depth and special teams work.
Carolina Panthers
Round 1
Ikem Ekwonu, OT, NC State
The Panthers passed on taking a quarterback and with great reason because their biggest hole on the entire team was addressed with the draft pick of offensive tackle Ikem Ekwonu from NC State. Matt Rhule is well aware he has one year to fix the problem and it shows with this stellar pick.
Round 3
Matt Corral, QB, Ole Miss
The Panthers passed on a QB with their first pick but yet landed a QB they had rated as a first-round caliber QB in Matt Corral from Ole Miss. The Panthers really won the third round here with potentially their future starting QB.
Report Card Grade: (A-) The Panthers addressed the biggest weaknesses on the team perhaps and they did it by grabbing a potential first-round talent in the third round and in their eyes the top offensive lineman in the draft.
Round 4 
Brandon Smith, LB, Penn State, 6'4″ 250 lbs
Round 5 
No Picks. 
Round 6 
Amare Barno, EDGE, Virginia Tech, 6'5″ 246 lbs
Cade Mays, G, Tennessee, 6'5″ 311 lbs
Round 7 
Kalon Barnes, CB, Baylor, 6'0″ 183 lbs
Grade:  B-
The Panthers have a lot of needs but did not have a lot of picks to address them. Smith is a top 10 linebacker in this draft and could contribute right away. Barno was a great value in the 6th round as many saw him going much higher and he could be a situational player on the edge right away. Mays and Barnes were added for depth along the o-line and in the CB room
Chicago Bears
Round 2
Tyler Gordon, CB, Washington
Jaquan Brisker, Safety, Penn State
The Bears didn't have a first-round selection but they did have two 2nd round draft picks and they addressed the team's biggest weakness with the secondary. Chicago took Washington Huskies cornerback Tyler Gordon and Penn State Safety Jaquan Brisker both of who should immediately be impact players for this Bears defense.
Round 3
Velus Jones, WR, Tennessee
The Bears went wideout here in the third by taking Tennessee Vols receiver Velus Jones. I had a player or two ranked higher than Jones but I suppose the Bears got their guy.
Report Card Grade: (B-) The Bears addressed their three biggest weaknesses perhaps and all three should be players we see on the field come September.
Round 4
No Picks 
Round 5 
Braxton Jones, OT, Southern Utah, 6'5″ 310 lbs
Dominique Robinson, LB, Miami (OH), 6'5″ 253 lbs
Round 6 
Zach Thomas, G, San Diego State, 6'5″ 308 lbs
Trestan Ebner, RB, Baylor, 5'11" 206 lbs
Doug Kramer, C, Illinois
Round 7 
J'Atyre Carter, G, Southern, 6'3″ 311 lbs
Elijah Hicks, S, California, 5'11" 200 lbs
Trenton Gill, P, NC State,  6'4″ 219 lbs
Grade:  C+
The Bears did not do enough to help Justin Fields. They are rebuilding so it seems they attempted to stack as many picks as they could and hoped to find a few diamonds in the rough. Jones and Robinson in the 5th both addressed needs. Zach Thomas addressed a need but also can play guard or tackle which is appealing. Ebner can be a receiving back and kick returner so I like the value here. Kramer and Carter were luxury depth additions since the Bears' offensive line needs so much work and help. Hicks will compete for secondary depth. Selecting a punter in the 7th is not a bad idea. Especially when you need one and it is hard to find any starting-worthy player this late in the draft. 
Cincinnati Bengals
Round 1
Daxton Hill, Safety, Michigan
The Bengals landed the 2nd rated safety in this year's draft in former Michigan Wolverine in Daxton Hill. Hill should immediately improve the Bengals secondary and Cincinnati was relieved that Hill was still on the board at their pick.
Round 2
Cam Taylor-Britt, CB, Nebraska
The Bengals had two second-round picks to start but they moved up to add one solid defensive back in cornerback Cam Taylor Britt from Nebraska. I absolutely love the Cook pick and I think the Cam Taylor Britt pick may work out as well. What a good job in the 2nd round by Cincinnati.
Round 3
Zachary Carter, DL, Florida
The Bengals stayed on the defensive side of the ball and added former Florida Gator, Zachary Carter. The Bengals needed some depth on the defensive line and Carter provides exactly that.
Report Card Grade: (B+) At first thought I wasn't sure I loved their draft but after dissecting each pick I think Cincinnati did a pretty damn good job considering where they were drafting at.
Round 4
Cordell Volson, OT, North Dakota State, 6'6″ 315 lbs
Round 5 
Tycen Anderson, S, Toledo, 6'2″ 209 lbs
Round 6 
No Picks. 
Round 7 
Jeffrey Gunter, EDGE, Coastal Carolina, 6'4″ 258 lbs
Grade:  C
They did not address any needs and took a third safety in the same draft. Volson is a big tackle and in the fourth round not a bad value. He could make for a nice backup tackle. Anders in the 5th makes no sense. Gunter was a dart throw edge in the 7th.
Cleveland Browns
Round 3
Martin Emerson, CB, Mississippi State
Alex Wright, DE, UAB
David Bell, WR, Purdue
The Cleveland Browns went defense with their first 3rd round pick with a top SEC cornerback in Martin Emerson from Mississippi State and defensive end Alex Wright from UAB and then got Purdue wideout David Bell who could potentially be a steal. I like the Emerson pick a lot and the Wright one could be a sleeper. Bell didn't impress at the combine but was a force in the Big Ten.
Report Card Grade: (B+) For not having any draft picks until the 3rd round I actually thought the Browns did a great job considering.
Round 4
Perrion Winfrey, DT, Oklahoma, 6'4″ 290 lbs
Cade York, K, LSU, 6'1″ 206 lbs
Round 5 
Jerome Ford, RB, Cincinnati, 5'11" 210 lbs
Round 6 
Michael Woods, WR, Oklahoma, 6'1" 198 lbs
Round 7 
Isaiah Thomas, EDGE, Oklahoma, 6'5″ 266 lbs
Dawson Deaton, C, Texas Tech, 6'6″ 306 lbs
Grade:  A
The Browns had limited capital in the draft after the Deshaun Watson trade but made it count in the second half of the draft. Perrion Winfrey is amazing value in the 4th and might be ready to start right now. A kicker in the 4th feels high but if they believe in York and he solves their kicking problem for the next decade, it was a good pick. Getting Ford and Woods in the 5th and 6th make for excellent dart throws in the offensive weapon arena. They are officially in "win now" mode and need to get as many potential weapons for Watson as possible. Thomas and Deaton in the 7th make for nice depth in the trenches dart throws.
Dallas Cowboys
Round 1
Tyler Smith, OL, Tulsa
Several people including myself thought that Dallas could potentially draft a wideout in the first round but they passed on that to fill a need that in my opinion was much more important than the offensive line. Dallas took Tyler Smith out of Tulsa. Smith has been a bit raw but each year has been developing into something, the Cowboys might have got a steal if they can continue to develop Smith.
Round 2
Sam Williams, EDGE, Ole Miss
The Cowboys went Edge rusher in round 2 and grabbed Sam Williams from Ole Miss. I had a couple of edge rushers charted higher than Williams but regardless I do like the Cowboys grabbing an edge rusher here.
Round 3
Jalen Tolbert, WR, South Alabama
The Cowboys landed South Alabama wideout Jalen Tolbert in the 3rd round. If you watched any of South Alabama over the past few years you would know Tolbert jumped off the screen. We'll see if the Sun Belt competition will match up against the NFL competition but I like the pick here.
Report Card Grade: (B) It was kind of an unusual Dallas Cowboys draft but they definitely attacked some of the areas where they were the weakest. Now, will it pay off becomes the question?
Round 4
Jake Ferguson, TE, Wisconsin, 6'5″ 250 lbs
Round 5 
Matt Waletzko, OT, North Dakota, 6'8″312 lbs
DaRon Bland, CB, Fresno State, 
Damone Clark, LB, LSU, 6'3″ 239 lbs
Round 6 
Devin Harper, LB, Oklahoma State
Round 7 
No Picks. 
Grade:  B+
I like that the Cowboys added another big tight end even though they have a couple of decent ones. They will likely lose one in the near future to free agency and they are planning ahead so Ferguson makes sense in the 4th. The Cowboys need Tackle help and I like the selection of the big-bodied Waletzko in the 5th. Dallas needed linebacker help and selected two of them in the 5th and 6th in Clark and Harper. DaRon Bland was drafted to add secondary depth out of Fresno State in the 5th round. I like bland as a run defender already but if they can work on his coverage skills he may develop into a nice player.
Denver Broncos
Round 2
Nik Bonitto, OLB, Oklahoma
The Broncos landed Oklahoma OLB Nik Bonitto with their first pick in the draft and considering where they were picking at I think it's a pretty good pick. Bonitto has the skills to be really good and I was surprised he was still on the board here.
Round 3
Greg Dulcich, TE, UCLA
Denver went with a TE in the 3rd round and one that Chip Kelly has raved about over the past few seasons in UCLA TE Greg Dulcich. With other TEs McBride & Woods off the board, I think they got the best tight end available to replace Noah Fant who left in the Russell Wilson trade.
Report Card Grade: (B) I liked both picks and they attacked two positions of weakness so it makes sense.
Round 4
Damarri Mathis, CB, Pitt, 5'11" 196 lbs
Eyioma Uwazurike, EDGE, Iowa State, 6'6″ 316 lbs
Round 5 
Delarrin Turner-Yell, S, Oklahoma, 5'10" 197 lbs
Montrell Washington, WR, Samford, 5'10" 170 lbs
Luke Wattenberg, C, Washington, 6'4″ 299 lbs
Round 6 
Matt Henningsen, DT, Wisconsin, 6'3″289 lbs
Round 7 
Faion Hicks, CB, Wisconsin, 5'10" 192 lbs
Grade:  B-
The Broncos needed corners and nabbed two. Mathis in the 4th and Hicks in the 7th. Mathis is a nice corner and could see playing time in year 1. The Broncos are best when they have a relentless pass rush and Uwazurike will look to crack the edge rotation. In the 5th, Denver added Turner-Yell in an attempt to boost their secondary. They now have Russell Wilson and want to make sure there is no shortage of weapons. I like the addition of Montrell Washington in the 5th. He is a raw receiver but is fast and can help in the return game. I am also a fan of adding as much depth to the trenches as possible and the broncos did on both sides of the ball with Wattenberg in the 5th and Henningsen in the 6th. 
Detroit Lions
Round 1
Aidan Hutchinson, EDGE, Michigan
Jameson Williams, WR, Alabama
Aidan Hutchinson was the 2nd pick in the draft by the Detroit Lions and well it's a home run get for ticket sales for sure since Hutchinson grew up in the area and played his college ball with the Michigan Wolverines. However, I still am not 100 percent sold on Hutchinson being deserving of the number 2 overall pick in the draft.  With Detroit's second first-round pick the Lions got Alabama star wideout Jameson Williams who is coming off an injury but if he's healthy he can be an absolute force. The pick addresses a huge weakness for Detroit and the pick makes complete sense.
Round 2
Josh Paschal, EDGE, Kentucky
The Lions went out and got another pass rusher in the 2nd round with Josh Paschal from the University of Kentucky. Paschal was a beast in Lexington and I like the fact that the Detroit Lions are actually investing in their defense for a change.
Round 3
Kerby Joseph, Safety, Illinois
Detroit stayed on the defensive side of the ball yet again in the 3rd round and took Illinois safety, Kerby Joseph. Joseph was one of the best players on a bad Illini team so it's tough to tell just how much this pick will work out but I like the Lions' attack on the defensive side of the ball.
Report Card Grade: (B-) I still wonder about Hutchinson as the 2nd overall pick but all these picks make sense from a position point of view.
Round 4
No Picks. 
Round 5 
James Mitchell, TE, Virginia Tech, 6'4″ 249 lbs
Round 6 
Malcolm Rodriguez, LB, Oklahoma State, 5'11" 232 lbs
James Houston, LB, Jackson State, 6'0″ 244 lbs
Round 7 
Charles Lucas, CB, Arizona State, 5'11" 180 lbs
Grade:  C-
I liked the top of the Lions draft a lot. Day 3 left a lot to be desired. There were QB prospects that slid that would have made nice gambles or even developmental projects. Goff is not the answer in Detroit and they know it. The Lions desperately needed to add weapons in this draft and not selecting a single running back is a head-scratcher to me. There was so much value in the running backs of this class from round 4 and on. Mitchell is a nice big tight end that could be a weapon someday, but not yet. Dan Campbell loves his defense and took linebackers Rodriquez and Houston in the 6th. He also added CB Charles Lucas in the 7th. All will compete to be depth defensive pieces. 
Green Bay Packers
Round 1
Quay Walker, LB, Georgia
DeVonte Wyatt, DT, Georgia
The Packers flat out were one of the winners in the first round as they loaded up their team with Georgia linebacker Quay Walker and Georgia DT DeVonte Wyatt who both I think they will be forces in Green Bay. The Packers needed help in both of those areas and well now they are addressed. Job well done.
Round 2
Christian Watson, WR, North Dakota State
Green Bay won the first round in my opinion and it didn't stop there because the Packers landed a wideout I thought they might take in the first round in North Dakota State wideout Christian Watson who we have labeled as potentially one of the best steals in the draft at his position. With Davonte Adams gone this move made perfect sense.
Round 3
Sean Rhyan, OL, UCLA
The Packers went out in the 3rd round and added some protection for Aaron Rodgers in UCLA's top offensive lineman in Sean Rhyan who I thought would go in the 2nd round. I love this pick here at this spot.
Report Card Grade: (A) I think this is one of the best drafts I have seen so far. The Packers addressed every need they had and got great value at that.
Round 4
Romeo Doubs, WR, Nevada, 6'2″ 201 lbs
Zach Tom, C, Wake Forest, 6'4″ 304 lbs
Round 5 
Kingsley Enagbare, LB, South Carolina, 6'4″ 258 lbs
Round 6 
No Picks. 
Round 7 
Tariq Carpenter, LB, Georgia Tech
Jonathan Ford, DT, Miami, 6'5″ 333 lbs
Rasheed Walker, OT, Penn State, 6'6″ 313 lbs
Samouri Toure, WR, Nebraska, 6'3″190 lbs
Grade:  B
Getting Doubs in the 4th and Toure in the 7th, even after selecting Watson earlier in the draft, are excellent moves in my book The Packers need as much WR help as they can get, and the more chances of hitting on one the better. Zach Tom was excellent value in the 4th. Enagbare was good value in the 5th and has a chance to crack the LB rotation. In total, the Packers made 4 picks in the 7th which are all dart throws. Carpenter and Ford will compete for depth along the defensive front 7. Walker has great size for a tackle. He could be a right tackle project. 
Houston Texans
Round 1
Derek Stingley Jr, CB, LSU
Kenyon Green, Guard, BC
The Texans went with Derek Stingley Jr. with the 3rd pick in the draft and well this team had a ton of holes so this was one of them and Stingley Jr. is a baller so it makes sense here despite many experts having Sauce Gardner charted higher than Stingley Jr. Then with the Texans 2nd first-round pick they got Boston College guard Kenyon Green. BC has a rep of putting good offensive lineman into the NFL so despite it not being a flashy pick the pick makes sense and Green could be a good one for a long time to come.
Round 2
Jalen Pitre, Safety, Baylor
John Metchie III, WR, Alabama
The Texans used their 3rd round selection to grab Baylor safety Jalen Pitre and Alabama wide receiver John Metchie III and both picks make a ton of sense and could end up as great picks by the Texans. I like what they did here.
Round 3
Christian Harris, LB, Alabama
Sometimes one Alabama player isn't enough so in the 3rd round Lovie Smith continued to build up the defense with the addition of Crimson Tide linebacker Christian Harris. I love the pick, especially at where they got him.
Report Card Grade: (B+) It wasn't the sexiest draft but I actually think the Texans addressed some real needs and got some good value players.
Round 4
Dameon Pierce, RB, Florida, 5 '10" 218 lbs
Round 5 
Thomas Booker, DT, Stanford, 6'3″ 301 lbs
Teagan Quitoriano, TE, Oregon State, 6'6″ 256 lbs
Round 6 
Austin Deculus, OT, LSU, 6'5″ 321 lbs
Round 7 
No Picks. 
Grade:  B+
The Texans were not shot about wanting a running back. They may not have landed Breece Hall or Kenneth walker but I like Pierce in the fourth. He is a well-rounded back that likely sees playing time in year one. Have to love that from a fourth-rounder. Thomas Booker is a big tackle from Stanford that would be a nice addition to the D-line that needs help. He can play DE in a 3-4 scheme. Quitoriona is not a top TE in this class but makes for a good project on a team that needs help on offense anywhere they can find it. Deculus is a project in the 6th round. Overall I like that the Texans addressed so many needs.
Indianapolis Colts
Round 2
Alec Pierce, WR, Cincinnati
The Colts went out and grabbed Cincinnati wideout Alec Pierce in the 2nd round. I don't love the pick here but I do understand the need to take a wideout with one of their first few picks.
Round 3
Jelani Woods, TE, Virginia
Indianapolis went with TE Jelani Woods out of Virginia via Oklahoma State in the 3rd round and I have been high on this guy since I attended a game in Stillwater and saw him play live. Woods is unbelievably athletically gifted and if he can live up to it he'll be a stud tight end for years to come in the NFL.
Report Card Grade: (B) I'm not bullish on the Pierce pick but they redeemed themselves with the Woods pick.
Round 4
No picks. 
Round 5 
Eric Johnson, DT, Missouri State
Round 6 
Andrew Ogletree, TE, Youngstown State, 6'7″ 250 lbs
Curtis Brooks, DT, Cincinnati
Round 7 
Rodney Thomas, S, Yale, 6'2″ 200 lbs
Grade:  C
The Colts still need a linebacker and a corner. I would have liked them to take a shot or to at those positions in the latter part of the draft. Eric Johnson was a potential top 10 DT in this draft so there is potential there. TE Andrew Ogletree also has potential and could easily develop into a quality number 2 tight end. Brooks will be line depth at DT. The Colts likely value the versatility of Thomas in the 7th.
Jacksonville Jaguars
Round 1
Travon Walker, EDGE, Georgia
Devin Lloyd, LB, Utah
The Jaguars made the smart move to me by selecting Georgia edge rusher Travon Walker over Aidan Hutchinson but regardless they needed to address their defensive line and they sure did in my opinion. With the Jags' 2nd first-round pick they got Linebacker Devin Lloyd from Utah who I was really bullish on. Lloyd slipped a bit in the draft for whatever reasons but Jacksonville lucked up by getting him this late.
Round 3
Luke Fortner, OL, Kentucky
Chad Muma, LB, Wyoming
Jacksonville had two picks in the 3rd round and continued to build the defense and help out the offensive line with Kentucky offensive lineman Luke Fortner and Wyoming linebacker Chad Muma. I really like both picks being that it's the 3rd round and both players were at the top of my charts.
Report Card Grade: (A) I actually think Jacksonville had one of the best drafts thus far. They addressed some serious positions of need and did so with high-caliber players.
Round 4
No Picks. 
Round 5 
Snoop Conner, RB, Ole Miss, 5'10" 222 lbs
Round 6 
Gregory Junior, CB, Ouachita Baptist University, 
Round 7 
Montaric Brown, CB, Arkansas, 6'0″ 196 lbs
Grade:  B-
The Jaguars addressed some needs. Snoop Conner has potential as a big goal-line back and could work into a rotation with Robinson and Etienne in the future. The Jags needed help in the CB room and added two of them in the 6th and 7th with Gregory Junior and Montaric Brown. 
Kansas City Chiefs
Round 1
Trent McDuffie, CB, Washington
George Karlaftis, DE, Purdue
The Kansas City Chiefs had two first-round draft picks and really bulked up their defense by adding Washington cornerback Trent McDuffie and the Greek Freak in Purdue defensive end George Karlaftis. Both picks are kind of under the radar and I'm sure Andy Reid will enjoy that but I think both picks were smart picks that will help the team instantly.
Round 2
Skyy Moore, WR, Western Michigan
Bryan Cook, Safety, Cincinnati
Here's where the Chiefs did it by landing WR Skyy Moore from Western Michigan and Safety Bryan Cook from Cincinnati. Moore lit up a pretty good Pittsburgh Panthers defense a year ago and perhaps was flying under the radar a bit in the MAC this past year. I could see this pick working out for the Kansas City Chiefs. Bryan Cook at safety from Cincinnati was a great pick in my opinion. I thought he would go early 2nd Round so the Chiefs lucked up by having Cook drop to them a bit.
Round 3
Leo Chenal, LB, Wisconsin
With their 3rd round selection, the Kansas City Chiefs lucked up yet again by getting a guy I had going in the 2nd round in Wisconsin linebacker Leo Chenal.
Report Card Grade: (A) I thought the Chiefs got a good player at every single pick and I could see them all working out well in Kansas City.
Round 4
Joshua Williams, CB, Fayetteville State, 6'3″ 195 lbs
Round 5 
Darian Kinnard, G, Kentucky, 6'5″ 322 lbs
Round 6 
No Picks. 
Round 7 
Jaylen Watson, CB, Washington State, 6'2″ 197 lbs
Isiah Pacheco, RB, Rutgers, 5'10" 216 lbs
Nazeeh Johnson, S, Marshall, 6'2″ 189 lbs
Grade:  B+
I like that the Chiefs addressed just about every one of their needs. Even though they selected McDuffie at the top of the draft they still went a took a few more corners to shore up a weakness. Joshua Williams could challenge for a roster spot and playing time. They selected Jaylen Watson in the 7th as well. Darian Kinnard was a nice selection in the 5th. A potential top 6 guard in this draft that could have gone higher. He could be nice depth on a strong unit. I wish the Cheifs had addressed running back earlier in the draft but Pacheco in the 7th could be a nice find as a receiving third-down back. They also added Naeeh Johnson to the secondary with their last pick.
Los Angeles Chargers
Round 1
Zion Johnson, IOL, BC
The Chargers actually made a smart move in the first round by investing in protecting their franchise QB and selecting Boston College C/G Zion Johnson. I think the move makes perfect sense and I think Johnson will be a good starter for years to come.
Round 3
JT Woods, Safety, Baylor
Los Angeles went to address their secondary in the 3rd round by taking Baylor safety JT Woods. Considering it was the 3rd round I did have Woods charted about Joseph so the pick makes sense.
Report Card Grade: (C+)
Round 4
Isaiah Spiller, RB, Texas A&M, 6'0″ 217 lbs
Round 5 
Otito Ogbonnia, DT, UCLA, 6'4″ 324 lbs
Round 6 
Jamaree Salyer, G, Georgia, 6'3″ 321 lbs
Round 7 
Deane Leonard, CB, Ole Miss, 6'0″ 195 lbs
Zander Horvath, FB, Purdue, 6'3″ 230 lbs
Grade:  C+
I like the addition of Spiller to a loaded team. The Chargers have an electric offense and adding a mid-round back with a high upside is an excellent move. Austin Ekler is not getting any younger either. I still think they could have used a TE or edge rusher and there were a lot of both to choose from. 
Los Angeles Rams
Round 3
Logan Bruss, OL, Wisconsin
The Los Angeles Rams didn't have a pick in the first two rounds so in the 3rd Round the Rams selected offensive lineman Logan Bruss from the University of Wisconsin. Bruss could end up being a key addition to the team. The pick makes sense for the 3rd round and for what the Los Angeles Rams needed.
Report Card Grade: (B)
Round 4
Decobie Durant, CB, South Carolina State, 5'10" 180 lbs
Round 5 
Kyren Williams, RB, Notre Dame, 5'9″ 194 lbs
Round 6 
Quentin Lake, S, UCLA
Derion Kendrick, CB, Georgia
Round 7 
Daniel Hardy, EDGE, Montana State
Russ Yeast, S, Kansas State
AJ Arcuri, OT, Michigan State
Grade:  B-
The Rams did pretty well with limited draft capital. Durant is more of a run support corner with potential. Kyren Williams projects well in the Rams' offense as a versatile third-down back and even a slot receiver. The Rams took more shots at improving the secondary with the additions of Lake and Kendrick in the 6th and safety Russ Yeast in the 7th. Daniel hardy and AJ Acuri were tacked on in the 7th for depth.
Las Vegas Raiders
Round 3
Dylan Parham, OL, Memphis
The Las Vegas Raiders addressed the offensive line by grabbing the Memphis Tigers offensive lineman Dylan Parham. Parham could end up being a solid player.
Report Card Grade: (C)
Round 4
Zamir White, RB, Georgia, 6'0″214 lbs
Neil Farrell Jr., DT, LSU, 6'4″ 330 lbs
Round 5 
Matthew Butler, DT, Tennessee, 6'4″ 297 lbs
Round 6 
No Picks. 
Round 7 
Thayer Munford, OT, Ohio State
Brittain Brown, RB, UCLA
Grade:  C+
The Addition of RB Zamir White in the 4th is an interesting one. Running back is not a need yet but the Raiders did not pick up Josh Jacobs' fifth-year option making his future with the team murky at best. They also tacked on RB Brittain Brown out of UCLA in the 7th. They seem to be preparing for a future vacancy in the RB room. It is worth watching.  They picked up a pair of defensive tackles in the 4th and 5th rounds with the additions of Farrell and Butler. That was a need they clearly wanted to address. Munford, the tackle from Ohio State, was also a seventh-round selection and addressed a need.
Miami Dolphins
Round 3
Channing Tindall, LB, Georgia
The Miami Dolphins didn't have any draft picks in the first two rounds they made their first selection in the 3rd round with Georgia linebacker Channing Tindall. It's hard to disagree with any Georgia Bulldog defensive player being drafted but it's also hard to tell just how effective this pick will be.
Report Card Grade: C
Round 4
Erik Ezukanma, WR, Texas Tech, 6'2″ 209 lbs
Round 5 
No Picks. 
Round 6 
No Picks. 
Round 7 
Cameron Goode, EDGE, California
Skylar Thompson, QB, Kansas State
Grade:  C
The Dolphins traded away most of their picks in this draft. They did not have much to work with. Erik Ezukanma from Texas Tech is a fast receiver with a problem with drops. I cannot see him cracking this deep lineup so the pick is questionable. Goode will look to be an edge-rushing depth piece. Skylar Thompson was likely selected to be a scout team QB. Nothing much to see here.
Minnesota Vikings
Round 1
Lewis Cine, Safety, Georgia
The Vikings needed to address their secondary and they instantly did that with their first selection in the 2022 NFL Draft with Georgia Bulldogs safety Lewis Cine. Cine will be an instant impact player on this team and the pick is a solid pick for sure.
Round 2
Andrew Booth, CB, Clemson
Ed Ingram, OL, LSU
The 2nd round was no different for Minnesota as they continue to improve the secondary by grabbing a first-round quality cornerback from Clemson in Andrew Booth Jr. and then with their second 2nd round pick the Vikings' LSU offensive lineman Ed Ingram. Overall I really like both picks for this team here in the 2nd.
Round 3
Brian Asamoah, LB, Oklahoma
Minnesota had the 2nd pick in the 3rd round which basically gave them a value of a 2nd round pick when they selected Oklahoma linebacker Brian Asamoah as the Vikings continue to rebuild their defense from all levels.
Report Card Grade: (B) They addressed positions of need with every single pick and really boosted their secondary.
Round 4
Akayleb Evans, CB, Missouri, 6'2″ 197 lbs
Round 5 
Esezi Otomewo, EDGE, Minnesota, 6'5" 282 lbs
Ty Chandler, RB, North Carolina, 5'11″204 lbs
Round 6 
Vederian Lowe, OT, Illinois, 6'5″ 314 lbs
Jalen Nailor, WR, Michigan State, 5'11" 186 lbs
Round 7 
Nick Muse, TE, South Carolina
Grade:  B+
The Vikings addressed most of their needs and added players that can contribute now. Evans is a tall corner that is a bit of a project. Otomewo is a developing edge rusher that needs polishing. RB Ty Chandler is an interesting pick and could be groomed as a potential rubbing back to spell pro bowler, Dalvin Cook. He is a good back now and will likely see some playing time in year one. Lowe is a depth tackle. The Vikings took more shots at potential weapons with the additions of WR Jalen Nailor and TE Nick Muse in the 6th and 7th rounds. 
New England Patriots
Round 1
Cole Strange, IOL, Chattanooga
The Patriots did a classic Pats move by selecting an offensive lineman from the FCS and Chattanooga with their top pick in Cole Strange who played both Center and Guard in college with the Mocs.
Round 2
Tyquan Thornton, WR, Baylor
New England selected Baylor Bears wideout Tyquan Thornton with their 2nd pick. I was not very fond of this pick with the fact that George Pickens, Skyy Moore, David Bell & others were still on the board. Maybe Thornton turns out to be a beast but I would have had him going much later here.
Round 3
Marcus Jones, CB, Houston
With the Pats' third-round selection they took Houston cornerback Marcus Jones. This is where I trust Belichick in his talent evaluations when it comes to drafting. He doesn't always set the world on fire but the guy traditionally knows how to draft defensive backs in my opinion.
Report Card Grade: (C+) The first and third-round picks make sense to me however, the 2nd round one had me scratching my head.
Round 4
Jack Jones, CB, Arizona State, 5'11" 171 lbs
Pierre Strong Jr., RB, South Dakota State, 5'11" 207 lbs
Round 5 
Bailey Zappe, QB, Western Kentucky, 6'1″ 215 lbs
Round 6 
Kevin Harris, RB, South Carolina, 5'10" 221 lbs
Sam Roberts, DT, Northwest Missouri State, 6'5″ 292 lbs
Chasen Hines, C, LSU, 6'3″ 327 lbs
Round 7 
Andrew Stueber, G, Michigan
Grade:  C+
The Patriots always seem to have a strange draft but they find ways to make it work. They drafted Jack Jones along with other corners in an attempt to address the hole left by the departure of JC Jackson. RB Pierre Strong feels like a receiving back project that could contribute by working as a safety valve on check downs for Mac Jones. They added depth pieces along the offensive and defensive lines with the additions of Roberts, Hines, and Stueber in the 6tha and 7th rounds. They also added another running back in the 6th in the form of Kevin Harris. The backs are worth keeping an eye on as they look to makeover their backfield in the near future.
New Orleans Saints
Round 1
Chris Olave, WR, Ohio State
Trevor Penning, OT, Northern Iowas
The New Orleans Saints traded up to get their guy in Ohio State Buckeyes wideout Chris Olave in the first round. Then with the Saints' second first-round pick, they went for an offensive tackle from Northern Iowa Trevor Penning. Overall the Saints should be pleased with the first round panning out the way it did with them getting both the guys they wanted.
Round 2
Alontae Taylor, CB, Tennessee
We all knew the Saints were going to have to address the secondary issues and since they didn't in the first round we all saw this coming with the Saints selecting Tennessee Vols cornerback Alontae Taylor. I was a bit surprised Taylor was selected before Mississippi State cornerback Martin Emerson but clearly the Saints saw something I didn't.
Report Card Grade: (B) The Saints got 3 positions of need but I was a bit surprised they moved up to get Olave in a draft with a ton of wideouts. Also, I was a bit surprised with the selection in the 2nd round.
Round 4
 No Picks. 
Round 5 
D'Marco Jackson, LB, Appalachian State, 6'1″ 233 lbs
Round 6 
Jordan Jackson, DT, Air Force, 6'5″ 294 lbs
Round 7 
No Picks. 
Grade: D
The Saints added to the defense with D'Marco and Jordan Jackson in the 5th and 6th rounds. Jackson could work his way into the linebacker rotation eventually. Jordan addressed a depth need at DT and that is about it.
New York Giants
Round 1
Kayvon Thibodeaux, EDGE, Oregon
Evan Neal, OL, Alabama
The Giants had two first-round draft picks within the top 10 and it worked out perfectly for the G men because first, they selected Kayvon Thibodeaux the edge rusher from Oregon, and then added their top offensive lineman in the draft with Evan Neal. I think the Giants were one of the real winners of the first round and their fans should be pleased with both additions.
Round 2
Wan'Dale Robinson, WR, Kentucky
New York added former Nebraska and Kentucky Wildcat wideout Wan'Dale Robinson in the 2nd. Robinson emerged last year for Kentucky and could be a nice addition for the Giants. I was a bit surprised they took Robinson over John Metchie III, Skyy Moore, and David Bell but only time will tell.
Round 3
Josh Ezeudu, OL, North Carolina
Cordale Flott, CB, LSU
The Giants went back to addressing the offensive line in the 3rd round by adding North Carolina offensive lineman Josh Ezeudu. The G men have a great history with players from North Carolina and well protecting Daniel Jones or their next future QB is a key factor in the Giants' future. New York's second 3rd Round pick was Cordale Flott a cornerback from LSU. Cornerbacks from LSU have a rich history in the NFL over the past 30 years of football so perhaps Flott can continue in that tradition.
Report Card Grade: (A-) The first round alone deserved to give them an A. The Wan'Dale Robinson pick was an interesting one that has me wondering but other than that I think this is a great draft for the Giants.
Round 4
Daniel Bellinger, TE, San Diego State, 6'5″ 253 lbs
Dane Belton, S, Iowa, 6'1″ 205 lbs
Round 5 
Micah McFadden, LB, Indiana, 6'1″ 240 lbs
DJ Davidson, DT, Arizona State, 6'3″ 327 lbs
Marcus McKethan, G, North Carolina, 6'7″ 340 lbs
Round 6 
Darrian Beavers, LB, Cincinnati, 6'4″ 237 lbs
Round 7 
No Picks. 
Grade:  B-
They addressed some needs but probably could have used a better quality WR and maybe a running back. Bellinger in the 4th could get some play at tight end and there is an opening with the departure of Evan Engram. The Giants had a bad defense last year so three defensive picks in rounds 5 and 6 make sense. They added Micah McFadden, DJ Davidson, and Darrian Beavers to the front 7. Beavers was decent value in the 7th and could be a surprise. McKethan was added to continue the OL overhaul.
New York Jets
Round 1
Sauce Gardner, CB, Cincinnati
Garrett Wilson, WR, Ohio State
 Jermaine Johnson II, EDGE, Florida State
Let me first start by saying that I am a longtime New York Jets fan and for so many years I've seen the Jets botch the first round. The Jets ended up trading up and having 3 first-round draft picks this year and came away with Sauce Gardner perhaps the best cornerback in the draft, Garrett Wilson who many thought was the best wideout in this draft, and Edge rusher Jermaine Johnson II who luckily dropped a number of slots so the Jets could grab him late. This is by far the best first-round Jets draft that I can ever recall. They addressed three key positions for them and got perhaps 3 top 10 players.
Round 2
Breece Hall, RB, Iowa State
The Jets' great draft didn't stop there when they landed who I think is the best running back in the draft in Iowa State Cyclones Breece Hall in the early part of the 2nd round. Hall I thought had some late first-round value coming into the Draft.
Round 3
Jeremy Ruckert, TE, Ohio State
In the late 3rd, the New York Jets came up with yet another solid pick by grabbing Ohio State Buckeyes tight end, Jeremy Ruckert. Ruckert was charted on some NFL boards as perhaps the 2nd best tight end in the draft. I had him a few spots back but regardless to grab him this late in the 3rd I think is a great pick.
Report Card Grade (A+) I can't believe I'm saying this but the New York Jets actually had a great NFL Draft.
Round 4 
Max Mitchell, OT, Louisiana, 6'6″ 307 lbs
Michael Clemons, EDGE, Texas A&M, 6'5″ 263 lbs 
Rounds 5-7 
No Picks
Grade: C+
After an amazing first two days of the draft, the Jets finally made some questionable picks. I am not against some depth along the offensive and defensive lines but the value and fit is odd. Mitchell has position versatility and will make a valuable backup swing tackle. Clemons is an odd pick. He is 24 and has character concerns. The defensive end is one of the deepest positions on the Jets so the extra depth was not really needed. Maybe Joe Douglas knows something we don't.
Philadelphia Eagles
Round 1
Jordan Davis, DT, Georgia
The Philadelphia Eagles were in a great spot coming into the first round because they had a slew of picks. They traded one of their first-round picks and a 3rd round pick to Tennessee for Titans star wideout A.J. Brown. Brown is a great receiver there is no denying that but the Eagles instantly gave him 100 million dollars over 4 years which I think could be a mistake. Regardless, Brown will make their team better though. With their other first-round draft pick the Philadelphia Eagles landed Defensive Tackle Jordan Davis who I think is an absolute stud and will immediately make the Eagles' defense much better.
Round 2
Cam Jurgens, Center, Nebraska
The Eagles went offensive line in the 2nd round and grabbed Cam Jurgens from Nebraska. Jurgens started every single game at Center for Nebraska in 2021 and has been one of the bright spots in a terrible Nebraska offense. I like the pick and think he'll be a solid pro for the birds.
Round 3
Nakboe Dean, LB, Georgia
Philadelphia wasn't done with the defensive side of things and went out and added star Georgia linebacker Nakobe Dean who needs to have surgery apparently to repair a pectoral injury but regardless how do you not love this pick in the 3rd round?
Report Card Grade: (A) I don't like investing in wideouts that much but at the same time they added a proven player who is one of the league's best and if you mix that in with all their other picks and I think the Eagles had one of the best drafts in the NFL this year.
Round 4
No Picks.
Round 5 
No Picks.
Round 6 
Kyron Johnson, LB, Kansas
Grant Calcaterra, TE, SMU, 6'4″ 241 lbs
Round 7 
No picks. 
Grade:  F
Kyron Johnson is a situational pass rusher and Calcaterra is a project at tight end with an injury history.
Pittsburgh Steelers
Round 1
Kenny Pickett, QB, Pittsburgh
With flashbacks of Dan Marino in the 1983 NFL Draft looming the Steelers knew they couldn't make the same mistake twice so the Steelers drafted the most pro-ready QB for this season in Kenny Pickett from the University of Pittsburgh just like Marino. The pick makes a ton of sense and as much as I don't see Pickett as a top 5 or 10 QB I do think the pick makes perfect sense.
Round 2
George Pickens, WR, Georgia
With the Steelers' 2nd pick in the NFL draft, they took former Georgia Bulldogs star wideout George Pickens who when healthy has been very good but the key is can Pickens stay healthy. I like the pick if he can stay healthy.
Round 3
DeMarvin Leal, DT, Texas A&M
This is a classic Steelers pick with Defensive Tackle DeMarvin Leal from Texas A&M. Leal was projected as a first-rounder around this team a year ago and Texas A&M has had a ton of great defensive line players over the past couple of decades so perhaps the Steelers landed another gem.
Report Card Grade: (B+) Every single pick makes sense and there's a real chance that some of these picks could ball out. The ceiling is certainly high but only time will tell.
Round 4
Calvin Austin III, WR, Memphis, 5'8″ 170 lbs
Round 5 
No Picks. 
Round 6 
Connor Heyward, FB, Michigan State, 5'11" 233 lbs
Round 7 
Mark Robinson, LB, Ole Miss, 5'11" 235 lbs
Chris Oladokun, QB, South Dakota State
Grade: B-
The Steelers kept working on their rebuilt offense. They added Calvin Austin to be a speed threat and maybe a returner. Connor Heyward was the best fullback in the draft and can be used in passing situations. Robinson will be a special teamer and Oladokun is likely a camp arm.
https://twitter.com/BarstoolMSU/status/1520510109100748802?s=20&t=okis9LVKlTQGlXOralERAw
San Francisco 49ers
Round 2
Drake Jackson, EDGE, USC
The 49ers added edge rusher, Drake Jackson, from USC. With the pick coming at the end of the 2nd round it's very hard to disagree with this selection. The Niners addressed a need and got a player who many had going earlier than where they got him.
Round 3
Tyrion Davis-Price, RB, LSU
Danny Gray, WR, SMU
San Francisco went the running back route in the 3rd round and added LSU running back Tyrion Davis-Price who shined last year but I was a bit confused after the Niners had success with Elijah Mitchell a year ago. Regardless, the 49ers' backfield improved with this pick. Then with the last pick in the 3rd Round, the Niners added former SMU Mustangs wideout, Danny Gray. I kind of thought that was a reach because Sonny Dykes air raid really padded some stats of their wideouts but perhaps Gray will fit in well in San Francisco.
Report Card Grade: (B-) Without having a first-round pick I think the 49ers had a pretty good draft with their two picks.
Round 4
Spencer Burford, G, UTSA, 6'4″ 304 lbs
Round 5 
Samuel Womack, CB, Toledo, 5'10" 187 lbs
Round 6 
Nick Zakelj, DT, Fordham, 6'6″ 316 lbs
Kalia Davis, DT, UCF, 6'1" 302 lbs
Tariq Castro-Fields, CB, Penn State, 6'1″ 197 lbs
Round 7 
Brock Purdy, QB, Iowa State
Grade:  B-
The Niners need corners and grabbed a couple. Womack in the fifth and Castro-Fields in the 6th. Castro-Fields was good value in the 6th. They also added to their depth in the trenches with Burford, Zakelh, and Davis. Brocky Purdy was Mr. Irrelevant and probably a camp arm.
Seattle Seahawks
Round 1
Charles Cross, OL, Mississippi State
The Seahawks landed one of their top offensive linemen in Charles Cross from Mississippi State as Mike Leach gets another offensive lineman drafted into the NFL. Cross is great at pass protection and will need to develop some in his run blocking but this pick makes complete sense as it fills the most open void on the roster.
Round 2
Boye Mafe, EDGE, Minnesota
Kenneth Walker III, RB, Michigan State
With the 2nd round selections, the Seattle Seahawks took Minnesota edge rusher Boye Mafe who I think will be a pretty damn good pro. Then the Seahawks took my number 2 running back in the draft with former Wake Forest and Michigan State running back Kenneth Walker III. Walker can do it all and should be a nice fit in the new-look Seattle Seahawks offense.
Round 3
Abraham Lucas, OT, Washington State
In the third round, the Seahawks were back taking another former Mike Leach offensive tackle with Abraham Lucas from Washington State. Lucas was a first or 2nd team All-Pac-12 offensive lineman since 2018. Once, again he'll need to step up the run blocking but I like the pick in the 3rd.
Report Card Grade: (B+) Recently I haven't thought too highly of the Seahawks' drafts but as it stands right now I think this is one of their better drafts of late.
Round 4
Coby Bryant, CB, Cincinnati, 6'1″ 193 lbs
Round 5 
Tariq Woolen, CB, UTSA, 6'4″ 205 lbs
Tyreke Smith, EDGE, Ohio State, 6'3″ 254 lbs
Round 6 
No Picks. 
Round 7 
Bo Melton, WR, Rutgers, 5'11" 189 lbs
Dareke Young, WR, Lenoir Rhyne
Grade: B
The Seahawks need help everywhere but their defense was bad. Bryant and Woolen will look to make an impact in the secondary. Tyreke Smith will work on their edge-rushing rotation. Meton and Young are both dart throw receivers in the 7th.
Tampa Bay Buccaneers
Round 2
Logan Hall, DL, Houston
Luke Goedeke, OL, Western Michigan
The Bucs traded away their first-round pick to the Jacksonville Jaguars and with the first pick of the 2nd Round, the Bucs landed defensive lineman Logan Hall from Houston. Todd Bowles knows defense and I think the Bucs' defensive line continues to be a problem. With the Bucs' second pick in the 2nd Round, they decided to protect the veteran Tom Brady and drafted Western Michigan offensive lineman Luke Goedeke.
Round 3
Rachaad White, RB, Arizona State
The Bucs added Arizona State running back Rachaad White from Arizona State. I was a bit surprised at this pick because I had a few others higher on the board.
Report Card Grade: (C) I like the Logan Hall pick but the others I'm not completely sold on.
Round 4
Cade Otton, TE, Washington, 6'5″ 247 lbs
Jake Camarda, P, Georgia, 6'1″ 193 lbs
Round 5 
Zyon McCollum, CB, Sam Houston State, 6'2″ 199 lbs
Round 6 
Ko Kieft, TE, Minnesota, 6'5″ 265 lbs
Round 7 
Andre Anthony, EDGE, LSU
Grade: B

The Bucs added two tight ends in Otton and Kieft. They seem to be preparing for life without Rob Gronkowski, although he could still return. They added a punter in the 4th (Camarda). McCollum and Anthony are CB and edge depth.
Tennessee Titans
Round 1
Treylon Burks, WR, Arkansas
The Titans traded away their top wideout AJ Brown and then turned around and drafted Arkansas star wideout Treylon Burks. The move makes complete sense to me if you look at wideouts in the NFL. Cooper Kupp was underpaid considering his performance and I believe that having underpaid wideouts is the key to winning. Sure, you lose a stud in Brown but Tennessee thinks Burks can be somewhat similar for a lot cheaper of a bill. Makes sense to me.
Round 2
Roger McCreary, CB, Auburn
After the Jets traded up for the Titans' second 1st Round pick Tennessee landed the third pick in the 2nd round and took Auburn cornerback Roger McCreary who I had listed ahead of another corner that went ahead of him. I like this pick for the Titans.
Round 3
Nicholas Petit-Frere, OL, Ohio State
The Titans finally addressed the offensive line in the 3rd round and grab formed Ohio State Buckeyes offensive lineman Nicholas Petit-Frere to help give them some depth on the line of scrimmage.
Report Card Grade: (A-) They dumped the high-priced wideout for one they think can produce similarly and I love the McCreary pick in the 2nd.
Round 4
Hassan Haskins, RB, Michigan, 6'2″ 228 lbs
Chigozie Okonkwo, TE, Maryland, 6'3″ 238 lbs
Round 5 
Kyle Philips, WR, UCLA, 5'11" 189 lbs
Round 6 
Theo Jackson, S, Tennessee, 6'2″ 203 lbs
Chance Campbell, LB, Ole Miss, 6'2″ 232 lbs
Round 7 
No Picks. 
Grade:  A-
The Titans clearly know they lack playmakers on offense. Even after selecting Treylon Burks in the first round, they took four potential playmakers in a row in the 4th and 5th rounds. Haskins can be an effective backup running back, Okonkwo has a chance to get work as a TE2 and Kyle Philips is a quick receiver that can contribute in the return game. Campbell will also be a good special teamer.
Washington Commanders
Round 1
Jahan Dotson, WR, Penn State
The Commanders traded back and selected former Penn State wideout, Jahan Dotson. I like Dotson and I think he could really be a good pro but I thought this pick was a bit early. Some mocks had Dotson going in the middle of the 2nd round. I do think he will end up being a first-round talent so I guess I can't blame them too much.
Round 2
Phidarian Mathis, DL, Alabama
The Commanders add another Alabama Crimson Tide lineman in defensive lineman Phidarian Mathis. Ron Rivera knows defense and you can't disagree with this pick here.
Round 3
Brian Robinson, RB, Alabama
Wait another Alabama Crimson Tide player selected? Yep, Brian Robinson Jr. was selected in the third round and I think this pick could be a steal if Robinson stays healthy.
Report Card Grade: (B) Washington's offense should be improved at the skill positions and but I do still wonder if they could have got Dotson in the 2nd round.
Round 4
Percy Butler, S, Louisiana, 6'0″ 194 lbs
Round 5 
Sam Howell, QB, North Carolina, 6'1″ 218 lbs
Cole Turner, TE, Nevada, 6'7″ 249 lbs
Round 6 
No Picks. 
Round 7 
Chris Paul, G, Tulsa, 6'4″ 323 lbs 
Christian Holmes, CB, Oklahoma State, 6'1″ 205 lbs
Grade: A
Adding Percy Butler (S) and Christian Holmes were good secondary additions. The Commanders are close to an elite defense but need secondary help. Getting Sam Howell in the 5th is a steal for a QB that was once thought to be the top QB in this class. He could challenge for backup duties this year and be a developmental starter down the road. I like the Howell pick here a lot. Cole Turner is a TE that could play as a good slot receiver in this offense. Chris Paul will be guard depth.

RELATED CONTENT