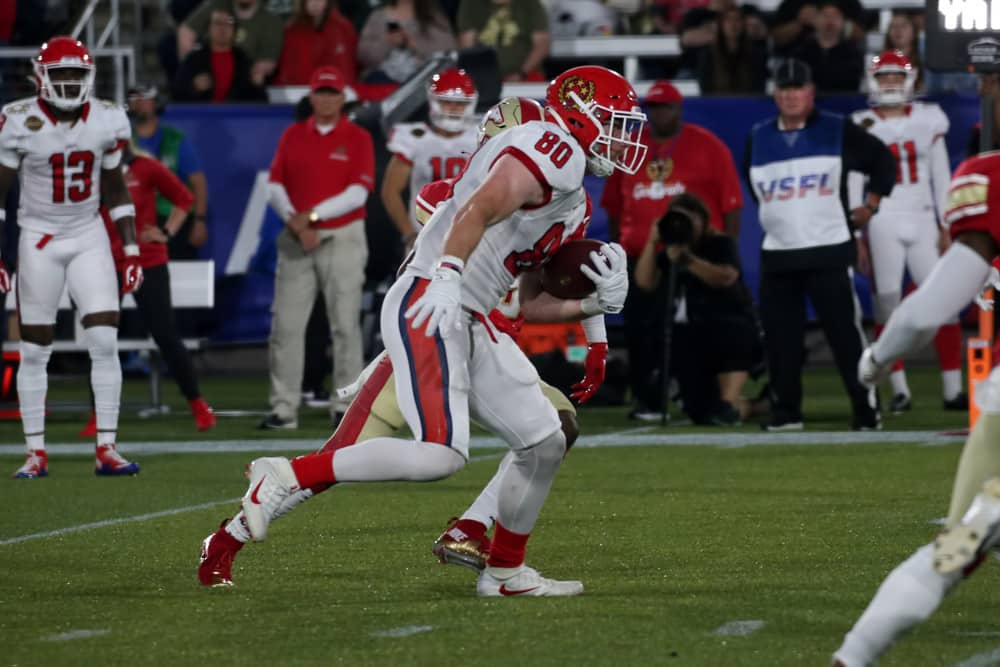 Football is back baby! The USFL arrived in full force last week, with four competitive games over the weekend. As the league tries to cement itself as the king of Spring football, it faces a constant factor of the game, injuries. Injuries become an even bigger factor in the USFL due to the small team sizes. Teams are only allowed a max 45-man roster, with 7 of those spots designated for the practice squad. With not even enough players on the sidelines to make a 2nd string, games can quickly become a war of attrition. Check in to the USFL Week 2 Injury Report regularly to stay up to date on all the injury news and analysis !
USFL Injury Report for Week 2
Michigan Panthers vs New Jersey Generals
Friday, April 22, 2022 – 8 pm (USA & fuboTV)
New Jersey Generals Week 2 Injury Report
PLAYER
INJURY
MONDAY PARTICIPATION
TUESDAY PARTICIPATION
WEDNESDAY
PARTICIPATION
GAME STATUS
Braedon Bowman, TE
Ankle
DNP
DNP
Doubtful
J'Mon Moore, WR
Hamstring
DNP
DNP
Inactive
Kavontae Turpin, WR
Knee
Limited
Limited
Full Go
Darrius Shepherd, WR
Hamstring
Limited
Full
Full Go
Nick Truesdell, TE
Groin
Limited
DNP
Inactive
Mike Weber, RB
Knee
Limited
Released
Released
Garrett McGhin, OL
Calf
Limited
Full
Full Go
Calvin Ashley, OL
Knee
Limited
Full
Full Go
Robert Myers, OL
Finger
Limited
Full
Full Go
Alonzo Moore, WR
Illness
DNP
Probable
Randy Satterfield, WR
Chest
Limited
Full Go
Woody Brandom, TE
Knee
Full
Full Go
Destiny Vaeao, DL
Quad
DNP
DNP
Inactive
Mike Bell, DB
Chest
DNP
DNP
Inactive
4/22 UPDATE: Star TE Bowman is officially listed as doubtful which is a blow to the offense but WR1 Satterfield being a Full Go is a huge boost. Look for TE Brandom to have to play a big role with Truesdell also out. Starting safety Mike Bell is also out this week, hurting the pass defense.
With only six days to recover between games, the New Jersey Generals head into Week 2 with quite the busy injury report. Most notably on the list is starting TE Braedon Bowman. His USFL debut included 3 catches on 3 targets for 32 yards. He also played a big role in the run game, clearing holes for New Jersey to gain league leading 222 rush yards in Week 1. Unfortunately, he is dealing with an ankle injury that not only knocked him out of the game but also the first practice of Week 2. Bowman is trending towards at least being limited for Friday's match up at this point.
This injury is magnified by the fact that back up TE Nick Truesdell is dealing with a groin injury that sidelined him last week. Groin injuries are difficult to manage and are very susceptible to lingering for multiple weeks. Due to the uncertainty at the TE position, the Generals have released RB Mike Weber and signed TE Wes Saxton as of late Tuesday night.
As mentioned previously, the New Jersey Generals ran for an impressive 222 yards in Week 1. This feat would not be possible without their offensive line, which currently has three members on the injury report. The good news is, all three players were able to practice in some capacity Monday. Their participation in practice the rest of the week will give a better idea on how productive New Jersey's ground game can be in Week 2.
Michigan Panthers Week 2 Injury Report
PLAYER
INJURY
MONDAY PARTICIPATION
TUESDAY PARTICIPATION
WEDNESDAY
PARTICIPATION
GAME STATUS
Connor Davis, TE
Knee
Full
Full
Inactive
Ray Bolden, WR
Achilles,
Hip
Full
Limited
Probable
Jeff Badet, WR
Hamstring
Limited
DNP
Inactive
Joey Magnifico, TE
Hamstring
Full
Full
Full Go
Lance Lenoir, WR
Chest
Full
Full
Full Go
Keith Williams, OL
Jaw
Full
Full
Full Go
Joe Walker, WR
Leg
DNP
Inactive
Reggie Corbin, RB
Leg
Full
Full Go
Dominique Martin, DB
Thumb
Full
Full
Inactive
Warren Saba, DB
Forearm
DNP
DNP
Inactive
Cavon Walker, DL
Hip
Full
Full
Full Go
4/22 UPDATE: Michigan heads into Friday a bit thin at the WR and DB positions. Martin appears to be a healthy scratch but Walker, Badet, and Saba will be missed. WR1 Lenoir will look to play an even bigger role in the passing game wit the Panthers missing a few top targets.
Coming into a short week with only five days rest, Michigan is actually in a pretty good spot health wise. Panthers WR Jeff Badet is only one of two players on the roster not to have a full practice. Badet suffered a hamstring injury last week which is part of the reason he was only able to secure one catch. The Panther's WR is to be a key contributor to this team, after having stints in both the NFL and XFL. Hamstring injuries are amongst the most limiting in football, due to their high reinjury rates and limiting ability. We will have to monitor Badet's practice participation throughout the week to get an idea of how his hamstring is responding.
DB Warren Saba is the only other player not practicing for the Michigan Panthers. He is dealing with a forearm injury, and is trending in the wrong direction to begin the week. Although he did play in the game last week before the injury, he recorded no stats. The Panthers have the edge on the injury report to begin the week, and look to use this to their advantage to get their first win of the season.
Pittsburgh Maulers vs Philadelphia Stars
Saturday, April 13, 2022 – 12:00 pm (Fox & fuboTV)
Pittsburgh Maulers Week 2 Injury Report
PLAYER
INJURY
TUESDAY PARTICIPATION
WEDNESDAY
PARTICIPATION
THURSDAY
PARTICIPATION
GAME STATUS
Nico Falah, OL
Achilles
Limited
Inactive
Jeffrey Thomas, WR
Groin
Inactive
Tyson Graham, DB
Achilles
DNP
Out
Jeremiah Pharms, DL
Shoulder, Thumb
Limited
Full Go
Eric Assoua, DL
Wisdom Teeth
Full
Full Go
Ethan Westbrooks, DL
Quad
DNP
Inactive
Nasir Player, DL
Head
Inactive
Keith Gipson Jr., CB
Illness
Inactive
4/23 UPDATE: Pittsburgh will be without their top WR this week, a big blow for an already anemic offense. On defense, the Mauler's starting CB and key members of their DLine are out this week. The injury report is not favoring arguably the league's worst team.
Well, it seems no matter what football league we're in, Pittsburgh has a tough stout defense… and an anemic offense. The Maulers head into week 2 looking to rebound from their 17-3 beat down by Tampa Bay. The defense played good enough to keep it close, even causing a league leading two turnovers. However, the offense put up a pathetic 3 points and under 200 total yards. The good news injury wise is that only one offensive player is on the injury report as of now. Linemen Nico Falah logged a limited practice Tuesday, on an offensive line that was underperforming to begin with.
Moving over to the defensive side of the ball, the Maulers have four players on the injury report. Most notably, three of the players are amongst the defensive line. Westbrooks and Pharms saw a significant amount of playing time last week and their absence would be missed. Assoua did not see the field last week but may be forced into a larger role if either of the other two guys can't play. Graham recorded two tackles last week and would leave a hole in the DB rotation if he remains sidelined. Although no one injury is too concerning here, the lack of defensive depth is becoming a real problem.
Philadelphia Stars Week 2 Injury Report
PLAYER
INJURY
TUESDAY PARTICIPATION
WEDNESDAY
PARTICIPATION
THURSDAY
PARTICIPATION
GAME STATUS
Matt Colburn, RB
Knee
DNP
Probable
Artayvious Lynn, TE
Foot
DNP
Inactive
Devin Gray, WR
Ankle
DNP
Inactive
Christian Rowland, WR
Shoulder
Limited
Inactive
Paul Nosworthy, OL
Knee
Full
Full Go
Case Cookus, QB
Ankle
Probable
Brennan Eagles, WR
Ankle
Out
Bradley Sylve, CB
Ankle
DNP
Inactive
Gus Cumberlad, DE
Knee
DNP
Released
Ahmad Dixon, LB
Knee
Limited
Full Go
4/23 UPDATE: Philadelphia is down two of their top WRs this week. WR1 Rowland saw a team high 9 targets last week, meaning someone else will have to step up. Ahmad Dixon being a Full Go means the Stars will have one of their key leaders on the field in Week 2.
Philadelphia heads into Week 2 with a concerning start to their injury report. Three of their key offensive contributors in Colburn, Gray, and Rowland are dealing with injuries. Colburn comes in as RB2 for the Stars and particularly did his damage in the passing game last week.  He had 9 carries for only 14 yards but 4 catches for 43 yards. Also logging a DNP was WR Devin Gray who was targeted four times last week, with 2 receptions for 23 yards. If these players are unable to practice on Wednesday, Philadelphia will need to look elsewhere for production this week.
WR Christian Rowland became the clear WR1 for the Stars last week. He caught 7 balls on 9 targets, for 74 yards. Making up for almost half the passing offense in Week 1, it's imperative he can get on the field for Saturday. With a limited practice due to a shoulder injury, it leads me to think he's dealing with an AC sprain. This is a painful injury but is commonly played through with pain medication given on game day.
The name to note on defense here is Ahmad Dixon. He was all over the field last week, recording 10 total tackles. His practice status should be monitored closely as he is a key contributor for this defense. Sylve and Cumberland were sidelined with their injuries last week, so their contribution to the defense remains unknown.
Birmingham Stallions vs Houston Gamblers
Saturday, April 23, 2022 – 7:00 pm (FS1 & fuboTV)
Birmingham Stallions Week 2 Injury Report
PLAYER
INJURY
TUESDAY PARTICIPATION
WEDNESDAY
PARTICIPATION
THURSDAY
PARTICIPATION
GAME STATUS
O'Shea Dugas, OL
Ankle
Limited
Probable
Jordan Chunn, RB
Hamstring
Limited
Inactive
Alex McGough, QB
Ankle
DNP
Inactive
Joshua Shaw, DB
Quad
DNP
Inactive
4/23 UPDATE:  The Stallions head into Week 2 looking largely the same as how they finished Week 1. Former starting QB McGough is out but USFL offensive player of the week QB J'Mar Smith is ready to shine.
The official home team of the USFL, the Birmingham Stallions put on a show opening night in Week 1. The Stallions completed a thrilling comeback victory over New Jersey last week. Even more impressive is that it was led by the back up QB. Starter Alex McGough was injured after going 5/10 for 55 yards, 1 TD and 1 INT. Unable to return, backup QB J'Mar Smith took over the offense and performed well. Typically, an injury to the starting QB would be alarming but for the Stallions, it may be a blessing in disguise.
It is encouraging to see RB Jordan Chunn log a limited practice after being sidelined with injury in Week 1. Unfortunately, hamstring injuries are difficult to manage however, especially at the RB position. Having to rely on your hamstrings to accelerate and run with power is key in the backfield. Chunn's practice status will give us a better idea to if he will be added to the RB Stallions by committee approach.
Houston Gamblers Week 2 Injury Report
PLAYER
INJURY
TUESDAY PARTICIPATION
WEDNESDAY
PARTICIPATION
THURSDAY
PARTICIPATION
GAME STATUS
Avery Gennesy, OL
Knee
Limited
Probable
Mark Thompson, RB
Thigh
Limited
Probable
Dalyn Dawkins, RB
Hamstring
Full
Full Go
Tomasi Laulile, DL
Thigh
Limited
Full Go
Jamar Summers, DB
Calf
Full
Full Go
Ryan White, DB
Ankle
Questionable
4/23 UPDATE: A whole lot of positives on this weeks injury report. As a team who leans on their running game, likely having both of their top RBs is a huge key. The only player who may not play due to injury this week is DB White who did not see the field last week. Both teams are close to full strength in this matchup of undefeated opponents.
The Houston Gamblers come into Week 2 with a perfect 1-0 record. However, it is not all good news for Houston, particularly on offense. The Gamblers relied on a fast start and their running game to defeat the Michigan Panthers last week. That running game is now in question with both of their top RBs on the injury report. Thompson cemented himself as RB1 last week with an impressive 71 yards on 13 carries. Hopefully for Houston, his thigh injury is more of a contusion than a muscle strain. His practice participation throughout the week will indicate how severe the injury is.
Both Laulile and Summers were contributors to the Gambler's defense last week. Each recorded 3 tackles in Week 1 and provide key depth to a defense that only gave up 12 points to Michigan. It is encouraging that both players were able to participate in some capacity to start the week of practice. The offensive backfield is the biggest concern for Houston heading into Week 2.

New Orleans Breakers vs Tampa Bay Bandits
Sunday, April 14, 2022 – 3:00 pm (NBC & fuboTV)
New Orleans Breakers Week 2 Injury Report
PLAYER
INJURY
WEDNESDAY
PARTICIPATION
THURSDAY
PARTICIPATION
FRIDAY
PARTICIPATION
GAME STATUS
Jordan Ellis, RB
Foot
Limited
Probable
Kyle Sloter, QB
Hand, Shoulder
Full
Probable
Chad Williams, WR
Thigh
Limited
Probable
Toree Boyd, OL
Knee
Full
Probable
Jonathan Adams, WR
Foot
Full
Probable
EJ Bibbs, TE
Full
Inactive
Steven Rowzee, OL
Shoulder
Full
Probable
Shawn Poindexter, WR
Thigh
Full
Probable
Adonis Alexander, DB
Thigh
Limited
Inactive
Shakir Soto, DT
Thigh
Limited
Inactive
Dartez Jacobs, DB
Hand
Full
Probable
New Orleans heads into Week 2 looking to remain undefeated in a tough matchup against Tampa Bay. It is a tale of two sides for the injury report this week. For the offense, it is never good when your starting QB and RB are on the injury report. However, both have practiced this week and are fully expected to be on the field Sunday. Ellis separated himself in Week 1 as the lead back for an offense that is touting the league's leading rushing attack. It will be clear early on how much this foot injury will limit him but his participation in practice throughout the week is encouraging. The only player out on offense due to injury is backup TE EJ Bibbs, who was a nonfactor last week with only 1 catch for 2 yards.
Flipping to the defensive side of the ball, the Breakers injury report is a bit more problematic. Starting CB Adonis Alexander will be unavailable this week due to a thigh injury. This leaves a hole to be filled in a defense that caused 2 turnovers in Week 1. Going up against a Tampa Bay passing offense that has high expectations this season, this will likely be a key factor in the game. New Orleans will also be down a key member of their DLine rotation as DT Shakir Soto is also out with a thigh injury. Soto recorded 3 tackles last week and also had a big fumble recovery. The Breakers will look to be opportunistic in creating turnovers this week despite being at less than full strength.
Tampa Bay Bandits Week 2 Injury Report
PLAYER
INJURY
WEDNESDAY
PARTICIPATION
THURSDAY
PARTICIPATION
FRIDAY
PARTICIPATION
GAME STATUS
Keith Mumphrey, WR
Thigh
Full
Inactive
Fred Lauina, OL
Foot
Full
Full Go
Rashard Davis, WR
Hip
Limited
Probable
Matt Burrell, OL
Illness
Limited
Full Go
De'Quan Hampton, TE
Hip
Limited
Probable
Rannell Hall, DB
Thigh
Limited
Inactive
Austrian Robinson, DL
Eye
Full
Full Go
Daylon Mack, DL
Thigh
DNP
Inactive
Christian Sam, LB
Hip
DNP
Probable
Travis Feeney, LB
Shoulder
Limited
Probable
Tampa Bay is looking to close this jam packed USFL weekend with a win to stay undefeated. Week 2's injury report is favorable for them, especially on the offensive side of the ball. The only player expected to be out for them is WR Keith Mumphrey, who was unable to play in Week 1 as well. Another bonus is that the Bandits are expected to have TE De'Quan Hampton take the field for the first time this season Sunday. QB Ta'amu has shown to like throwing to the big bodied TEs as he targeted starting TE O'Grady 11 times last week. The Bandits will look to continue their offensive rhythm this week, with one additional target on the field.
On the other side, Tampa Bay will be missing DT Daylon Mack this week with a thigh injury. Mack gave them productive minutes in Week 1 with 3 tackles. DB Rannell Hall is the only other defender out this week due to injury but he was inactive last week as well. More importantly, the probable statuses of LBs Christian Sam and Travis Freeney are huge boosts for the defense. Both players recorded over 4 tackles last week and were pivotal to holding Pittsburgh to 3 points in Week 1. Freeney in particular had a big game, securing a sack and fumble recovery. The Bandits head into Week 2 close to full strength and looking for their second victory of the year.
RELATED CONTENT