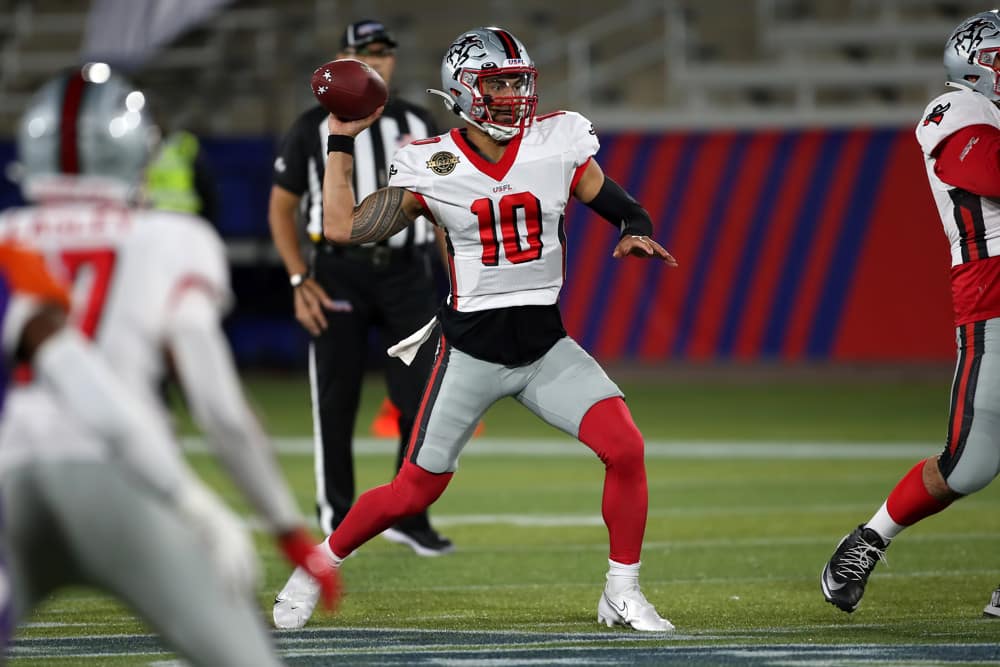 Going into this revamped, 2022 brand new USFL season there was so much uncertainty. Even with more established leagues like the NFL, each season brings us so many surprises, both good and bad. We do our best to predict who will have a solid fantasy season and who might disappoint us. With the USFL, the difficulty was magnified. No one had any idea how any of these teams were going to gel heading into Week 1 of the season, which head coaches would have the best game plan, and which players would thrive playing spring football. Sure, many of us recognize some of these names from other spring football leagues like the AAF, the XFL, and The Spring League but even those were few and far between. All of that changes as we head into USFL Fantasy Football Week 2.
Week 1 Taught Us A Lot
The Bandits and Breakers were both impressive. The Stallions and Generals might have put on the best show and were both impressive in their own right. The Gambler's defense exceeded expectations and took advantage of a pathetic Panthers' team offense that looked lost from the get-go. Oh, and the Maulers? They might be the worst team in the league. They, like their coach Kirby Wilson, looked lost and indecisive for most of the Monday Night Game.
Your Week 2 Best and Worst Plays
Now let's get into why we are here. We are talking Week 2 USFL fantasy football. You have questions and I have answers. Whom should you be starting this weekend? Who are the best stacks? What defenses can you trust? Let's take a quick look at who I believe will be the best and worst performers in the USFL during Week 2 now that we have a little more information to go on.
Exclusive SGPN Content
All SGPN USFL Content
Fantasy Football Podcast
USFL Gambling Podcast
Most Likely to Boom in Week 2
BJ Emmons (RB), TB
DraftKings price: $8,500
Week 1 DFS Points: 15.3
Week 1 Fantasy Points: 15.3
I hate to go back to the same well two weeks in a row. That should tell you how much I believe in BJ Emmons. I was high on Emmons going into the season because the landing spot was perfect. Emmons has three-down back ability and landed with the best quarterback in arguably the best offensive scheme in the league. Todd Haley loves to utilize his RB1 and hates using his RB2's. We saw that manifest in Week 1 when Emmons out-touched Juwan Washington 22 to 11. As a matter of fact, Emmons out-touched every positional player in the league (Stevie Scott III had 19 for the Panthers). I expect this trend to continue as Emmons will continue to see a massive workload in the best offense in the league. Pay up and put Emmons in your lineup.
Most Likely to Bust (disappoint) in Week 2
Randy Satterfield (WR), NJ
DraftKings price: $4,800
Week 1 DFS Points: 24.0
Week 1 Fantasy Points: 21.0
HOW ABOUT THAT FOR A FIRST PLAY.

Luis Perez hit Randy Satterfield for a 49-yard strike.

📺: @FOXSports, @NBCSports & @PeacockTV pic.twitter.com/QKJ0NxcsnR

— New Jersey Generals (@USFLGenerals) April 16, 2022
The game started with Satterfield on the receiving end of a 50+ yard bomb from Luis Perez that ended up Satterfield coming down with an impressive contested catch. My hesitancy to believe in Satterfield is solely based on the General's offense. They threw the ball 28 times but ran it a whopping 42 times. There was a point in the game where they called 24 straight running plays. They have put a clear emphasis on running the ball down their opponent's throat with their impressive 1-2 punch in the backfield and with De'Andre Johnson running the read-option. I expect the General's receivers to be some of the most volatile in the league and likely cannot be trusted on a weekly basis.
Who Should You From Waivers Before Week 2?
Chris Rowland (WR), Phil.
DraftKings Price: $3,400
Week 1 DFS Points: 14.4
Week 1 Fantasy Points: 14.4
Chris Rowland might be a flash in the pan but he is definitely worth taking a look at this week. I do not think I saw Rowland's name called in a single fantasy draft I took part in which means he is likely on waivers in your league too. Bryan Scott threw the ball 36 times this past week which led the league. The player with the most targets on that offense? Rowland. He saw Scott look his way 9 times and managed to pull in 7 receptions for 74 yards. Leading the team with the most pass attempts and arguably one of the best QBs in the league in targets and catches will certainly put Rowland on everyone's fantasy radar.
Who is Safe to Drop Before Week 2?
Branden Mack (WR), Pitt
DraftKings Price: $5,300
Week 1 DFS Points: 0.0
Week 1 Fantasy Points: 0.0
Braden Mack was reverted to the practice squad before the start of the Week 1 matchup between the Bandits and the Maulers. The Maulers were always going to be a run-heavy team. They were downright awful against the Bandits. Neither Josh Love or Kyle Lauletta could seemingly throw an accurate pass or make a good decision. This already run-heavy team might also be the worst team in the league. The Maulers only carried three receivers on their active roster and their leading receiver only had 4 catches (Thomas). This is why I am comfortable dropping what looks to be at best the fourth or fifth-best receiving option on what might be the worst offense in the league.
Best Week 2 Stack
Jordan Ta'amu (QB), TB
DraftKings price: $10,700
&
Cheyenne O'Grady (TE), TB
DraftKings price: $5,000
USFL Week 1 score: Jordan Ta'amu, Tampa Bay Bandits roll Pittsburgh Maulers on Monday night – CBS Sports https://t.co/J3YBo2bRIf pic.twitter.com/MoLeQelpvO

— Hollywood NEWS (@iHoIIywoodNews) April 19, 2022
This was an easy one for me. I want to pair the best quarterback in the league with his favorite target. Seems simple enough right?  Ta'amu targeted O'Grady early and often for a whopping 8 catches on 11 targets. He managed to turn those catches into 86 yards and averaged over 10 yards a catch. The Bandits threw the balls 32 times which only trailer the Star's Bryan Scoot (36) for the second most pass attempts in the league. To optimize your fantasy production you want to choose players who are like going to see the most touches and opportunities. When you consider the Stars were trailing in the second half and Ta'amu almost matched Scott's passing attempt total in a game they led from start to finish becomes that much more impressive.
https://twitter.com/USFLBandits/status/1516205527159623682?s=20&t=BQS2VH5ro_kcJKh5Yyji3w
The Best Defense (D/ST) to Stream
Philadelphia Stars D/ST
DraftKings price: $3,400
Week 1 DFS Points: 3.0
The Stars are the cheapest defense to play on DraftKings coming in at a measly $3,400. This is likely due to the fact that they gave up 23 points to Kyle Sloter and the Breakers. My reasoning is twofold. The Breakers have an impressive offensive group led by Sloter and most defenses were gassed in the second half of Week 1 games. It is likely that the Stars defense is better than their Week 1 performance and the Breakers will be a top 3 offense all year. I also think the Maulers are really bad. They only managed 3 points and both quarterbacks they deployed looked lost. I like the Stars D/ST this week.

My Favorite Daily Fantasy Lineup for Week 2
| | | |
| --- | --- | --- |
| Positon | Player | Cost |
| QB | Jordan Ta'amu | $10,700 |
| RB | BJ Emmons | $8,500 |
| WR/TE | Cheyenne O'Grady | $5,000 |
| WR/TE | Stevie Scott III | $7,900 |
| FLEX | Victor Bolden Jr. | $9,400 |
| FLEX | Chris Rowland | $3,400 |
| D/ST | Panthers D/ST | $5,100 |
Jordan Ta'amu (QB), TB
DraftKings price: $10,700
There are still a lot of unknowns in the USFL but Ta'amu is not one of them. His week 1 performance was not perfect but it is clear the Bandits will be throwing early and often. Ta'amu looked the most poised and mechanically sound of all the QBs we saw in Week 1. He also maneuvered out of the pocket to throw on the run and showed off his legs. Ta'amu has rushing ability and even though the rushing production was not there in Week 1, it could be on the table in Week 2. Ta'amu threw the ball 32 times while leading the entire game. That is not fluky production. As long as he gets those interceptions cleaned up, he will be ahead of the pack all season. Ta'amu is the first leg of my Bandits triple stack.
BJ Emmons (RB), TB
DraftKings price: $8,500
BJ Emmons was the model RB1 in Week 1. He was involved in both run and pass game and paced the league with a total of 22 touches. Emmons was and will continue to be involved early and often in what looks to be one of the best offenses in the league. There are only two running backs on this roster and Emmons out-touched the only other running back on the roster 22 to 11. Emmons also founded the endzone to cap off his excellent fantasy day. He should be in every lineup, every week.
Cheyenne O'Grady (TE), TB
DraftKings price: $5,000
Holy smokes, who saw this performance coming? O'Grady was the only active tight end on the roster and paced the entire team in targets with a whopping 11 targets. He also managed to turn those targets into 8 catches and 85 yards, both leading the team. No other player in the league saw more target in Week 1 than O'Grady and I expect that to continue. Ta'amu looked very comfortable throwing to O-Grady and I expect him to continue to be a security blanket for his quarterback. O'Grady screams production and at $5,000 this week is an absolute bargain. Get him while he is this cheap because I do not expect that to continue. O'Grady is the perfect final leg to my Bandits' triple stack.
Stevie Scott III (RB), Mich.
DraftKings price: $7,900
https://twitter.com/USFLPanthers/status/1515772157762195464?s=20&t=BQS2VH5ro_kcJKh5Yyji3w
Steve Scott did exactly what we thought he would do. Even though the Panthers' offense left a lot to be desired, Scott did his part. Scott tallied 18 carries for 72 yards, 1 catch for 4 yards, and a touchdown. Stevie Scott racked up 19 touches in Week 1 which was good for second-most in the league. He looked to be one of the most polished runners in the league and looks to continue to be the focal point of this Jeff Fisher offense. Stevie Scott III is in the set it and forget it category for season-long and daily fantasy lineups.
Victor Bolden Jr. (WR), BHM
DraftKings price: $9,400
Bolden did not really have the production to match his hype in Week 1. He managed to bring in 4 catches for 45 yards and 1 rush for 1 yard in his USFL debut. Do not let the production fool you as Bolden passed the eye test in every way imaginable. He was clearly one of if not the fastest player on the field Saturday night and the Stallions clearly are utilizing packages designed to get him the balls in space. He had a designed run that got stuffed in the backfield and was the first read on the play that ended up being the game-winning touchdown near the goal line when J'Mar Smith dove headfirst into the endzone. Bolden led the team in targets with 8 and even though he did not have an efficient night, still was tied for 3rd most touches on the team.
Chris Rowland (WR), Phil.
DraftKings price: $3,400
Rowland was just too good of a value to pass up. DraftKings clearly thinks his Week 1 performance was a fluke but until further notice, I am all over this deep discount. The Stars threw the ball more than any other team in the league in Week 1 and Rowland led the team in targets with 9. He also turned those targets into production with 7 receptions for 74 yards, both leading the team. While this could be a fluke, it sure looked like Scott was comfortable looking Rowland's way early and often. I say take advantage of his price while it is at an insanely low level. He could be in for a price jump in the coming weeks.
Michigan Panthers D/ST
DraftKings price: $5,100
While it might not be the sexiest pick, I went with the highest-priced defense on the Slate in Week 2. I got such good value on some of my positional players I was able to splurge on the Michigan Defense. While the Panther's offense fell flat in Week 1, the defense was respectable in holding the Gambler's Offense to only 10 points. If it were not for a defensive score by the Gambler's defense, we might be telling a different story in Week 1. The Panther's also held the Gamblers under 100 yards passing and under 200 yards total offense. I expect Jeff Fisher to continue having one of the best defenses in the league and will likely keep them in games when their offense stalls.
Check Back Often
Make sure you check SGPN regularly for updates to our 2022 USFL positional rankings and for all things USFL and fantasy.
RELATED CONTENT