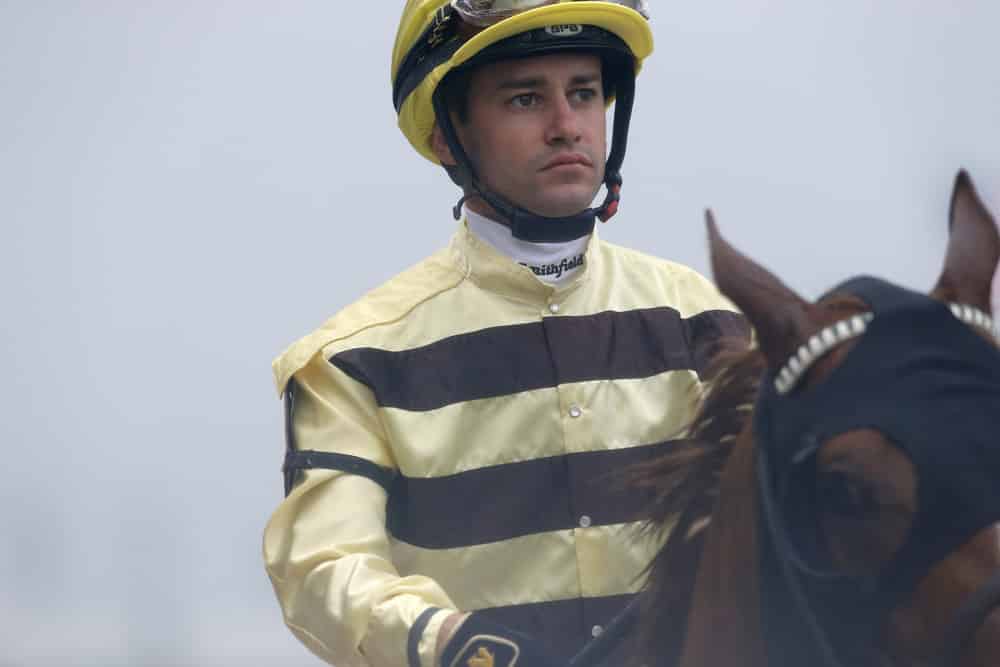 On Saturday, April 16, StableDuel is hosting several contests at Keeneland including a $12,000 game as well as a feeder contest for next month's $50,000 Preakness game. To learn more about the Preakness Feeder Series, check out the StableDuel blog. So, how do you get in the action at StableDuel? Download the StableDuel app and then pick 10 horses with your $50,000 fantasy budget.
How to Play StableDuel
StableDuel is a fantasy horse racing contest where you create a stable of 10 horses from a particular card. Each horse costs a fixed price based upon their morning line odds. You are given an allocation of $50,000 StableDuel dollars to purchase 10 horses. Favorites are worth more as horses with 2-1 odds cost $9,000 whereas horses with 10-1 odds only cost $1,000. Once racing starts you earn points based upon the performance of your horses: first (60 pts.), second (40 pts.), third (30 pts.), fourth (20 pts.), and fifth (10 pts.). Negative points are awarded to horses that finish fifth or worse.
Is StableDuel winner-take-all?
No. Saturday's $12,000 contest, which requires a $50 buy-in, awards $2,000 to the winner while the 25% of finishers double their entry fee by winning at least $100.
Playing Keeneland
The weather will be better this weekend at Keeneland, so track conditions should not be a factor. After the first week, jockeys Flavien Prat (28%), Irad Ortiz Jr. (22%), and Tyler Gaffalione (21%) have shown their recent hot streaks will continue in Kentucky. Meanwhile, trainers Todd Pletcher (20%) and Wesley Ward (19%) are off to good starts, though Ward's 2-year-olds have not always met expectations. If you're not familiar with the trainers and jockeys at Keeneland, check out the StableDuel blog that gives you some pointers. Horses to Build Your Entry Around: When building a successful StableDuel entry you should always identify three types of horses: safe favorites (3-1 or lower), consistent midshots (between 5-1 and 8-1), and live longshots (10-1 or greater). Below I'll give you two of each to help get you started for a winning entry.
StableDuel $12,000 Saturday April 16 Contest at Keeneland
Safe Favorites
Race 7 – Injunction 2-1 ($9,000 in StableDuel)
On a card where there are a lot of vulnerable favorites, Injunction feels like a safe bet against this field. Most of his biggest competitors are coming back from significant layoffs or are trying a new surface for the first time. Injunction has the best speed figures in the field and a proven track record on this level. He easily won a high-level allowance race at Gulfstream Park by over five lengths. Injunction also struggled when stepping up to the Grade II Pat Day Mile, but he's back in his comfort zone. He broke his maiden running seven furlongs at Keeneland. He should be crisper in his second run back from a layoff as well.
Race 9 – In Due Time 3-1 ($8,000 in StableDuel)
Let's head to the final Kentucky Derby Prep race of the season. The Grade III Lexington Stakes is only worth 20 points to the winner. However, the race could play a significant factor in determining the final field for the Derby. The last time out, In Due Time was largely pointed to as the cause of the spill in the Grade II Fountain of Youth Stakes. He moved out of his lane but kept on for a strong second place behind Simplification. In his four career races he's never finished worse than third. Each time he's stepped up in distance or class, he's answered the bell and outrun his odds.
There is not much early speed in this field and his jockey, Paco Lopez, has a reputation for being very aggressive. Sometimes that can result in spills, but it also means Paco should get him near the lead. There are some nice horses in this field, but if it feels like the trip sets up perfectly for In Due Time to punch his ticket to the Kentucky Derby.
Consistent Midshots
Race 2 – Double Clutch 6-1 ($5,000 in StableDuel)
I do not like overspending in maiden races in StableDuel and Double Clutch provides solid value for a strong win candidate. He was green in his debut at Gulfstream Park in February but displayed impressive speed down the stretch. He made up over seven lengths and finished a driving third despite being strong wide. Additionally, his trainer, George Arnold II, is winning 26% of maiden second starts. Since there is not much early speed in the race, Double Clutch should be a little closer to the leaders. He's already demonstrated his love of the turf and ran the mile distance effectively in his debut. A modest improvement from his maiden effort should land him in the winner's circle. His addition to your StableDuel Keeneland lineup could have you there as well.
Race 5 – Freedom's Way 6-1 ($5,000 in StableDuel)
Despite just breaking his maiden last time out, Freedom's Way looks to be a prime candidate for a big win on Saturday. In each of his first three races you can make legitimate excuses for his performance. His debut the race was taken off the turf. In his second start he stumbled out of the gate. In his third start he was bumped early and forced five wide, but still managed to get second. Finally, in his fourth start, he had a clean trip and won with ease. Now he's stepping up against winners for the first time. The speed figure from his last race is good enough to win and several competitors have question marks.
Limited Liability (3-1) has not run in seven months. Credit Event (7-2) has not run in four months and is trying turf for the first time. Freedom's Way's jockey, Luis Saez, should get him positioned mid-pack and allow him to make a run late. There will be an honest pace for him to run into, which should set up a back-to-back victory.
Live Longshots
Race 3 – Habobanero 10-1 ($1,000 in StableDuel)
Pace makes the race and in Race 3, there is a lot of early speed. Over half the field will want to get the lead, which should result in fast early fractions. Sitting behind that pace will be Habobanero. His connections may not scream out success, but he has a habit of hitting the board. In his career, he's never missed the Top 3 when running on fast dirt surfaces. Additionally, he's hitting the board at this distance 67% of the time. His speed figures are a slight cut below the favorites, but many of them are coming back from a layoff. He should sit right behind the early speed and be able to launch a bid late when the leaders start to wilt. For $1,000 in StableDuel, he seems like a good bet to get you significant points in Keeneland
Race 8 – Hear My Prayer 10-1 ($1,000 in StableDuel)
The Giant's Causeway Stakes is a wide open turf sprint where you could look in a number of directions for value. Ultimately, I'm going with Hear My Prayer. She's a consistent performer as she has hit the board in nine of 13 career starts with five victories. More importantly, all five of her victories have come on the turf at 5 to 5 ½ furlongs, which is the distance of this race. She's run well despite taking breaks in action. Her last effort was disappointing, but her previous trip was a third-place finish in a Grade III contest. She doesn't need the lead in a race packed with early speed so she can let the field come to her.
Her running style should suit her jockey Florent Geroux quite well. Finally, her workouts have been tremendous leading up to the race. I hope these horses give you a good starting point for your StableDuel Keeneland entry and good luck! Get all of Matthew's horse racing coverage by following him on Twitter at @failedtomenace.
RELATED CONTENT