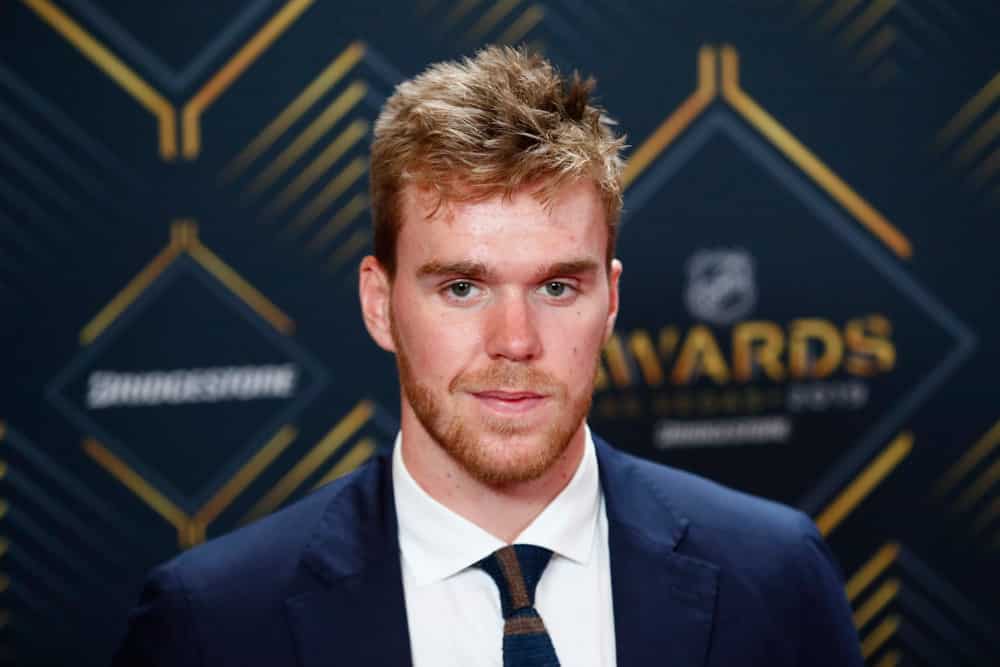 2022 Fantasy Hockey Awards: Best Waiver Addition, Overachiever, MVP, and more
The regular season in Fantasy Hockey has come to an end. I bid adieu to those no longer in playoff contention; some years aren't you're year. Best of luck to those in the playoffs as well. I have some awards I'd like to give out, sort of like the Dundies or NHL Awards, whichever you're more familiar with, but in Fantasy Hockey. So, with another season in the books, let's review the best performances that led us to the postseason.
2022 Fantasy Hockey Awards – Best Goaltender: Jacob Markstrom – Calgary Flames
Jacob Markstrom has returned an incredible amount of value despite his draft status to start the season. Markstrom was a 12th round selection in my draft this year. Yet, Markstrom ranks 2nd in total goalie production behind Juuse Saros; however, he has been a far more efficient net-minder this season.
Markstrom has roughly 44 fewer fantasy points than Saros, but he has triple the shutouts and has allowed 117 goals to Saros' 145. Saros has many more saves, but that's also because the Flames play excellent defense and boost Markstrom's value. The Flames rank 2nd in fewest goals allowed and 4th for shots against in the NHL.
Markstrom has 702.20 fantasy points behind a 31-14-8 record. He has a 2.19 GAA and .924 SV% and leads the NHL with nine shutouts. This season, Markstrom is +600 to win the Vezina, only behind Igor Shesterkin, who sits at -300. He's already the best Fantasy Goalie; his production is always reliable, and that shutout upside has been crucial in close matchups from week to week.
Jacob Markstrom with the two pad stack! What a save! 🔥🔥 pic.twitter.com/0zPAsQiC59

— Ring of Fire CGY (@RingOfFireCGY) February 20, 2022
---
2022 Fantasy Hockey Awards – Best Defenseman: Roman Josi – Nashville Predators
As much as I'd like to hand this award to Cale Makar, Roman Josi has been on a tear! He's not just playing as the top defenseman; he's playing like one of the top players in the league. Josi has led all players in fantasy scoring across the past month. He's totaled 228.70 points in the last 30 days, putting himself about 32 points ahead of players like Johnny Gaudreau (196) and Connor McDavid (195.00).
Josi has just 31 more fantasy points than Makar throughout the season, it's a very close battle, but at the end of the day, I'm giving the nod to Josi, given his elite play across the most crucial time of the fantasy regular season. This year, Josi leads all defensemen with 784.70 fantasy points behind 18 goals, 63 assists, and a plus/minus rating of +22.
Josi ranks 4th in total fantasy hockey production behind Auston Matthews, Leon Draisaitl, and Connor McDavid. However, those forwards were all first-round picks, while Josi was selected closer to rounds four and five. So despite being +1300 to win the Norris trophy, I'm handing over my Fantasy Norris to Josi; he's been an absolute savior for those who didn't overpay for defense in the first three rounds.
.@NHL's first star of the month! 🌟

Roman Josi | #TeamWass

📷: @NHL pic.twitter.com/Sl5u1x2g7C

— Wasserman Hockey (@wassermanhockey) April 1, 2022
2022 Fantasy Hockey Awards – Best Waiver Addition: Timo Meier – San Jose Sharks
Despite going undrafted in my fantasy hockey draft this year, Timo Meier ranks 20th in total fantasy production this season. Through 63 games played, Meier has 31 goals and 36 assists, unlike last season; he put up just 31 points through 54 games. However, his production this season has him in the same fantasy tier as players like Mitch Marner, Steven Stamkos, and Aleksander Barkov.
Meier leads the Sharks in every meaningful offensive category; he's been one of the team's few bright spots this year. Unfortunately, Timo wasn't a clear candidate to take off this season and started the season in most leagues on the Waiver Wire. Still, he's risen to the top of the lineup and was undoubtedly a season-saving addition in the fantasy hockey community.
5 GOALS. TIMO MEIER IS ON HIS SECOND HATTY WATCH OF THE NIGHT. pic.twitter.com/FTqCYZEsSC

— Spittin' Chiclets (@spittinchiclets) January 17, 2022
---
2022 Fantasy Hockey Awards – Best Rookie – Moritz Seider – Detroit Red Wings
Moritz Seider ranks #15 for total production for NHL defensemen. He's earned 487.30 fantasy points this season. This production is on the back of 5 goals and 39 assists with a plus/minus rating of -3. Seider's total fantasy production ranks him #72 versus all forwards and defensemen, the highest total of any rookie this season.
While we have seen impressive recent performances from Michael Bunting, Anton Lundell, and even teammate Lucas Raymond, Seider has been the most consistent rookie from the start of the season. Despite a negative plus/minus rating, he's kept his value steady with above-average numbers in Shots on Goal and Blocked Shots. Seider ranks 24th for SOG versus all defensemen and 10th in Blocks.
Just before the Raymond goal: Moritz Seider steps up for a BIG hit at the Philly blue line. #LGRW pic.twitter.com/4RUff9jpm7

— Ryan Hana (@RyanHanaWWP) February 10, 2022

---
2022 Fantasy Hockey Awards – Most Overachieving Draft Pick: Chris Kreider – New York Rangers
Chris Kreider currently ranks #16 in total fantasy production. He surprised everyone this season, he may have been on your radar, but he wasn't a top draft target. Kreider has 46 goals, ranking him 3rd in the NHL.
He also has 19 assists and is a +19. This season looks like Kreider's best yet; he's doubled his production from last year when he scored just 20 goals and ten assists through 50 games played.
Yahoo's Pre-Season ranking of Kreider was 126 but is currently 21. Kreider was selected in the 15th round of my fantasy draft this year. That was the second to last round in the draft; he's clearly overachieved his draft status. He was a fringe pick to start the year but has blossomed into one of the top options to bring home a Fantasy Championship.
Who else loves Chris Kreider like I do #NYR #RoadTo50Goals pic.twitter.com/ZqSLpdjjmK

— Steve Brudzynski (@_BigSteve89) March 30, 2022
---
2022 Fantasy Hockey Awards – MVP: Connor McDavid – Edmonton Oilers
Connor McDavid has always been that dude! He's a player you can pick #1 overall and confidently expect to finish #1 overall in production. McDavid is on pace to finish as the top scorer in fantasy hockey in back-to-back seasons. While competition at the top is more fierce this season, McDavid has shown out the most all-around offensive game this year as he leads the league with 105 points.
Teammate Leon Draisaitl is constantly making his case for this award, and while he's right there neck and neck with Mcdavid, Connor still gets the nod. While the two don't always play on a regular line together, they are always on the same powerplay unit. Draisaitl is second in the league in powerplay goals (20), meaning more often than not, he's getting set up by our MVP with the extra-man advantage.
Nothing can take away from what Draisaitl, Auston Matthews, or even Johnny Gaudreau can do for your fantasy roster; it's always going to be a risk jumping the gun with those guys as your #1 overall pick in fantasy. McDavid has finished top 3 in total points every year since the 2016-17 season. He owns this league right now, and anyone who holds him in fantasy hockey probably feels a similar sentiment.

Fantasy Hockey Playoffs Waiver Wire: Teams to Stream & Best Pickups