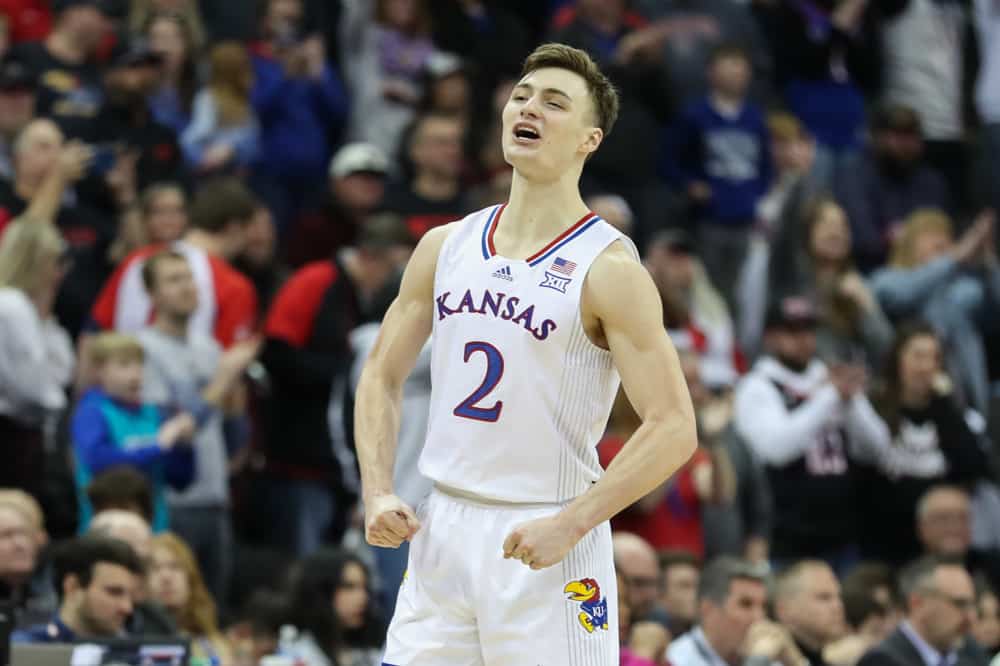 Well that was a fun Saturday. Kansas withstood a second-half run by Villanova and UNC beat Duke in an instant classic. That sets the table for Monday night in the "Roy Williams" Showdown. In case you don't know, Ole Roy coached at both schools. Monday night will also serve as the last chance to play College Basketball DFS until the fall. So let's sit back, enjoy the National Championship, and play a DraftKings Showdown.
National Championship CBB DraftKings DFS Showdown: North Carolina vs Kansas
| | | | | | | | |
| --- | --- | --- | --- | --- | --- | --- | --- |
| Team: | Adj O | Adj D | Total | Team: | Adj O | Adj D | Total |
| UNC | 18 | 39 | 74.5 | Kansas | 6 | 17 | 78.5 |
National Championship CBB DFS Pick: Captain
RJ Davis – North Carolina – $10.8K
In order to fit several higher-priced players, I opted to Captain RJ Davis at $10.8K rather than some more expensive options. Caleb Love might have stolen the show in the second half vs Duke while leading the team with 28 points, but Davis still had 18-7-4. When adding in the rebounds and assists, the UNC backcourt almost put up an identical amount of fantasy points.
I mentioned this in the Final Four DFS preview, Love might score more points but Davis is the more all-around fantasy contributor. Plus, the UNC guards usually take turns having the better game so Davis is up. Armando Bacot may get most of the headlines but it's the North Carolina perimeter players that deserve most of the credit for getting the Heels this far.
National Championship CBB DFS Picks: Utility
Armando Bacot – North Carolina – $10.2K
Speaking of Armando Bacot, you have to find a spot for the big fella even if he's the most expensive player on the slate and has the ankle issue. Apparently, he practiced on Sunday and is green-lighted for Monday night. Kansas has a big frontcourt but there isn't a safer bet for production than Bacot. Against Duke, he battled thru foul trouble and the ankle injury and still amassed over 40 fantasy points on a night when he only scored 11 points (he happened to pull down 21 boards). Simply put, you need Bacot on your roster.
https://twitter.com/accnetwork/status/1510444074762969094?s=21
Christian Braun – Kansas– $8.2K
My main critique of my lineup is that I just couldn't squeeze Ochai Agbaji ($8.8K) into it. After hitting six 3's vs Nova, the senior is locked in big time. However, digging deeper into his performance, he didn't do much else on the court. In 36 minutes, other than the 21 points, he only registered two rebounds and one assist. Christian Braun had a quiet game with only ten points but he pitched in with five assists, three boards, a block, and a steal. In total, he only had about four fewer fantasy points.
With that said, I'm rostering Braun for $600 less than Agbaji. One thing to look for Monday night is who Leaky Black is guarding. Black is an amazing defender who usually lines up against the opposing 3 spot which would be Braun. However, it wouldn't surprise me if UNC throws him at Agbaji who's the more dangerous offensive player. If that's the case, I really like the play of Braun over Agbaji.
Jalen Wilson – Kansas– $7.6K
Jalen Wilson has quietly put together a very nice all-around season for the Jayhawks. He's gonna play at least 30 minutes and he actually leads Kansas in rebounding. He didn't shoot well vs Villanova but grabbed twelve rebounds and dished out five dimes. He can also step out and knock down the three-ball. He'll be matching up with Brady Manek who isn't the best Tar Heel defender. Wilson may often fly under the radar, but I expect another stat sheet stuffing performance.
Caleb Love – North Carolina – $7K
Yes, I rostered the entire UNC backcourt. Caleb Love and RJ Davis are playing lights-out and both have unbelievably high ceilings for their affordable price tags. We saw what Love did to UCLA and then to Duke. There's not another person in this game playing with Love's confidence right now. He's the X-factor for the Heels and might just go off again.
https://twitter.com/marchmadnessmbb/status/1510452274316775424?s=21
David McCormack – Kansas– $5.8K
It's wise to fit David McCormack into your lineup at this low of a price. However, just don't expect him to go for 25 and 9 again. McCormack is a solid big man and he really feasted upon a Villanova frontcourt that lacked size, depth, and experience. It'll be more difficult vs Bacot and UNC but that doesn't mean the Jayhawk can't carve out another 4X game. UNC also lacks interior depth and how is Bacot's ankle? Expect Bill Self to go to McCormack early to test Bacot's mobility and possibly get the big man in foul trouble.