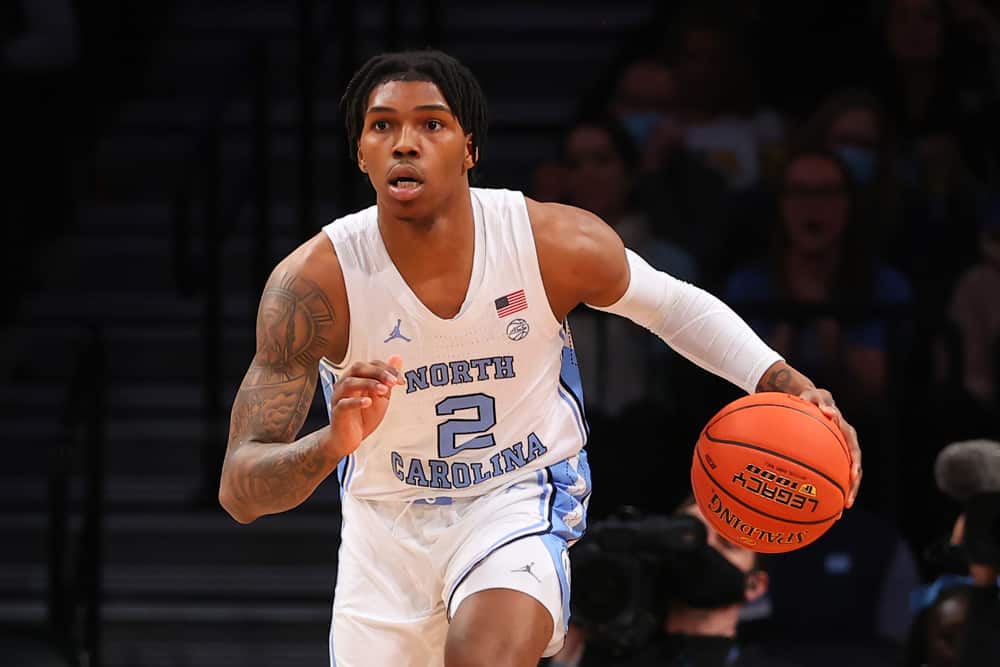 Saturday in New Orleans, LA was a college basketball fan's dream. We had two amazing Final Four games that showcased elite shot-making. That's what makes March Madness and college basketball so great. Now the NCAA Tournament National Championship game is upon us. 68 teams entered the NCAA Tournament and now two are left standing, 1-seed Kansas, and 8-seed North Carolina. In this article, we're giving a full breakdown and betting analysis so you can be comfortable with a National Championship pick for Kansas vs North Carolina.
National Championship Preview: Kansas vs North Carolina Picks, Predictions, & Best Bets
Time: 9:20 EST
TV: TBS
Spread: Kansas -4.5
Total: 152.5
NCAA Tournament National Championship Kansas vs North Carolina Keys To The Game
NCAA Tournament National Championship: Frontcourt
One of the nation's best rebounders Armando Bacot of North Carolina suffered an injury in the last minutes of the Tar Heels' Final Four game against Duke. Bacot scored 11 points and grabbed 21 rebounds in the Blue Devils' contest. An awesome quote from Bacot surfaced on social media where he said his foot would have to be cut off for him to not play in the National Championship game, so we know he will play. His matchup down low will be Kansas' Center David McCormack. In the game against Villanova McCormack exploited a matchup advantage and blew up the scoresheet for 25 points and 9 boards. The Jayhawks are 45-9 over the last four years when McCormack scores +10 points.
Kansas is now 45-9 over the last four years in games where David McCormack scores in double figures. https://t.co/Bo2Tms4Ig0

— Jon Rothstein (@JonRothstein) April 3, 2022
Kansas Sophomore Power Forward Jalen Wilson will need to bring his defensive A-game. Wilson's duties will most likely be to shadow North Carolina's dynamic stretch forward Brady Manek. The headband menace has the ability to be a game-changer as he shoots 40.1% from 3PT and will draw out Wilson. This is huge from an Xs and Os standpoint as Wilson leads Kansas in rebounds averaging 7.5 boards per game.
NCAA Tournament National Championship: Guard Play
The starting trios of both teams are very intriguing. Both Kansas and North Carolina have two guys who average 13 PPG that could easily get hot and take control of the National Championship game. Stat stuffers: KU Ochai Agbaji 19 PPG, UNC Caleb Love 16 PPG, KU Christian Braun 14.2 PPG, UNC R.J. Davis 13.5 PPG. The third guy of the trios, UNC Leaky Black, and KU Dajuan Harris are steady hands and great contributors to the defense. The most intriguing player to me out of the bunch is Caleb Love. The UNC star point guard has emerged as deadshot late in big games in the NCAA Tournament. Love dropped 28 on 11-20 shooting to end Duke's season and Coach K's career. If Love gets hot you could see some UNC offensive possessions last 10 seconds long ending in a Caleb Love 3-ball.
CALEB LOVE OMG!!!! 😱@UNC_Basketball | #MFinalFour pic.twitter.com/8xdvnYbzQU

— NCAA March Madness (@MarchMadnessMBB) April 3, 2022
NCAA Tournament National Championship: The Bench
They call North Carolina's starting 5 players the "Iron Five" for a reason. All five players average 30 minutes or more per game. We could see quite a bit of Forward Dawson Garcia this game though. We could see UNC Head Coach Hubert Davis give Bacot a late sub before TV timeouts to make sure he doesn't wear himself out too much. Garcia provides great play in the short amount of time he gets per game as he averages 9 and 6.
Off of the Kansas bench is maybe the most talented six-man Remy Martin. Martin was non-existent in the Final Four game against Villanova but he won the Midwest Region's Most Outstanding Player Award. I expect a good bounce-back game from the Arizona State transfer. Senior Forward Mitch Lightfoot also comes off the bench and could come in handy should McCormack or Wilson get into foul trouble because of Bacot's physical presence.

National Championship Preview: Kansas vs North Carolina Picks, Predictions, & Best Bets
One could say Kansas played a perfect game Saturday evening. Their defense locked down Villanova in the first ten minutes of the game holding the Wildcats to 11 points. The game never felt close and was pretty stress-free for the Jayhawks. On the other hand, North Carolina played their bitter rival Duke in their NCAA Tournament semifinal game. It was one of the best NCAA Tournament games I've ever seen. The game was back and forth, very stressful, and after the game, it felt like UNC won the National Championship. But they didn't. There is one more game to play.
Yes, this is the National Championship game, but it's also a classic letdown spot. If the Tar Heels lose this game they will still say they ended Coach K's career in the Final Four for the next 30 years. Duke/UNC was the most-watched NCAA Tournament game EVER and North Carolina will be a public play on Monday night. I'm going the other way.
The Kansas Jayhawks win the game, they cover the 4.5 point line and head coach Bill Self redeems his National Championship loss to Kentucky in New Orleans 10 years ago. It's been a tough year for Self as his father passed away in January, I think the basketball gods are on his side. North Carolina's Bacot will do Bacot things, but Kansas' defense is 25th in the country in defending the 3-point shot. The Jayhawks have held their opponents to just 30% beyond the arc throughout the year. Just like Nova's performance early, I think UNC sleepwalks through a Duke/Coach K hangover in the first half and it is too much to overcome.
THE PICKS: Kansas -4.5 & UNDER 152.5
For more analysis download the latest Sports Gambling Podcast episode where they talk about the semifinal games and preview the National Championship.
---