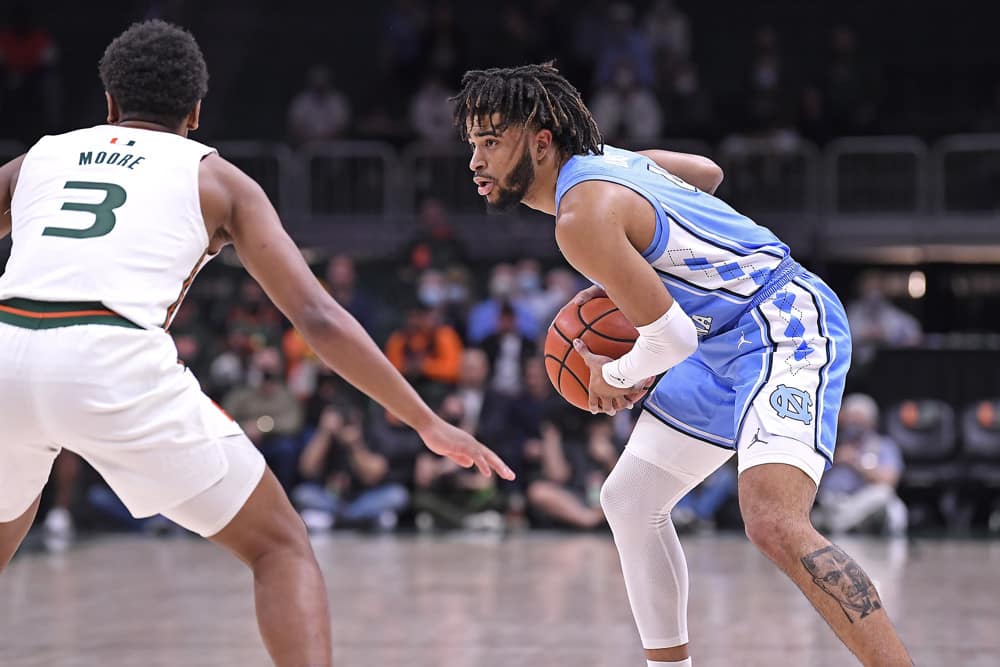 It's Final Four time! We have two excellent basketball games coming our way Saturday evening which is headlined by the Duke vs UNC rubber match. It's a bittersweet time of the season with only three college basketball games left until next November. The chances to play CBB DFS are dwindling. All the more reason to fire up a lineup this weekend. Allow me to help you navigate the high-dollar guys and bargain bin players. Let's do this!
SGPN FINAL FOUR PREVIEWS
Villanova vs. Kansas Preview: Picks, Predictions, & Best Bets
North Carolina vs. Duke Preview: Picks, Predictions, & Best Bets
NCAA Tournament Final Four CBB DraftKings DFS Lineup: Picks & Value Plays
| | | | | | | | |
| --- | --- | --- | --- | --- | --- | --- | --- |
| Matchup: | Adj O | Adj D | Total | Matchup: | Adj O | Adj D | Total |
| Villanova | 9 | 17 | 64.5 | UNC | 18 | 39 | 74.5 |
| Kansas | 7 | 18 | 68.5 | Duke | 1 | 45 | 77.5 |
Final Four CBB DFS Picks: Guards
RJ Davis – North Carolina – $6.6K
First and foremost, I'd advise that your roster should contain more Blue Devils and Tar Heels rather than players in the early game. It makes sense to have a good mix but the nightcap should be a shootout. In that game, you need to roster either RJ Davis or Caleb Love ($6.4K) and they're each priced affordably. While both are inconsistent, and they seem to take turns having "on' games, it's a plus matchup and both are capable of big nights. For me, I had the extra $200 to spend, so I'll go with the player who gets slightly more rebounds and steals with fewer turnovers and that's RJ Davis.
Caleb Daniels – Villanova – $5.7K
Caleb Daniels has been a favorite player of mine to roster this entire tournament. He's been priced between $5.6K and $5.7K every round and has averaged almost 24 fantasy points per game. Especially with the injury to Justin Moore, there's a good chance Daniels plays the entire 40 minutes and exceeds that average. Plus, Daniels is originally from New Orleans and will be looking to ball out in his hometown. His backstory here:
Jeremy Roach – Duke – $5.3K
Jeremy Roach is another guy that has found his way into most of my tournament lineups. He's the starting PG for the best offense (#1 in KenPom's Adj O) in America in a game that should have a ton of possessions and points. His scoring wasn't needed vs Arkansas but I'd expect a bounce-back against the Heels. Plus, as you can see from the prices of my Guards, I plan to spend big at the Forward spot.
Final Four CBB DFS Picks: Forwards
Paolo Banchero – Duke – $8K
My first big decision on the slate was to not roster Armando Bacot ($8.9K) and I hope it doesn't come back to bite me. Bacot is a true beast who's more than capable of a 50+ fantasy point performance Saturday night. However, with the coin I save on not rostering the most expensive dude, I get to fit three forwards who are priced over $7.3K into my lineup.
That first forward is Duke's freshman phenom, Paolo Banchero. Banchero has been a man on a mission in this tournament, averaging 37.65 fantasy points per game. Obviously, he's been scoring at a good clip (18.5 PPG) over the last four, but he's also adding 7 RPG and dishing out almost 4 APG. That's the kind of all-around fantasy point accumulation that I'm looking for.
Mark Williams – Duke – $7.4K
Mark Williams has done a decent job matching up with Bacot this year. He has the size to not be pushed around by the UNC big man. Bacot got into foul trouble early in Chapel Hill and only put up 26.8 fantasy points. He had a better game in Durham (39.3 fantasy points) but Williams also put up 33.3 fantasy points that evening.
I didn't spend up on Bacot because I believe Williams can have a similar game and he's $1.5K cheaper. As long as Williams can hold his own and be within 5 or 10 fantasy points from Bacot, I'll chalk this up as a win. Williams is also averaging 36.32 fantasy points per NCAA tourney game. Not too shabby himself.
Brady Manek – North Carolina – $7.3K
As a Duke fan, this guy has been a Blue Devil killer this season. Brady Manek went for 45.8 fantasy points in Durham, putting up 20 and 11. In Chapel Hill, he registered 21-6. In total, he's made an astounding 11-20 3's vs K's crew. Usually guarded by Banchero, the crafty veteran has been able to get open on the perimeter with ease and knock down more than half of his three balls. I don't see any reason why that would change come Saturday night.
https://twitter.com/cbbonfox/status/1507046837236215810?s=21
Final Four CBB DFS Picks: Utility
Jermaine Samuels – Villanova – $6.1K
Mr. Swiss-Army-Knife for Villanova, Jermaine Samuels has been underpriced all tournament. Ranging from $6K to $6.4K, Samuels has averaged over 33 fantasy points per game yet his price has stayed flat. Don't try to fix it if it ain't broke – I'll roster the senior Wildcat again. Especially with the injury to Moore, there's a good chance Samuels plays the full 40. He's basically averaging a double-double in tournament games and is such a safe bet for production.
Mitch Lightfoot – Kansas – $3.6K
Only having one Jayhawk in my lineup could be a fatal flaw – I get that. But, Villanova has the best defense of these four teams and they are going to slow the game down to a grinding halt. Obviously, KU has a lot of big-time options like Ochai Agbaji ($7.5K), Christian Braun (7K), Jalen Wilson ($6.7) who could have very nice games but it's difficult to pinpoint which one will go off. The Nova players are safer bets and the UNC/Duke guys are playing in the more attractive matchup from a fantasy perspective.
With all that said, my lone Jayhawk is senior big man Mitch Lightfoot. I need a cheap guy in order to load up at the forward spot and Lightfoot is coming off back-to-back double-digit fantasy performances. In a reserve role, he was excellent against Miami in his 17 minutes of court time. Obviously, more PT would be nice, but he should be able to carve out a decent game vs the undersized Wildcats.
---