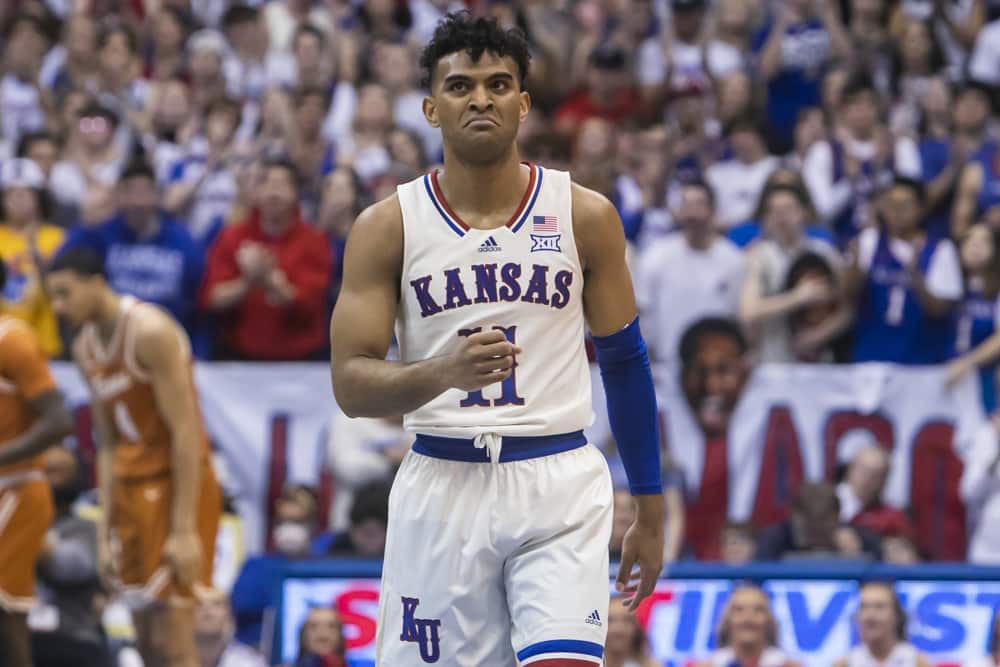 Did you bet on Wisconsin and lose all of your Degen Dance credits like I did? Whether you did or did not the Sports Gambling Podcast is giving you another chance to take home $1,000. If you download the SGPN app, subscribe to SGP on YouTube, follow SGP on Twitter, and follow SGP on Spotify you will be eligible for the contest! In the contest there are 10 different predictions you will need to make varying from Final Four picks to in-game Final Four predictions and props. You will need to outperform the field in order to claim the cash. Now let's dive into the SGPN contest and I'll give you my Final 4 predictions.
Final Four Predictions, ATS Picks, & Props: SGPN Final Four $1,000 Contest
Final 4 Predictions #1: -4.5 Kansas vs Villanova
When it comes to my college basketball handicapping I'm not ever this simple-minded. Let's try not to overthink this one, I'm on Kansas -4.5. Unfortunately, Villanova's SG Justin Moore suffered a ruptured Achilles in the final minutes of their Elite Eight game against Houston. Moore is the Wildcats' best perimeter defender, second-leading scorer, and third-leading rebounder. The worst part about it all is that his defensive assignment would've been Kansas' leading scorer Senior SG Ochai Agbaji. Villanova is a team that relies on its excellent 3-point shooting with a season-long percentage of 35.7% (61st in the country). The Jayhawks held both of their efficient 3-point shooting opponents in the second weekend to under 18% from 3pt. Providence shot 17.4% from three compared to their season average of 34.4%, and Miami shot 14.3% compared to their 33.9% throughout the season.
Final Four Predictions: Kansas -4.5
---
Final 4 Predictions #2: Kansas vs Villanova Total (OVER/UNDER 133)
Although I don't think Jay Wright's Villanova squad will have their typical offensive success I think the game script is in their favor. When you look at the tempos of both teams they are polar opposites. Kansas loves to run up-tempo, and Nova likes to slow it down. Typically in these matchups, the slower team dictates the game's pace. Just take a look at the Jayhawk's game against Providence. The Friars were able to control the tempo and they kept the game low scoring. It is also evident in some Big 12 games that Kansas has played in where teams were able to slow down the game and stay in stride with the Jayhawks.
Final Four Predictions: UNDER 133
---
Final 4 Predictions #3: -4 Duke vs North Carolina
I've been going back and forth when trying to pick this game. In the second weekend of the tournament Duke and Coach Mike Krzyzewski have made in-game adjustments to a zone defense when the games were tight. They didn't do that against North Carolina in the first two games. Maybe the Blue Devils try to go to the well for a third game in a row. The zone would be effective in defending UNC's big man, Armando Bacot, who has had 12, and 23 point games against Duke so far this year. What does zone defense not do well against? Perimeter shooting.
The Tar Heels shot 41% and 38% from beyond the arc in both of their games this season. Also, Nick Dant mentioned on The College Basketball Experience that Brady Manek is shooting 11-20 (55%) from three in two games against Duke this season. Manek is such a problem for defenses because he is a stretch forward and it keeps teams honest to defend the three when in man-to-man defense. This opens up the Tar Heels' center Bacot to feast. Duke will have to pick its poison, death by twos, or a barrage of threes.
North Carolina's leading scorers in this NCAA Tournament:

– Round of 64: Brady Manek (28)
– Round of 32: RJ Davis (30)
– Sweet 16: Caleb Love (30)
– Elite 8: Armando Bacot (20)

It's the 1st time that UNC has had 4 different outright leading scorers in a single NCAA tournament.

— Jared Berson (@JaredBerson) March 30, 2022
I've been tailing the North Carolina hot streak throughout March. In saying that, the "Coach K Farewell Tour" seems destined to take home a title. The Blue Devils won via blowout in Chapel Hill and then the Tar Heels returned the favor in Durham. I think this time the game will be a great back and forth tilt. I'll get int more detail on how I think this game ends later. To be continued.
Final Four Predictions: North Carolina +4
---
Final 4 Predictions #4: Duke vs North Carolina Total (OVER/UNDER 151)
I could be laying chalk here but much like the total indicates I think this game will be a lightning fest. In the first two games, the total amount of points scored was 154, and 175. This total smells so bad to me and I think the books want us to take the over on this play. UGH! Give me the over though. Both offenses rank in the top 20 while both defenses rank outside of the top 38.
Final Four Predictions: OVER 151
---
Final 4 Predictions #5: Most Points Scored (Final Four + Championship)
DISCLAIMER: The team that scores the most points may not actually win the National Championship. So here is my angle. Duke beats North Carolina in a fire fest but loses to Kansas or Villanova in the Championship. The totals for the semifinals are so different. The winner of the Duke/UNC game would have probably scored 80 points to win, and the winner of KU/Nova would have probably scored 65. IF that's the case, KU/Nova would have to beat the winner of the other game by FIFTEEN points in the National Championship in order to win this prop. Therefore, give me Duke.
Final Four Predictions: Duke Most Points Scored
The Blue Devils have arrived in the Bayou. 😈 #MFinalFour x @DukeMBB pic.twitter.com/GV5yIzXuTP

— NCAA Men's Final Four (@MFinalFour) March 30, 2022

---
Final 4 Predictions #6: Highest 3PT% (Final Four + Championship)
ANOTHER DISCLAIMER: The team that scores the most points may not even play in the National Championship. Like I mentioned in the picks Kansas has a great perimeter defense and Nova's is exceptional as well. The two weaker three-point defenses are in the Duke/UNC game. It's not crazy to say that the loser of the Blue Devils and Tar Heels shot 40% from beyond the arc. If that's the case they have no chance of ruining their shooting percentage against a better 3PT defense. I like my pick a lot for this category.
Final Four Predictions: North Carolina Highest 3PT%
---
Final 4 Predictions #7: Will there be a lead change in the last 10 seconds of any Final Four or Championship game?
So far in this tournament, we have had 64 games played and ZERO buzzer-beaters. How is that possible? Just like last year when Gonzaga PG Jalen Suggs hit a game-winning-buzzer-beater and jumped on the scorer's table, I think we see a game-winner made in one of the three Final Four games. We've seen many great Duke/UNC games in the past, I think this game might top them all. A close game throughout the whole forty minutes is what I predict. I actually think the Tar Heels will be leading for a great portion of the game. I think Coach K finishes off his career in the Duke/UNC rivalry with a Blue Devil hitting a game-winning shot in the last ten seconds. If you want details, give me a missed Paolo Banchero J, and a Mark Williams put-back to seal the victory.
Final Four Predictions: Yes
Still not tired of Jalen Suggs' UNREAL buzzer-beater against UCLA 😱@ZagMBB #FinalFour pic.twitter.com/3ZBnhHBqAV

— NCAA March Madness (@MarchMadnessMBB) April 4, 2021
---
Final 4 Predictions #8: NCAA Tournament Winner
Who do I think will win the National Championship? I'm thinking we get a Kansas vs Duke National Championship game. I think the "Coach K Farewell Tour" may be destined for a National Championship. Much like how the stars have aligned for Mike Krzyzewski to get to this point, it would be a full-circle moment for him if they beat Kansas in the National Title game. Why, you may ask. That is because it happened in 1991 for his first title.
Now in no disrespect to Coach Wright and Villanova, the team that I am most confident can win their semi-final game is Kansas. I'm picturing in my head, is there a world where Bill Self can win another National Championship? Self has had better teams and choked with them prior to getting to the Final Four. This year has been different. In January Self's father passed away, since then he's been able to lead the Jayhawks to his fourth career Final Four. I think Self avenges his runner-up placement in New Orleans 10 years ago. Kansas will edge their opponent in the National Championship game.
Ultimately, I think the semi-final game between Duke and North Carolina feels too much like a Natty game to me. After the win Banchero or Caleb Love will say, "We still have one more game to win," but it's hard to think that way after coming off a win against your bitter rival in the Final Four game prior.
Final Four Predictions: Kansas NCAA Tournament Winner
---
Final 4 Predictions #9: NCAA Tourney Most Outstanding Player
I'm going to tail Ryan Kramer from the Sports Gambling Podcast on this one. For the record, I gave credit to this specific player on a The College Basketball Experience podcast episode a week prior to hearing Kramer give out this pick. Although he is Kansas' leading scorer, the prediction IS NOT Ochai Agbaji. The Senior guard is in Naismith Award, National Player of the Year conversations but has not been the best player for Kansas in the Big Dance. The "Most Outstanding Player" on Kansas so far this postseason has been Remy Martin. The Jayhawk sixth man won the Midwest Region's Most Outstanding Player Award and has averaged 16.8 points, 5.3 rebounds, and 3.3 assists per game with only five turnovers. Put some respect on Remy's name!
Final Four Predictions: Remy Martin Most Outstanding Player
Chants of "Remy, Remy, Remy!" in the United Center as Remy Martin is named the Most Outstanding Player of the Midwest Region, followed by a special congratulations from a Hall of Famer, #kubball pic.twitter.com/9inEIO6N3w

— Brian Hanni (@BHanni) March 27, 2022
---
Final 4 Predictions #10: Total Points in the Championship Game (Tie-breaker)
As you may know, I am obsessed with the number seven. I was born on the seventh day of the seventh month and I wore a jersey with at least one number seven for every sports team growing up. 77 points is way too low for a basketball game final score so a few years ago my mind went drifting. Growing up in Michigan I played hockey with my twin cousins. One cousin wore #4, I wore #7, and the other cousin wore #9. I feel like a child but 4+9=13 then add 7 and you get a final score of 137. I have used that number forever in bracket pools but wait. What was the final score of the 1991 National Championship game where Kansas played Duke? Duke 72, Kansas 65. 137 points. Book it.