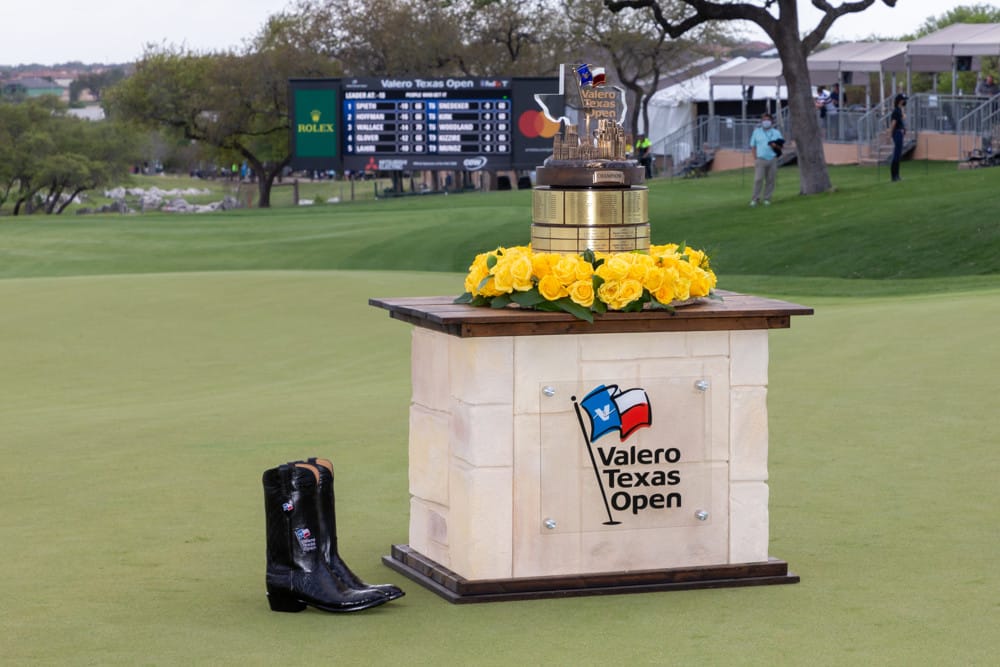 With one week before The Masters, players get one last tune up before the first major of the season. That prep will come at TPC San Antonio for the 2022 Valero Texas Open. As always, here is your early deep-dive on the 2022 Valero Texas Open and a preview for how to bet.
2022 Texas Open Preview – The Field
As mentioned in the introduction, this week presents one final chance to fine tune your game before The Masters. As such, a few big names will make the trip to TPC San Antonio. The most notable of those is Rory McIlroy. McIlroy changed up his pre-Masters routine in 2022. Instead of using the WGC-Dell Technologies Match Play as his final event, he'll play the Valero Texas Open as his warm up to the Masters. Maybe this will be what he needs to finally secure a Green Jacket. As for TPC San Antonio, he's played this golf course once in 2013. He finished runner up to Martin Laird. Considering how important driving is at TPC San Antonio, McIlroy is a great fit for the golf course.
Two golfers in desperate need to shake off the rust ahead of The Masters are Bryson DeChambeau and Jordan Spieth. Both looked pretty bad at the WGC-Dell Technologies Match Play last week, but for two different reasons. Bryson continues to work his way back from injuries sustained earlier this season. As for Spieth, he appears to be struggling with his swing again. Videos of his swing last week look pretty bad. After seemingly figuring things out last year, his swing has definitely regressed ahead of The Masters.
Other notables in the field include Abraham Ancer, Corey Conners, Tony Finau, and Gary Woodland.
For the full field, click here.
2022 Texas Open Preview – The Golf Course
TPC San Antonio boasts two 18 hole golf courses. Pete Dye designed the Canyons Course on the north side of the property. It features an intriguing layout. There are a lot of elevation changes up, down, and around the canyons to create an interesting 18 hole track. There are also wide fairways that make it relatively playable for amateurs However, because of the terrain and the short length on the scorecard, it isn't very conducive to set up the infrastructure needed to broadcast a tournament.
Instead, the tournament is held on the Oaks Course, which is on the south side of the property. It was built in 2010 by Greg Norman, with Sergio Garcia consulting on the project. Soon thereafter it became the host for the Valero Texas Open. The golf course, at its maximum, stretches to just over 7,400 yards long. It's naturally a Bermuda golf course, but in its March date the fairways and rough are overseeded with ryegrass. The greens are overseeded with Poa Trivialis. It won't be exactly the conditions the players will see at Augusta National next week, but it's close.
As for the golf course itself, it has its positives and negatives.
Let's start out with some positives. The golf course is immaculately maintained. As part of the TPC network, the golf course boasts fantastic turf conditions for its players. In addition, the golf course is not saturated with real estate eyesores like many TPC golf courses are. Golf course architect Greg Norman wanted the natural landscape to shine, and it has a much more rugged look than other TPC golf courses. The golf course staff do an amazing job with the conditions and making sure it is in tip top condition for tournament and member play.
And it is located at a beautiful J.W. Marriot resort. It features top-notch amenities, including a phenomenal pool, lazy river, and water park. While the kids can go hang out by the pool, you (and your spouse) can get away and play a well-maintained and challenging golf course.
There are some interesting holes and features to it. The greens have some nice undulations and the greenside bunkers have good edging. The back nine also boasts some good holes. The 11th features a centerline bunker with a fairway runout of about 300 yards. That forces some decisions off the tee. The 16th is Greg Norman's take on the 6th at Riviera. The Par 3 has a bunker placed in the middle of the green, which makes for an inconvenient visual for the tee shot. The 18th also features a split fairway and is similar to the 18th at Jumeriah Estates in Dubai. That's another Greg Norman design and is the home of the DP World Championship on the European Tour.
There are some flaws about the golf course too. Most have to do with the original design from Greg Norman. For starters, the front nine isn't too spectacular Parts of the Front Nine can feel a little repetitive. Most are slightly dog-legged with bunkers guarding left and right of the green. The first nine holes of the golf course won't stick in the minds of anyone who plays it.
But the biggest negative about the golf course is how difficult it is for amateurs to play it. Greg Norman was one of the longest and straightest drivers at his peak, and it requires one to hit it long and straight to fare well on the Oaks Course. Those who don't are in for a very long day. Each fairway is flanked by a rocky terrain of bramble and brush. There's no room to miss off the tee. The fairway bunkers are also really deep and make it very difficult for an amateur to get out of.
One isn't out of the woods should they find the fairways. All the greens are heavily guarded by deep and difficult bunkers. There are a few holes that do provide some bailouts to miss, but even those aren't easy to access. Almost all the greens are raised above the fairway too, which doesn't allow for someone to run the ball up to the green. Everything is aerial at TPC San Antonio, which doesn't make it very friendly for amateurs.
The golf course is also borderline unplayable with a stiff north wind. Starting at the clubhouse, the golf course works its way to the south downhill before winding its way in the opposite direction. With a north wind, amateurs are aided with a tailwind and downhill conditions over the first half of the front and back nines to get the ball towards the green. But once they turn for home, they're playing both uphill AND into the wind. And with no way to run the ball up to the green, it's very difficult to get on in two (or three).
But for a tournament golf course, it's a great test for the professionals. In windy conditions, it certainly can give them fits. But the professionals don't suffer from the same woes that us mere mortals do. They can certainly make a mess of things if they're not driving the ball well or don't have the short game to get up and down from tough spots off the green. If the wind doesn't blow, the best players in the world can eat the golf course up.

Betting Strategies
The Valero Texas Open can be tricky to handicap. For starters, it's a week before The Masters. Motivation is an unmeasurable factor. Does a Masters contender go full bore like Jordan Spieth did last year? Or does one not exert too much energy while doing enough to play four rounds and fine tune their game for Augusta. Gamblers will make complete guesses as to what a golfer's intentions are this week. Plus, outside the top tier this is a pretty weak field. On a golf course that can be difficult tee-to-green, trying to guess amongst a sea of average players who'll hit the ball this week is a dicey proposition.
Let's first start with the TPC San Antonio relative skill set chart, per DataGolf: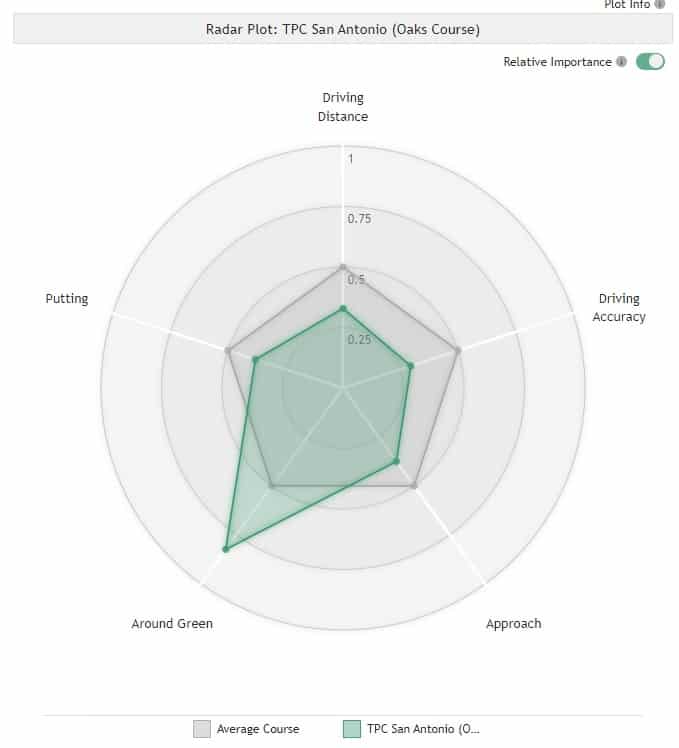 TPC San Antonio produces one of the more random leaderboard in terms of skill sets. Length helps, but it's not a prerequisite to success at TPC San Antonio. While avoiding the fairway bunkers is crucial at TPC San Antonio, inaccurate drivers have found success there too. So too are players with varying degrees of skillsets with their irons and putter. But the one strong correlation between players who have good success at TPC San Antonio is short game. As shown above, there's a huge correlation of short game wizards who appear at the top of the leaderboard at the Valero Texas Open.
Where they may have an advantage is from greenside bunkers. Of regular PGA Tour stops, TPC San Antonio features the third toughest bunkers to get up and down from off the green. Greg Norman built these bunkers very deep. Combining this with the significant undulation of the greens it's very difficult to get up and down from out of them. With below average green in regulation rates, players will be plenty tested around the green.
Next, let's look at where players will hit their approach shots from (per DataGolf). This chart is a great preview of what to expect at the 2022 Valero Texas Open:
On its surface, the looks like a fairly spread out distribution chart. There are above average rates on approach shots <125 yards. However, they only comprise of approximately 24% of a player's approach shots every round. There are above average rates on approach shots between 150-175 yards, however below average rates on the two tiers right next to it. And while there are almost double the number of approach shots 250+ yards, it only comprises 19% of all approach shots per round. And there are very little shots between 200-250 yards where a gambler can handicap approach play on all approach shots 200+.
Digging a little deeper in some scoring attributes reveals a little clearer picture of what gamblers should focus on. Per DataGolf, TPC San Antonio is the 2nd toughest golf course of all regular PGA Tour stops for approach shots less than 150 yards. And it features the 2nd toughest Par 5's of all regular PGA Tour stops on the schedule. It might be because of the high frequency of approach shots 250+ yards, along with the really difficult greenside bunkers. As such, this chart suggests that gamblers should incorporate performance on approach shots <150 yards, along with Par 5 Scoring into their handicap.
Lastly, here are the group of players in the field who have gained the most strokes per round on the field (minimum of 10 rounds) per DataGolf:
Corey Conners: +2.19, 12 Rounds
Charley Hoffman: +2.17, 44 Rounds
Jordan Spieth: +2.06, 22 Rounds
Brandt Snedeker: +1.99, 16 Rounds
Lucas Glover: +1.51, 10 Rounds
Kevin Streelman: +1.49, 24 Rounds
Martin Laird: +1.41, 30 Rounds
Chris Kirk: +1.37, 24 Rounds
Matt Kuchar: +1.35, 36 Rounds
Kevin Chappell: +1.15, 29 Rounds
A lot of these guys have different skill sets. All of them have varying degrees of skills regarding driving, approach play and putting. But a lot of these guys are pretty good around the green. And for those who aren't (like Lucas Glover and Corey Conners), they're just exceptional ball strikers who gain an advantage by hitting a ton of greens and avoiding the troublesome greenside bunkers. This list of players is a good preview of who to target for the 2022 Valero Texas Open.
Related Content