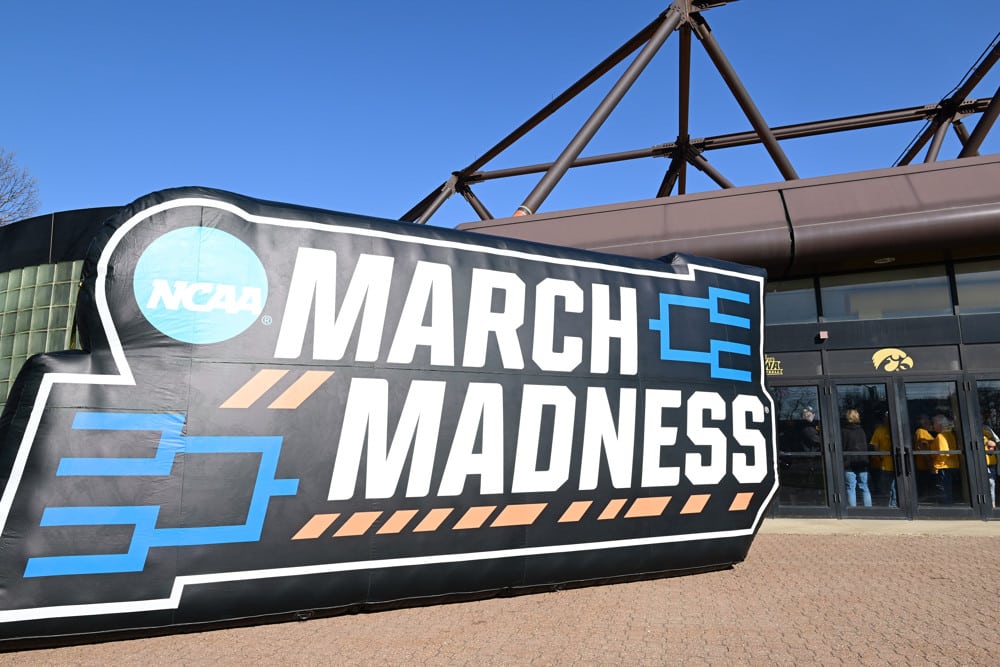 The 2022 NCAA Tournament is finally upon us. The first round provided seven upsets, including #15 Saint Peters over #2 Kentucky. With the 2nd round heading our way for the next two days, I don't think the upsets will stop there.
With the Madness already underway, make sure you follow along with your printable March Madness Bracket.
Favorite Upsets from First Round 
As we mentioned earlier, there were seven upsets (of at least a 2-seed difference) in the 1st Round of the 2022 NCAA Tournament. Of those seven upsets, three came from the #11 vs #6 matchups.
One of my favorite upsets of the First Round was #11 Michigan over #6 Colorado. Michigan found out they were losing their starting Point Guard right before game time due to a concussion suffered in practice. Despite losing their Star PG, they still rallied together, overcame an early deficit, and knocked off Colorado 75-63.
Another upset that shocked everyone and maybe ruined a few brackets was the Kentucky Wild Cats losing to the #15 seed St Peter's Peacocks 85-79 in an overtime thriller. Per SportingNews.com, Kentuck had the 3rd best odds of winning it all at +732, right behind Gonzaga +329 and Arizona +619.
What To Expect From The Second Round 
Over the next few days, the bracket will again eliminate half the field as it goes from a round of 32 to a Sweet 16.
Round 2 Revenge
The first game I am looking forward to in the round of 32 is Michigan State vs Duke. These two schools are some of the greatest ever to do it, and it should be a great showdown. Duke is looking for revenge for an Elite 8 loss to the Spartan in 2019. Duke is 6.5 point favorite and has a more talented roster. Duke is led by Paolo Banchero, Wendall Moore Jr, and Mark Williams.
Per Kenpom Ratings, Duke has the advantage over MSU both offensively and defensively. Duke has an offensive rating of 119.6 (6th in the nation) compared to 111.6 (35th in the country) of MSU. Defensively, Duke has a rating of 95.4 (41st in the country), and Michigan State has a 96.6 rating (59th in the country). I see Duke winning the game and covering the 6.5 points spread.
Round 2 Upset
One upset I am looking for in the Second Round is the #12 Richmond Spiders taking down #4 Providence. The Richmond Spiders needed four straight wins in the A-10 Tournament to make the NCAA Tournament. After reaching the NCAA Tournament, Richmond didn't skip a beat and knocked off #5 Iowa.
Providence has been one of the luckiest in the nation, #1 luck rating according to Kenpom.com. Providence, again, won a close matchup due to questionable fouls late in that game. Richmond is a veteran team with plenty of talent. The Spiders should be able to hold onto the ball and limit turnovers while keeping Providence off the line defensively and ultimately ending the Friar's lucky run.
#2 Has Fallen
History Suggests that the Second Round has not been too kind to #2 Seeds. More #2 Seeds have been knocked out of the round of 32 than any other round in the tournament. More recently, only twice since 1997 that all four No. 2 seeds advanced to the Sweet 16. We have already seen one #2 Seed go down (Kentucky). Will another go down this weekend? According to BracketResearch, 84% of the time, a #2 seed will lose in this round.
March Madness Betting Odds 
Below is a list of remaining #1, #2, and #3 Seeds odds to win the National Championship.
Gonzaga +250
Arizona +600
Kansas +900
Purdue +1300
Duke +1500
Texas Tech +1800
Tennessee +2000
Villanova +2000
Baylor +3200
Odds For Potential Sleeper Teams, Seed 5 or Lower
Houston +2000
North Carolina +2500
Texas +4000
Saint Marys +8000
Michigan +10000
Favorite To Win
Gonzaga is led by Chet Holmgren and Drew Timme. Holmgren put up an insane 19 pts, 17 rebounds, and 5 assists line plus 2 steals and 7 blocks in Round 1. The Bulldogs are Kenpom's #1 ranked offensive team and the country's 7th ranked defensive squad.
Sleeper To Win
Houston may be the best #5 seed we have ever seen. Many believe that they were under-seeded in this year's March Madness Tournament.
Houston finished the regular season with a 30-5 record winning 6 of their last 7 games. Their success did not stop there as they cruised through their conference tournament, winning by an average of 17 points. The cougars rank inside the top 15 in Kenpom's offensive and defensive ratings.
Will is a Sports Betting Analyst for Safest Betting Sites. He enjoys all things MLB, NFL, CFB, and CBB. While he is a fan first, he is always trying to gain an edge on the books to make a little bit of money.