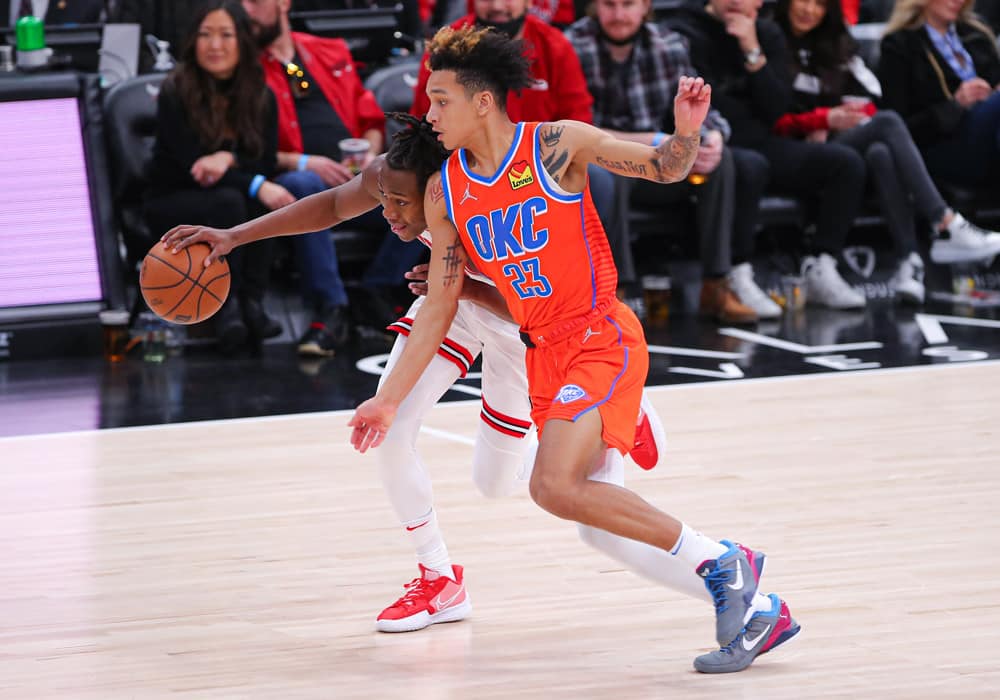 Are you still alive in your fantasy basketball league? If you're reading this article, I'm guessing you probably are. If that's the case, you'll need to stay on top of your league's waiver wire in case of emergency, or if you need a little boost to get past your opponent in the playoffs this week. Here are the best low-rostered, high-performing players that you can plug in and play
Fantasy Basketball Waiver Wire: Best Pickups Mar 23rd
Tre Mann – Oklahoma City – PG/SG – 26% rostered
10.2 ppg, 2.8 rpg, 1.5 apg, 0.8 spg, 0.2 bpg, 1.6 3PT/G, 39.0% FG, 77.3% FT, 1.1 tpg
If Tre Mann is available in your league (sadly he's on the team I'm playing against this week), go and grab him. Over the past two weeks, the rookie guard has been a top 50 producing fantasy player and is still available in about three-quarters of the leagues out there. In his last three games, he's posted eye-popping averages: 24.3 ppg, 6.7 rpg, 1.7 apg, and has hit 15 threes. He's got two games left this week to help you out.
Aleksej Pokusevski – Oklahoma City – SF/PF – 34% rostered
7.1 ppg, 5.1 rpg, 1.6 apg, 0.6 spg, 0.6 bpg, 0.8 3PT/G, 40.5% FG,68.3% FT, 1.3 tpg
We stay with the Thunder for our second suggestion, Aleksej Pokusevski. He also has been on fire as of late, posting double-digit scoring efforts in nine of his last 10 games. That includes 19 points, six rebounds, three assists, a steal in his last game, and two double-double efforts over that span of games. Once again, get him while he's hot.
14.6 ppg, 3.2 rpg, 2.6 apg, 0.9 spg, 0.4 bpg, 1.3 3PT/G, 41.2% FG, 67.6% FT, 2.2 tpg
Undrafted rookie Brandon Williams continues to make the most of his opportunity in Portland, putting big numbers on the board. His resume includes five 20+ point games over his last nine, five five+ rebound games, a five and six assist game, and games with three and four steals. With Damian Lillard on the shelf for the rest of the season, Williams will continue to get chances. And he has three more games left to play this week.

5.6 ppg, 1.8 rpg, 2.6 apg, 1.3 spg, 0.1 bpg, 0.6 3PT/G, 42.4% FG, 71.8% FT, 0.7 tpg
You're not picking up rookie point guard Jose Alvardo for his scoring ability. You ARE picking him up for his thieving skills. He's grabbed 22 steals in his past 10 games, including a game with six, a game with four, and three games with three steals. He could steal you (pun intended) that category and propel you further along in the playoffs. Plus, he's got three remaining games this week.
8.8 ppg, 6.9 rpg, 1.1 apg, 0.5 spg, 0.5 bpg, 0.6 3PT/G, 43.9% FG, 58.7% FT, 1.2 tpg
Precious Achiuwa's scoring tear finally came to an end last game, as he only scored six points. Before that, he topped double-figures in seven-straight games, including 21 two games ago. Even if his scoring doesn't heat back up again, he could be worth picking up for his rebounding totals. Plus – eligibility at three positions is always a positive.
Torrey Craig – Phoenix – SG/SF/PF – 16% rostered
6.6 ppg, 4.2 rpg, 1.2 apg, 0.8 spg, 0.8 bpg, 0.9 3PT/G, 45.0% FG, 70.6% FT, 1.2 tpg
While their record doesn't show it, the Suns have been pretty banged up as of late. And Torrey Craig has been stepping up in lieu of missing teammates. He went 13-13 over two games recently, one of them a 21 point and 14 rebound effort, and is grabbing plenty of rebounds and steals, while dishing out assists to teammates. And again, he's another guy who has three more games scheduled for this week.
Other fantasy basketball waiver wire players worth checking out: Devin Vassell, Alperen Sengun, Naji Marshall, Rui Hachimura
Related Content