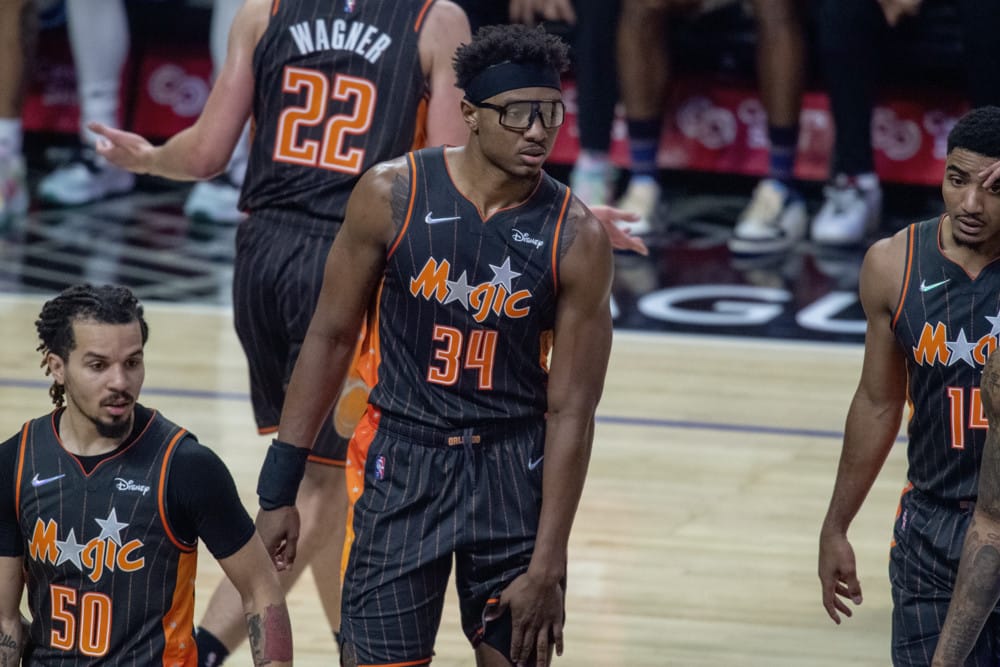 The Thursday slate is so thin this week, that we can't even field a complete team for you. That's right, our usual Thursday NBA DFS lineup has dwindled down to a Showdown contest out of necessity. However, that doesn't mean we can't put in a winning performance and a top-notch roster. Check out who we're riding with down below.
(NOTE: This NBA DFS lineup was made ahead of time. Always check for the latest injuries and inactives prior to lineups locking. )
NBA DFS Picks for ORL/DET (Showdown) – March 17th
CAPT – Cole Anthony ($12,600) – ORL
I'm not really one to make a concession on the captain in an NBA DFS lineup in order to afford better pieces elsewhere. However, Anthony really isn't that far behind the top pick here (Cade Cunningham) in terms of production. He's scoring in the mid-30s each and every game out as of late, and he's doing it with a spread-out stat sheet that keeps his floor high. In addition, Cunningham is rumored to be dealing with the same illness that kept him out of Tuesday's game. I sort of imagine he'll play, but that may close the gap even further between the two.
UTIL – Cade Cunningham ($10,800) – DET
By putting Anthony at the top of your roster, you can afford the likes of Cade Cunningham down the bill. As I said up front, I think Cunningham will ultimately play in this one – even if the minutes are slightly reduced. Even when he's at his absolute worst, he's going off for at least 30. As a result, a winning NBA DFS lineup is going to have him in it.
UTIL – Wendell Carter Jr ($9,400) – ORL
While I feel confident that Cunningham is going to make it to the court, you may want to keep an eye on Wendell Carter Jr before your NBA DFS lineup locks. He's dealing with an ankle injury and nobody seems to quite have the level of severity on it. If he tests it and it's good, he's going to give you the production you need. But maybe write his name in pencil.
UTIL – Franz Wagner ($7,000) – ORL
As we move further down the NBA DFS salaries, I really like the younger of the two Wagner brothers. His consistent work on the glass as of late has made him a pretty safe play – even when you're not putting together a showdown lineup. He only managed a meager six points the other night, but his defense and boards still got him to nearly 20 fantasy points. Add in that Detroit is 28th in opponent's rebounds in the league, and Franz should impress on Thursday night.
UTIL – Killian Hayes ($5,200) – DET
On Tuesday night, the young point guard took the stage against the top-tier Heat and looked great. Even in the face of foul trouble, he flirted with a double-double. His constant production keeps building him more and more minutes, so as far as what you can get down in this range – he's the best NBA DFS play.
UTIL – Moritz Wagner ($4,600) – ORL
If you've got one Wagner brother, why not grab a second? But in all seriousness, Moritz may actually be the stronger NBA DFS option right now over little brother. He picked up a double-double last time out in just 22 minutes on the court. Sure, he's unlikely to hit those numbers again, but a fraction of that would still make him worth his price tag.

Make sure to check out all the great NBA coverage we have to offer and be sure to listen to the NBA Gambling Podcast, which airs twice a week. This week the guys are breaking down all the best plays for the coming days.  
Related Content