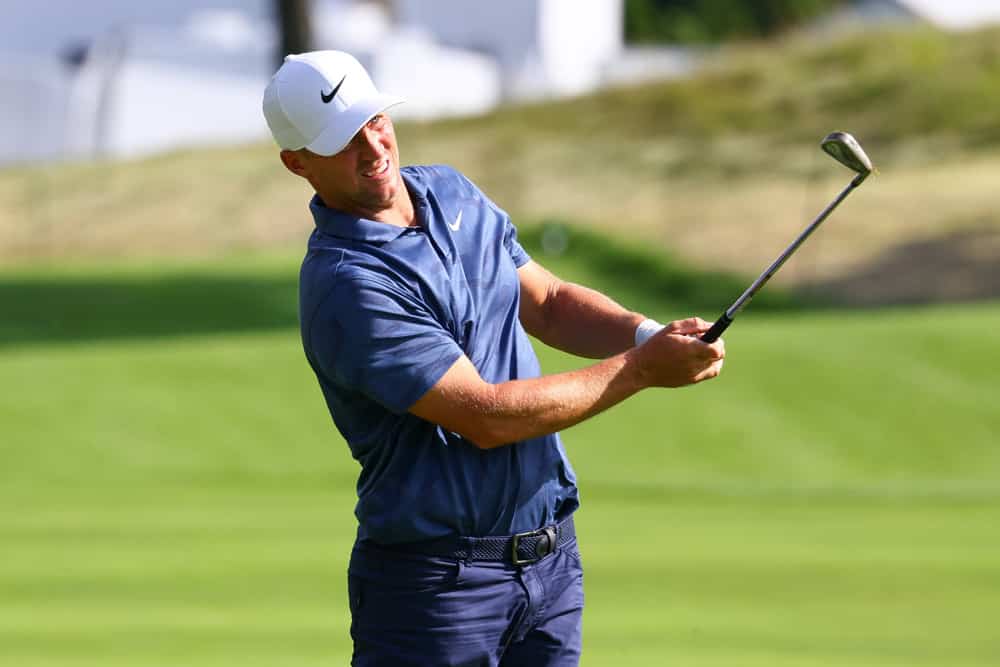 For those who missed it, check out the 2022 Valspar Championship Preview and Betting Strategies for the types of golfers you should look to target for your picks. Using that as a guide, let's take a look at some of the best bets to make this week. Here are my picks for the 2022 Valspar Championship (odds courtesy of WynnBet):
2022 Valspar Championship Picks – Outright Bets
Dustin Johnson – 16/1
Did Dustin Johnson figure things out? DJ was caught up on the wrong side of the draw at the PLAYERS Championship. But he rallied on Sunday with a final round 63 to move into the Top 10 on the leaderboard. This might be a long time coming for Dustin Johnson, however. He's been hitting the ball much better tee-to-green than he was in the second half of 2021. He's also not relying as much on his putting to score as he did last year too. And with a pair of Top 10's over his last four starts, we might start seeing peak Dustin Johnson once again.
With improved ball-striking, he returns to a golf course that, arguably, he should have won in 2019. Dustin Johnson trailed by 1 to Paul Casey ahead of the final round of the 2019 Valspar Championship. He shot a final round 74 to put him out of it. But he's shown that, despite the reputation of a big game hunter, Dustin Johnson isn't above contending and winning some of these middling PGA Tour events. He's collected a pair of wins at both the AT&T Pebble Beach Pro-Am and the FedEx St. Jude Classic. Both tournaments are of similar stature to the Valspar. He's been good at the Golf Club of Houston, a tournament that Innisbrook horse-for-course Paul Casey once won. And he's been sneaky good at Harbour Town, another tight tree lined plodders golf course that requires one to club down. He let the 2019 RBC Heritage slip through his fingers too.
We haven't seen a winner under 20/1 on the PGA Tour this year. We're due for one at the Valspar Championship. Maybe Dustin Johnson is the one to pick and break that drought.
Tyrrell Hatton – 25/1
At least in DFS, Hatton doesn't seem like he's all that popular. He's surrounded by several chalky options like Lowry, Burns, and Oosthuizen. Maybe his bad course history at the Valspar is driving down his ownership. But that needs to be taken with a grain of salt. Hatton was battling wrist injuries throughout 2019, as well as some off-the-course personal issues. He described such issues after he won the 2019 Turkish Airlines Open. And since then, Hatton has won four times worldwide.
With that out the way, Hatton is a great pick to win the Valspar Championship. He's a tremendous ball-striker. He is also great with his long irons. He's been tremendous at some difficult golf courses off the tee like Bay Hill, Colonial, and Harbour Town. And while some like using Wentworth Golf Club as a good comp for Bay Hill, I see it as a better one to Innisbrook. Both are tight, tree lined golf courses that require one to plod around the track. The routing is also similar in that many holes are obscured with doglegs. Hatton has a tremendous track record at Wentworth, including a victory in 2020.
Hatton is in excellent form with four Top 10's over his last six starts. He is in a great spot to pick up his fifth win over the last two wins at the Valspar Championship.
Alex Noren – 55/1
Has Alex Noren become an unofficial member of #TeamNoPutt? Noren has been absolutely tremendous tee-to-green over his last four tournaments, driven primarily by his irons. But he's been very dodgy with the putter. He's alternated between good and bad weeks going back all the way to the WM Phoenix Open.
Maybe this is an up week for him. And we've seen several players struggling with their putter turn things around at the Valspar. Noren also had a really good track record on several tough and plodding golf courses in his career on the PGA Tour. And like Tyrrell Hatton, Noren has success at Wentworth. Noren checks a ton of boxes for a winner of the Valspar Championship. And there have been several players around his odds who have won this week. A lot of mid-tier players on the odds board have taken this tournament down.
Noren is still looking for his first win on the PGA Tour. This could be the week he finally picks it up.
Russell Knox – 60/1
Chalky Russell Knox is never a good thing. Anytime it seems like Knox gets some steam, he fails to live up to the expectations. So this is the only place on my card I'm picking Russell Knox at the Valspar Championship. I don't mind his outright price for a player who checks a ton of boxes. Efficient tee-to-green. Accurate. Great iron player, particularly from long ranges. Low bogey rates. One of the better scramblers in the field. All these things are great attributes he possesses.
There's a lot to like about Russell Knox this week. Unfortunately, you won't be the only one who likes him too. So maybe limit your Knox exposure to just the outright in case all the weight of the public crushes him at the Valspar Championship.
Mito Pereira – 100/1
Including Mito Pereira on the card is just because of the number. I believe he's a talented player. I believe he'll be a good player on the PGA Tour. And on the stat page, he does fit the billing for someone who should do well at the Valspar. Consistent tee-to-green. Great iron player and long iron player. A pretty good scrambler. And runs hot and cold with the putter. That's been a prevailing theme of winners of the Valspar Championship of prior years. At 100/1, Mito Pereira is worth picking on your Valspar Championship card.

2022 Valspar Championship Picks – Other Props
Shane Lowry Top 10 – +250
Continue to back Shane Lowry. He's done nothing to show over the last month or so to now decide to be needlessly contrarian. Lowry is a tremendous ball-striker. He's done well on several comp courses I've looked at this week. And he's comfortable plodding around a tough golf course all week. Another Top 10 at +250 is a solid bet this week.
Other Top 10's to Consider
Matthew Fitzpatrick – +275
Abraham Ancer – +350
Tommy Fleetwood – +400
Christiaan Bezuidenhout Top 20 – +225
Christiaan Bezuidenhout has racked up a ton of Top 40 finishes since last fall. He has six Top 40 finishes over his last 10 starts. But what makes me think he'll post a Top 20 this week is his play at some comparable PGA Tour and European Tour golf courses. Bezuidenhout is a former winner at Valderrama. That's a tight, tree-lined positional golf course on the European Tour. He has a pair of Top 5's at Wentworth, a golf course referenced several times in this article. And he has a lot of solid finishes at places like Bay Hill, Harbour Town, and PGA National. While not all those golf courses are perfectly correlated together, there are bits and pieces of each that seem to correlate to Innisbrook. This is his debut at the tournament, but I expect another quality showing. Pick Bezuidenhout for a Top 20 at +225 at the Valspar Championship.
Other Top 20's to Consider
Matthias Schwab – +350
Joel Dahmen – +450
Adam Svensson – +450
David Lipsky – +550
Louis Oosthuizen -115 over Xander Schauffele
Louis Oosthuizen is playing a lot better than the results show. He had a solid T14 finish at the WM Phoenix Open. He got off to a rocky start at the Honda Classic but rallied to put himself inside the Top 20 on Sunday. But he completely screwed the pooch in the Bear Trap all week to make his finish look worse than it really was. And then Louis Oosthuizen was in the mix at last week's PLAYERS Championship. A terrible final round once again ruined a good finish. This seems like a get-right week for Louis Oosthuizen. His track record at the Valspar is very strong. Maybe the solid course history will produce a good result.
He's up against Xander Schauffele head-to-head, which might be a favorable matchup. This is Xander's debut at Innisbrook. And historically speaking, Xander hasn't excelled at a golf course like Innisbrook. Outside of TPC Scottsdale, Xander hasn't had a great track record on overseeded golf courses. And it seems like when Xander comes to a golf course where he can't hit a lot of driver at, he's struggled. I'm also curious if he's playing the Valspar just as a tune up with his eyes set on the Masters in a few weeks. This is his final stroke play tournament before The Masters. And next week's appearance at the WGC Match Play isn't a great warm up for that tournament. I don't think he's all that motivated to grind out a great finish this week should things go awry.
With all that said, Louis Oosthuizen should get things back on track this week and beat Xander Schauffele straight up. Include this matchup on your betting card.
Related Content