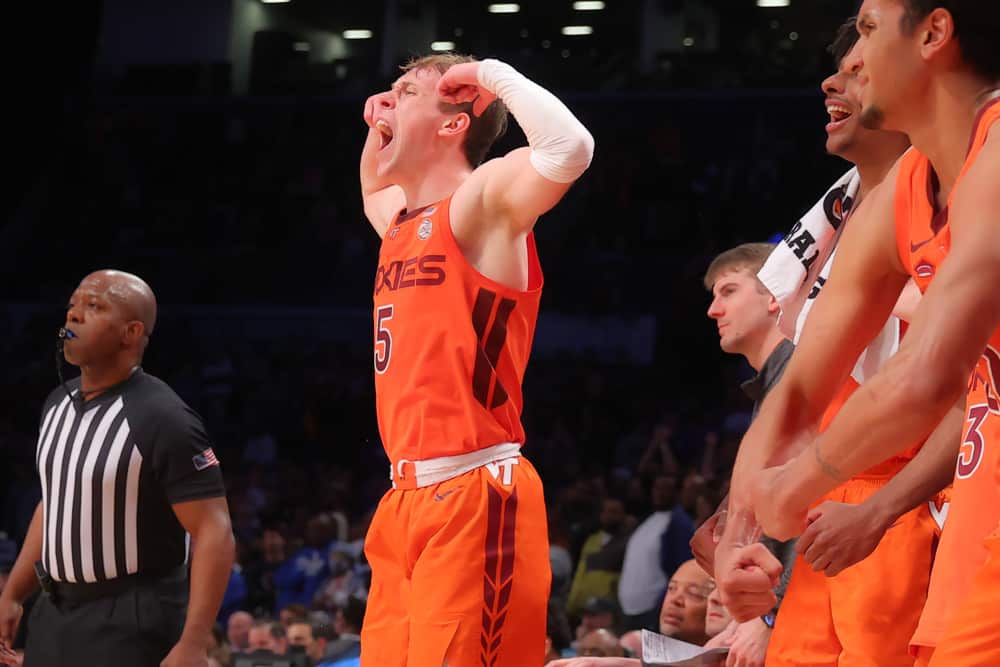 March Madness Predictions Part 2 + Jay Bilas
The guys (@GamblingPodcast) are LIVE from the BlueWire studio at the beautiful Wynn Las Vegas to give out all their March Madness predictions. The guys break down all the college basketball predictions 3/18/22 as part of their podcast. Plus they're joined by ESPN College Basketball Analyst Jay Bilas (@JayBilas) to talk all things March Madness and Coach K's love of gardening.
Then the crew is joined by Senior WynnBET trader Matt Lindeman (@Lindetrain) to break down March Madness from behind the counter. They close things out with their March Madness 2022 bracket predictions picking the Final Four, Sweet Sixteen and National Championship.
Podcast Video
March Madness Betting Odds
| | | | | | | |
| --- | --- | --- | --- | --- | --- | --- |
| Time | # | Teams | Sprd | ML | 1H T | Tot |
| | | | | | | |
| 3/18 9:15 AM | 10 | Loyola Chicago | -1 | -120 | 61.5 | 133 |
| Pittsburg, PA (S) | 7 | Ohio State | | 100 | | |
| 3/18 9:40 AM | 15 | Jacksonville State | | 1000 | 66 | 139 |
| Greenville, SC (MW) | 2 | Auburn | -16 | -2000 | | |
| 3/18 10:45 AM | 14 | Montana State | | 800 | 62 | 132.5 |
| San Diego, CA (W) | 3 | Texas Tech | -14.5 | -1400 | | |
| 3/18 11:00 AM | 13 | Yale | | 800 | 67.5 | 143 |
| Milwauke, WI (E) | 4 | Purdue | -15 | -1400 | | |
| 3/18 11:45 AM | 15 | Delaware | | 800 | 63.5 | 133 |
| Pittsburg, PA (S) | 2 | Villanova | -15 | -1400 | | |
| 3/18 12:10 PM | 10 | Miami | | 105 | 65.5 | 140 |
| Greenville, SC (MW) | 7 | USC | -1.5 | -125 | | |
| 3/18 1:15 PM | 11 | Rutgers/Notre Dame | | | | |
| San Diego, CA (W) | 6 | Alabama | | | | |
| 3/18 1:30 PM | 11 | Virginia Tech | | 100 | 57 | 124.5 |
| Milwauke, WI (E) | 6 | Texas | -1 | -120 | | |
| 3/18 3:50 PM | 13 | Chattanooga | | 260 | 63 | 136.5 |
| Pittsburg, PA (S) | 4 | Illinois | -7.5 | -320 | | |
| 3/18 4:10 PM | 15 | Cal State Fullerton | | 1100 | 69 | 145.5 |
| Greenville, SC (W) | 2 | Duke | -18 | -2500 | | |
| 3/18 4:20 PM | 11 | Iowa State | | 155 | 59.5 | 127.5 |
| Milwauke, WI (MW) | 6 | LSU | -4.5 | -190 | | |
| 3/18 4:27 PM | 16 | Wright State/Bryant | | | | |
| San Diego, CA (S) | 1 | Arizona | | | | |
| 3/18 6:20 PM | 12 | UAB | | 310 | 64 | 136.5 |
| Pittsburg, PA (S) | 5 | Houston | -8 | -400 | | |
| 3/18 6:40 PM | 10 | Davidson | | 100 | 66.5 | 140 |
| Greenville, SC (W) | 7 | Michigan State | -1 | -120 | | |
| 3/18 6:50 PM | 14 | Colgate | | 240 | 65 | 139 |
| Milwauke, WI (MW) | 3 | Wisconsin | -7 | -300 | | |
| 3/18 6:57 PM | 9 | TCU | -1 | -115 | 60.5 | 129 |
| San Diego, CA (S) | 8 | Seton Hall | | -105 | | |
Podcast Transcription