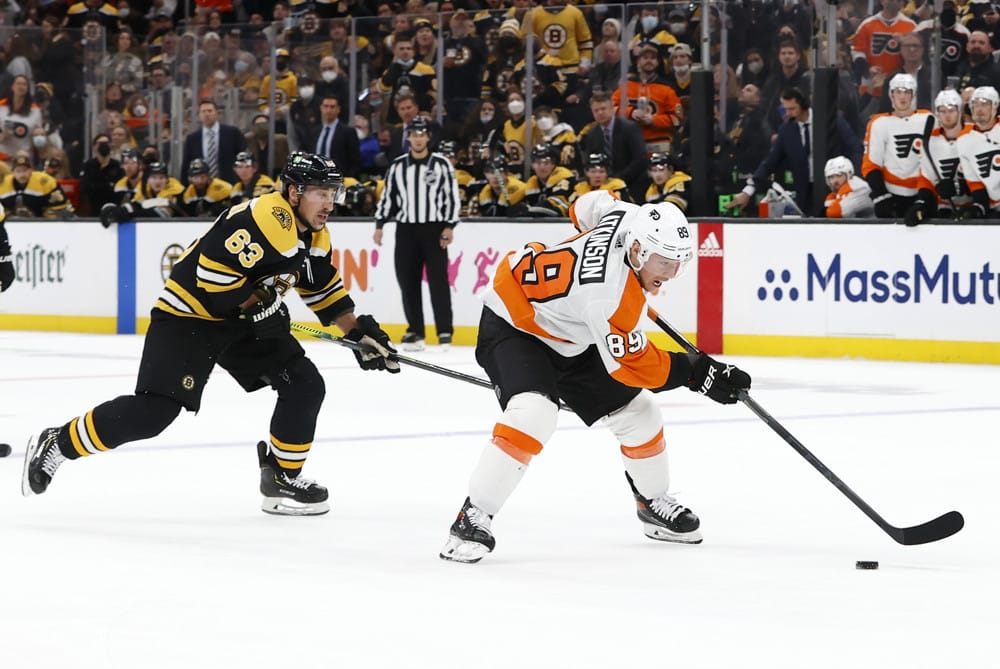 Fantasy Hockey Drop Candidates
We're hitting Week 20 in Fantasy Hockey this upcoming week. It's time to do another inventory check on your fantasy hockey team and see who isn't pulling their weight. Many players with high ownership rates are rotting away on unattended rosters; I should know I just caught one on mine! It's always easy to add players when you're constantly scrambling through waivers for value, but sometimes we forget to do the same audit to our own rosters. This article will review safe drop candidates in Fantasy Hockey; it's time to let go.

C/RW – Ryan Hartman – 70% Rostered
Ryan Hartman has had quite a fall in production as he's only registered seven points in his last 16 games. He started the year hot and became an early-season waiver wire darling. He posted 32 points through his first 36 games behind 18 goals and 14 assists; Hartman was also a +32 through that stretch. Unfortunately, the negative period of games has included just three goals and four assists with a -7 plus/minus rating. Two of those three goals came just two nights ago against the Flyers, there may be hope for Hartman, but I'll need to see more.
It's nice to see Hartman have some recent success, but it's not enough for me to warrant his position on my roster. Hartman averages 8.23 fantasy points per game this season but just 4.30 points per game across the past month. The Wild demoted Hartman to the third line for a stretch of games, but it does appear he's back on the top line again with Kirill Kaprizov and Marcus Foligno. The recent success may have bough Hartman another shot for redemption, but I'm not buying it. His ownership rate is far too high for his current production, clear drop candidate.
LW/C – Tomas Hertl – 84% Rostered
Hertl is another player whose production is spiraling. Tomas had a great start to the season, posting 37 points in 41 games. However, in his last 13 games, Hertl has recorded just 5 points and has a plus/minus rating of -7. The team is playing poorly in general; across the same 13 games, the Sharks have won just three. Hertl deserves to bear the weight of this slump, he's not performing, and the team is losing. He's their line one center; it's his role to jump-start the offense and play meaningful minutes.
Hertl's fantasy production will be difficult to endure for much longer; it just continues to fall. He averages 7.17 fantasy points per game across the length of the season. However, in the last 30 days, he's down to 4.12. The past few weeks are even worse; he's hitting 3.56 in the previous 14 days and under two points per game in the last week. It's not ideal!
Hertl, like Hartman, has some minute opportunity to rebound as a line one center and a healthy diet of minutes. However, like Hartman, I'm not buying. His line of Timo Meier, Alexander Barbanov, and himself aren't playing any defense, making his upside limited even on nights he's found his scoring touch. He meets all the criteria to catch the boot from your roster; see to it.
Tomas Hertl hits Taylor Hall from behind, no call: pic.twitter.com/TbgVZNrM2H

— Blake Thorne (@_BlakeThorne) February 27, 2022
RW – Cam Atkinson – 55% Rostered
Okay, so Cam Atkinson caught me with my pants down. I had him rostered just before I started running numbers for this article. He slipped by! I don't know what else to say other than I had a very lenient matchup last week, and I could afford to hold onto him. Unfortunately, this week isn't the case, and when I reviewed the stats, I should have let go of Atkinson despite the blowout I had rolling in Week 18.
Cam is averaging 7.31 fantasy points per game across the season. However, he's fallen to 2.45 points per game across the past month. I feel more irresponsible with every syllable, haha. It's a bad run, and Atkinson also plays on a bad team. The Flyers are 16-28-10 this season and are ranked 9th for total goals allowed. Atkinson's last ten games highlight just four points and a -5 plus/minus rating. The Flyers have won just two of their last ten, and Atkinson isn't doing much to help turn it around. I don't see him being on championship rosters. He's another easy drop candidate.
cam atkinson: not a baseball player pic.twitter.com/T7MuqAoI8r

— Hockey Wilderness (@hockeywildernes) March 4, 2022
D – Tyson Barrie – 73% Rostered
Tyson Barrie hasn't lived up to his expected fantasy stock this year. Barrie was a 6th round pick in my fantasy draft this season. So I'm surprised to see he's now a fringe roster play. He's recorded just 23 points through 49 games this season. In comparison, he reached 48 points in 56 total games last year. He's taken a step back this season and isn't worth owning at any rate.
Barrie also suffered a recent injury and will be out for the next 7-10 days. That will include the Oiler's next three games at a minimum. His ownership rate is far too high for the production he's provided this season. He does record a fair amount of blocks, nearly one per game, but he doesn't shoot the puck often, and his production is far too sporadic. He's the 78th best defenseman in fantasy in terms of average points per game this season. He's fallen to 101st across the past month. His recent injury and season-long production make him unownable.
Connor McDavid trolling Tyson Barrie in warm up 😂#LetsGoOilers pic.twitter.com/7UT4Okn7D6

— Ferda Oil (@FerdaOil) December 12, 2021
D – John Klingberg – 64% Rostered
Klingberg hasn't been an explosive option in Fantasy Hockey any time this season. He averages just 4.76 fantasy points per game this year, but he's dropped that average considerably across the past two weeks. Klingberg is averaging just 2.35 fantasy points per game in the last 14 days and under two points per game in the previous week.
Klingberg plays a lot of minutes, but the Stars don't score a ton of goals in general. It isn't easy to think an aging defenseman like Klingberg can still contribute at a high rate in the box score. He does get in front of plenty of shots, but not at a consistent pace. The same goes for his shots on goal, he likes to let it rip, but again, there's no consistency behind any layer of his contribution opportunities.

G – Linus Ullmark – 70% Rostered
I honestly still own Ullmark, but I'm not sure how much longer. My strategy is to hold him alongside Jeremy Swayman, who has become the steadfast starting goaltender in Boston. Ullmark is another player on a significant downswing as of late. He averages 10.97 fantasy points per game on the season but has swung to a low 6.65 points per game in the last month.
Ullmark has won just four games in his last ten starts dating back to mid-January. He won 7 of 8 starts before this run and started 13-5 on the season. I'm not sure if the poor play is because he's not getting on the ice as often or because of poor play. The Bruins are giving Swayman the back-to-back starts, so we have to worry about Ullmark's start rate.
I'm rostering both Boston goaltenders to hedge start opportunities. I've been struggling with the position with Ullmark's recent woes, so I was lucky to get Swayman off waivers; I would suggest making that swap if possible. If you too like to live dangerously, you can block up another roster spot and grab both guys like myself.
Linus Ullmark and Jeremy Swayman: Reunited again. pic.twitter.com/9RgHPQm2tz

— Conor Ryan (@ConorRyan_93) February 2, 2022
Stats through Thursday, March 3rd