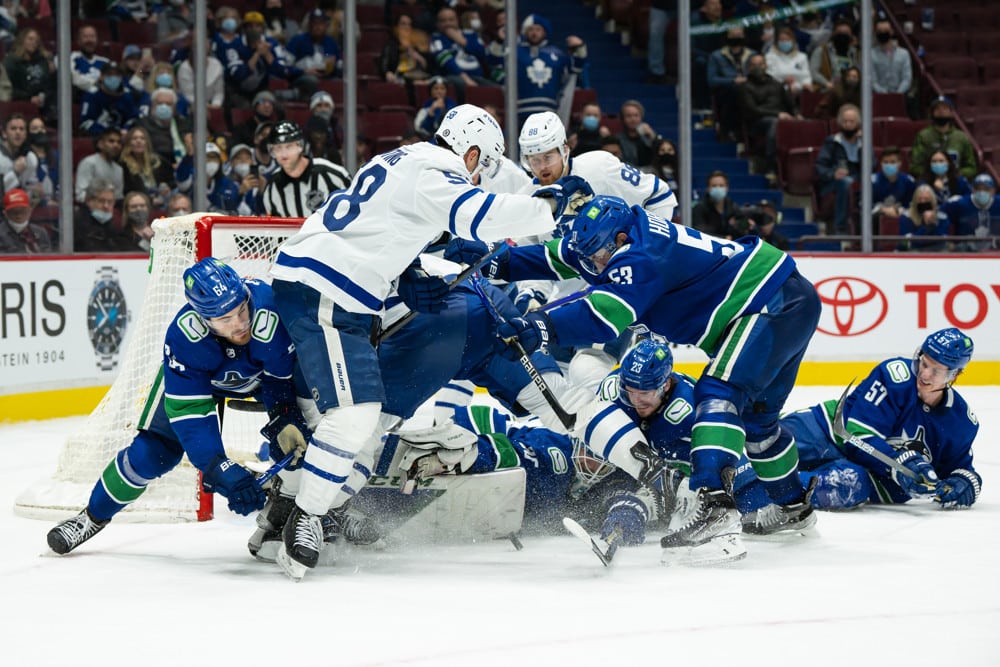 The NHL season is starting to heat up in March. The trade deadline is just a few weeks away and teams are jockeying for playoff position. There's a huge 10-game slate on Saturday, so I wanted to bring you some of my NHL picks, predictions, and best bets for the big slate.
Make sure you bookmark our NHL Picks page here at the Sports Gambling Podcast Network where we make our daily selections!
For today's slate, I'm going to give you my top five NHL picks and best bets for the day. I have picks from 3 p.m. to 10 p.m. EST, so sit back and let's make some money!
All odds via WynnBET & DraftKings
NHL Picks & Predictions: Best Bets for Saturday, March 5th
NHL Picks: Chicago Blackhawks vs. Philadelphia Flyers – 3 p.m. EST
NHL Best Bets: Blackhawks vs. Flyers Over 5.5 (-125)
The Blackhawks and Flyers both have strong goalies in Marc-Andre Fleury and Carter Hart. However, neither of them is starting on Saturday. Instead, it'll be a battle of the backups: Kevin Lankinen (3-5-4, .887 SV%, 3.53 GAA) and Martin Jones (6-10-3, .897 SV%, 3.51 GAA). Jones is even worse in 2022, going 0-6-2 while allowing 29 goals in those eight games with a .874 SV%. Lankinen has started once in the past month, allowing five goals in a win against the Devils.
Both netminders have a goals-against average north of 3.5 on the season, implying at least seven goals in the game. Now, these offenses aren't exactly the best, but they both have enough skill with Jonathan Toews, Patrick Kane, and Alex DeBrincat putting up points for Chicago and Claude Giroux leading the way for Philadelphia.
The Blackhawks have played three of their last four games over the total. They've allowed 17 goals in that span. The Flyers had a few straight unders before Thursday's 5-4 game. However, they have gone over the total in six of their last nine games.
Both teams have been generating chances recently and should be able to put up a few against weak goalies.
---
NHL Picks: Ottawa Senators vs. Arizona Coyotes – 4 p.m. EST
NHL Best Bets: Senators vs. Coyotes Under 5.5 (+110)
The Senators have been one of the most profitable under teams so far this season. Their Over/Under record is 19-33, and the Coyotes also lean to the Under at 24-29. These trends have held up recently with the Senators going Under in two of their past three, five of seven, and seven of 10. This is largely due to a lackluster Senators offense as they've scored two goals or fewer in three straight and four of their last five games.
Arizona has also played a lot of unders recently with it hitting in three of its last four, including a 2-1 win against the high-flying Avalanche on Thursday night. The Coyotes have been able to score two or three while holding their opponent to around there as well.
Matt Murray (.915 SV%, 2.78 GAA) and Scott Wedgewood (.907 SV%, 3.07 GAA) are good enough to keep these weak offenses at bay.
---
NHL Picks: Vancouver Canucks vs. Toronto Maple Leafs – 7 p.m. EST
NHL Best Bets: Vancouver Canucks +210
This is purely a value play on Vancouver. The Canucks have won four of their last five games with the lone loss on the second half of a back-to-back with Jaroslav Halak in net. It should be Thatcher Demko in this matchup in Toronto against the Leafs, who got blown out by the Sabres on Wednesday night.
Toronto has had its troubles as favorites recently, losing to the Blues, Canadiens, and Blue Jackets as favorites of -210, -390, and -265.
Thatcher Demko (24-16-2, .918 SV%, 2.60 GAA) can steal a win for the Canucks, just as he did last month in a 51-save performance. Getting Vancouver above +200 is great value.
---
NHL Picks: Nashville Predators vs. San Jose Sharks – 8 p.m. EST
NHL Best Bets: Nashville Predators -165
The Predators aren't playing too well recently but the Sharks have been much, much worse. San Jose has a league-low 38.83% xGF at 5-on-5 play in its last 10 games and 45.75% in its last 25. The Sharks had just 17 shots on goal in their last game, which was somehow one better than their shot total two games prior (with a 24-shot performance in between). They aren't generating much of anything right now.
Nashville won two straight before the outdoor game and has now lost two straight after a frustrating 4-3 loss in Seattle. The Predators need to get back on track to keep their once-secure playoff spot. This is a great spot to do it in San Jose.
Juuse Saros has been strong in the Nashville crease this season, going 25-17-3 with a .922 SV% and 2.50 GAA. The Sharks, on the other hand, are having some goaltending issues with James Reimer and Adin Hill hurt. They recently reacquired Alex Stalock, who has a .862 SV% in five AHL games this season.
The Predators should be much bigger favorites than -165.
---
NHL Picks: Calgary Flames vs. Colorado Avalanche – 10 p.m. EST
NHL Best Bets: Colorado Avalanche -150
The Avalanche do not lose two straight games. They've been able to bounce back strong from every loss since losing two straight to the Blue Jackets way back in early November.
It helps that Colorado is playing well. The Avs are coming off a game that they probably should've won. They had a 43-29 shots on goal advantage but lost 2-1 thanks to a great performance by Karel Vejmelka. Colorado won four straight games –– and six of seven –– prior to that loss.
The Flames are still one of the hottest teams in the league but suffered a tough loss at home to Montreal on Thursday. Now they head into Colorado, where the Avalanche are a sparkling 23-3-2 this season. The Flames haven't been the same on the road (17-10-2) and they've lost five straight as a road underdog.
The Avalanche are one of the Stanley Cup favorites for a reason. Back them tonight at home.
---