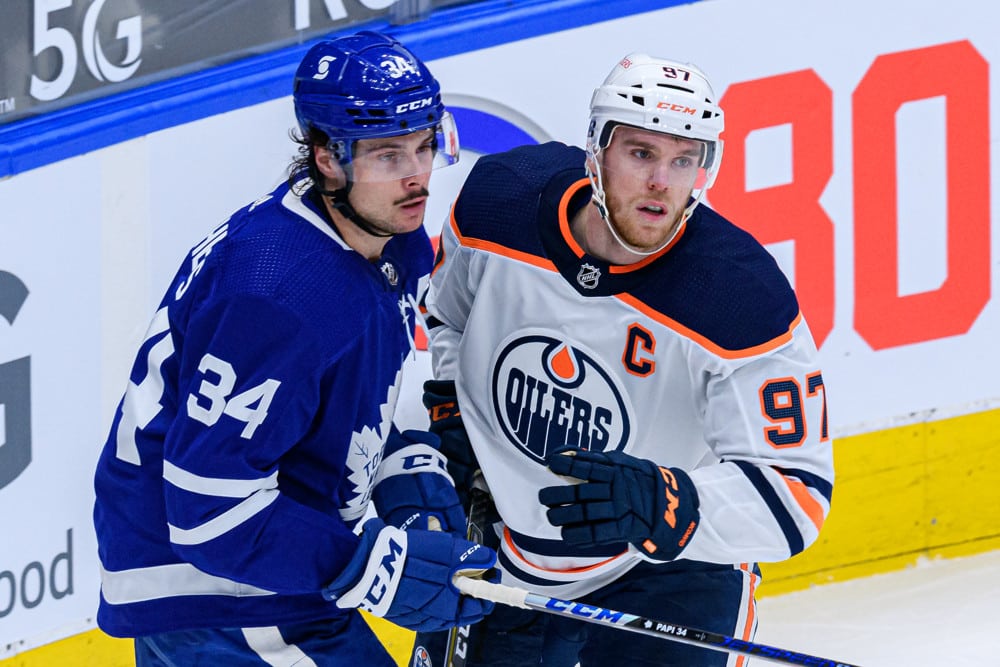 Happy Saturday, hockey fans! With College Football and the NFL seasons in the books, today is all about hockey! Well, most Saturdays are at least. There are seven NHL games scheduled for Saturday, February 19th. I'll be going through each and every game with NHL Picks, Predictions, and Best Bets for all seven contests.
Make sure you bookmark our NHL Picks page here at the Sports Gambling Podcast Network where we make our daily selections!
All odds via WynnBET & DraftKings
NHL Picks & Predictions: Best Bets for Every Game on Saturday, February 19th
NHL Picks: Colorado Avalanche vs. Buffalo Sabres – 1 p.m. EST
NHL Best Bets: Avalanche -1.5 (-140)
The Avalanche are the best team in the league and the Sabres are toward the bottom. Colorado is a huge favorite at -370 on the moneyline, so the puck line is the option here.
The Avs are an incredible 18-1-2 since the holiday break, outscoring teams 78-44 in those 21 games. Of those 18 wins, 10 were by at least two goals –– including a 4-1 win against the Sabres on January 30th.
The Sabres are coming off a 3-1 loss to the lowly Senators. They've been decent in their past eight games (3-4-1), but all four regulation losses were by at least two goals.
NHL Picks: Edmonton Oilers vs. Winnipeg Jets – 4 p.m. EST
NHL Best Bets: Oilers (-135)
I'm going with another road favorite in an afternoon game. The Oilers have won four in a row with all four wins coming by at least two goals, if you prefer the puck line (-1.5 at +175)
The Oilers stumbled out of the All-Star break with back-to-back 4-0 and 4-1 losses. However, they've outscored the opposition 18-6 in their last four games –– including 12-5 in their last two games.
Winnipeg has been playing well as of late, too. The Jets beat the Wild 6-3 and Seattle 5-3 on back-to-back nights, but this is a third game in four nights situation. They're 1-5 in their last six in this situation and also 1-5 in their last six games following a win.
NHL Picks: Boston Bruins vs. Ottawa Senators – 7 p.m. EST
NHL Best Bets: Under 5.5 (-105)
The Bruins and Senators are both struggling offensively.
Boston has scored one goal in each of its past two games and has just four goals in its past four games. Since the All-Star break, the B's have scored six goals in five games. Brad Marchand is still suspended for the Bruins as well.
The Senators have been a bit better, but they've played to the under in 12 of their past 14 games. I'm sensing another low-scoring game for the Sens.
NHL Picks: St. Louis Blues vs. Toronto Maple Leafs – 7 p.m. EST
NHL Predictions: First Period Over 1.5 Goals (-155) & Maple Leafs (-180)
I've been throwing out some first-period bets on the podcast and in the slack group recently, so this shouldn't be too surprising. These are two teams that score a lot of first-period goals.
In each of their last 10 games, the Blues have outscored teams 14-12 in the first period while the Leafs are at 15-10. That's resulted in 10 straight first-period overs (11, actually) for the Blues and seven out of 10 for the Leafs.
I'll bet on those trends to continue tonight.
I also like the Leafs to steamroll the Blues at home. St. Louis lost in overtime to the Canadiens on Thursday, marking the Blues' fourth loss in their last seven games. Meanwhile, Toronto beat Pittsburgh 4-1 and Seattle 6-2 in its past two contests. The Leafs are also 18-4-1 at home this season while the Blues are 10-8-4 on the road.
NHL Picks: Los Angeles Kings vs. Arizona Coyotes – 9 p.m. EST
NHL Best Bets: Kings (-200)
The Kings are coming off a hard-fought overtime win in Las Vegas on Friday night and should ride that momentum on a short trip to Arizona. The Coyotes have been there waiting for them after a tough 4-3 loss to the Lightning last week. It's going to be fatigue vs. rest here with the Coyotes not playing a game since last Friday.
Despite the Kings playing on Friday, I like them tonight in Arizona. The Kings are 4-3-2 on no days rest this season (2-1-1 after a win) while the Coyotes have shown their rust with 3+ days off this year, going 1-6-1 in that situation this season.
Cal Petersen has been a solid backup for the Kings with a 2.69 GAA this season. The Kings have won five straight meetings in Arizona and should make it six tonight.
NHL Picks: Seattle Kraken vs. Calgary Flames – 10 p.m. EST
NHL Predictions: Flames -1.5 (-115) / Flames Team Total Over 4.5 (+160)
The Flames are red-hot right now, pun intended. Calgary has won eight in a row, 10 of 11, and 11 of 13. The Flames outscored their opponents 59-25 in the last 13 games, including an astounding 28-8 in the last five. That's incredible.
Then there's the Kraken. Seattle has lost two straight, three of four, and five of seven. They've allowed 25 goals in those seven games, including 11 in the last two and 19 in the last four.
The Flames should win by at least two goals and I like the +160 odds of the Team Total Over 4.5 as they've reached that mark in five straight games while the Kraken have allowed five or more in two straight and three of four.
NHL Picks: Anaheim Ducks vs. Vancouver Canucks – 10 p.m. EST
NHL Best Bets: Ducks (+135)
We'll be quacking tonight. I like the Ducks as road underdogs in Vancouver.
Anaheim has struggled since the All-Star break with three losses, including two blowouts to Calgary (6-3) and Edmonton (7-3). However, Vancouver isn't quite up to that caliber offensively.
Vancouver scratched out an overtime win against San Jose on Thursday night and barely beat Toronto 3-2 last Saturday while getting outshot 53-24. I don't think the Canucks should be this big of favorites against a hungry Ducks team.

---