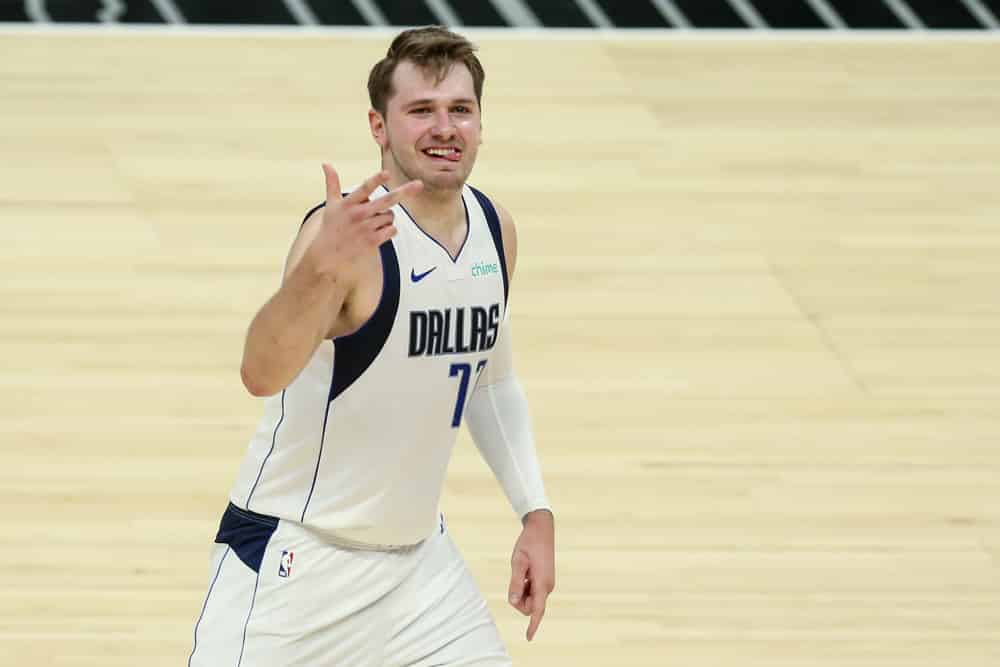 The All-Star break is right around the corner with events starting on Friday. However, we've got one more slate of games to get through first this Thursday. Ten total teams are in action across Thursday, giving you one more chance to make some money before the weekend's festivities. And lucky for you, we have the NBA DFS lineup for you to tail and make it even easier.
(NOTE: This NBA DFS lineup was made ahead of time. Always check for the latest injuries and inactives prior to lineups locking. )

NBA DFS Picks for Thursday – Feb 17th
After turning in a 45- and a 51-point performance in back-to-back games, Doncic had a bit of an off night on Tuesday. The Mavs superstar scored just 21 points en route to a 45.5 fantasy point game. That's not exactly what we want out of an NBA DFS salary like this, but Doncic rarely has two bad games in a row. In each of the past two games when he scored below 50 fantasy points, he bounced back with a triple-double and a game with one assist short of a triple-double. I expect that same return here.
Trying to go toe-to-toe with Doncic is McCollum who, if you've missed it, has been putting up some numbers in New Orleans. Over the last three games, he's averaging over 50 fantasy points. This is all largely thanks to his increased shooting percentage, which has been over 50% in that span. His cost hasn't quite caught up with his production yet, and until it does he need to be in every NBA DFS lineup.
Speaking of salaries that haven't quite caught up to production, Seth Curry has quietly gone off for 20+ points in the last two games and put up at least 34.4 fantasy points in both of those contests. The result? His NBA DFS salary went down. With Kyrie Irving not playing at home tonight, Curry may even have room to grow on those numbers.
Up until yesterday, I would hesitate to put the Turkish big man in any NBA DFS lineup, but then he showed us more of what he can do when he starts. He went for a massive 19 and 14 double-double while in the starting lineup – good for nearly 50 fantasy points. Although that may not be sustainable, it's worth mentioning in the two previous starts he had this month, he logged at least 25 fantasy points. Even those lower scores would justify his salary here.
Washington ranks 26th in fantasy points allowed to centers. That's already a tick in the right direction for Drummond, but it's not the only one. Since moving to Brooklyn he's found himself again, going for 33.3 and 41.3 fantasy points respectively. On Tuesday, he pulled down 19 rebounds and looked like the Drummond we used to pay a much higher NBA DFS salary for.
Kispert is sort of a boom or bust candidate for me. The good news is regardless of how bad he shoots, the Wizards appear to be bent on giving him at least 30 minutes of floor time, which you're rarely going to see with someone at that NBA DFS cost. When he's hot shooting, he's good for 20 points and 30+ fantasy points. I'm simply banking on exactly that here.
I like Covington as a low floor NBA DFS guy. He's the least expensive guy I'm rostering in this lineup, but I think for that reason, he's really safe. Sure his minutes have gone down. His offensive production is not much to write home about, but his defense keeps putting up fantasy points. He's had at least one block in nine of his last 12 games and he has a steal in all 12 of those. Those stats should continue to provide that steady floor for him.
We've got four straight games of double-figure scoring for Avdija with a double-double slipped in there. His rebounding seems to have picked up and he's averaging over 33 fantasy points a game over his last two. Brooklyn is 17th in the league in opponents rebounding, which means that he should have a chance to put up another double-double here and vastly exceed his NBA DFS projections.

Make sure to check out all the great NBA coverage we have to offer and be sure to listen to the NBA Gambling Podcast, which airs twice a week. This week the guys are breaking down all the best plays for the coming days.  
Related Content