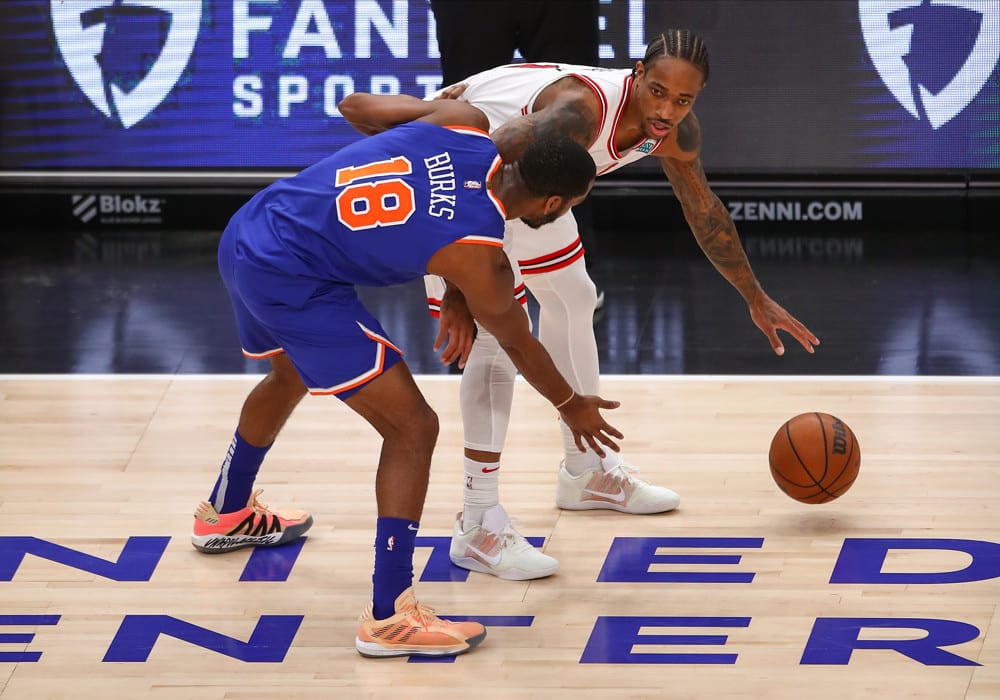 As the NBA head into their All-Star festivities this weekend, that also means the trade deadline for fantasy basketball is creeping up on us. But who needs to make a trade when there are gems to be had – for free – on the fantasy basketball waiver wire. Here are ten such players for your consideration.
(only includes players rostered in less than 50% of Yahoo Fantasy leagues)

Fantasy Basketball Waiver Wire: Best Pickups Feb 16th
Alec Burks – New York – PG/SG/SF – 30% rostered
11.1 ppg, 4.4 rpg, 2.6 apg, 1.1 spg, 0.3 bpg, 1.7 3PT/G, 38.1% FG, 82.5% FT, 1.0 tpg
For three weeks running (I think), New York combo guard/forward Alec Burks is the top-rated player available on fantasy basketball waiver wires. It's probably the poor shooting and inconsistency that is keeping fantasy players from picking him up, but he does bring plenty of numbers to help a squad in need. Over the past week, he averaged 11.3 ppg, 6.0 rpg, 4.0 apg, and had a couple of steals and a couple of blocks in three games.
11.8 ppg, 4.2 rpg, 1.3 apg, 0.9 spg, 0.2 bpg, 2.4 3PT/G, 46.0% FG, 85.5% FT, 0.6 tpg
Come for the three-pointers, stick around for the rest of the solid stat line. Third-year man Cameron Johnson continues to be a key contributor for the Suns this season, posting career numbers across pretty much all categories. The three-pointers are the main reason you'd want to pluck him off of the fantasy basketball waiver wire, but the rebounds are a nice bonus as well.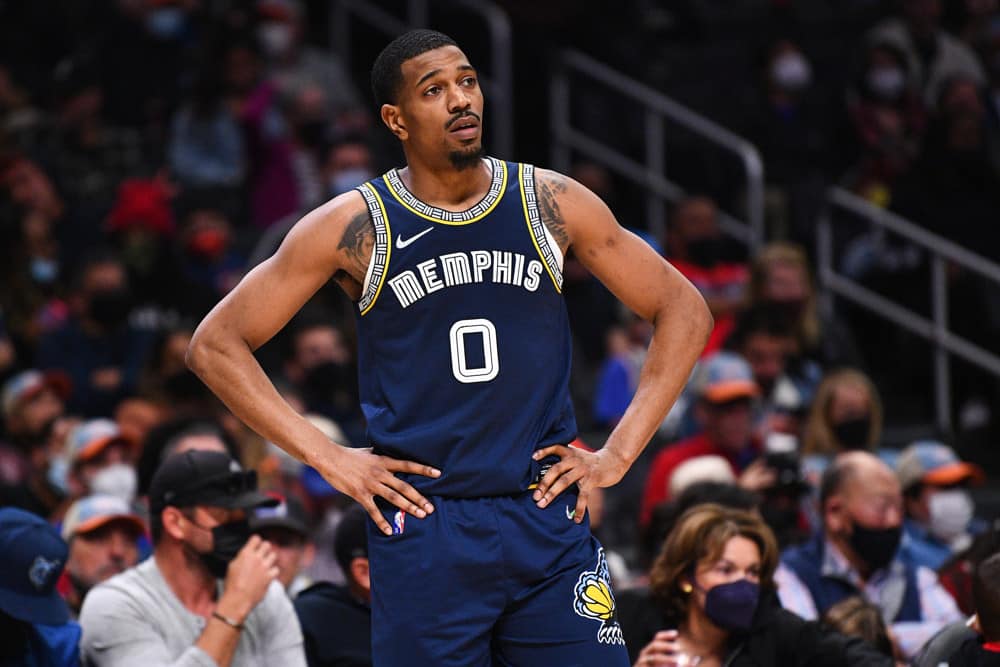 9.9 ppg, 4.6 rpg, 2.7 apg, 1.6 spg, 0.6 bpg, 1.6 3PT/G, 38.4% FG, 70.7% FT, 1.4 tpg
He still can't shoot to save his life, but no player sitting on fantasy basketball waiver wires is perfect. Shooting aside, De'Anthony Melton stuffs the stat-sheet for the surprising Memphis Grizzlies. Over the past week, Melton has put up 12.0 ppg, 5.0 rpg, 2.3 apg, and 1.7 spg. Not too shabby for a fantasy basketball waiver wire castaway.

11.4 ppg, 3.4 rpg, 1.7 apg, 1.0 spg, 0.4 bpg, 1.9 3PT/G, 40.6% FG, 89.3% FT, 1.2 tpg
What's it going to take for some respect to be put on KCP's name (as the kids say)?! He continues to put up well-rounded stat lines in the nation's capital, yet is only rostered in a quarter of the fantasy basketball leagues out there. In the past week, he averaged 13.3 ppg, 3.7 rpg, 1.7 apg, 1.0 spg, and two three-pointers made per game, including four in his last contest. Get him off the fantasy basketball waiver wire so I can stop writing about him, ok?!
Cam Thomas – Brooklyn – SG – 33%
9.3 ppg, 2.5 rpg, 1.3 apg, 0.5 spg, 0.2 bpg, 0.8 3PT/G, 44.8% FG, 81.7% FT, 0.8 tpg
The Nets might have been slumping hard over the past few weeks, but their confident rookie Cam Thomas has not been. In fact, over the past 14 days, he's been knocking on the door of cracking the top 50 in fantasy basketball production. In six games since February 4th, he's averaged 21.7 ppg, 3.8 rpg, 3.0 apg, and 1.0 spg. He should be rostered now while he's still hot and still available on the vast majority of fantasy basketball waiver wires out there.
11.2 ppg, 4.9 rpg, 1.2 apg, 1.2 spg, 0.3 bpg, 0.4 3PT/G, 49.9% FG, 64.5% FT, 1.0 tpg
Along with Thomas, Hamidou Diallo is a brand new addition to our fantasy basketball waiver wire list after a scorching hot February thus far. While the return of Cade Cunningham will hurt his stock a bit, he's probably still worth a pick-up if he's available on your fantasy basketball waiver wire, as he's still had solid games since Cunningham came back into the fold a few games ago. Since February 4th, Diallo has averaged 15.5 ppg, 8.0 rpg, and 1.3 spg. With numbers like that, he surely will keep getting plenty of burn for the floundering Pistons.
Other fantasy basketball waiver wire players worth checking out: Dorian Finney-Smith, Malik Beasley, Carmelo Anthony (if back from injury), Royce O'Neale
Related Content