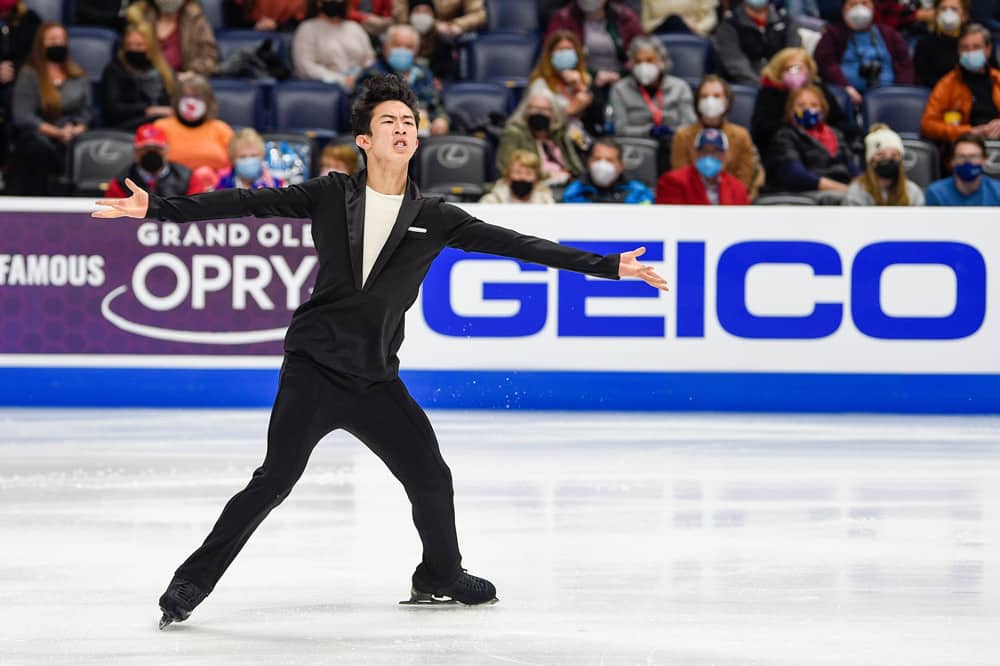 Click here for our full Olympic coverage
We're not even halfway through the Winter Olympics and we have been gifted with some high-level action across many sports. But tonight is an opportunity to witness one of the most coveted Olympic sports, figure skating. And more specifically, men's figure skating. The sport made its debut in the 1908 Summer Olympics, yes you heard that right. Then it was added to the Winter Olympics during its inaugural event in 1924, where Gillis Grafström of Sweden came away with the gold medal. But that's old news, now it's time to start looking forward to this year's contest. Below is your betting preview for the Men's Singles Figure Skating.
What does THAT Short Program mean to Nathan Chen?

His reaction says it all. #WinterOlympics pic.twitter.com/WWopO7p9Nx

— NBC Sports (@NBCSports) February 8, 2022
When to watch:  Wednesday, February 9th, 8:30 pm Eastern
Where to watch: Live on NBC or stream on Peacock

Men's Singles Figure Skating Betting Preview
The Favorites
Nathen Chen – USA (-2000)
All eyes are on the USA with Nathan Chen coming in as the straight-up favorite, getting minus odds against a field of 29 other skaters. He does not need much of an introduction, as the most casual Winter Olympic fan has heard his name coming into this year's game. He has held a top-four national ranking for the last four years and in that span since the 2018 Winter Olympics, where he placed third, has won ten straight individual competitions. His most recent feat was winning the 2022 U.S. Championships. This gives him momentum coming into Beijing.
Yuma Kagiyama – Japan (+900)
The 18-year-old out of Karuizawa, Japan is set to make his Olympic debut this year and it seems the oddsmakers are not rattled with his youth and lack of experience by making him one of the favorites in this year's event. What has boosted Yuma's ego is his silver medal finish in the 2021 World Championships in Stockholm, Sweden. That finish put him ahead of Yuzuru Hanyu, who finished with a bronze. There is always a youthful take over of the Olympics and Yuma is more than capable of holding his own. He can very well place in this event, and who knows? Maybe steal gold from Chen?
The Field
Shoma Uno – Japan (+2500)
Japan has brought a squad to the Male's Figure Skating event this year, and this team comes with Shoma Uno. Although Japan has not had a rich history in Male's Figure Skating, most of their success has come recently. This includes Shoma Uno's silver medal finish at the 2018 games, behind Yuzuru Hanyu. In his most recent event, Uno placed second at the 2021 Japanese Championships finishing behind, you know it, Yuzuru Hanyu. Shoma Uno does not have a rich history of taking gold home, only finishing first in the Four Continents Championships in 2019. He has an uphill battle to fight in order to finish first in this year's event.
Yuzuru Hanyu – Japan (+3300)
Two-time Olympic gold medalist, Yuzuru Hanyu is considered to be one of the most successful male figure skaters to ever touch the ice. Along with his two gold medals (which are the only two Japan has ever won), he also has obtained two top finishes in the World Championships and four first-place finishes in the Grand Prix Final. Can Yuzuru Hanyu find his way back to the podium and be the first to three-peat in Male Figure Skating?
Daniel Grassl – Italy (+5000)
Grassl is another young skater with quite a small resume coming into this year's event. His success comes from the start of this year's season; taking the gold medal on his home ice at the 2021 CS Lombardia Trophy and finally getting the silver medal at the 2022 European Championships.
Jason Brown – USA (+6600)
Jason Brown comes in as the second favorite American in the odds (since Vincent Zhou had to withdraw from a positive Covid test, and he is also the most veteran American skater in this event. He has been ranked in the top ten internationally for six of the last seven years and in that span has a bronze medal finish in the 2014 Winter Olympics. He has not seen much success in the last couple of years and will be looking to bounce back in this year's event.
Keegan Messing – Canada (+100000)
American-born Keegan Messing actually has dual citizenship for both the U.S. and Canada. This will be his second time representing Canada in the Winter Olympics, placing twelfth in the 2018 winter sports. His qualifier comes after receiving the gold medal in the 2022 Canadian Championships.
Mark Kindratiuk – Russian Olympic Committee (+30000)
Mark Kindratiuk is an 18-year-old Russian skater who has just recently come onto the scene. In his young career, he has already secured a gold medal from the 2022 European Championships. An accomplishment he was not expecting, stating he was only aiming to get top three. This allowed him onto ROC's skate team, where they just recently won gold over USA and Japan. The Russian's have always been on the heels of the Americans with one less gold medal in Men's Figure Skating. This makes Mark a dangerous loomer as an outsider looking in.

Final Thoughts and Best Bets
Regardless of the outcome of the Men's Figure Skating event, we are in for a treat. Could Nathan Chen hold his dominance and secure gold? Will Yuzuru Hanyu go for three straight? Or could the likes of Yuma or Shoma Uno come in and mix up the top three? My advice will be this, if you don't want to lay the juice with Nathan Chen, there is still a lot of value in Yuzuru Hanyu to win gold. My best bets will be Yuzuru for gold at (+3300) and if your books offer it, then I am sure you can find Yuma Kagiyama to around even odds to place in the top three.
Best of luck!
RELATED CONTENT