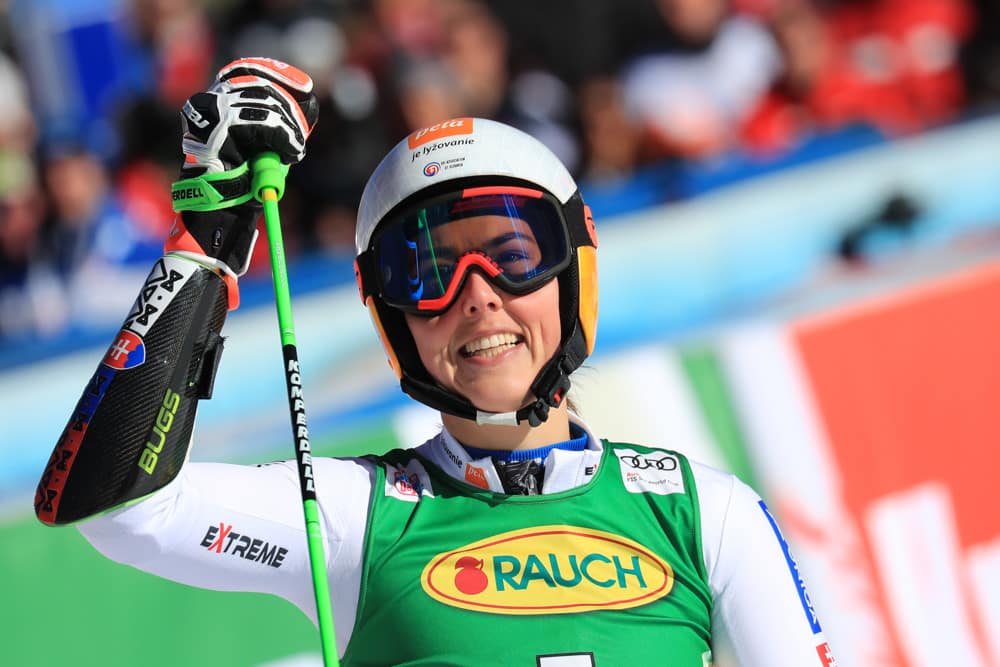 This year's Olympic Women's Slalom event features one of the most anticipated head-to-head matchups of the Games. In one corner there is the two-time Olympic Gold medalist and three-time Overall World Cup champion Mikaela Shiffrin. Standing in opposition is Petra Vlhova representing Slovakia. These two have built up a healthy rivalry over the last couple of years and look to settle the score this week.
By looking at the odds, you would think this is basically a two-horse race for the gold medal. The next closest odds for a championship comes in at 14/1 to stand at the top of the podium. Of course, with as dominant as the top two competitors have been, the lines are not without merit. So, the question is, which of the two will take home the top prize? Or, is it possible that someone will have the run of their lives and steal the grand prize?
Click here for our full Olympic coverage
2022 Olympic Women's Slalom Betting Preview
Top Tier Bets
Petra Vlhova – Slovakia (-120)
Last season, Petra Vlhova won her first Overall World Cup championship. In the process, she unseated Mikaela Shiffrin who had occupied that space in the three prior seasons. Currently, she leads the World Cup slalom standings with a sizeable lead over Shiffrin for the number one spot. Through seven of the nine events this season, Vlhova has yet to finish outside of second place. This includes five wins.
This is @PetraVlhova 's hard-fought run that allows her to win her 1️⃣7️⃣th career slalom!#fisalpine pic.twitter.com/f4Qc3bni5J

— FIS Alpine (@fisalpine) January 9, 2022
She's already gone on record that she is confident that she can not only medal for the first time in her Olympic career, but do it with the highest marks possible. Vlhova feels as if she has enough in her to pull off the upset over Shiffrin even though on paper, she is the favorite. She had the unfortunate luck of breaking powder with her first run on the Giant Slalom. As a result, she was mired in the 13th position. She'll hope for better conditions for the Slalom proper.
Mikaela Shiffrin – United States (+110)
All eyes are on Mikaela Shiffrin in Beijing this year. Shiffrin has dominated the Olympic Women's Slalom event since just before her 19th birthday. In the 2014 Sochi Games, she became the youngest woman to win an Olympic gold medal in this event. Since that time, she has gone on to win three straight overall titles in the World Cup between 2017 and 2019. She started the Olympics as the heavy favorite to win the Giant Slalom event.
"I won't hide the disappointment, but I'm also not going to dwell on it because that's not going to help me at all."

Mikaela Shiffrin isn't letting her wipe out during the giant slalom race keep her down.

(via @NBCOlympics)pic.twitter.com/6Ec7xb3rbh

— Yahoo Sports (@YahooSports) February 7, 2022
Shiffrin spent some time fighting off COVID before heading to Beijing, so she'll be clearing out some cobwebs to be certain. She'll also be looking to wipe the bad taste of a DNF on her first run in the Giant Slalom event Sunday night. Look for her to attack this smaller hill with a purpose. Despite the shock of her disappointing first run on the slopes, she is still a feared competitor and a frontrunner for this gold medal.
Other Gold Medal Contenders
Wendy Holdener – Switzerland (+1400)
While the two big dogs have been fighting it out at the top of the World Cup standings, Wendy Holdener is parked in third place. What's more, she's not that far off from Shiffrin for second place. So far in the 2021/2022 season, she has a second-place and third-place finish. Unfortunately, she is coming into Beijing with a DNF on her second run at her last event in Germany.
She turned in the tenth best run in her first on the Giant Slalom. To be fair, most of the heavy hitters suffered some sort of tragedy on that run. For this bet to hit, it will take similar conditions to the Giant Slalom in which the front runners struggle. If you are looking to sprinkle some extra action around, Holdener comes into play.
Katharina Liensberger – Austira (+2200)
Only seven women have been on the slalom podium over the course of the World Cup season and as you can guess, Katharina Liensberger is one of them. Liensberger has both a bronze and a silver on her World Cup 2022 resume. Both of them came back-to-back to both end 2021 and begin the new year. Her best outing of the season came at an event in which Shiffrin did not participate.
https://twitter.com/fisalpine/status/1478415393312190471
At the end of her first run on the Giant Slalom course, Liensberger found herself tied with Petra Vlhova in 13th place. We have seen that all it takes is a boot in the snow to turn this whole event on its head. She'll have at least one more competitive run on the slope more than some of her competition. That might be enough to hang a gold medal around her neck at the end of the Olympic Women's Slalom event.

Keep An Eye On
Katharina Truppe – Austria (+10000)
With a heavy charge down the Giant Slalom course, Katharina Truppe announced her presence at the Olympics. The Austrian ended in second place at the end of the run. She attacked the course while still maintaining a smooth composure down the hill. Her early success could give her some confidence as she enters her second event.
RELATED CONTENT