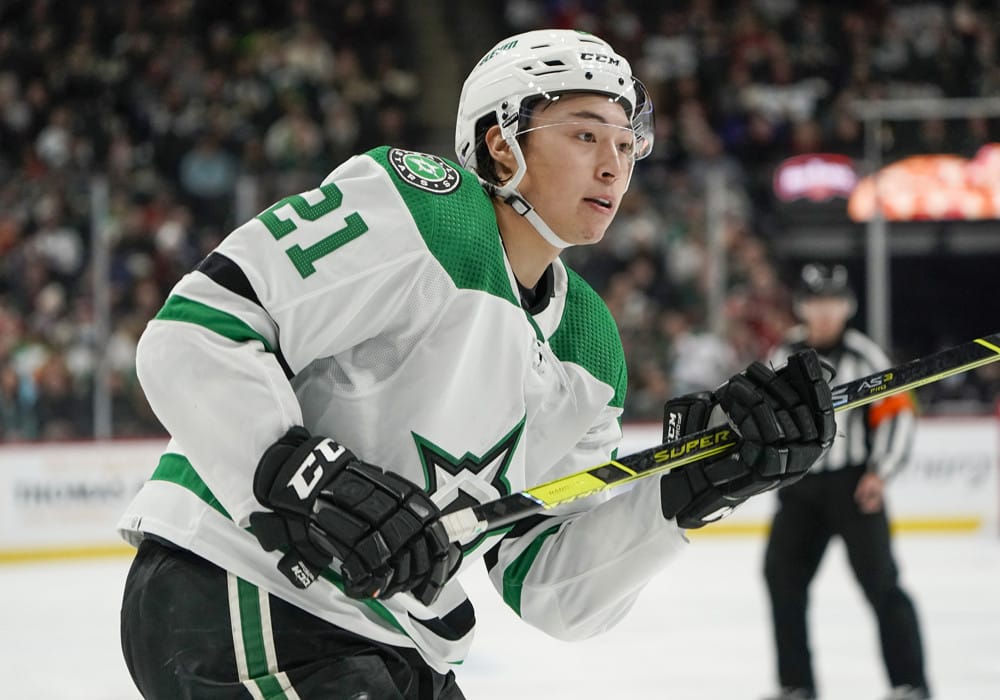 We're quickly approaching the Trade Deadlines in Fantasy Hockey. Now is the time to make your final assessments and decide whether this is the year to make a run or if it's time to face the music and start scouting for next season. I recommend playing in Dynasty Fantasy Hockey formats because it will keep you involved all year round. You get to play manager even when your team underperforms or hauls in mass injuries. This article will review Trade Deadline Buy Options in Dynasty Formats. These players will get you a head start for 2023 and many seasons to come. For each buy option, there is a sell option of a player (or tier of players) to trade for the targeted buy.
Fantasy Hockey: Dynasty Buy & Sell Options
Buy: Jack Eichel – C – Vegas Golden Knights
Eichel has been a very up and down player since coming into the NHL in 2015 as an 18 years old rookie. He exploded on the scene, scoring 24 goals and 32 assists in 81 games through his first season. Eichel has always played with a great pace on offense, as he's registered 355 career points in 375 games. His drawbacks have always been his back-end inconsistencies, as he's a -69 across his career. Another negative narrative he's faced has been his availability; Eichel hasn't played close to an entire season since his rookie year. While those issues may hold back others from targeting Eichel, I'm excited about his coming resurgence in Vegas, as he should be returning from injury in a matter of weeks.
The negative narratives aren't enough for me to stay away from his raw talent and the upside of playing on a team like Vegas. Sure Eichel had his low moments, but let's not forget that he played on a terrible Buffalo Sabres roster. During Eichel's tenure, the team would go 171-222-60 and host three different head coaches. Before this season, Vegas was 173-94-24; they're a team built to win since their inception; they will crack the code with Eichel and unlock his potential. Eichel has excellent vision, speed, and offensive awareness. He also knows how to leverage his size and speed through the middle of the ice; he'll add another layer to an already potent offense that's top five in the league in total goals scored.
Sell: Claude Giroux – C/LW – Philadelphia Flyers
I'd love to move some aging Centers like Evgeni Malkin or Claude Giroux for Eichel. Eichel is still 25, and I expect elite production through his next five seasons. Malkin and Giroux could help a team win now, but you may need to sprinkle in a draft pick to sweeten the pot with their declining ages. Anyone who held Eichel this long may also want to see what he can do on the ice, don't let them! Try to get a deal done before Eichel gets ice time and his value soars.
Jack Eichel has stepped on the ice at City National Arena. pic.twitter.com/04cJWOmbWE

— SinBin.vegas (@SinBinVegas) January 11, 2022
---
Buy: Jason Robertson – LW – Dallas Stars
Robertson is a huge breakout player for the Dallas Stars. He's playing just his 2nd season as an NHL starter but has recorded 85 points through 86 career games. This year's production has been fantastic as he's recorded 16 goals and 23 assists through 32 games played. He plays very well on both ends of the ice as he's a +14 on the year and +27 through his first few seasons. He played in 51 games last season and recorded 45 points. It's time to buy him in Fantasy Hockey before he becomes more expensive than he already may be.
Robertson is not a Buy Low Candidate; his production at 22 will be very desirable to Dynasty owners. Robertson positions himself very well on the ice as his lack of speed is the most significant knock he faces. He's an intelligent player who fills open space to create plays. I'm all in on his value; I see him becoming a huge star in the NHL.
Sell: Matt Duchene – C – Nashville Predators
I like moving an older player like Matt Duchene for Jason Robertson. This season, Duchene has 357.00 Fantasy Points on the back of 21 goals and 19 assists. He's a player that helps a team win now and still provides solid production for the next season or two. If that won't get it done, then I'd say add in a draft pick you feel you can afford to lose for an up-and-coming star like Robertson.
MID-AIR SCORE 😲

Jason Robertson hit an incredible goal. pic.twitter.com/hm4Ssp375r

— SportsCenter (@SportsCenter) January 21, 2022
---
Buy: Lucas Raymond – RW – Detroit Red Wings
Raymond has been one of the shining young stars for the Detroit Red Wings. That club is making solid strides in becoming more well-rounded and competitive with its young group of talent. As a rookie, Raymond is third on the team in total points. He's recorded 34 points behind 11 goals and 23 assists through 43 games of action this year. Raymond has played every game this season and is an even zero in the plus/minus column. The team is top six in the NHL in total goals against, so all things considered, an even zero is solid for him.
Raymond is a fantastic skater with elite vision and puck handling skills. He's a bit undersized at 5'10 and 183lbs, but he's just 19 years of age and will grow in size in the upcoming seasons. Lucas is a versatile player and can play both ends of the ice and log time on the powerplay and penalty kill. He has a ton of upside, but he's still very buyable because the production hasn't boomed just yet.
Sell: Logan Couture – C – San Jose Sharks
I don't believe his cost will be too high in a Fantasy Hockey trade. Yes, being 19 does hold value in dynasty formats, but he still has a lot to prove as he plays on a bad team. Don't let another owner bully you around just because Raymond is young. I want to move players like Logan Couture or Tom Wilson for Lucas Raymond. The Raymond holder will most likely want a draft pick in return, and I'd be okay with that, even if it's on the higher end. Raymond was drafted 4th overall in the 2020 draft, and he's playing up to that high-level draft stock.
LUCAS RAYMOND FIRST NHL CAREER HATTY IN THE BOOKS 🎩🎩🎩 pic.twitter.com/8OImIWEk5y

— Spittin' Chiclets (@spittinchiclets) October 25, 2021

---
Buy: Bowen Byram – D – Colorado Avalanche
Byram showed some great flashes this season before dealing with a series of injuries. While his status and return are up in the air. The young defenseman has shown me enough to target him in Fantasy Hockey. His cost should be pretty low, considering he's yet to play over 40 games in his career. He appeared in 19 games last season, recorded just two assists, and finished with a +1 rating. This year he's appeared in 18 games and landed five goals, six assists, and a plus/minus rating of +3.
Byram isn't currently on the Injured Reserve list; however, he's dealing with lingering effects from previous head injuries. These issues have kept him off the ice, but I believe a comeback is coming soon, and I want to be ahead of the curve when he does. While Byram has suffered multiple concussions through his first few years of action in the NHL, the team will take great care of him and ensure he's playing again once he's 100% ready to take the ice; the Avalanche are having a fantastic season and won't need to rush him back.
Sell: Adam Larsson – D – Seattle Kraken
There are plenty of older low-tier defensemen you can offer for Byram. Players that come to mind are Marco Scandella, Ryan Suter, Adam Larsson; they are all on the table for me. Byram hasn't shown us a ton, but it's enough for me to try and swap out some age for youth on my roster. If the Byram holder doesn't budge, ask what level of draft pick it will take to wrap the deal. It can't be that high of a number.
Bowen Byram, as promised, in a red non-contact. pic.twitter.com/TfV8APfyD5

— Kate Shefte (@KateShefte) December 27, 2021
---
Buy: Miro Heiskanen – D – Dallas Stars
Heiskanen is having a career season this year, and he's still just 22 years old. Through 39 games, Heiskanen has recorded four goals and 21 assists. His assist tallies have already tied his rookie season total in under half the games played. He still has six more assists needed to tie his sophomore total of 27. Heiskanen is on pace for 52 points this season; his next highest total through three seasons is just 35. He'll be far more expensive in the offseason, so I recommend making offers on him now.
Heiskanen is a great passer and facilitator; while he's not an offensive gem on the back end, he can rush the puck and make plays to keep the flow moving up the ice. As a result, he's significantly reduced his total giveaways and is protecting the puck with more efficiency. His block totals are also increasing at an excellent rate; he's becoming a well-rounded defenseman. His young legs are also keeping him on the ice a TON! He's averaged 23.58 minutes a game through four seasons in the league.
Sell: Shayne Gostisbehere – D – Arizona Gostisbehere
I think it's going to take a veteran who hasn't entirely fallen off their game to get a rising star in Heiskanen. Players that come to mind are Justin Faulk and Shayne Gostisbehere, players who haven't quite hit their 30's and provide similar production to Heiskanen. Heiskanen ranks as Defenseman #25 in fantasy hockey this season. Gostisbehere and Faulk sit at #29 and #30, they're close in what they're doing on the ice, but Heiskanen will be getting better and better and playing for more years. Start with players of this level and mix in a level-headed draft pick if needed.
Miro Heiskanen is just so so good pic.twitter.com/CAAUEPExl5

— mahi (@avocadomahi) November 11, 2021
---
Buy: Alex Nedeljkovic – G – Detroit Red Wings
As I said before, I love the Young Core of the Detroit Red Wings. Nedeljkovic looks like he's going to be their guy for some time. Nedeljkovic is signed through this season and next, but I think he's shown the team he's going worth the payday. You may not be able to see if from the box score stats, but Nedeljkovic has been playing well; he needs a few upgrades on defense this offseason, and he'll be sitting pretty.
While Nedeljkovic is just 12-11-5 this season, he ranks #15 for all goalies in total recorded fantasy points. He's also recorded a quality start in 17 of his 31 appearances, ranking him 7th in Quality Start percentage for goalies with a minimum of 30 appearances. Nedeljkovic had a superior season last year with the Carolina Hurricanes; obviously, they're a better club who plays far better defense. However, we've seen Nedeljkovic play meaningful hockey, so we know the potential is there. The Red Wings have plenty of Cap Space and more to come in the offseason. They're going to bring in more veterans this offseason to pair with their youthful core and make this team a force to be reckoned with.
Sell: Jonathan Quick – G – Los Angeles Kings
Jonathan Quick would be an excellent player to move in place of Nedeljkovic. They have similar production in fantasy hockey this season, and that's with Nedeljkovic having a down year. Plus, Quick is getting older and older and splitting his net time with youngster Cal Petersen. Quick plus a cheap draft pick should be enough to grad Nedeljkovic. Nedeljkovic is also on a bit of a downturn in recent games; his low stock may be enough to get a deal done without including a draft pick.
Red Wings goalie Alex Nedeljkovic made the save of the year in Detroit's win

🎥: @BallySportsDET pic.twitter.com/u3FJLLhw9g

— Brad Galli (@BradGalli) October 25, 2021
---
RELATED CONTENT