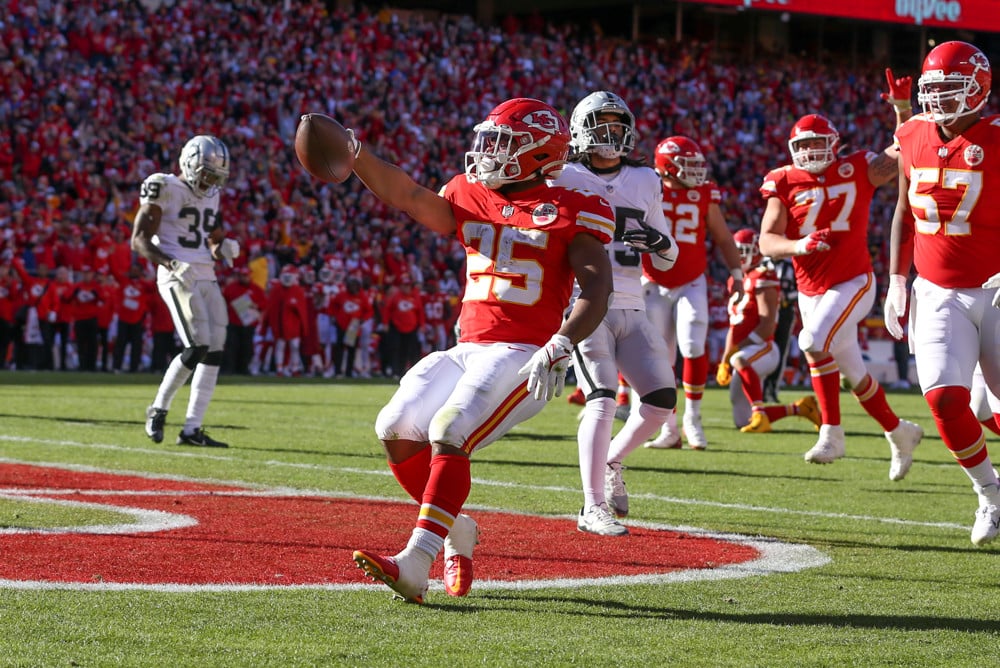 Starting in September, 32 NFL teams set out with the goal of winning a championship. However, only four teams still have that hope alive. After arguably the best weekend in football history, it seems we are in store for some tight contests this weekend. With teams having similar talent levels on paper, it typically comes down to factors like injuries that decide the game. I'm here to breakdown the injuries that will impact Sunday's games, and give you all a DFS or betting edge. Welcome to the Conference Championship Fantasy Football Injury Report!
Elijah Mitchell (RB) San Francisco 49ers
Knee Injury, Initial Injury: 12/5/21
San Francisco's lead RB will again be on the injury report for the Conference Championship. Rookie RB Elijah Mitchell made his return to the field in Week 17 and has been very productive since his return Unfortunately, the nature of the injury is undisclosed at this time but he did receive an MRI recently. The results reportedly came back "clean" but showed some "irritation." This provides some insight that Mitchell is dealing with a lingering injury but there is no severe structural damage. After not practicing Wednesday, Mitchell returned for a limited practice Thursday. This is typical for a player dealing with a lingering issue and the expectation as of now is he will play this weekend. I would expect the rookie RB to continue receiving the bulk of the carries for this run-heavy offense as well.
Mitchell is expected to play this week and receive a full workload.
Clyde Edwards-Helaire (RB) Kansas City Chiefs
Collarbone Injury, Initial Injury: 12/26/21
The holidays have treated Kansas City quite well. After a dominating stretch of football, they will also receive good news via the Conference Championship injury report. Chiefs RB Clyde Edwards-Helaire landed hard on his shoulder suffering a collarbone injury last week. Initially, the fear was a broken collarbone which would have been a lengthy absence. However, X-ray and MRI imaging showed that there is no structural damage to his collarbone. There is some swelling in the area but no fracture or ligament sprain is huge here.
After some initial optimism with the injury, the young Chiefs RB did miss three games leading into the postseason. Thankfully, Edwards-Helaire's fortune did change. The young RB returned last Sunday and totaled seven carried for sixty yards. He looked healthy and was running like someone who had to watch his role diminish from the sidelines. He is currently a full participant in practice this week and all signs indicate to him playing an increased role on Sunday. However, the Chiefs do have a crowded backfield with RBs Darrel Williams, Derrick Gore, and Jerrick McKinnon.
CEH is expected to be fully healthy and able to handle a larger load this week. 
Jimmy Garoppolo (QB) San Francisco 49ers
Thumb Injury, Initial Injury: 12/23/21
San Francisco 49ers' QB Jimmy Garoppolo is currently dealing with a torn UCL ligament in his thumb after being sacked in Week 16. He did not come out of the game but Garoppolo's play definitely took a hit.  The UCL refers to ligaments in the thumb that help to stabilize the joint. It also allows for grip and pinching to occur with your thumb. Reports are that Garoppolo has a grade three strain, meaning this ligament is completely torn. Not only is the injury going to be painful, but it's going to be difficult for Jimmy G to grip or accurately throw the ball.
49ers starter Garoppolo has been playing through his thumb injury the past three weeks. To add some more adversity to his situation, he also sprained his shoulder two weeks ago. Despite these injuries, neither appear to be major nor will cause him to miss anytime. Jimmy G is not 100% healthy at this time but he will be expected to play and produce regardless. Frankly, they have not had to rely on him much and that offensive recipe seems to be working.
Jimmy G is dealing with a thumb and shoulder injury but will play this week. 
Darrel Williams (RB) Kansas City Chiefs
Toe Injury, Initial Injury: 1/8/22
The Chiefs may be getting back yet another offensive weapon from the Conference Championship injury report. RB Darrel Williams is dealing with a minor toe injury that he picked up the last game of the regular season. The injury is undisclosed and forced to him to sit out the first round of the NFL postseason. Williams is likely dealing with a minor turf toe injury, which is an injury to ligaments of the big toe. The toe is jammed into the ground causing the big toe to forcefully straighten and damage the ligaments around the joint. This injury is painful but in minor cases, players are able to play through in it in two to three weeks.
Williams began the week with a full participation in practice which is a good sign. However, he was downgraded to limited participation on Thursday. His practice level Friday will let us know if this was due to an injury setback or simply some rest maintenance. Williams will be joining a crowded backfield with a healthy Clyde Edwards-Helaire and Jerrick McKinnon.
Williams is practicing this week and could make his postseason debut. 
Cam Akers (RB) Los Angeles Rams
Achilles Tear, Initial Injury: July 2021
Now, this is some of the craziest news on the Conference Championship injury report. Cam Akers was set to be the lead RB for the Rams coming into the 2021 season. Unfortunately, Akers tore his Achilles late in the offseason and was expected by everyone to be out for the entire season. However, to everyone's surprise, the Rams activated him off the IR three weeks ago. With only five months of recovery, this seemed almost unthinkable. An Achilles tear is one of the worst injuries because it's a grueling rehab process that takes around a year to return from. I am still not expecting Akers to play a major role in this offense in the regular season but it is worth monitoring.
Akers officially made his magical return to the field in Week 18 against San Francisco. It's an incredible feat for him to just return to the field in such a short amount of time. However, as expected, there was not much to show in the stat sheet. The young RB had five carries and three catches for a total of thirteen yards.
However, the Rams RB followed up this lackluster performance with a much more encouraging game. Last week, he handled 17 carries and one catch for a total of 95 scrimmage yards. Not only did he sustain a heavy workload but even more impressively, it appears his explosiveness is back! This is a miraculous story and after seeing him play last week, I have much more confidence in Akers performances the rest of the postseason. There is a good chance here to turn a feel-good story into a nice payday with some Akers props this week.
Cam Akers is playing and should be receiving another heavy workload this week. 
Van Jefferson (WR) Los Angeles Rams
Knee Injury, Initial Injury: 1/23/22
The Rams are soaring high after their big win against the Bucs and their spirits shouldn't be tempered by this Conference Championship injury report. Los Angeles WR Van Jefferson has become a much more important part of the offense with WR Robert Woods going down earlier in the year. He popped up on the injury report with a knee injury that caused him to sit out of practice Wednesday. There have been no reports on the cause or nature of the injury but Rams head coach Sean McVay did not seemed concerned. The lack of concern seems to be validated by Jefferson's limited participation Thursday. He is fully expected to suit up this week but his participation in Friday's practice will be the best indicator.
Jefferson popped up on the injury report but it appears to not warrant much concern.
Mohamed Sanu (WR) San Francisco 49ers
Knee Injury, Initial Injury: 11/7/21
The 49ers are being reunited with an old friend this week. Reports surfaced that San Francisco was activating WR Mohamed Sanu from the injured reserve this week. He returned to practice Wednesday and is not on this week's injury report indicating he is healthy enough to play. Sanu suffered what is being called a knee sprain in Week 9 and had been on IR since. A knee sprain is a fairly generic term but he likely was dealing with some damage to one or more ligaments in his knee. His return to practice must have went well as he carries no injury designation going into this week's game. His role on the offense is much more questionable however with WR Jauan Jennings taken over the WR3 spot in his absence.
Sanu is back healthy with the team but is unlikely to see a high volume of targets. 
This injury report updates until the Conference Championships end. Make sure to stay up to date on all the latest injuries this season over on Twitter @SGPNFootballDoc!
RELATED CONTENT