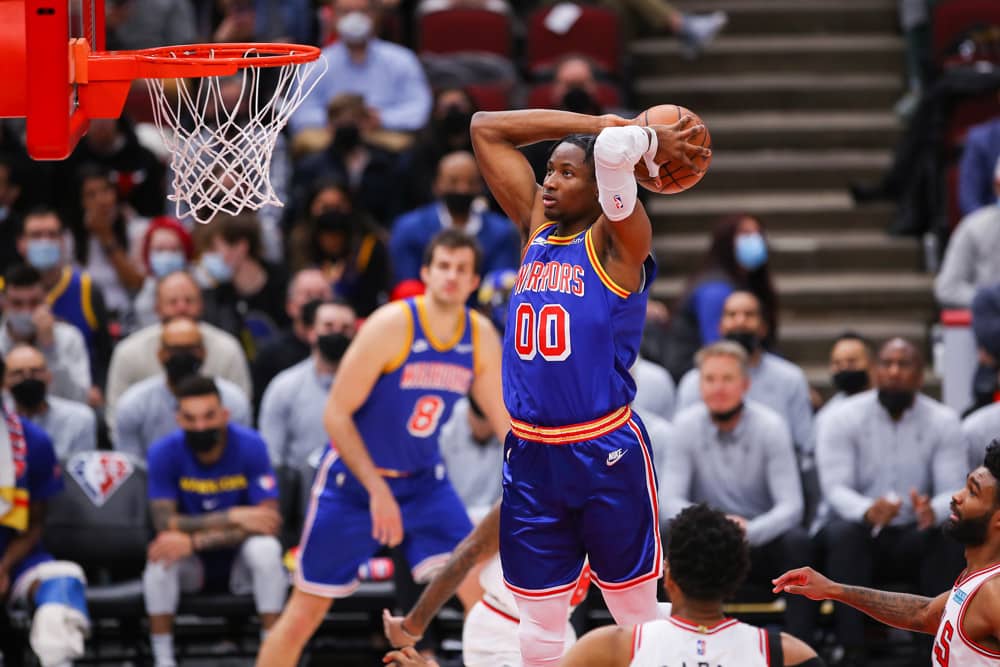 Fantasy Basketball Market Watch
Despite my success in fantasy basketball this season, I still find myself constantly grinding to fill my roster and having to make tough decisions on who to drop or keep. It's been a turbulent season, and I don't suspect the roller coaster ride will get any smoother from here. You may have recently lost players to injury like Kevin Durant or Zach LaVine, or maybe you're like me and have players like Kyle Lowry and Robert Williams missing games for personal reasons. Whatever your situation may be, you need to keep a pulse on the league's status and what direction the trends are flowing. This article will review current player stocks and trends, some whose value is Rising and others who are Falling.
Jalen Suggs has returned to the starting lineup for the Orlando Magic. A fractured thumb would keep Suggs sidelined from December 1st through January 13th. He did miss a fair amount of time, but Jalen looks good since getting back on the floor. He started for the Magic two days ago against the Philadelphia 76ers. Suggs earned 14 points, nine rebounds, five assists, and two steals across 34 minutes of action.
Suggs averages 27 minutes of playing time when he starts a game, and he's started in 22 games so far this season. He offers a great scoring pace in fantasy basketball and has more upside to earn rebounds, assists, and steals over his counterparts in Gary Harris and Terrence Ross. Suggs ownership percentage is at 54% on Yahoo platforms; he may still be available to scoop up off the waiver wire – be sure to do so before it's too late.
Maybe Jalen Suggs just wants it more?? pic.twitter.com/FOZjw4QSnA

— Beyond the RK (@beyondtheRK) January 15, 2022
We're staying right here with the Orlando Magic for this next player in Terrence Ross. Ross was performing very well on the floor and on my fantasy roster until Suggs made his return on January 14th. Ross averaged 36.35 fantasy points per game in the six-game spread before Jalen's return – that's roughly seven points higher than his season average.
With Jalen back, Ross has only totaled 37.30 points across four games. To make matters worse, he left his last appearance early due to knee soreness. Ross had already missed time this season due to COVID and finds himself in another setback. He could be trade-worthy for the Magic given their depth at the guard position, but he's a strong drop candidate until I see him in a new scenario.

SG/SF – Jonathon Kuminga – Rising
Kuminga is another rising fantasy basketball stock that should have your attention. Kuminga has found his way into Golden State's starting lineup with Draymond Green missing time with a calf injury. It appears that Green will miss at least another two weeks, so Kuminga has excellent value through your next couple of matchups at minimum.
Kuminga has turned it up recently, as he's averaging 32.72 fantasy points across the last 14 days. That's roughly 12 points higher than his 30-day average and 20 points higher than his season-long average. In his previous four games, he's averaged 17 points and six rebounds; playing with the Warriors offers him a lot of upside, but keep in mind while his stock is rising, it will surely fall once Draymond returns.
The Warriors have unlocked the best version of Jonathan Kuminga by using him as a PnR ball handler to attack smaller guards or slower bigs on switches. Kuminga's last four games: 17.5 PTS, 6.3 REBS, 3.0 AST in 27 MIN. More on the rookie's recent rise: https://t.co/pDpPNGySNT pic.twitter.com/eR96xVjj7D

— Mike Schmitz (@Mike_Schmitz) January 19, 2022
Stewart has seen his minutes go down recently, and they could continue to take hits with the return of Kelly Olynyk. Stewart averages 25 minutes per game this season; however, he's only gone over that total twice in his last eight games. We've also seen a slow dip in his production. Isaiah is averaging eight rebounds per game this season but has only gone over that number once in his last eight games. Overall, he's had some pretty disappointing outings since returning from COVID protocols earlier this month.
While his numbers are down, his ownership rate is still 74% on Yahoo platforms. Olynyk lit up the box score in his return just a few days ago. He dropped 22 points, nine rebounds, and five assists in just 22 minutes of action, recording 49.30 fantasy points. Olynyk offers more usability to the Pistons given his all-around game; he can score, distribute, and rebound. Stewart's value is in the basement; you should drop him for a better trending player.

Bagley's fantasy basketball stock has risen immensely across the past two weeks, and this past week has been the best basketball he's played all season. Bagley started the year as a healthy scratch in 11 of the King's first 12 games. The front office didn't have a plan for how his talent would be utilized and believed they were ready to move on from him. While that still may be the case, Bagley is at least on the floor and showing what he can do. He's averaging 21.66 fantasy points per game on the season, but across the past two weeks, he's hitting 29.21 points per game, and in the last week, he's grabbed a remarkable 41.95 fantasy points per game.
Bagley's now in the starting lineup alongside fellow big man Richaun Holmes, but make no mistake, Marvin is the big man collecting all the production right now. He's grabbed at least nine rebounds in four straight starts, and he's averaging 16 points per game in that stretch as well. I see him as a big target at the NBA trade deadline. I also like his stock to continue to rise, hopefully on a new team that believes he's a part of their future.
Marvin Bagley last night:

26 points
13 rebounds
2 blocks pic.twitter.com/XrRquWq6PY

— BlueDevilStop (@BlueDevilStop) January 15, 2022
Related Content