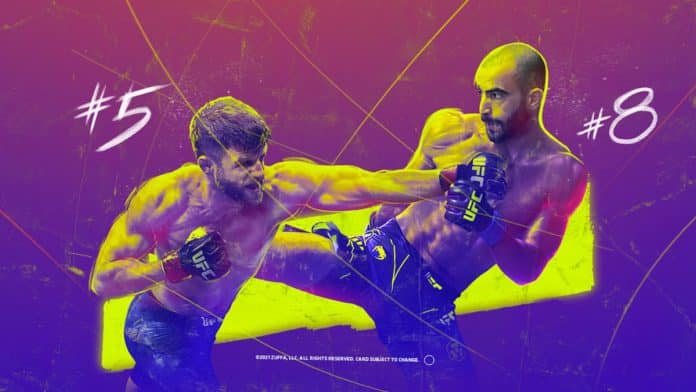 Finally, the UFC is back, baby! After being dark for almost a month, the world's premier mixed martial arts promotion returns on Saturday night at the UFC Apex with UFC on ESPN: Kattar vs Chikadze (aka UFC Vegas 46). And in the year of our Lord 2022, I vow to you to go 100% on my UFC picks. It starts with my UFC Vegas 46 Predictions. Let's gooooo!!!!
RELATED
The 10 Commandments of MMA Betting
8 UFC Stats That Will Win You Money
UFC Vegas 46 Predictions
All odds courtesy of PointsBet
Giga Chikadze (-250) vs Calvin Kattar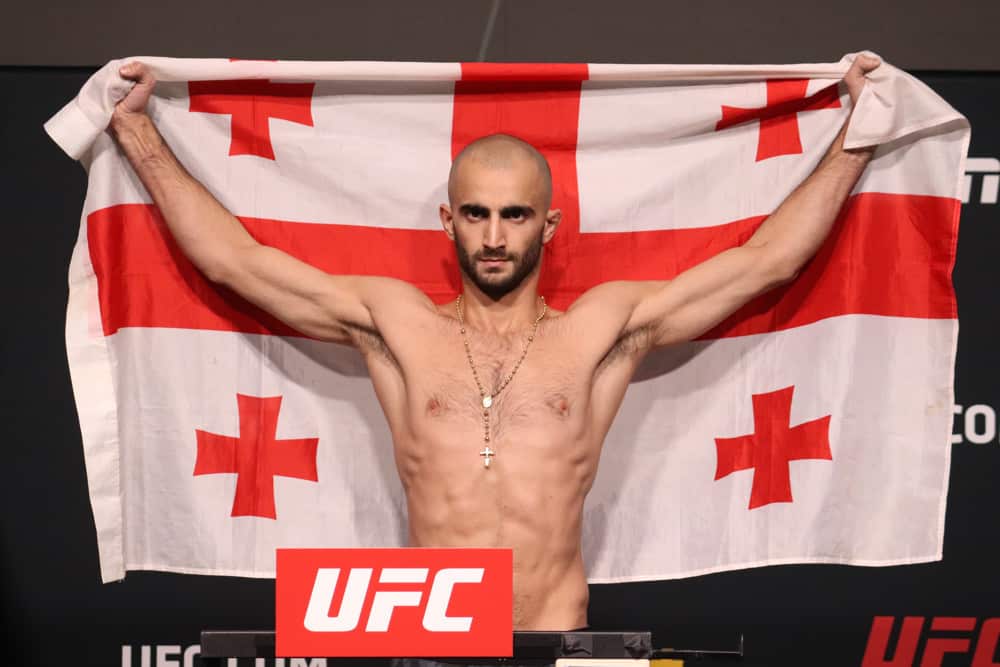 The main event pits a fighter, Calvin Kattar, who took a year off after receiving a hellacious beating from Max Holloway, against a rangy kickboxer capable of putting a hellacious beating on him. Giga Chikadze is the pick here, but Kattar is next to impossible to put out of there, so it may go the full 25 minutes.
Katlyn Chookagian (-180) vs Jennifer Maia
A women's flyweight rematch is next up, with betting favorite Katlyn Chookagian already having had her hand raised in victory over Jennifer Maia three years ago. Not much has changed since this time, so 'Blonde Fighter' is the pick to win here. And, considering she's never finished any of her nine previous UFC wins, take the prop bet of Chookagian via decision for a better payout.
Brandon Royval (-176) vs Rogerio Bontorin
Flyweight Brandon Royval is in need of a win, having been finished in his last two fights after winning his initial two UFC appearances. However, he's only fought the absolute top of the food chain in the UFC flyweight division thus far. Rogerio Bontorin is a step down in competition who I think Royval has the striking and grappling advantage over.
Jake Collier (-135) vs Chase Sherman
Two big heavyweights possibly on their last legs in the UFC trade leather in this one. It's a hard fight to pick, as neither guy has proven to really be "UFC caliber" (Collier is 4-5 in the octagon; Sherman is 3-7). Collier has swapped wins and losses back and forth in all nine of his UFC appearances, so since he lost his last fight a win is guaranteed this weekend.
Joanderson Brito (-135) vs Bill Algeo
Joanderson Brito makes his UFC debut on Saturday after having punched his ticket to the big show via Dana White's Contender Series. 'Tubarao' enters the UFC on the wave of 12 straight wins, and an undefeated streak of 14 fights. He's six years younger than Bill Algeo, who at 1-2 in the UFC does not live up to his 'Senor Perfecto' moniker.

Joseph Holmes (-150) vs Jamie Pickett
I hesitate to write the name Joseph Holmes here, as he insists on being called 'Ugly Man Joe'. He's even been fighting with the UFC to allow him to enter the octagon to that name. Regardless of what he's called, he should win his UFC debut in what could be a wild brawl against Jamie Pickett. He's younger, is a better grappler, and hasn't lost a fight since his MMA debut.
Ramiz Brahimaj (-110) vs Court McGee
We've got a lot of old vs new matchups this weekend, including Ramiz Brahimaj going up against Court McGee, who is eight years his senior. Brahimaj is a grappling ace, having won all nine of his pro fights via submission. Considering McGee has only been stopped once in 30 pro fights, I see Brahimaj winning his first decision on Saturday.
T.J. Brown (-275) vs Charles Rosa
Charles Rosa stepped into this fight on Wednesday of this week, so this is going to be extremely short notice for him. Last-minute replacements only win 39% of the time, and T.J. Brown is the bigger, younger, better striker here, so he's the pick.
Viacheslav Borshchev (-200) vs Dakota Bush
'Slava Claus' makes his UFC debut after impressing on the last season of DWCS. He hits like a truck and should piece up Dakota 'Hairy' Bush, and maybe get himself another impressive knockout victory.
Brian Kelleher () vs Kevin Croom
This fight is so last minute we don't even have a line posted for it as of these words being typed. Kevin Croom is the one stepping in on short notice, and Brian Kelleher should also have the striking and grappling advantage over him. 'Boom' is the pick.
Overall Record: 606-457
2022
Record: 0-0
Earnings:  $0
Return on Investment:  0%
Listen to this:
UFC Vegas 46 Betting Guide (That's A Lot of Reach) | MMA Gambling Podcast (Ep.107)
Related Content