It's the saddest time of year for fantasy football fanatics.  Perhaps your season is over and you have a year to brag about your victory.  Or, you have a year to try and forget the bad season.  But the season is never really over for fantasy football dynasty leagues.  You can always start tinkering with your team and pondering what is next.  Are you ready to move on from the running back who got injured and frustrated you?  Are you going to make a blockbuster trade to grab a young franchise piece for your team?  Whether you won your league or finished at the bottom, this dynasty trade value chart can help you start on next year's success.
EXCLUSIVE SGPN FANTASY CONTENT
SGPN Fantasy Football Rankings
In case you didn't get a chance to review the last Fantasy Football Dynasty Trade Value Chart let's go over the methodology once more. The rankings system we use takes FantasyPros best, worst and average rankings, as well as a standard deviation. We also look at average fantasy football points per game, because let's be honest, points are what it's all about. Another metric we look at is a player's age. Somebody who is 22 is going to have more weighted value than a player that is 32. This is why 28-year-old Kupp, who had a phenomenal year, is under younger guys like Jefferson and Chase.
Taking all that into consideration and running it through our formulas, we are able to assign a value for each player. This value can be used to help weigh your trades and improve your future team.  The dynasty trade value can be a basis to sway your trade partner into realizing it really is a good trade for both teams!
Download Excel Spreadsheet of SGPN Dynasty Trade Value Chart
Fantasy Football Trade Value Chart
Quarterbacks
As the season ended Kyler Murray finished at the top in the last three months.  Scoring 22.2 fantasy points per game at age 24, Murray was ranked as a top-tier quarterback the entire season.  Both Josh Allen and Patrick Mahomes finished the season just one fantasy football trade value point behind him, tying for second.  In fourth place, Justin Herbert is the youngest quarterback in the top five.  Finally, tied at fifth, are Lamar Jackson and Joe Burrow.  Jackson finished the season battling injuries while Burrow put up some of the best fantasy games of his career.  All five of these guys would be great quarterbacks to add to your franchise.  However, as you read on, you'll see the quarterback position doesn't quite hold the same weight as a franchise running back or wide receiver.
Top 5 Quarterbacks This Year
As the year went on and running backs and wide receivers started holding more fantasy value all the quarterbacks took a hit.  Starting with a trade value rank of 48, leading all quarterbacks, Mahomes fell down to the third ranked quarterback at 28.  Josh Allen started as the second ranked quarterback at 37 before finishing as the second ranked quarterback at 29.  Kyler Murray started as the second ranked quarterback in March and finished as the top ranked, even after missing a couple of weeks due to injury.  Herbert and Jackson both started with a trade value of 29 before finishing at 23 and 21 respectively.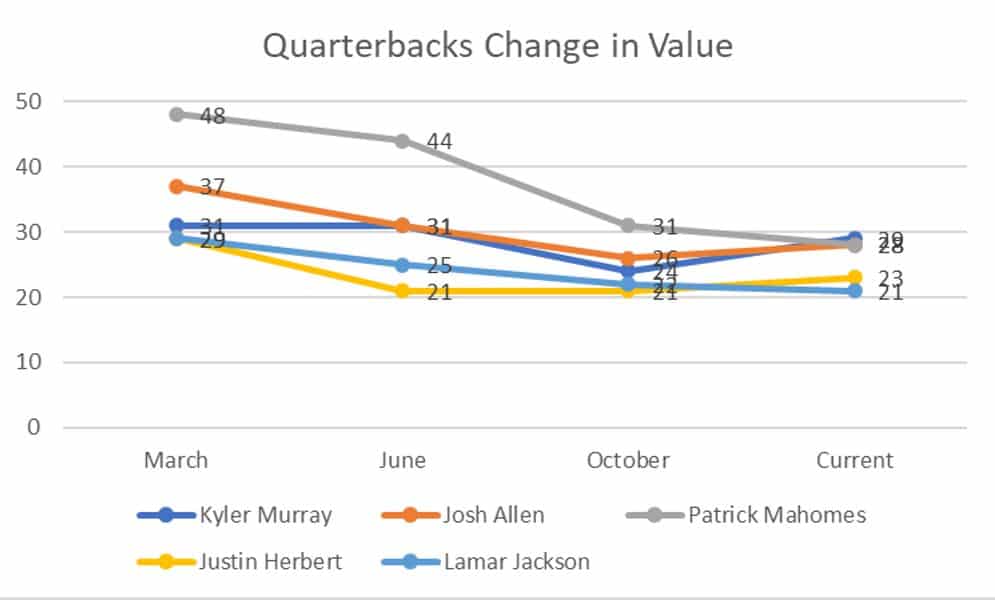 Running Backs
While the quarterback position may be the most important on the field, in the fantasy football trade value chart, running backs dominate.  In fact, running back Jonathan Taylor finished as the top trade value rank out of all players.  The rushing yard and rushing touchdown leader is only 22 years old and finished with a game average of 21.9 points.  Derrick Henry was averaging more points per game, however, the 28-year-old fell down the charts due to injury and age.
Another young running back, Najee Harris, finished second on the list after an impressive rookie season.  Oft-injured Christian McCaffrey still ranks third due to his level of play when he is healthy.  Consistently finishing at fourth was Alvin Kamara, the oldest running back in the top five at 26.  At fifth, battling some injuries but continuing to fight each week on a bad team, D'Andre Swift made a big impact for fantasy managers.  All five of these hold a lot of value on the fantasy football dynasty trade value chart.
Top 5 Running Backs This Year
Looking at the top five running backs in January and how they stacked up since the beginning of the year a lot of movement can be seen.  Kamara and McCaffrey started March and June at the very top of the trade value ranks before falling to fourth and third, respectively.  Jonathan Taylor started with a trade value rank of 52 before leading the league in rushing yards and rushing touchdowns and finishing atop the entire trade value rank chart.  Swift started ranked 50, fell down the trade value ranks due to injuries limiting production, before rising back up to where he started at 50th.  And rising in value on the trade value chart more than any other player, Najee Harris rose 44 points to finish as the second running back.
Wide Receivers
Two of the best young receivers in the game finish in a tie at the number one spot.  While we knew Justin Jefferson could make a big impact on our rosters, Ja'Marr Chase surprised many people with his success.  Just slightly less consistent than Jefferson throughout the season, Chase will be very sought after in fantasy football dynasty leagues.  Even though he's 29-years-old, Davante Adams continued high level of play ranks him tied for third on our dynasty trade value chart.  He ties with other "old-timers", 28-year-old Cooper Kupp and 27-year-old Tyreek Hill.
Cooper Kupp had one of the most electrifying seasons of any wide receiver and it's only his age that keeps him farther down on the chart.  Last, tied at third at only 22-years-old, CeeDee Lamb continues to lead the Cowboys receivers and makes for a great dynasty trade value piece.
Top 5 Wide Receivers This Year
Six receivers jostled back and forth in the top five spots.  Looking at the change in their fantay football trade rank value you can see they stepped all over each other throughout the year.  However, top ranking Davante Adams started March with the top rank of 69 and fell to 49 by the end of the year.  Moving the opposite direction, Kupp started way down with a rank of 28 before his production soared in the 2021 season and he ended tied for third at 49.  Jefferson and Chase also started with lower trade rank values before their incredible seasons put them with the top wide receiver trade ranking.

Tight Ends
Even though the old adage says rookie tight ends rarely make an impact, Kyle Pitts made a big impact on the field, finishing in the top tight end spot at only 21-years-old.  Not far behind him, former number one tight end, Travis Kelce came in second.  In third, George Kittle finished with 14.1 fantasy points per game.  The second youngest in the top five, 26-year-old Mark Andrews finished fourth after some strong showings in the late season.  And battling through some late-season injuries, Darren Waller finishes fifth.  Because they hold less weight in fantasy, you could get a top TE for a top QB if you happen to have more than one QB in the top ten.  Check out the dynasty trade values and match up to see who you may be able to get on your fantasy football dynasty team.
Top 5 Tight Ends This Year
The tight end position continues to prove difficult for fantasy managers as only a handful of players consistently put up top numbers.  Travis Kelce was the number one ranked tight end on the dynasty trade value in March and finished second just ahead of Kittle and Andrews.  Pitts started at fourth and finished first with a trade value rank of 36.  Waller moved all about before finishing as the fifth ranked tight end with a trade value rank of 26.

Related Content