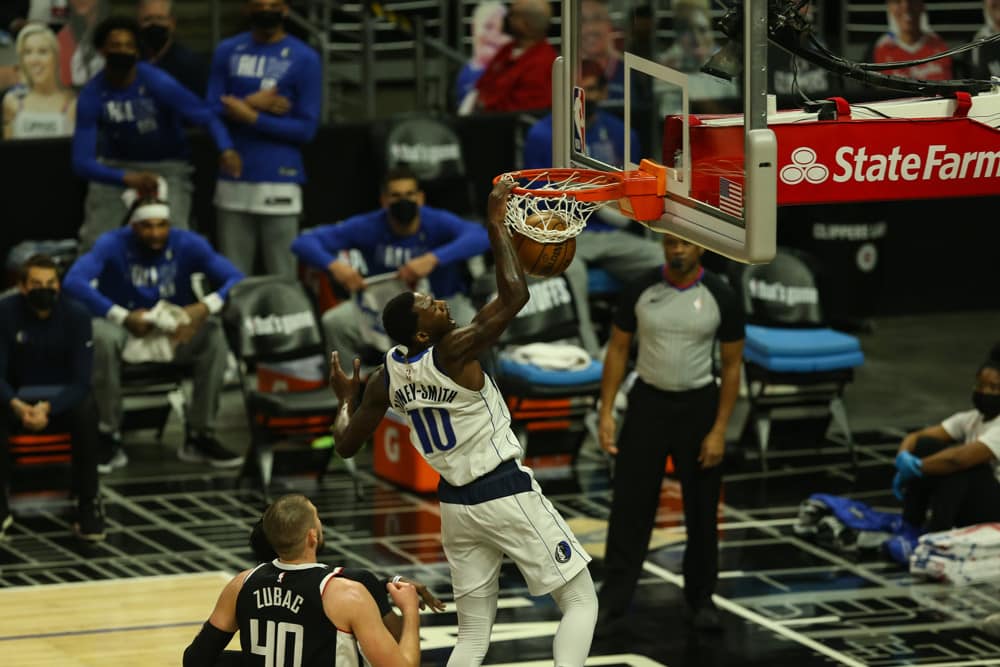 Obviously writing a fantasy basketball waiver wire advice column on SGP isn't the best idea when you're playing in a SGP fantasy basketball league. Every single player on my list of undervalued players is already rostered in my league, despite the low rostered percentages they all share. Buch of sharps, I tell ya. Here are the best fantasy basketball waiver wire finds that hopefully you can get in on in your league.
(only includes players rostered in less than 50% of Yahoo Fantasy leagues)

Fantasy Basketball Waiver Wire: Best Pickups Jan 12th
10.5 ppg, 4.7 rpg, 2.0 apg, 1.2 spg, 0.6 bpg, 2.0 3PT/G, 45.5% FG, 66.0% FT, 0.9 tpg
DFS returns to our list, in the top spot this week no less. The man is nothing if not consistent, posting 13 straight double-digit scoring games (and counting). A consistent scorer who also gets you some boards, a couple of threes a night, AND over a steal a game?! Sign me up!
Eric Bledsoe – Clippers – PG/SG – 38%
10.2 ppg, 3.6 rpg, 4.0 apg, 1.3 spg, 0.4 bpg, 1.0 3PT/G, 42.7% FG, 77.8% FT, 2.2 tpg
Speaking of consistent scorers….actually not a very good transition into writing about Eric Bledsoe. Six points, 27 points, one point, 10 points, zero points, 12 points – the man is consistently inconsistent in the scoring column. But he brings you nice assist and steal numbers, and a breakout scoring game seems to be always around the corner.
12.4 ppg, 3.2 rpg, 1.7 apg, 0.6 spg, 0.1 bpg, 3.0 3PT/G, 36.9% FG, 74.1% FT, 0.8 tpg
Malik Beasley also reappears on our list, on the back of two straight solid games. He posted 13 points and two triples two games ago, then 18 points – all from three-pointers – in his last game. Outside of the fairly consistent scoring and threes – and decent boards for a guard – he doesn't bring too much else to the table, sadly.

Terance Mann – Clippers – SG/SF – 31% rostered
10.5 ppg, 5.4 rpg, 2.4 apg, 0.6 spg, 0.1 bpg, 1.1 3PT/G, 48.5% FG, 74.7% FT, 1.1 tpg
I've detected a pattern – here is Terance Mann's scoring numbers over the past five games – seven, eight, nine, 10, 13. At this pace, he'll be scoring 30 points a game by the end of the season, right?! Despite that probably not happening, he's a decent pickup – good scoring, boards, and assist numbers.
11.5 ppg, 3.6 rpg, 1.7 apg, 1.2 spg, 0.4 bpg, 2.1 3PT/G, 42.1% FG, 87.5% FT, 1.3 tpg
I really don't get why KCP is still so criminally underappreciated in fantasy (of course he isn't in my league and another player has him). All he's done since last week's column is average 17.5 ppg, 3.3 rpg, 2.0 apg, 1.0 bpg, and 3.0 three-pointers over the Wizards four games. Snatch him up if you can.
Tyus Jones – Memphis – PG – 16%
8.2 ppg, 2.7 rpg, 4.1 apg, 0.9 spg, 0.0 bpg, 0.9 3PT/G, 47.0% FG, 91.7% FT, 0.8 tpg
Tyus Jones makes a return appearance after another strong week for the Grizzlies. In the four games since I last spoke of him, he's averaged 13.5 ppg, 4.5 rpg, and 5.8 apg, and he went 5-5 from deep in his last game! A career year in the Bluff City, even with Ja Morant back on the court eating into his point guard opportunities.
Other fantasy basketball waiver wire players worth checking out: Patty Mills (pretty inconsistent now), Pat Connaughton (just back from protocols & slumping), Royce O'Neale, Eric Gordon, Cody Martin
Related Content