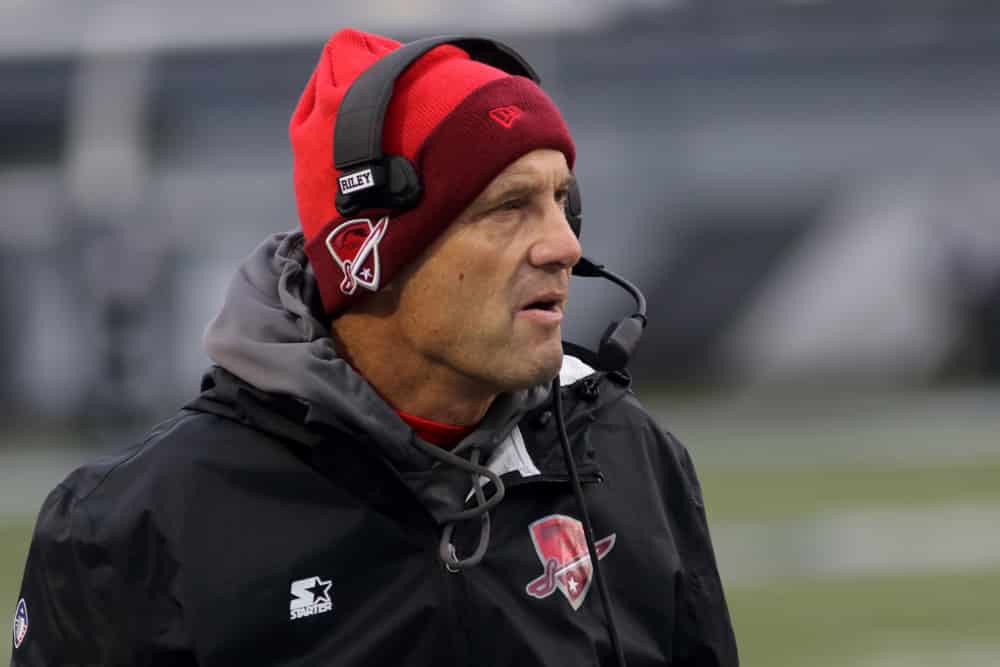 With the announcement today 1/6/2021 of four head coaches for the USFL and one rumored failed college coach it has come to my attention that the USFL rankings need an update of sorts. There was a whole big announcement on the Collin Cowherd show today to announce three of the head coaches from the South Division and one from the North. The USFL has four coaches left to name, and one of those is rumored to be Gene Chizik. 
https://twitter.com/USFL/status/1479172719467909121
With Kevin Sumlin headed to the Houston Gamblers, Mike Riley to the Philadelphia Stars, Todd Haley to the Tampa Bay Bandits, and Bart Andrus to the New York Generals, the USFL has a strong mix of coaches. Enough jabbering about the logistics, you came for some GARAGE CERTIFIED RANKINGS so here we go folks.
USFL Power Rankings Update: First USFL Coaches Announced
#8 Birmingham Stallions 
Previous Rank #8 (No Change)
That's right I hold Gene Chizik in such low regard he doesn't even cause a team to jump from last to not last. This guy is a joke and the only way he succeeded at all ever is because of Cam Newton and I will STAND by that. This man brings absolutely nothing to the table, and I don't think he really cares about the game. The fact that he's even rumored has me worried for the USFL. I cannot stress enough how much I despise this man.
He's an outdated coach who lucked into the greatest college football player of all-time at Auburn and has been coasting ever since. Gene Cheesedick coaching is like me working customer service at Walmart. We don't want to be there and all we do all day is yell slurs at people. The Stallions are in a nice spot as every game gets to be a home game for them so that's cool, but if they weren't already ranked last I'd have them there now because of how much I cannot stand this blabbering buffoon.
#7 New Orleans Breakers
Previous Rank  #7 (No Change)
This is mostly no change from the previous ranking. There were some rumors that Bart Andrus was going to the Breakers which would have moved them up the USFL totem pole. However, as things stand they're still near the bottom in my opinion. That is viable to change based on who they hire and which players they get. Remember folks, these power rankings are my opinion and while my opinion is the only thing that matters it is likely to change drastically with new information.
#6 Pittsburgh Maulers
Previous Rank #6 (No Change)
Another no change scenario based on nothing happening. I'm interested to see who Pittsburgh hires and I have some thoughts on who it should be (Ahem Jonathan Hayes please), but until the Maulers do make a higher they remain middling in my rankings.
#5 Tampa Bay Bandits
Previous Rank #3 (-2 Spots)
The first real change on the list. I've heard some people speaking highly of Todd Haley and I am not one of them. From everything I've been able to gather the guy seems like he's the biggest douche canoe headed down asshole river. He seemed to do nothing but play politics on Hard Knocks, and I can't think many players appreciate the guy. He does bring a potentially interesting offensive  His addition drops the Bandits from the top three of my previous ranking all the way down 2 spots to number 5. Haley is one of the more uninspiring coaches the USFL brought in not named "Gene Chizik."
Todd Haley: calling toss sweeps on fourth and short in the playoffs for nearly a decade now. pic.twitter.com/d8OTFHF0Cd

— Will Brinson (@WillBrinson) January 14, 2018
#4 Houston Gamblers
Previous Rank #4 (No Change)
I'm going to be honest, I forgot Kevin Sumlin even got hired by the Houston Gamblers. That's how bland this hire is. He was a perfectly average to terrible college football coach whose last stop has left a very sour taste in a lot of people's mouths. The man reportedly has a nose for offense but I think that's mostly based on having an extreme talent at QB for a few years (Johnny Manziel Texas A&M and Kahlil Tate Arizona). He doesn't really seem like a strong candidate if I'm being honest. I do like that he's a known name from college football which could bring eyes to the league, but the reason he's known makes me hesitate and worry at who passed up on the opportunity.
Kevin Sumlin, by all measures, is a middle-of-the-road hire which makes for a middle-of-the-road ranking for the Houston Gamblers who I'm STILL not over for having the name Gamblers while being in a state that doesn't have legalized sports gambling. I think the fact that I've even spent this long thinking about Kevin Sumlin has actively made me a more boring and bad person. Thanks a ton, Kev (can I call you Kev? Cause that would actually bump you up in my rankings).
Arizona head coach Kevin Sumlin walks off the field after his falling to 0-2 against ASU in his tenure. pic.twitter.com/mwyC8sehIN

— Carson Field (@CarsonDField) December 1, 2019
#3 New Jersey Generals
Previous Rank #4 (+1 Spot)
Now I know what you all might think. "Jim, aren't you a Nebraska fan? How can you have Mike Riley rated so highly?" While that is true, and I do hate Mike for what he did to my Huskers I have to admit that his track record of spring football coaching is actually pretty decent. His time with the San Antonio Commanders in the AAF was actually pretty well spent before the league folded. The team was fun, had a winning mentality, and had good engagement. Not to mention all the winning he did north of the border in the CFL. I think a warm personality in the USFL could be nice to offset some other potential coaches they could bring in.
I do think Mike has an issue with eyeing talent. However, luckily for him in this league, there's a draft and the team should have a whole team of people not named Mike Riley to stock the team. In a professional setting his nice guy schtick might work a little bit better. Especially since the players don't have to view the coach as an authority figure and instead can look at him like a colleague who they just kind of have to have dinner with (that's what coaches and players do on the weekend I always assume).I will put my faith in Mike Riley one more time. Hopefully, I get CFL, AAF, or even XFL Mike Riley and not Nebraska Mike Riley who made me want to walk straight out into a freeway of traffic.
#2 Michigan Panthers
Previous Rank #1 (-1 Spot)
My favorite team? Yes. Best logo in the game? Also yes. Do they have a head coach? Sadly not yet, and until they do they cannot be the number 1 team in the XFL Jim USFL power rankings. They will have to sit comfortably at their spot in second place. With no word on who will coach the Panthers and the USFL naming several other coaches, it was going to be hard for them to stay at #1.
#1 Philadelphia Stars
Previous Rank #5 (+4 Spots)
How in the hell do you expect me not to rank an XFL head coach number 1 here. Bart Andrus was coach 9 for the XFL, but that's not where his coaching resume ends. Just a brief look at his coaching history this dude oozes experience. He's coached in so many different leagues that he may be considered a slut for football which I love to see. He's won in NFL Europe and brings the legendary mentality of the XFL. But let me not talk about his coaching for one moment, and let me talk about the fact that this man, Bart Andrus looks like the kind of man who will send you to sleep with the fishes. Bart Andrus is the guy you call when nothing else is working, the man you call to GET SHIT DONE AND DONE NOW.
Bart Andrus's nickname is going to be the cleaner and he's going to clean up the USFL. Andrus is the guy who'll buy the sky and get you high by winning a high amount of games ( I'll give myself a 6, docked some for rhyming high with high). So far he is the only coach the USFL has hired that has the #Garagecertified stamp of approval. Good hire Stars and still a solid ass grocery store logo.
RT to welcome our head coach, Bart Andrus! pic.twitter.com/W3R5HvFYqq

— Philadelphia Stars (@USFLStars) January 6, 2022
Final Thoughts
Overall I think I like the hires that the USFL is making. Even if I don't like Chizik or Sumlin they are names people recognize. I think that's a good and easy way to bring eyeballs to the league. Todd Haley is an interesting one that makes me wonder who turned down the job if he was the only one left. At least he brings in some NFL experience and maybe he'll make for some drama.
Mike Riley brings experience and a nice face for what many will probably think is the flagship team of this league. I think his spring football experience is a nice addition that will help too. And I honestly can't wait to bet on the Generals (player dependent). Bart Andrus is going to take this league by the short hairs and show them how an XFL good ole boy does spring football. The man is an XFL legend for garage's sake. Overall I'm happy and excited for the next USFL coaches we get to see (Jonathan Hayes or Winston Moss PLEASE!!!) The USFL is shaping up to be a very exciting league for sure.

Related Content