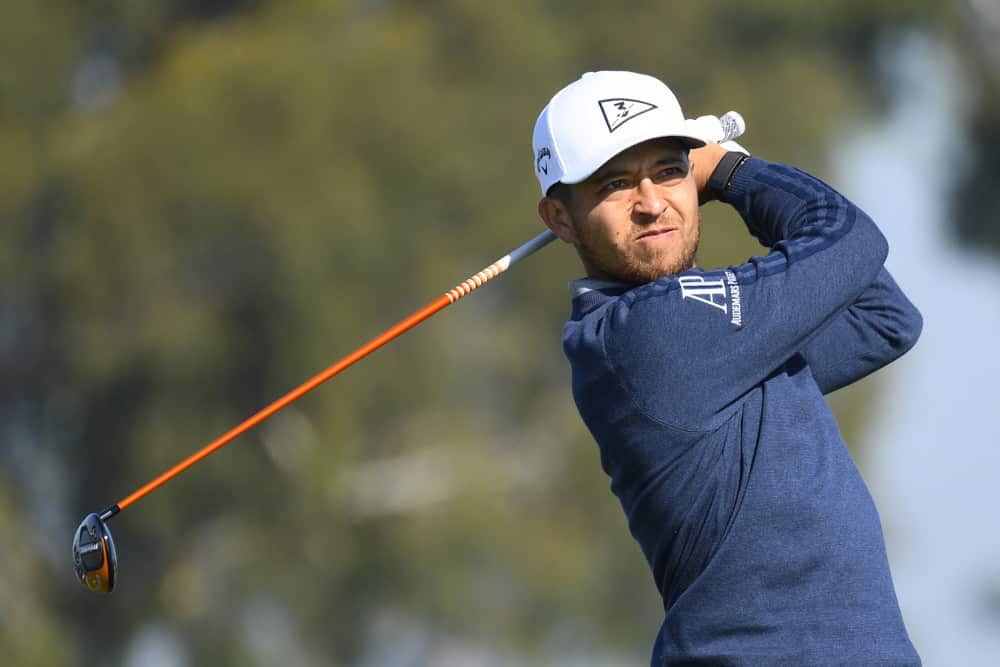 For those who missed it, check out the 2022 Sentry Tournament of Champions Preview and Betting Strategies for the types of golfers you should look to target for your picks. Using that as a guide, let's take a look at some of the best bets to make this week. Here are my picks for the Sentry Tournament of Champions (odds courtesy of WynnBet):

Sentry Tournament of Champions Picks: Outright Winners
Xander Schauffele – 12/1
Xander getting an exemption into the Sentry Tournament of Champions is kind of a joke. The last two years, the PGA Tour has bent the rules to allow guys who didn't win a PGA Tour event to Kapalua. But here he is. And he is absolutely awesome at Kapalua. In his last three starts, he has a win, a T2, and a T5 finish. And it would be fitting that Xander gets another win in a limited field event that he shouldn't even be in to continue to give his naysayers ammunition. Us Xander fans will fight the good fight another day. But don't overthink it. Pick Xander at 12/1 to win the Sentry Tournament of Champions.
Sungjae Im – 22.5/1
In his debut at the Sentry Tournament of Champions, Sungjae Im was great. He finished T5 and led the field tee-to-green on the week. Only a poor performance putting cost him a shot at the win. Historically, Sungjae Im is very good on Bermuda golf courses. He demonstrated the ability to go super low on the leaderboard not only last year but also at TPC Summerlin. And there's a strong cross correlation between success at Augusta National and Kapalua. Sungjae finished T2 at a Fall Masters that was very conducive for scoring. Sungjae had an amazing fall swing. Look for him to pick things back up at the Sentry Tournament of Champions.
Cameron Smith – 22.5/1
If we're betting one of the guys who finished T2 at the fall 2020 Masters, might as well bet the other at the same odds. Like Sungjae, Cameron Smith has played so well for the last 6 months. The difference is Cam Smith doesn't have a solo win in a stroke play event in that span. But Smith has a ton of things going for him. His weakness is his accuracy off the tee. The 60 yard wide fairways at Kapalua help him. He'll be hitting from the fairway a ton at Kapalua, and he's struck his irons so well for the past year. He's also a terrific scrambler and putter, a characteristic of several past Sentry Tournament of Champions winners. Pick Cam Smith to pick up his second win in Hawaii at the Sentry Tournament of Champions.
FOMO Bet – Jordan Spieth – 20/1
In the 2022 season preview on the Golf Gambling Podcast, I made the hot take that Jordan Spieth wouldn't win at all this season. I was concerned with how bad his ball striking was at the end of last year. It was shades of how poor it was between 2019 and 2020. Had the duct tape fallen off his game?
But here's the thing – that opinion was entirely rooted in things I mostly saw 4 months ago. While he didn't play well in the Bahamas a month ago either, he was still adjusting as a new dad. Maybe he's in a better place now! Maybe, he's figured out a few things in his game. If that's the case, he's such a great fit for Kapalua. He's a former winner, and he draws a ton of comparisons between Kapalua and Augusta National. I don't want to miss out when a hot take goes horribly wrong. He's on my betting card for the Sentry Tournament of Champions.
Sentry Tournament of Champions Picks: Other Props
Daniel Berger Top 5 – +325
Statistically, no one has hit their irons better in their last 50 rounds than Daniel Berger. This is misleading for a few reasons. A) it's not really rooted in reality. While he's on a great streak, anyone would pick guys like Justin Thomas or Collin Morikawa as better iron players. And B) most of this happened well over 5 months ago. A lot can change between then and now. But overall, Kapalua isn't a golf course that favors one particular skill set. If he's still hitting his irons awesome, then he can roll in a lot of putts on the Bermuda greens. The putter was something that bugged him at the end of last year. Maybe it's fixed. Historically, he's a pretty good putter, and if that's back he can put up a good finish.
Talor Gooch Top 10 – +210
The 2022 Sentry Tournament of Champions is a really strong field. So for an unheralded guy like Talor Gooch to beat all those guys and finish inside the Top 10 is a bit of a tall order. But I think he can do it. 2022 truly was a break out year for Gooch. He profiles a lot like similar players who have had success at Kapalua. Gooch isn't the most accurate or long player, but he's a good iron player, a good scrambler, and putts well on Bermuda. I'm a believer. And, he can keep up with the big dogs. Pick him to finish inside the Top 10 at +210 at the Sentry Tournament of Champions.
Various Football Bet Top 10's
There's a ton of talent in the field. But some of the Top 10 odds for a few very talented players are tempting. They're a bunch of guys who are a mix of either really strong course history or are tremendous fits for the golf course. They include:
Justin Thomas: -170
Collin Morikawa: -130
Xander Schauffele: -120
Sam Burns +115
It's a field of 39 guys. Those listed above are some of the most talented players in the world. You can treat these like you would betting a football game.
If the juice bothers you, WynnBet will allow you to parlay it with a ML bet in another sport. And there's plenty of good NFL teams playing cupcakes in Week 18. Do that to make yourself feel comfortable. But target stuff like this to give yourself a decent bet.

Related Content